In this article:
Do I need a restaurant feedback system?

3 easy ways to get restaurant customer feedback

Texting simplifies immediate feedback process

The importance of online reviews

Restaurant customer satisfaction survey
How to get useful restaurant customer feedback is an age-old problem for restaurateurs. The operative word here is "useful." Every restaurant will have some grumpy customers who love to complain and make their opinions heard, and today these diners trumpet their criticisms through reviews on Yelp, Google, TripAdvisor, and OpenTable.
While you can't (and shouldn't) ignore these detractors, you need a more comprehensive view of how patrons are experiencing your restaurant. So, how can you get inside your customers' heads to know what's working and what isn't?
You don't really need a specific "restaurant feedback tool." Here are three easy steps you can implement to know what your customers are thinking.
1. Ask restaurant customers to text you their feedback
Your customers have opinions about what you're serving up, and they want to be heard. But, are you getting the message?
Receiving feedback via text is one of the lowest-lift, simplest ways to interact with your patrons. Consider this: Research shows that 92% of people will stop visiting a restaurant after just one bad dining experience, but 90% say they'll return to that restaurant if they are able to speak with management.
Today, most people prefer to communicate via text, particularly if they have anything that might be somewhat negative to say.
That's why texting is a great way to get more restaurant feedback. It gives your patrons the unique opportunity to converse with you directly, which means they're more likely to tell you exactly how they feel—the good and the bad—so you can improve the customer experience and keep more customers loyal.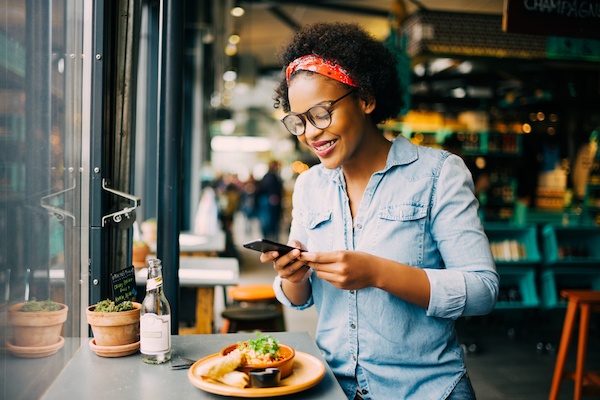 2. Remind restaurant customers to post online reviews via Google My Business, TripAdvisor, etc.
Online reviews can make or break a restaurant. In fact, research shows that 95% of people look at review sites when choosing a place to dine.
Basically, online review sites are your new homepage if you run a local restaurant.
Online reviews are great sources of customer feedback, and the more you have the more likely it is that new diners will find your business.
And, getting regular reviews is vital, so you need to find a way to encourage customers to share their feedback about your restaurant online. If you don't have reviews, start taking matters into your own hands. Research shows that 70% of people will leave an online review if asked — so, ask!
You might also like: 4 steps of an effective marketing strategy for your restaurant
3. Ask restaurant customers to complete a feedback/satisfaction survey
If you want to delve a little deeper inside of your customers' minds, creating a restaurant feedback survey is the way to go. Conducting a survey gives you the opportunity to pick a specific area that you want to examine—your customer service, your menu, etc.—and ask your customers questions about it.
Surveys are also a great way to discover customer trends that you can use in marketing material and to help you make strategic changes. But, it's not always easy getting customers to complete surveys. Here are a three keys to consider:
Make it short and sweet. No one wants to spend more than a couple minutes responding, so make the survey short and easy to complete.

Make it accessible. Provide a link to the survey on receipts, the menu, your website—put it everywhere. You can also send out an email or include a "leave us feedback" box on your website or app.

Offer incentives. Everyone likes a free drink or dessert. Offer your customers a special reward if they complete the survey, and they'll be more likely to do it.
In the end, customers want to be heard. If you pay attention to what they're saying, you can improve your business and build a loyal customer base.
Solo

is the easiest way for small businesses to pay and get paid.

Solo mobile app is now available for everyone
Scan QR to download the Solo App
Solo mobile app is now available for everyone