In this article:
5 2022 events in Orlando, FL that your business needs to know about

Which events may be moved online or canceled
Attending local events can have a significant impact on your business, from increasing brand awareness in your community, to networking with other business owners and leaders, to improving sales. Business events and fun community events alike have the capacity to further your growth. 
Check out these Orlando area events that your small business should to add to your calendar. 
PLEASE NOTE: We have made every attempt to be accurate in our information but as you can imagine during the continuing impacts of the COVID-19 pandemic, everything may still be in flux. Please consult the websites for the individual events and confirm the status of the events you wish to attend.
Annual Central Florida Fair
When: March 3-13, 2022
Attend the Annual Central Florida Fair with your team to help increase brand awareness in your community. Set a date in your calendar to start looking into becoming a vendor for next year's fair. 
Both product- and service-based businesses alike can benefit from becoming exhibitors at the fair. Sell your goods or bring awareness to your services as fair-goers cool off in the exhibition halls. 
Learn more about becoming a vendor at centralfloridafair.com.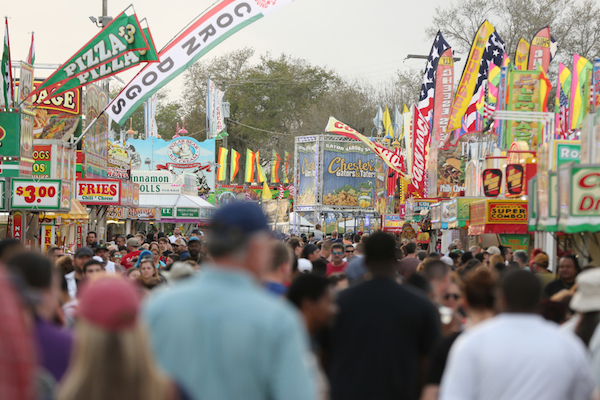 Small Business Expo
When: March 16, 2022
The Small Business Expo is one of the nation's largest business conferences. This conference is held in several major cities across the U.S. for business owners and entrepreneurs to connect with one another and learn from the keynote speakers. 
Industry experts will guide you and your team through workshops, you'll have the opportunity to see what other local businesses can offer, and you can market your own business. 
This event is free to attend or you can pay to sign up as an exhibitor at the conference. Learn more at thesmallbusinessexpo.com.
Black Business Summit and Expo
April 2, 2022
The Black Business Summit & Expo is the greatest annual gathering of black business owners, black professionals, and supporters of black business in the Orlando area.
Each local black business owners come together to network, educate, advocate, and advance through culture and creativity. Join hundreds of others for a weekend that will upgrade your business in key areas! More info and tickets at theblackbizsummit.com.
Spooktacular
When: Halloween weekend, 2022
Attend Spooktacular the weekend of Halloween. People come from all over Orlando to attend this spooky night of fun at Downtown Avalon Park. 
Attractions include live performances, food trucks, bounce houses, vendors, and more. People of all ages can enjoy the event. 
Become a vendor or sponsor of the event to increase your company's awareness in the community or simply take the night off and attend it with your team to boost morale and foster team bonding.  
Contact info@avalonparkgroup.com or visit the Spooktacular's Facebook page or avalonparkorlando.com to learn more about how your business can get involved. 
Electronic Daisy Carnival (EDC)
When: November 11-13, 2022
EDC at Tinker Field is an annual music festival that brings thousands of people from all over. This 3-day event incorporates music, travel, acrobatics, pyrotechnics, and more to create an experience you'll never forget. 
Become a sponsor or vendor at the event to get more awareness for your brand. Can't attend? Then take advantage of the thousands of people new customers that will be flooding central Florida for three days. Offer deals for carnival attendees or themed discounts surrounding the event to draw people in. 
Learn more about the carnival at electricdaisycarnival.com.
Solo

is the easiest way for small businesses to pay and get paid.

Solo mobile app is now available for everyone
Scan QR to download the Solo App
Solo mobile app is now available for everyone