In this article:
Reasons to use online ordering/delivery for your restaurant

Third-party services to try
In today's fast-paced world, consumers want the convenience of being able to order their food online and even having it delivered to their home or workplace. 
We've outlined several reasons why your restaurant should consider online ordering and how your business can benefit from offering this service, even for super-small, one-person restaurants, food carts, and pop-ups. 
1. Consumers expect online ordering for restaurants
Services like Grubhub, Uber Eats, and DoorDash have changed the restaurant experience. Consumers have become accustomed to their favorite restaurants offering online ordering and delivery services, whether through third parties or directly through the business itself. 
If you're not offering online ordering and delivery from your restaurant, you are falling behind and letting the competition capture these customers who expect these services. 
2. More opportunities for new restaurant customers
Because more people expect and want the convenience of being able to order online and/or have their food delivered, you can gain many more opportunities to gain new customers with an online ordering system. 
Provide your restaurant with every chance to succeed and grow by capturing every opportunity you can to gain new customers. 
3. Increased revenue
More customer opportunities means more revenue for your restaurant. When customers are choosing your restaurant over competitors because you have online ordering capabilities, you are getting the profits. 
All of the reasons listed previously and after this point also contribute to more revenue for your business. (However, pay close attention to the service fees from places like Grubhub and DoorDash. See our important caveats below.) 
4. Online restaurant ordering saves time for employees
By allowing your customers to order for themselves, you can save more time for your employees. This means they can spend more time preparing orders and getting them out quicker, keeping your customers satisfied and serving more customers at a quicker pace. 
Online ordering keeps your employees off the phones and business moving. Also, if you partner with a delivery service like Grubhub or Uber Eats, your employees aren't spending their time making deliveries to your customers. This allows them to pump out more orders and increase your profits.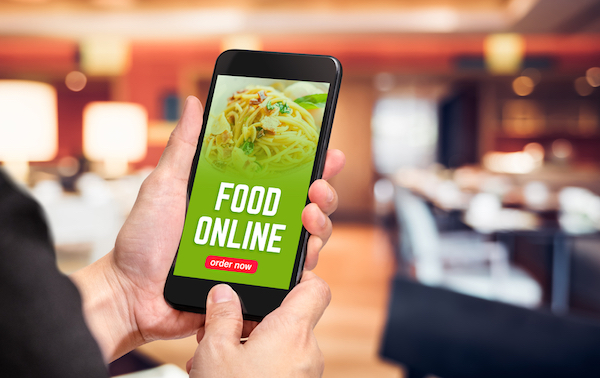 5. Enhance your restaurant marketing
Online ordering systems can greatly enhance your restaurant's marketing. You can offer online-only deals that compel consumers to purchase online. You can display fun promotions on your website and in your online ordering system that would be difficult to display on your in-store menu. 
Everyone loves a deal, and online ordering is a great way to give it to them. 
Online ordering is also a great way to capture customer emails, and then you can remarket to these customers to bring them back to your restaurant the next time they are in a rush and want to order a convenient meal. 
Go deeper:
6. Keep up with (or get ahead of) the competition
If you don't have online ordering capabilities and you aren't using a delivery service, you are falling behind. 
The restaurant industry is not slowing down—it's only getting busier and more competitive. Gain every new customer opportunity that you can by providing your customers with online ordering and delivery. 
Many restaurants are still stuck in the dark ages and don't want to adopt new technologies because they don't like change. But change is necessary in this world of technological advances, so it's time to get with it. 
7. More accurate restaurant orders
Ordering through a drive-through window or over the phone usually comes with loud background noise, and it can be difficult for your employees to tell what a customer is saying, leading to dissatisfied customers when their order is wrong. 
When customers are putting in their own orders, the accuracy rates of those orders improves dramatically and your customer retention rate will improve with it.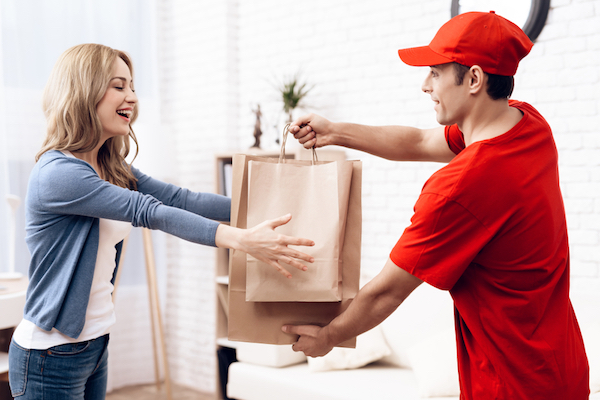 8. Keep better track of customer data
With online orders, you get more customer data than you would with over the phone or in-store orders. Customers provide their own contact information and you can keep track of their orders and see what items on your menu get ordered the most.
This can help you to constantly improve your menu and make sure revenue is always increasing as you see which items perform better and which items are costing you more money. 
9. Expand your customer base
Online ordering and delivery services all you to expand your customer base. For most of the reasons we've mentioned above, you can gain new customers easily when they see that your restaurant offers these services. 
Because of increased order accuracy and the convenience online ordering and delivery offer, your customer retention rate can go through the roof, too. 
Online ordering becomes a habit for consumers, so once they've found a favorite item and have the convenience of their order being saved and ordering with the click of a button, you may have just gained the customer for life. 
Online ordering systems to consider, and some caveats
If we've convinced you that online ordering is definitely the next step of advancing your restaurant to the modern age, and you don't want to mess with trying to manage an online ordering and delivery operation yourself, then here are a few solutions you can try to get you there. 
The perks of these third-party services is that they are becoming very well-known, so customers will trust using them at your restaurant. Each of these services can offer sweet discounts and perks and contribute to all of the reasons your restaurant should have an online ordering system. 
They integrate easily with your website and provide a user-friendly way for customers to order their food and have it delivered. 
However, be aware that these third-party order and delivery platforms are not cheap. With the commission, delivery charges, transaction fees, etc. often adding up to 25% and sometimes even 40% of the total cost of the meal. If you're not careful, you could actually end up paying your customers to eat your food.
This could be absorbed as part of an initial marketing strategy to gain market share, but is potentially not scalable over the long haul, depending on your restaurant's particular offerings.
Local restaurants often run on very thin margins, and while embracing online ordering and delivery can bring you new business, if you're not fully aware of the costs you can quickly get in over your head.
But online ordering is definitely the way of the future, and any strides you can take will be well appreciated by today's tech-savvy customers. As competition grows, costs will likely stabilize and there will be other platforms that may give you the marketing and sales boost you need without taking too much of a cut. 
Solo

is the easiest way for small businesses to pay and get paid.

Solo mobile app is now available for everyone
Scan QR to download the Solo App
Solo mobile app is now available for everyone