In this article:
What things affect credit card processing fees?

What types of fees and rates are available to small businesses?

What are some add-on fees you need to be aware of?
As a small business owner, you obviously need to get paid for your offerings, whether you own a small retail business, hair salon, pet services business, or something else entirely. Credit cards have grown to become and will continue to be (in some form) the most common form of payment from your customers, so it's important to have the right tools to be able to accept credit cards. 
With credit card processing providers and platforms, you can offer this payment method to your customers and use it to your advantage in gaining new customers. But credit card processing can be complex (and expensive), and there are many little things that you should know and understand before committing to one processor or payments provider over another. 
We want to walk you through the complexities of credit card processing fees, including what you should be paying, and some things you should watch out for. 
What are credit card processing fees?
Credit card processing fees generally refer to the transaction fees associated with accepting a credit card or debit for payment. Many popular processing companies that cater to smaller businesses charged a fixed dollar amount plus a small percentage of the total transaction each time a credit card is processed. 
This fee will typically vary depending on how the card is processed (in person, swiped, hand entered, online, via the phone, etc.) and other factors, which we'll discuss below.
There are other fees that come into play when you decide to start processing credit cards too. We'll go over each of these fees so that you know what to expect as you start shopping for the best credit card processing solution for your business. 
Learn more: Small business guide: What is credit card processing?
What things impact credit card processing fees and rates?
Before we dive into each type of processing fee, we want to cover some of the basic things that can impact your fees. Be thinking about these as you try to determine which platform to use. 
Method of processing
The processing method of the credit card can impact your fees. Swiping or inserting a chipped credit card in-person has a lower risk of fraud and chargebacks, which allows your process or or payments provider to offer you lower processing fees. 
When a card isn't physically processed—like if your customer enters their information online or pays over the phone, or if the magnetic strip or EMV chip isn't working correctly with your point of sale (POS) hardware and the cashier has to enter the number manually—there is a higher risk for fraud since it is more difficult to protect the information, resulting in higher fees.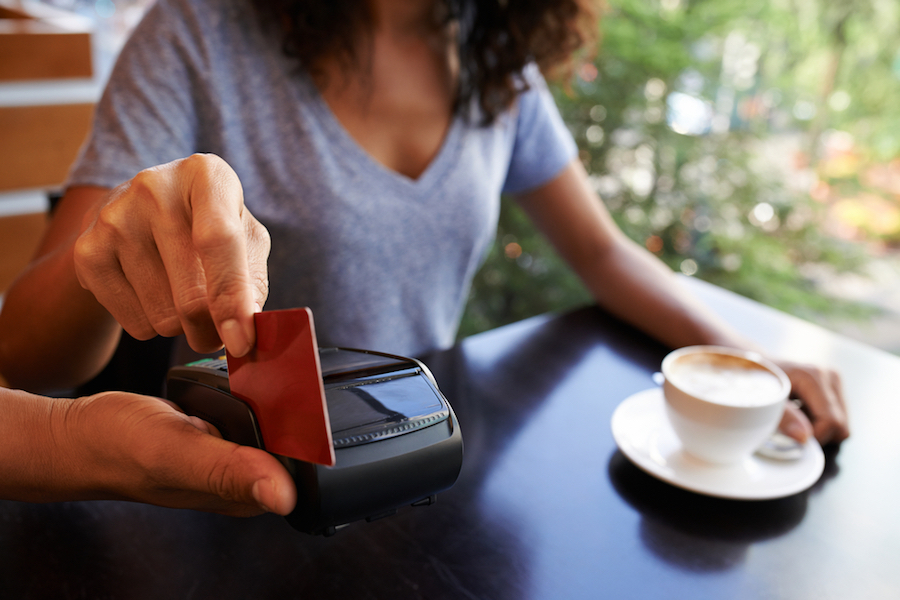 Size of your average transaction
Most credit card processors require a small fee to be paid with each purchase, on top of the percentage that they require. If your average purchase size is low, then you might be paying a lot more in transaction fees. 
For example: Let's say you have 100 $5 transactions and 5 $100 transactions and your service provider charges $0.10 for every transaction. You'd pay that $0.10 fee 100 times for the smaller transaction, but only and five times for the larger transaction. This is one reason some retailers have a minimum purchase amount required for credit card purchases. For very small purchases, it might actually cost you money to sell those items! 
Consider what your average transaction size is as you look at fees from different companies. 
Business type
Every business has a Standard Industrial Classification Code and a Merchant Category Code. These codes help card providers and processors see what kind of business their customers are involved with. Riskier businesses generally have higher fees associated with their transactions. 
There can also be a certain amount of social pressure for processing companies to charge higher fees (or avoid providing service altogether) for some types of businesses. Firearms-related companies or shooting ranges, adult entertainment companies, and cannabis businesses are only some that have had issues getting credit card processing services at various times.
What types of fees are associated with credit card processing?
When it comes to credit card processing, the fees can really start to add up, which is why we encourage you to shop around and look at several different options before signing a contract. It's important to understand what types of fees exist and how your individual business can be impacted by them. 
Remember the things that can impact your fees as you explore what types of fees generally come with credit card processing. 
Merchant account fees
If you are using a merchant account, there are generally two types of fees you'll have to pay in order to process credit cards. 
Interchange fees
Interchange fees are non-negotiable fees determined by the issuing bank and card network (like Visa or Mastercard). Whenever a customer uses their credit card, an interchange fee is charged. It's usually a fixed dollar amount plus a small percentage, like 2% + $0.15. So, on a $10 transaction, the interchange fee would be $0.35. 
Markup fees
Markup fees are the negotiable fees that your provider adds on top of their interchange fees. This is the "markup" they get for providing you this service. Again, this is generally a small percentage and fixed dollar amount on top of the interchange fee. 
One-time fees
Some fees are unavoidable, like transaction fees and equipment fees. But if you read the fine print, you can make sure you don't have any hefty termination fees to pay later down the road. 
Setup fees
Some providers charge fees for a technician to help you get set up on their payment processing software and equipment. These vary by provider, and some providers don't require any setup fees. 
Termination fees
Termination fees come when you cancel a contract or end your service with a provider. This is one where you'll want to read the fine print. Make sure you understand the terms of your contract and termination fees before committing to anything. 
Equipment fees
Equipment fees come into play when you need a terminal, phone add-on, or tablet for running credit cards in-person. Sometimes you can buy the equipment outright, and sometimes you may need to finance or lease the equipment, depending on the cost. 
Recurring fees
Be aware of the different recurring fees you may see on your statements from credit card processing providers. Some of these may be completely unnecessary for your desired level of service, so make sure you understand exactly what you need to be paying for. 
Monthly subscription fees
Many service providers require a monthly subscription fee for customer support and PCI compliance. If you don't see this fee on your bill, make sure that you'll still have access to some kind of customer support in case you run into problems. 
Monthly minimum fees
Some providers require monthly minimum fees to ensure that they get their "cut" even when you are having a slow sales month. 
Statement fees
If you receive paper or online statements, your provider may require a service fee for each statement you receive. It may be called a "processing fee" or "miscellaneous fee." Sometimes you can save this fee by opting out of mailed, paper statements.
IRS fees
Some providers might charge an "IRS reporting fee," where they charge a fee to report your transactions to the IRS and provide you with the necessary documentation. This is a spammy practice that should be disputed. Most providers should do this for you at no cost. 
PCI fees
If your provider offers PCI compliance and support, then they may require a fee to help with this. This may be included in your monthly subscription fees. But sometimes this fee is charged when there is no benefit to the customer, so make sure you're getting what you pay for. 
Payment gateway provider fee 
When you sell products/services online, those payments go through a payment gateway provider to ensure the information is encrypted and secure. Some of these providers may require fees, but several don't have fees. Your payment processor may even have a preferred payment gateway provider that comes with their service.
Be sure to ask if there are any additional fees for this service.
Processing fees
These fees are the general "credit card processing fees" that you may be somewhat familiar with, and they can encompass some of the fees we've already discussed. 
Transaction fees
Transaction fees are the fees that occur each time a credit card is processed. They generally have a fixed dollar amount and a small percentage, similar to interchange and markup fees. Depending on the type of provider you are using, your transaction fees may be the interchange and markup fees. Some providers only charge one fixed rate per transaction.
Flat fees
Flat fees will vary between each type of payment processor. These are your monthly fees, equipment costs, and any other recurring fees that have the same rate each time you pay it. 
Incidental fees
Incidental fees happen on a case-by-case basis. Generally, you'll have an incidental fee if there is a chargeback or insufficient funds to cover the transaction. Card not present (CNP) fees may be considered incidental fees as well, if your processor charges an additional fee or a special rate for this type of transaction. 
Be sure to discuss the fee structure with your merchant services provider or processor representative so you have a very good idea of what to expect for all fees related to accepting credit cards so there are no surprises.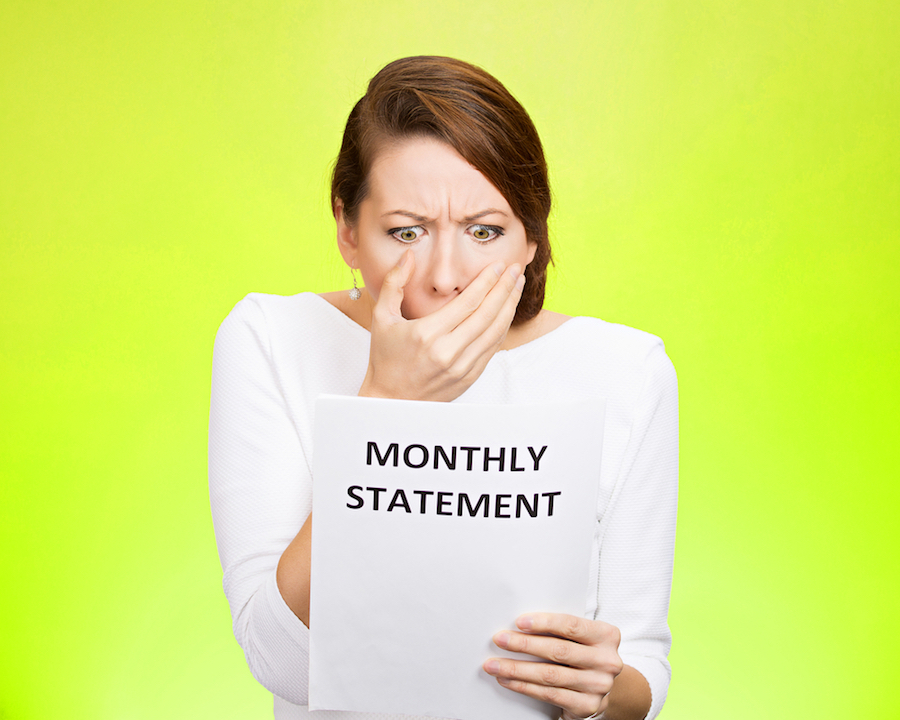 Traditional vs. "new age" credit card processors
Traditionally, every brick and mortar business would need to work through a merchant account and their bank to have the ability to process credit cards. It was a time-consuming and often expensive proposition to get a card reader hard-wired into the system, terminals set up at your place of business, approvals, etc. 
This is where a lot of the fine-print (and potentially unnecessary) fees we've referred to can sometimes come into play. 
Merchant accounts generally have an interchange fee that is required with each transaction, and then on top of that you are required to pay the markup from your provider. 
You can often negotiate with your merchant services provider to get preferred or lower rates, and sometimes salespeople will offer very low rates in order to sign your business. This can be to your advantage, so be sure to ask around and talk to several companies, and be sure to get the full details and read the fine print for whatever company you're considering.
Sources:
https://www.creditdonkey.com/credit-card-processing-fees.html
https://www.fundera.com/blog/credit-card-processing-fees
https://www.merchantmaverick.com/clover-pos-cost
Solo

is the easiest way for small businesses to pay and get paid.

Solo mobile app is now available for everyone
Scan QR to download the Solo App
Solo mobile app is now available for everyone