While you don't technically need an LLC to start a small business, LLCs offer many benefits, such as promoting business growth, boosting brand credibility, and protecting your assets. LLCs offer the same liability protections as corporations but have a less strict structure and fewer administrative requirements. Plus, filing an LLC is very affordable. 
Most experts recommend that anyone wanting to start a side-hustle, gig work, or microbusiness start by creating an LLC.
With this guide, you'll learn about what an LLC is, an in-depth look at the benefits, how to form an LLC and alternatives to consider. 
Overview: What is an LLC?
An LLC, or limited liability company, is a business structure that is set in place to protect owners from personal responsibility for their liabilities or debts. An LLC structure can have a single owner or multiple. If an LLC has multiple owners, they're officially referred to as "members." 
Members can mean both individuals or other businesses, as they can also own additional LLCs. Once an LLC structure is established, the assets of the members are protected from creditors related to the business. 
What LLCs can do 
There are many positive implications of an LLC business structure. Below are some advantages of an LLC: 
Liability protection: LLCs can protect you from personal liability, meaning you'll be protected from your employees' or co-owners' actions (if you have any). 

Provides structure: LLCs give you more structure for operating a business, such as dealing with departing or new owners, making decisions, and dividing losses and profits. 

Offers taxation options: Many times, LLCs are taxed as a partnership or sole proprietorship, but you can also opt for C corporation or S corporation taxation.  
What LLCs can't do
Although there are a lot of pros of LLCs, there are a few elements that LLCs cannot provide. This includes:  
Issuing stock: LLCs cannot issue stock like a corporation can. 

Professions are limited: Depending on the state, if you are a licensed professional, like an accountant, lawyer or doctor, you will not be able to form an LLC because of the potential of making biased decisions.   

You can still be sued: You are still personally liable if your business is sued for your own wrongdoing or negligence. Additionally, assets are not protected if you personally guarantee a loan or contract. 
Benefits of an LLC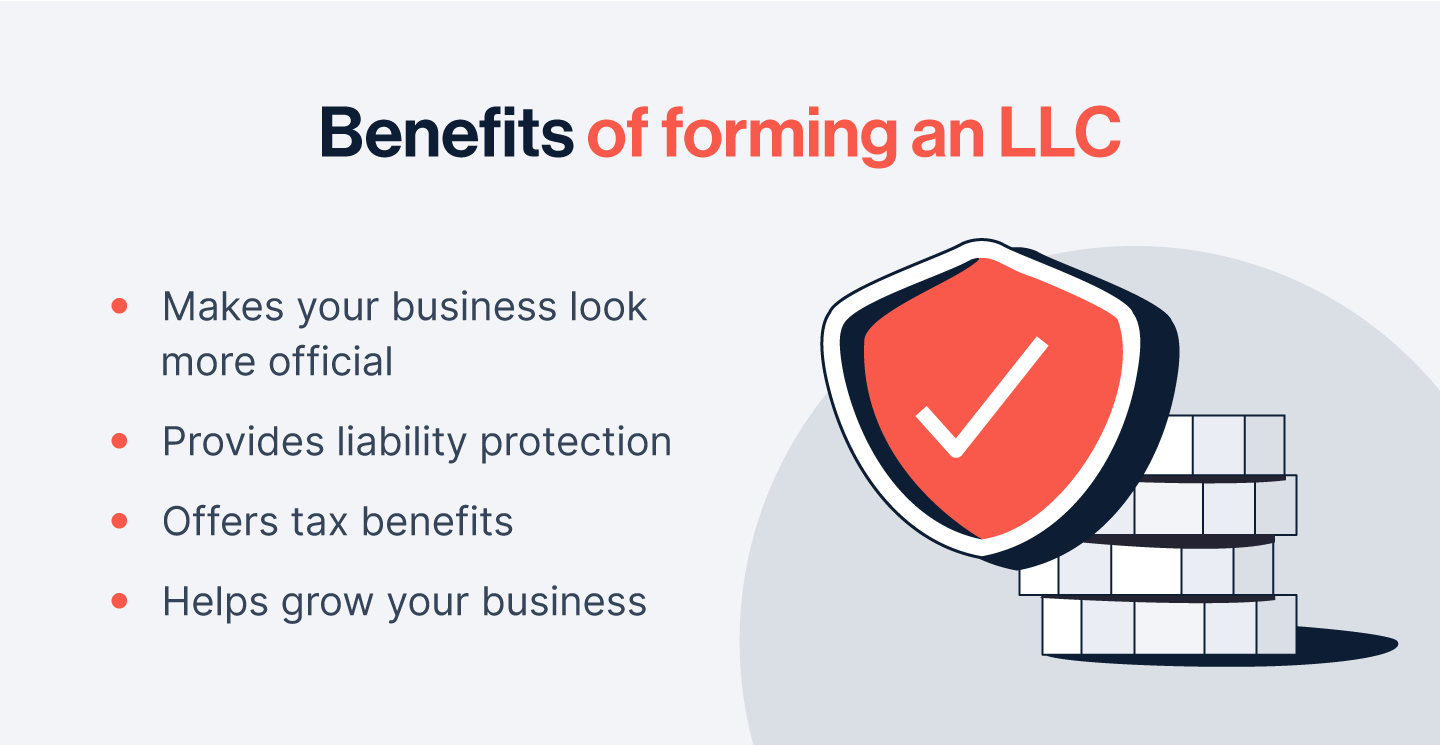 There are many benefits to filing as an LLC, such as boosted protections, tax benefits, credibility and overall business growth. Explore the advantages further below.
Makes your business look more official  
Structuring your business as an LLC helps gain credibility with customers and investors. When they see "LLC" in your business title, it reads as more official and can help earn trust compared to a business structure such as a sole proprietorship. This is especially helpful if you need to take out loans, finance payments or boost your marketing efforts. 
Provides liability protection
LLCs are known as a business structure that provides liability protection. This means that assets that are personal to you (e.g., your bank account, house or car) are all protected if something happens to your business, such as a lawsuit or debt issues. 
Offers tax benefits 
When a business files as an LLC, it becomes a pass-through entity. A pass-through entity sends all of its profits directly to the members without having to be taxed by the government. Alternatively, the members of the business will pay a tax on the profits within their individual federal income tax returns. 
This makes it much easier to file taxes than if you were to be taxed as a corporate entity. If a situation arises where your business loses some money, then the other members involved can help buffer the loss while filing tax return documents. 
Helps grow your business  
Since an LLC has tax benefits and protections, it allows you the flexibility to make riskier decisions, thus providing added growth opportunities. The overall informal nature of the structure also makes the decision-making process simpler when it comes to day-to-day operations. 
LLC alternatives 
LLCs are not the end-all for business structures — you can also choose to file as a sole proprietorship, a partnership, or a corporation. Continue reading for a breakdown of each type. 
Sole proprietorship
A sole proprietorship is a business structure that is more informal. Sole proprietorships are not attached to a corporation or additional business owners. What this means is that you essentially work for yourself, and all of the earnings go to the owner versus any partners or shareholders. 
As the owner, you are, however, responsible for any financial liability if anything goes wrong, such as damages or employee issues. 
Best for: Business owners who plan to start a one-person operation and don't plan on needing additional employees. 
Partnership  
Partnerships operate much like a sole proprietorship and are just as informal, but you are splitting the profits of your business with multiple partners, or owners. With this type of structure, you don't have liability protection.
Best for: Business owners who want to run operations and make decisions alongside a friend, family member or business partner and are OK with sharing the profits. 
Limited partnership  
A limited partnership is the same as a general partnership, though in this case, limited partners are "silent partners," meaning they are limited to just the investment of the business and aren't involved in everyday operations or decision-making. 
Limited partners are only liable for up to the amount of their investment. Many tax, accounting, and law firms operate using a limited partnership. 
Best for: Business owners who prefer the firm liability protections of corporations, but want earrings to pass through additional owners as income on personal tax returns. 
Corporation 
Corporations are a business structure that ensures your company is a separate legal entity that's owned by shareholders. Corporations have more formalized regulations than LLCs. There are two subtypes of corporations: 
C corporation: This is a legal structure for a corporation in which the shareholders or owners are taxed separately from the entity.

S corporation: This is a type of business structure that has elected to pass its corporate losses, income, deductions, and credits to its shareholders to put on their tax forms.

Best for: Business owners who run a company that is further along in its growth and has more moving parts than a start-up, and will therefore typically require more liability protections. 
Is an LLC right for you? 
If you're wondering if an LLC is right for you, use this flowchart to help you navigate the important questions to consider before setting up an LLC. 

How to form an LLC in 7 steps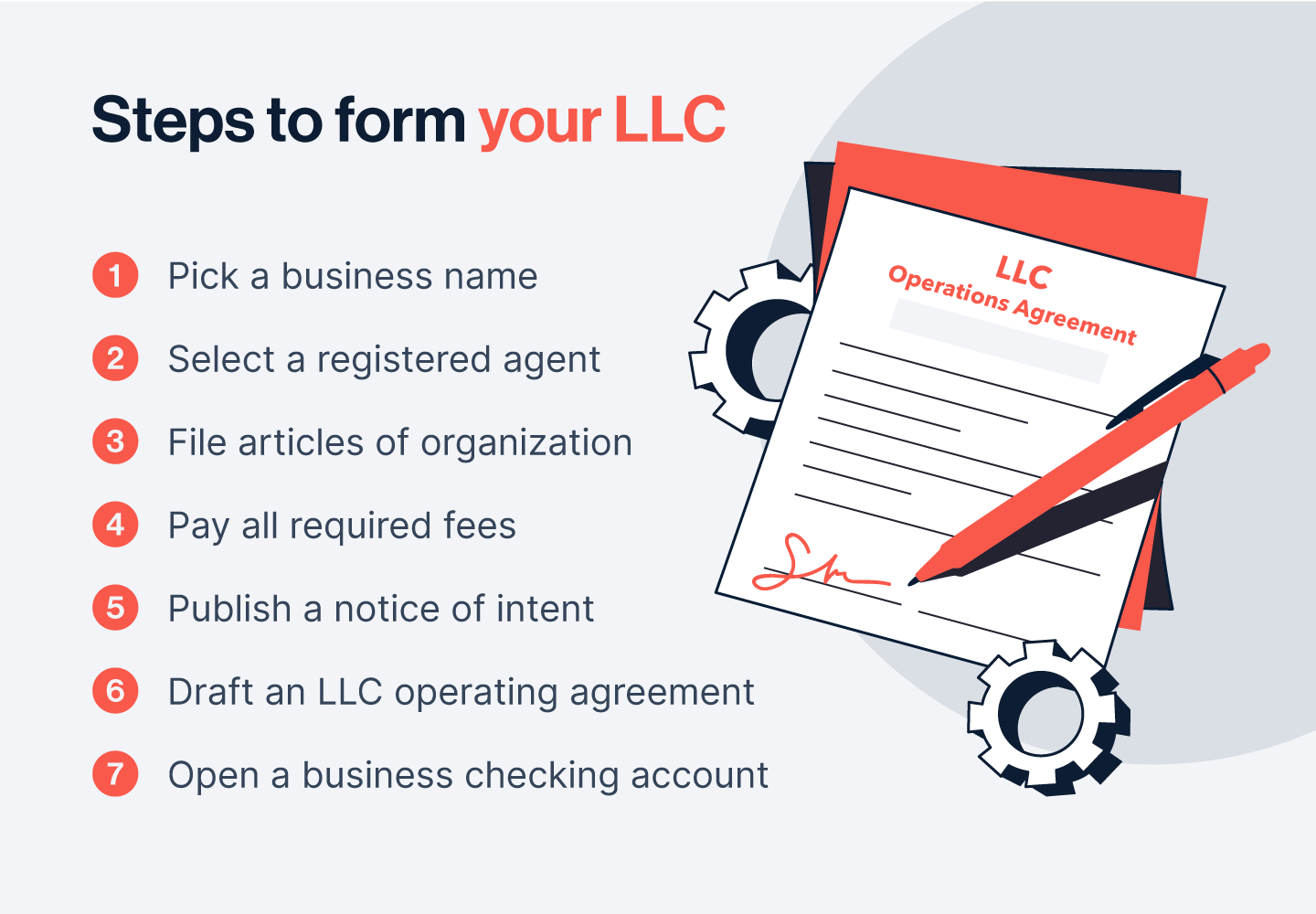 Filing your business as an LLC doesn't have to be intimidating. Be sure to check with your state for additional information on specific requirements needed to file. In the meantime, follow the seven steps below to assist you in forming your LLC: 
1. Pick a business name  
The first step in the LLC formation process is to register your name. You'll want to check with your state to review the name registration requirements. Be sure to also check with the county clerk's offices and the secretary of state's website to ensure the name you want to choose is available. 
2. Select a registered agent 
Next is to designate a registered agent to help you officiate the LLC process. Most states will require your registered agent's name and address on the necessary paperwork. Registered agents are individuals or business entities — they can be a professional services, a colleague, or yourself if you meet your state's requirements. 
3. File articles of organization  
Articles of organization are paperwork that officiates your business within the state it's registered in. Specific requirements vary between each state, so make sure to check before filing. However, there are basic requirements that are the same in every state, including: 
Business name

Type of business

Business structure type 
4. Pay all required fees  
Depending on the state, the cost of filing an LLC ranges from $40-$500. The cheapest states to file an LLC include: 
Kentucky: $40

Arkansas: $45

Arizona: $50

Mississippi: $50
The more expensive states on the spectrum include: 
Massachusetts: $500

Nevada: $425

Tennessee: $300

Texas: $300
5. Publish a notice of intent  
Some states will require you to publish a notice of intent. This is a document stating the intent of a party to start an LLC. Most of the time, this is a legal notice that is published as an announcement in the local newspaper of where you've filed your LLC. 
Keep in mind that if this is a requirement in your state, it could delay the process and cause issues if you need to launch your LLC quickly. 
6. Draft an LLC operating agreement  
To avoid any conflicts down the road, you'll need to draft an LLC operating agreement. An operating agreement states the responsibilities and rights of each owner of an LLC. This agreement is similar to partnership agreements and corporate bylaws, which provide a structure to better deal with the transfer of ownership between old and new partners or any other conflicts. 
Other elements that are covered in the operating agreement include: 
Owner's responsibilities and rights

Voting power

Percentage of interests in the business 

Division of profits and losses 

Scheduling of owner's meetings 
Some operating agreements may often include a breakdown of management duties between multiple owners of an LLC. The more detailed the document, the better — it can help serve as protection if there's ever a disagreement between you and the other owners. 
7. Open a business checking account  
Once your LLC is established,  open a business checking account and business credit card. It's beneficial to have an account that's separate from your personal account because it keeps expenses organized and makes things easier to file once tax season rolls around. 
This also helps avoid any potential risks to your personal assets if a lawsuit against your business were to take place.  
Boost your growth and form an LLC 
Forming an LLC may seem overwhelming, but the benefits of this structure outweigh the potential roadblocks you may face when filing. With these steps and tips, you'll be better prepared to form an LLC. 
Solo makes it easy to pay, get paid, and track spending
Solo is not a bank, but is a financial super-app for small businesses, freelancers, sole proprietors, contractors, and more. Solo is the easy way to pay, get paid, and keep track of your spending. Your customers don't have to sign up to pay you, and can use several payment methods, including Apple Pay, Google Pay, and cards. QR codes make it easy to get paid, and you can easily cash out your Solo account balance for free, or spend it using your Solo Cash Card anywhere Visa is accepted. Learn more at Solo.co.
Solo

is the easiest way for small businesses to pay and get paid.

Solo mobile app is now available for everyone
Scan QR to download the Solo App
Solo mobile app is now available for everyone