When you're working with a freelancer or contractor, it's common for deliverables to change hands. Those deliverables likely amount to intellectual property (IP), meaning someone owns the rights to them. But the question is: Who exactly does own the rights?
A freelancer IP agreement is designed to transfer ownership of intellectual property. Below, we'll dig into the basics of intellectual property, how to protect your interests as an entrepreneur, and how to get started on an IP agreement with our free template.
IMPORTANT NOTICE: Solo is not a law firm or licensed attorneys, nor do we claim to be. This blog does not provide legal advice and is for informational purposes only. Before using any information or forms made available from this site, you should consult with an attorney to ensure that they are appropriate and adequate for your needs. Solo does not claim that the forms made available on this site are complete or appropriate for use in all circumstance or jurisdictions and disclaims all responsibility for any outcomes from the use of any information provided on this site.
Intellectual property agreement: Sample template
Need help crafting an IP agreement before your working relationship begins with a freelancer? Look no further than our free, editable intellectual property agreement template.
Click below to get the template:
If you're not quite ready to dive into creating your own intellectual property agreement, continue reading to review IP itself and explore the purpose behind IP agreements.
Overview: What is IP?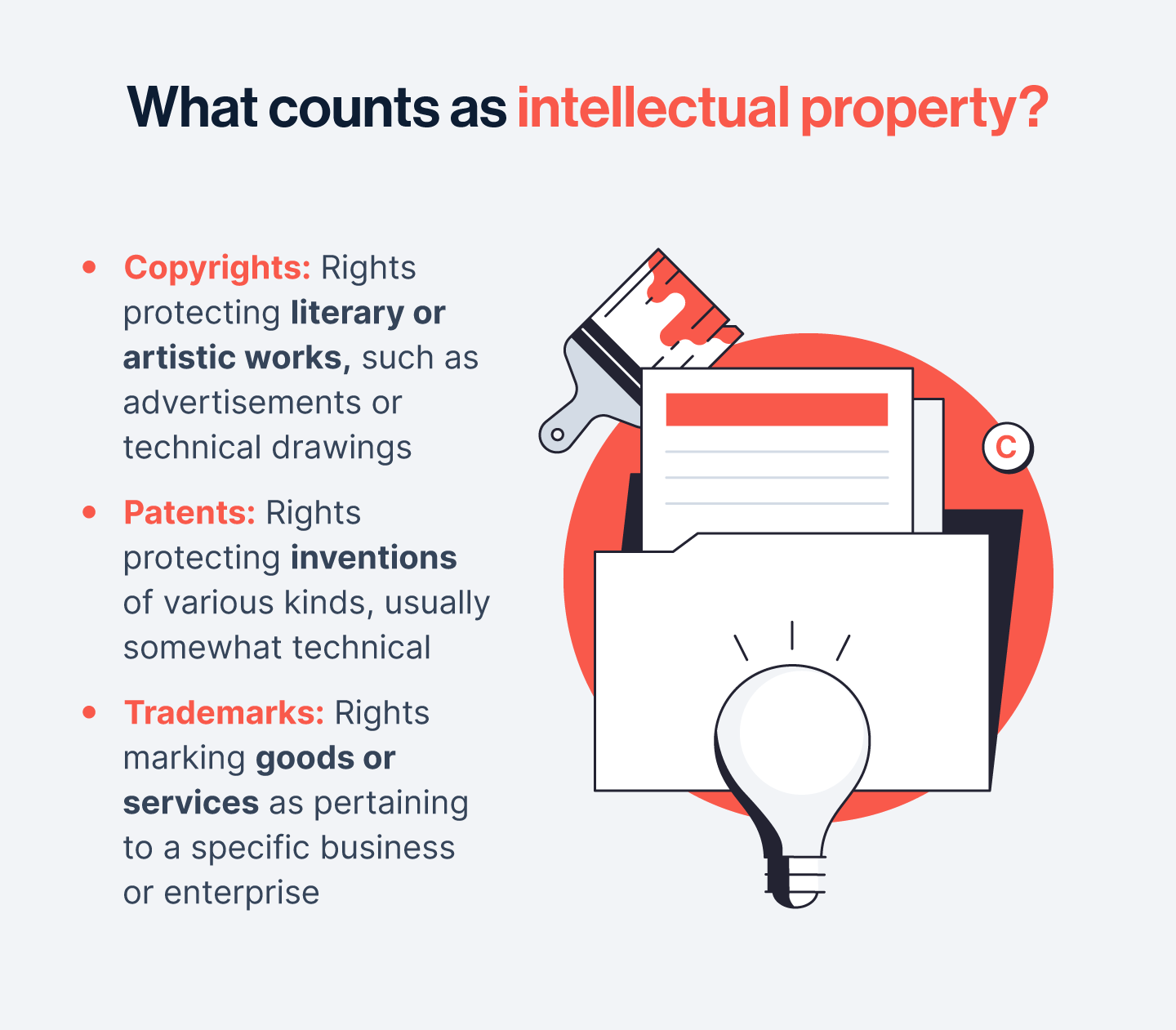 IP is an acronym for intellectual property, which is an intangible or indefinite asset that a person creates. Intellectual property can come in many forms, but most commonly it's protected by one of three identifying marks: copyrights, patents, and trademarks. You can license or transfer each of these IP rights with an intellectual property agreement.
When you create something like a blog post, an illustration, or even a slogan for your first marketing campaign, you have the rights to that intellectual property—that is, unless you're working under an IP agreement that transfers the intellectual property rights to someone else.
What is an IP agreement?
An IP agreement, or intellectual property agreement, is a legally binding document that defines the ownership of intellectual property rights between two or more parties. This agreement can be between companies, employees and their employer, or even an employer and a freelancer they work with.
IP agreements might also be referred to as IP transfer agreements or IP assignment agreements if they involve transferring the ownership rights of the IP.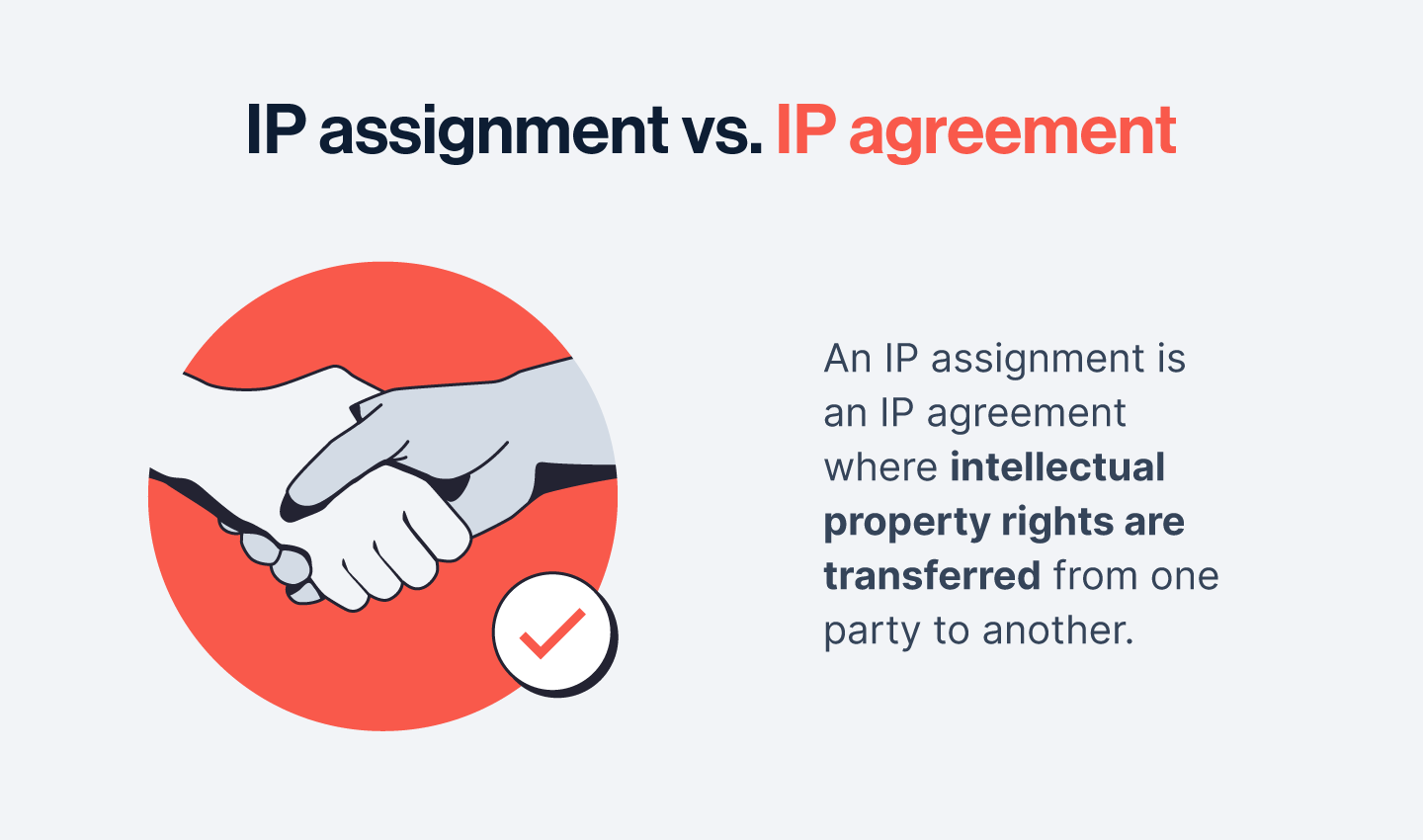 Regardless of the name, the IP agreement's purpose is to guard the ownership rights of the intellectual property while also outlining any guidelines for other parties that will work with the IP, such as a freelancer—in this case, it's a freelancer IP agreement.
Freelancer IP agreement: Why you need one
If you're planning to hire a freelancer to create any kind of work on behalf of your business, it's a good idea to ensure your contract contains a freelancer IP agreement. When a freelancer creates work for a business, any assets are automatically the intellectual property of the freelancer unless a freelancer IP agreement says otherwise.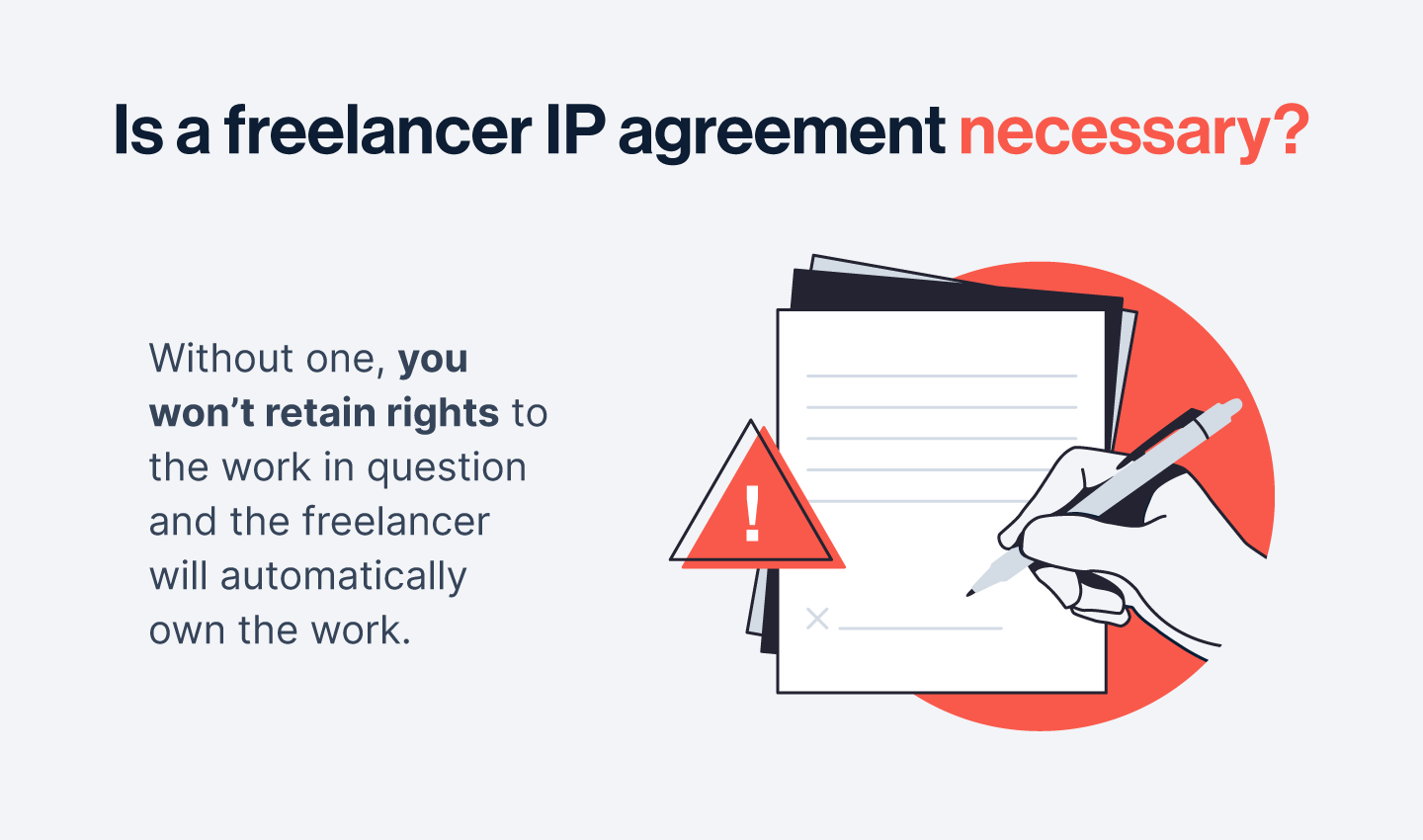 What does that mean for you? If you don't use an IP agreement with a freelancer, you might:
Lose the rights to assets created on behalf of your business, like logos, blog copy, or more

Devalue your work or lose a unique edge if the freelancer ever decides to reuse the work for other purposes

Damage

your working relationship with the freelancer, potentially harming your

business's reputation

long term
Even if you agree to allow the freelancer to retain ownership rights and you simply license their work, it can be a good idea to put the scope of that relationship in writing via an IP agreement. That way, you're more likely to have protection in the event of a legal dispute over your right to use the intellectual property.
Two types of IP agreements: Pros vs. cons
Not every freelancer IP agreement is created equal. In some instances, it could make sense for you to own the intellectual property rights to a work. Other times it might make more sense for you to simply license the IP from a freelancer without owning them outright.
Each type of freelancer IP agreement has benefits and drawbacks for small business owners. Before drafting an agreement, it could help to talk things over with the freelancer you're working with to decide what works beneficially for the both of you.
Below, take a look at a few pros and cons of exclusive and nonexclusive agreements:
1. Exclusive agreement
When you enter into an exclusive IP agreement, you own exclusive rights to the IP. Typically in this agreement, the freelancer sells those rights directly to you. No other party can own or use the IP, even at the discretion of the freelancer.
Pro: You have the option to sue for infringement of your intellectual property rights since you're the sole owner.

Con: Taking exclusive ownership of all IP rights involved in a project might be seen as a step too far for freelancers.
Exclusive IP rights must be written up in an agreement, so if you plan to take this approach, an intellectual property agreement is a must.
2. Nonexclusive agreement
In a nonexclusive IP agreement, multiple people can own rights to the IP, each holding a nonexclusive license to use it. Stock photography is a common example of a nonexclusive IP agreement.
Pro: Since you're not acquiring the IP outright, licensing the work in this way can be less expensive.

Con: You don't own the rights to the work, so others may be able to use it beyond your control.
Nonexclusive IP rights may not necessarily need to be put in writing like exclusive rights, but it's still a good idea to put an IP agreement in place that clearly defines what you own and how you can use it.
What to include in a freelancer IP agreement: Three considerations
If you're thinking of working with a freelancer to develop creative work or an otherwise original creation, you should think about how you would like to use it and if you would prefer to own it.
Here are three questions to answer when thinking about what to include in an intellectual property agreement:
1. What specific IP is involved?
You should note exactly what is involved in the agreement in as much detail as possible to avoid confusion. It's best for an IP agreement to also note what IP isn't covered, such as any intellectual property that the freelancer previously created and already owns the rights to.
Declaring specifically what you are and are not claiming the rights to can help avoid questions about ownership when your working relationship with the freelancer comes to an end.
2. How am I obtaining rights to the IP?
If you plan to obtain exclusive or nonexclusive rights, you should explain it in clear terms. Again, defining the terms of the agreement in as much detail as possible helps avoid the risk of confusion on either side of the agreement.
You must place exclusive rights in writing in the agreement or they cannot be enforced. If you and the freelancer are sharing ownership in some capacity with a form of nonexclusive rights, it's a good idea to include those terms, too. That way, you have clear terms for the usage of your IP rights.
3. What am I willing to compromise on?
Freelancers create work that supports their livelihood, and they may ask for some concessions in the agreement. An agreement is always between at least two parties—you might want to talk with the freelancer and see how your thoughts about the project compare.
Freelancing may be their side hustle, or it could be their fulltime gig, and you might build a great working relationship by allowing a freelancer to retain the rights to use your content in their portfolio or something else within limits.
IP agreements can be good business sense
No matter the size of your business, an IP agreement's purpose is to protect you and your interests. Even if you're a solopreneur that hires a freelancer for a one-off project, including an IP agreement in your contract can help clearly define who owns what when the project comes to a close.
If you decide to move forward with hiring a freelancer, Solo is the easy way to pay them and keep track of your spending. Learn more at Solo.co.
Solo

is the easiest way for small businesses to pay and get paid.

Solo mobile app is now available for everyone
Scan QR to download the Solo App
Solo mobile app is now available for everyone