In this article:
Why small businesses should consider Google Maps advertising

How does local business advertising on Google Maps work?

How much does it cost to advertise on Google Maps?
Placing local ads on Google Maps is a relatively recent phenomenon, but the reason for its explosion in popularity is clear. 
Google Maps is SIX TIMES more popular than other navigation apps. Mobile "near me" searches are the new normal, with 200% growth over recent years. Location-related searches have grown 50 percent faster than overall mobile searches overall over the past year.
Why does this matter? Because three out of four people who use their smartphone to search for businesses or services nearby visit a store within a day. So Google Maps advertising can be a great way to attract local customers to your business.
How does local business advertising on Google Maps work?
When you search for local businesses with queries like "tire shops near me" or "mexican restaurants in [city]" (whether in the standard Google engine or in Google Maps), the search engine serves up the top results along with a map of the local area. 
Where your business ranks in these search results depends on a variety of factors, including: your star rating, the number and quality of your reviews, your customer engagement, your "normal" website's performance on Google, and whether you've optimized your Google My Business profile for local SEO.
However, if you choose to pay for local business advertising on Google Maps, your store will often appear as one of 2 or 3 (maximum) featured results at the top of those local listings. 
In our testing, for typical small businesses, you will likely be the only ad displayed at the top of that small list of featured choices. 
Desktop/primary Google search engine results will display like this: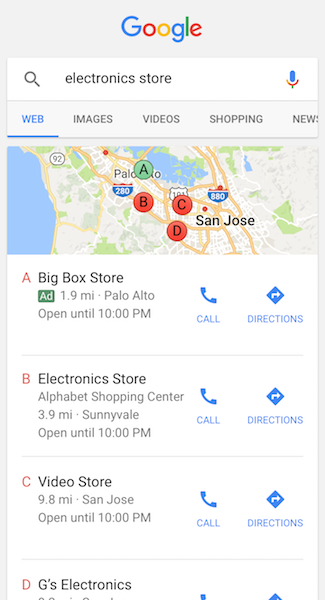 Searches within Google Maps specifically will display like this: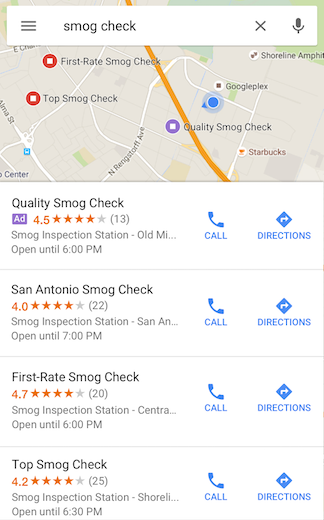 Since studies show that the vast majority of shoppers click on the first business listed in search results, it may be worth it to invest some of your marketing budget to advertise on Google Maps and drive more traffic to your store or your website.
How do I set up Google Maps advertising for my business?
The first thing you need to do is claim your Google business listing. (Click for our easy how-to article.) This may sound like an obvious step, but surprisingly, a recent report showed that only 44% of Google business listings had been claimed.
After you've claimed your listing, you should optimize your profile by adding the top 5 things every small business should include in their Google business listing. 
Next, set up a Google Ads account for your business. Then, you can enable location extensions for your Google Ads account. This will tell Google that you want your ads to be featured in local searches. 
Finally, optimize your keywords, set up what locations and areas you want to target, and bid by location.
It's important to learn the difference between "call extensions" and "location extensions." For most small businesses, we recommend you use location extensions primarily. 
In addition to being more visible on the world's most-used mapping app and attracting local customers looking for what you offer, you can use your Google Maps ads to test different keyword strategies and click-through techniques with minimal effort.
The next thing you need to be aware of is, it's not going to be free. Let's talk about potential costs.
How much does it cost to advertise on Google Maps?
The cost for serving up local ads on Google Maps is based on your budget, your preferences, your local market, the level of competition, and multiple other factors (most of which Google will not divulge). So we can only speculate about what it will cost for you. 
Google Maps ads' Cost Per Click (CPC) is also figured differently depending on how your customers click through from your Google Maps ad, whether it be "Get location detail" clicks, "get directions" clicks, mobile "click-to-call," or website clicks.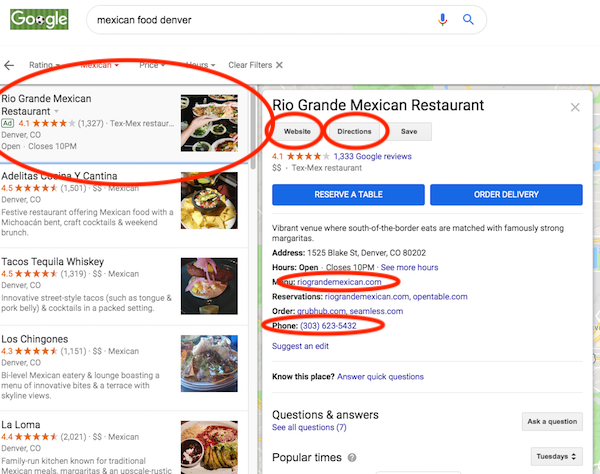 However, Google's own tutorials show examples with CPCs of $4 or more, so we can assume that is a real possibility. Luckily, you can easily set daily maximums to limit the total potential cost. 
For example, you can set a $100/day limit (or whatever you want) so if you get a ton of clicks, you won't exceed your planned marketing budget. Once you hit your limit, Google Maps will stop displaying your ad until the next day or whenever you have set your max spending to reset. 
This is important because at a theoretical CPC of $4, if you get 500 clicks you'll be spending $2000 a day.
Remember these are just clicks, not sales. But if you have a high-converting website you want to drive customers to, or if you simply want to boost your visibility and brand recognition with local customers, this type of advertising could be well worth it for you.
Another advantage of Google Maps advertising is that they make it very easy to set up a profile, modify displayed content, and track results, even if you don't know very much about marketing.
Consider adding your local product inventory to Google Maps
In addition to allowing you to customize your ad content and make your map "pin" stand out against your competitors (at additional cost), Google also lets you link your in-stock inventory to Google ads. 
This means customers searching for specific items in stock can get shown that info as part of your featured advertisement. For pharmacies, shoe stores, or other local retail shops, this can be very useful. 
Click to read Google's how-to on linking your local inventory.
Sources:
https://www.wordstream.com/blog/ws/2016/06/01/google-maps-local-search-ads
https://themanifest.com/app-development/popularity-google-maps-trends-navigation-apps-2018
https://themanifest.com/app-development/how-advertise-google-maps
http://info.brandmuscle.com/StateofLocalMarketing2017_Download-Report.html
Solo

is the easiest way for small businesses to pay and get paid.

Solo mobile app is now available for everyone
Scan QR to download the Solo App
Solo mobile app is now available for everyone