In this post:
Why it's so important for you to claim your business listing on Google

How to claim your business on Google

How to verify your Google my Business listing

What to do if someone else has already claimed your business on Google

How reputation management software can help you save time and money
As we've written before, the first step in getting control of your online business reputation and responding to reviews is to claim your Google business listing as well as your pages on all the relevant sites like Facebook, Yelp, TripAdvisor, Foursquare, etc. 
Listings on these sites are basically your "digital storefront," or the way most consumers discover you before they come to your place of business. 
Plus, research shows that businesses that claim their listings on multiple review sites make more money! Let's start with discussing how to claim your business on Google.
Claim your Google business listing as one of your most important marketing tools
When it comes to finding and attracting new customers to your business, the right marketing plan make all the difference. And for many small and local businesses, tight budgets and tighter schedules can make a solid marketing plan feel constantly out of reach.
Raquelle Dickerson, Director of Marketing at SEO.com, recommends the following to small business owners looking to marketing their business on a budget.
"Every business, regardless of size, needs to have some sort of digital marketing strategy in order to succeed. While big companies can experiment with all the latest and greatest digital marketing tools and services, this isn't an option for the limited budgets of small, local businesses. That's why I strongly recommend every small and local business get set up with a Google my Business page.
"Google my Business is essentially a free marketing listing for any business. Once you've claimed your listing, you can add pictures, menus, products, hours of operation, contact information . . . Everything you'd want a prospective customer to know about your business. All for free. And remember, it's Google. It's where your customers are searching for your product.
"If your Google listing is unclaimed or uninteresting, you're going to struggle to get people in the door."
Unfortunately, far too many businesses aren't following Raquelle's advice. In fact, 56% of local business haven't claimed their Google my Business listing. This is crazy.
The good news is that claiming your Google Business listing is quick and easy. Keep reading, and we'll walk you through the simple process of how to claim and verify your business listing on Google so you can take control of your online reputation and attract more customers.
How to claim your business on Google
Start by going to the Google page for business owners: business.google.com
Step 1: Identify your Google account
If you are already signed into a Google Email account, you will see the screen below. 
If you are not signed into a Google Email account, proceed to Step 2.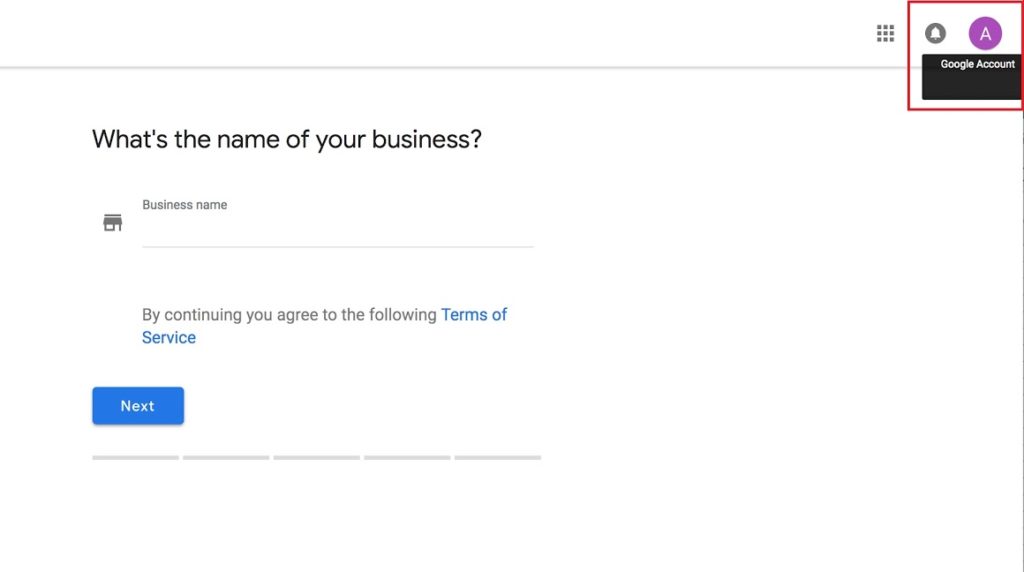 You can hover your mouse over the icon in the top right hand corner of this screen to view the account holder's information. 
Is this the Google email account you wish to use to manage your Google Business account?
Yes? Skip to Step 4.

No? Log out and proceed to Step 2.
Step 2: SIGN IN or START NOW
Click on the "Sign In" button in the top-right corner.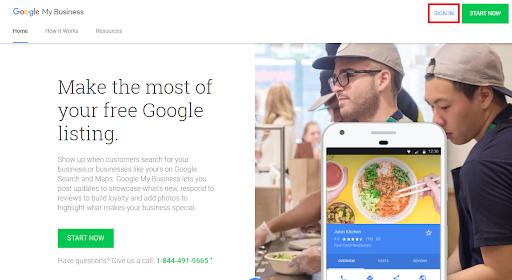 If you are not currently registered with a Google email account, click the "Start Now" link to create a Google account with any existing email address (ex: @hotmail.com, @yahoo.com, @businessname.com) or create a new "FirstNameLastName@gmail.com" email account that's available.
Please note: The email address, recovery phone number and other profile information you provide when creating your Google account will NOT be visible to your customers. List the best recovery email and phone number in the event you forget your login password.
Step 3: Log in to your Google account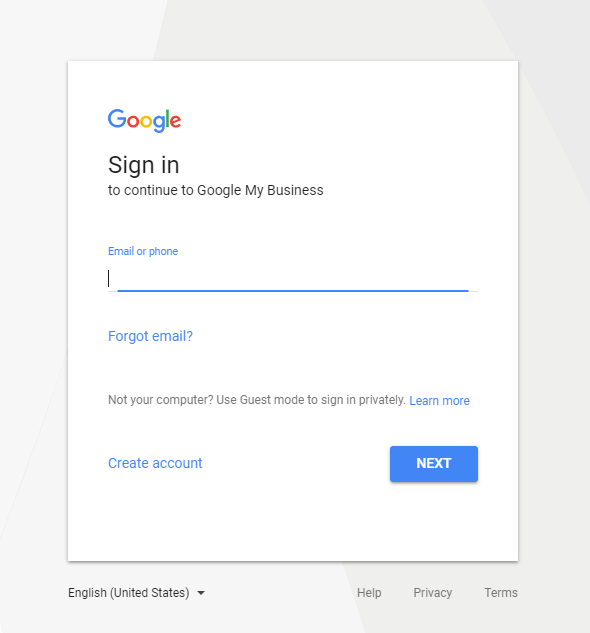 Sign in with the Google email account you wish to use to claim and manage your Google Business account.
Step 4: Search for your business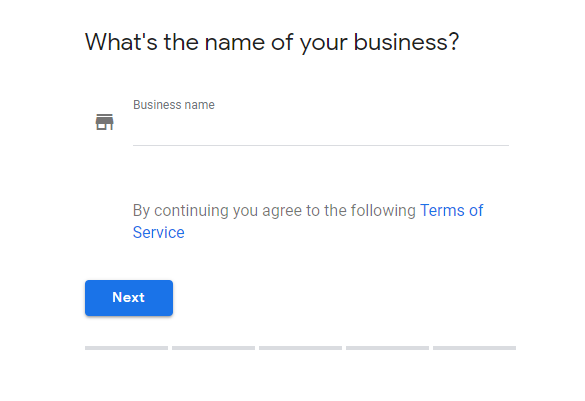 Type the name of your business the field provided. If your business name along with the last part of the business address auto-populates your business listing in the dropdown list below, select it and click Next. If not, you'll need to add your business.
Step 5: Business address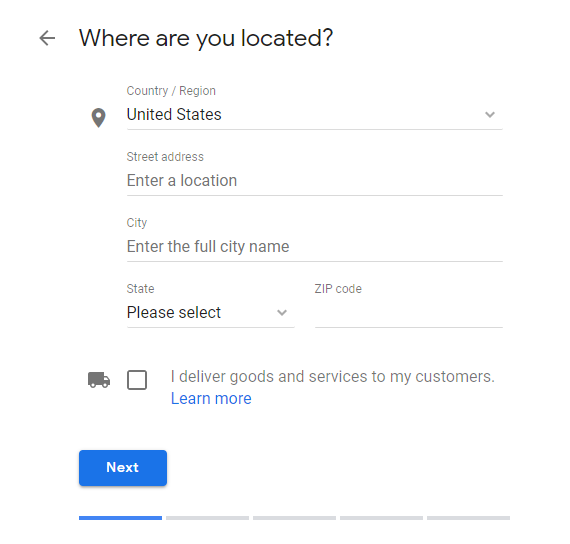 If the address in the step above is inaccurate, now is your chance to update your business address to the current information and click Next
If the address is accurate with current information, click Next
Only select the check box next to the "truck" image shown at the bottom of this page if you do NOT have a storefront for customers visit to render services/products.
Step 6: Business phone number & website link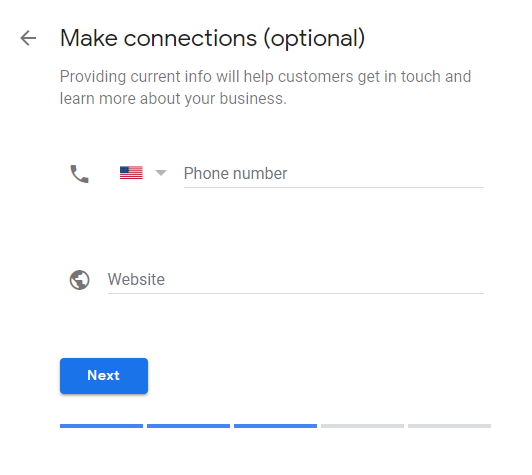 Make sure your business phone number and website address are correct and up-to-date on this next page. Again, if any of this information is inaccurate, update as needed then click Next.
Congratulations! You have now successfully claimed your Google Business listing! 
How to verify your business on Google
Now that you've claimed your business, you might ask, "Do I need to verify my business with Google?" The answer is yes, and it's the next important step in claiming your Google business listing. This step proves to Google that you own the business and gives you the ability to manage the information on your page, respond to customer reviews, upload photos, get your business found in search results, and more.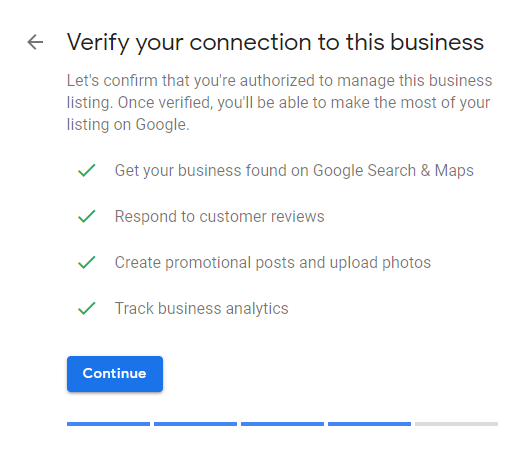 Please note: If you are claiming an "Unclaimed" Google Business listing, you will see the page shown above. Click Continue to choose from the verification options.
If you are claiming a Google Business listing that is currently Claimed and Managed by someone else, (for example; marketing manager, webmaster, previous employee, etc.) please scroll down to "What to do if someone has already claimed your Google business listing."
Option 1: Verify by postcard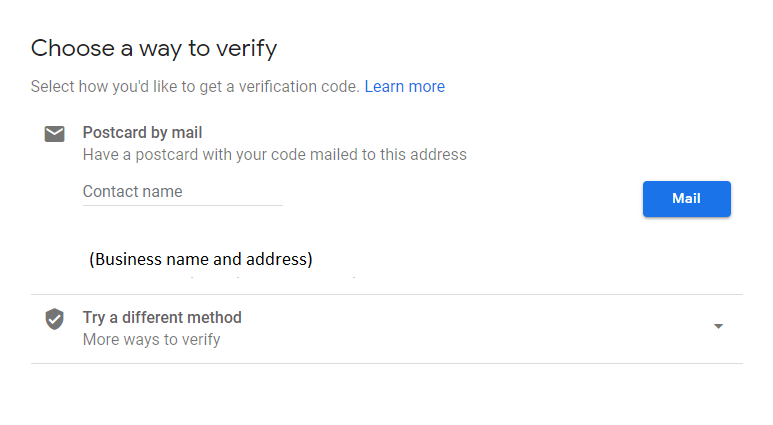 If you wish to receive a postcard containing a verification code sent from Google to your business address, please click on the Mail button on the right hand side. 
Postcard: Look out for a Google-branded postcard to arrive by mail. This postcard will contain the verification code needed to verify your listing. Sign into your Google Business Account (business.google.com), click on the Verify Now button next to your listing, and enter the verification code. Your business listing is now claimed and verified!  
If you wish to verify another way, click on the shield icon next to "Try a different method."
Option 2: Verify with a different method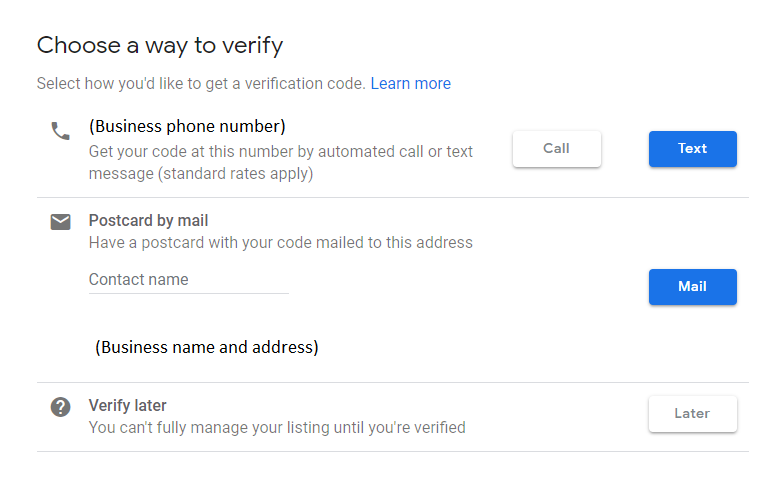 A faster way to verify your business listing is to have Google call or text your business phone number. Please note: This option is not recommend if you are not at the business location at the time you request the verification phone call and/or if your business number cannot receive text messages. 
Work-around: If you choose to have Google call your place of business, ask an employee in advance to pick up the Google verification phone call once you send the request, then have your employee call you back with the verification code.
Verify later: This option will allow you to verify your business listing at a later time. 
What to do if someone else claimed your Google Business listing
Has someone else claimed your business on Google? Click on Request Access to notify the current listing owner that you wish to claim and manage this business listing. 
Step 1: Submit requester information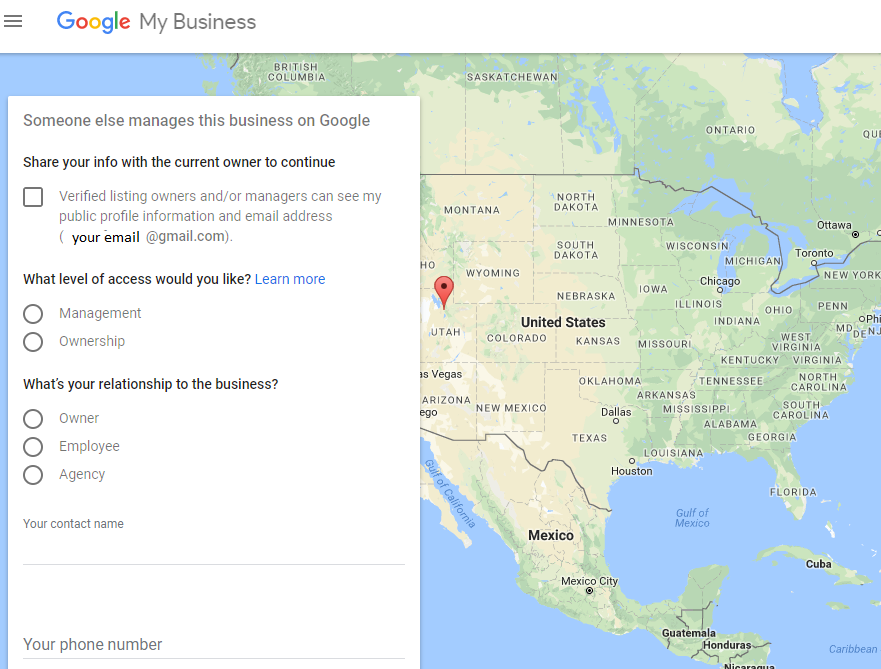 Share your info with the current owner to continue: Check this box. This is a security measure to prevent any Google user from claiming a business that is not theirs.

What level of access would you like?: If you are the owner and want to fully manage your business listing, select Ownership. You can add other authorized users to manage your account with limited features later on. Click on Learn More for more information. 

What's your relationship to the business?: Select your role for the business, enter your name and phone number so the owner currently managing the listing has the option to contact you to inquire about the Ownership Request.
Step 2: Await confirmation by current owner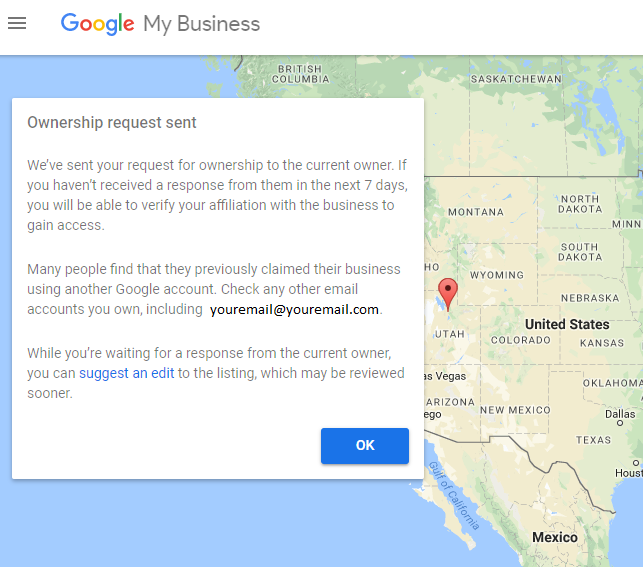 If the current owner does not respond within 7 days, Google will usually grant your Ownership Request.
If the the Ownership Request is rejected by the current owner, log into your account to appeal the rejection and/or contact Google at: 1-844-491-9665.
Manage your online presence
Claiming and verifying your Google my Business listing is a vital step for any local business, but it's only the first step. Next steps involve responding to reviews, building a strategy consistently get more reviews, and managing your reviews on all the important review sites for your business type. Make sure you stay on top of it, because online reviews can have a huge impact on your business.
See our additional guides: 
Solo

is the easiest way for small businesses to pay and get paid.

Solo mobile app is now available for everyone
Scan QR to download the Solo App
Solo mobile app is now available for everyone