In this article:
How-to guide for claiming your Nextdoor business page
Nextdoor is a social networking service for neighborhoods where users can exchange information about local goods and services and share other useful tips for their area. Businesses can join in their neighborhood network by getting listed on the website for their location. 
Local business listings on website directories like Nextdoor help businesses improve their online reputation and create more opportunities to gain new leads. In this guide, we'll walk you through the step-by-step process of adding your business to Nextdoor.
How to add your business to Nextdoor
To get started, you can go to business.nextdoor.com. 
Step 1: Create an account and search for your business
The first step to adding your business to any online directory is to see if your business already has one. Sometimes businesses get automatically added to directories when they've been around for awhile, and you never know if a previous marketer or owner of the business set up a listing before you did. 
This first step helps to ensure that you don't create a duplicate listing (which can cause confusion for users and the search engines). 
To search for your business on Nextdoor, you'll need to go to business.nextdoor.com and click either "Sign Up Free" or "Claim Your Free Business Page." Each of these options will take you through the same process if you don't already have a business account on Next door.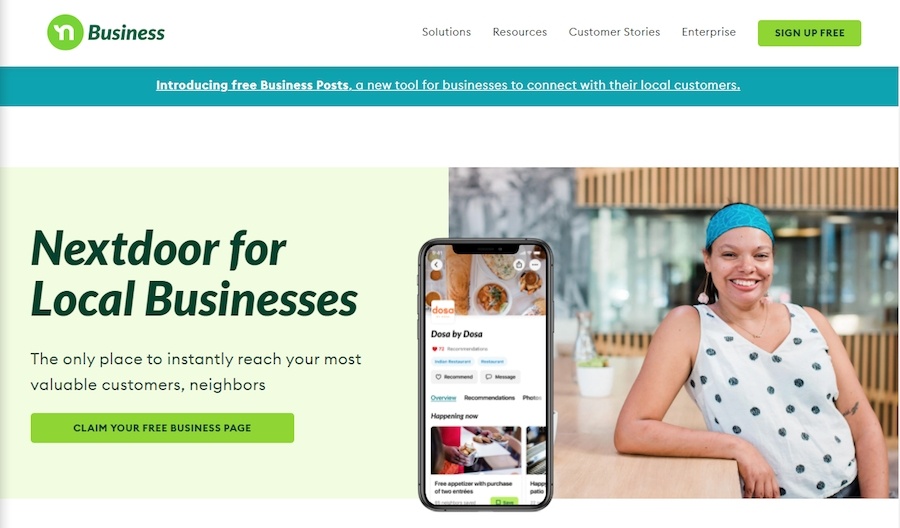 Select the business type that describes your business best. Most will probably fall under professional business, but if you're an independent contractor you might select neighbor for hire.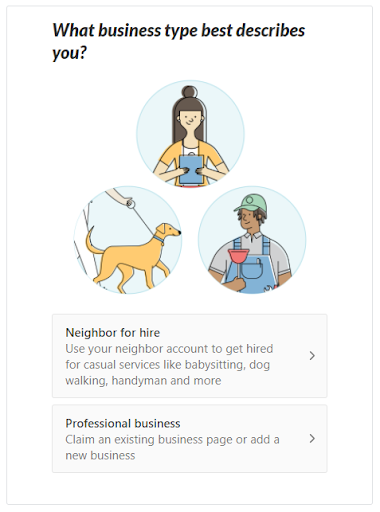 Click "Sign Up" on the next page and then follow the prompts to create your account. Add your first and last name, email, and password.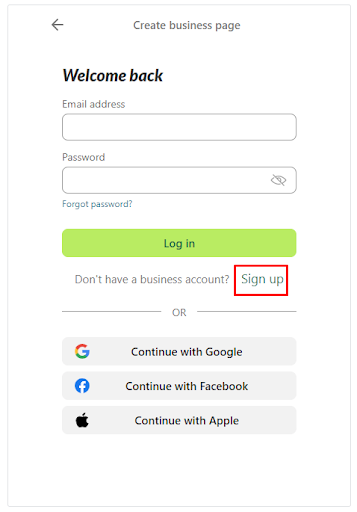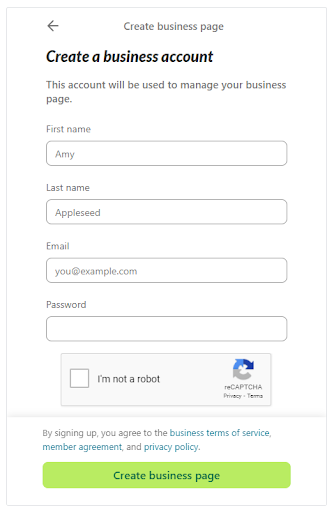 Once your account is created, you'll be brought to the page where you can search for your business. Enter your business name and address into the form and click "Search."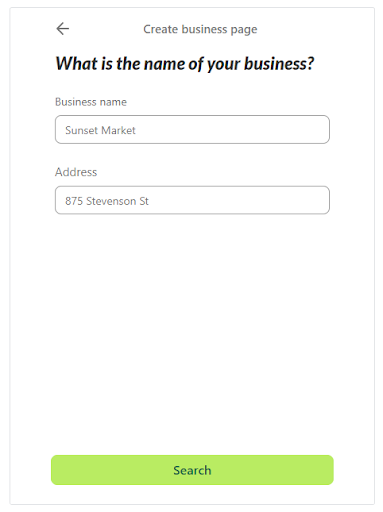 Nextdoor might then list out several businesses that could be yours. If you do see your business listed, click it and proceed to Step 3 to claim your listing. If you don't see your business, click "Create a new business page with this name" at the bottom of that window.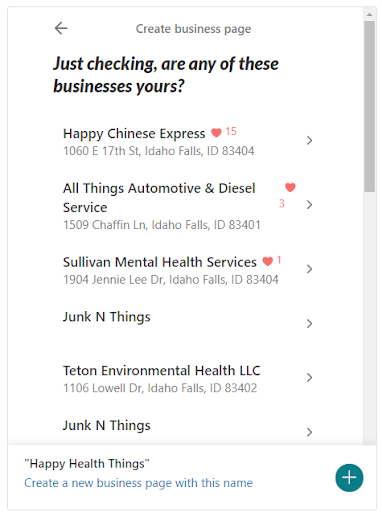 Step 2: Create your business page on Nextdoor
On the next page, you'll need to confirm your business address and click "Continue."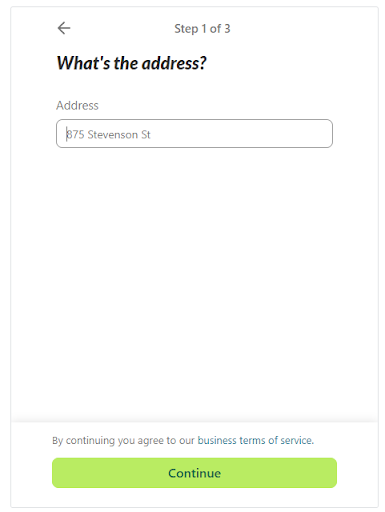 Then, add your business's contact information, including email, phone number, and website.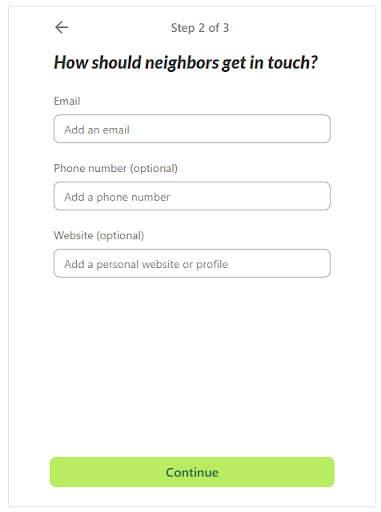 Lastly, select the category for your business and then click "Create a new business page." You can add more than one category here too.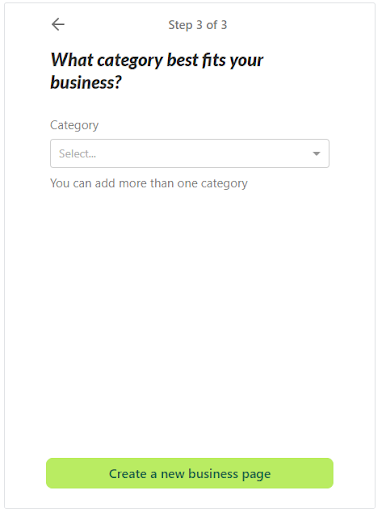 After you click create, Nextdoor will prompt you with the option to Start for Free or See Pricing for their premium plans. For your basic listing, just click "Start for Free." You can always opt for their premium plans later if you feel this platform will help your business get leads.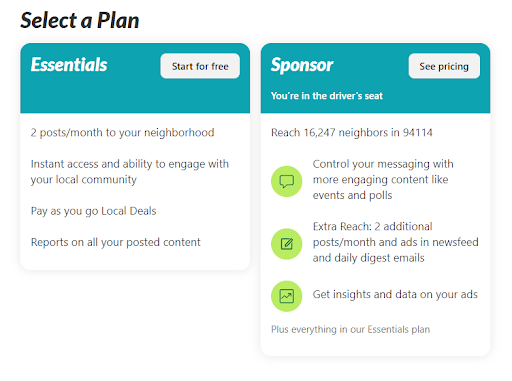 Step 3: Claim your business listing on Nextdoor
Now that your business listing is created, you can claim it to make sure you have ownership of it and can lock out other people from making edits to your business page. 
If your business was already listed when you searched for it, click on your business and follow the prompting to claim it. You'll need to have Nextdoor text or call your business phone. They wil then provide you with a code that you have to enter on the next page that appears. Enter your code and click submit, and your business will be claimed.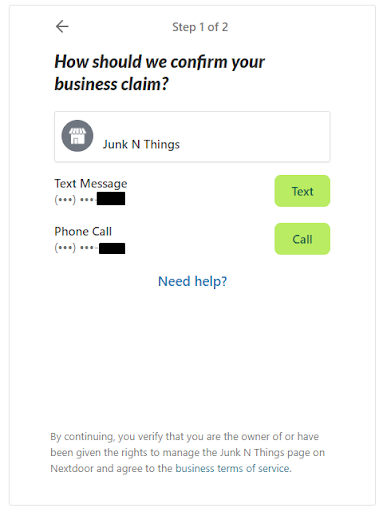 If you just created a new listing, your business is automatically claimed. Congratulations!
Step 4: Fill out your listing page
Once you've claimed or created your business, you'll be taken to your Nextdoor dashboard for the listing.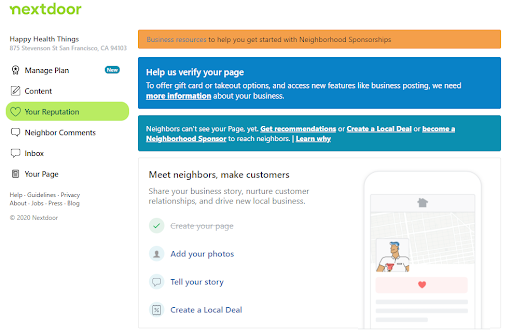 From here, go to "Your Page" in the left menu and start filling out your business page. 
Add a logo and cover photo, your business information, additional categories, your story, and more photos if you have them. The more information you can include, the more helpful the listing will be in guiding potential customers your way and in helping with your local search engine rankings.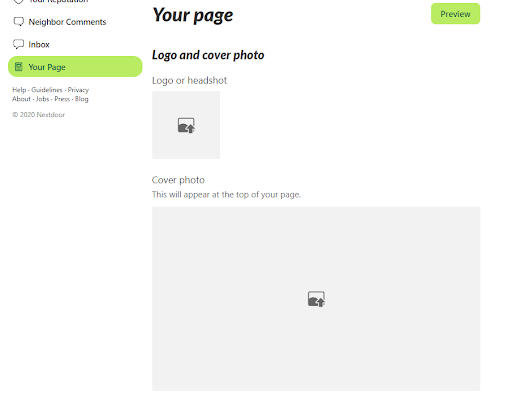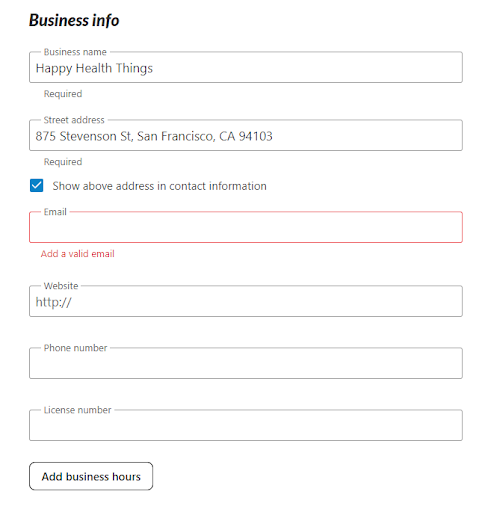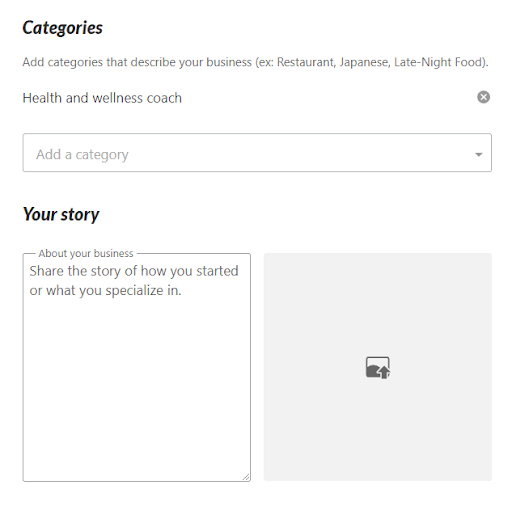 Looking for other free listings that you can create for your business? Check out our guide: 25 free business listing websites for small or local businesses   
After you've created a business listing in an online directory it's easy to leave it be and forget that it exists, especially if it's one that you don't need to actively manage for leads. However, it's important that you regularly monitor your online listings and make sure to keep them current, especially if it's a platform that allows reviews from customers.
Solo

is the easiest way for small businesses to pay and get paid.

Solo mobile app is now available for everyone
Scan QR to download the Solo App
Solo mobile app is now available for everyone