In this 6-minute read:
Is Twitter right for your business?

Benefits of Twitter for small businesses

How to set up your business Twitter account

What to post on your Twitter profile
Hundreds of millions of people are connecting and sharing things on Twitter every day. This is a great opportunity for businesses to gain awareness and improve their online visibility. 
Not sure if Twitter is right for your business? Learn more about how Twitter is good for businesses and how you can create your business Twitter account throughout this guide. 
Is Twitter a good fit for my business?
Not every social media platform is going to be the best fit for every industry. To see if Twitter is a good fit for your business, find out where your customers are spending their time on social media. 
Some questions you can ask yourself to determine whether or not Twitter is right for you:
Will Twitter be useful for your business?

What are your goals for your social media accounts and can Twitter accomplish these?

How can Twitter help small businesses?

How can Twitter help you market your business?
Consider these questions as you go through this article to help you determine if Twitter will work for you. 
Benefits of using Twitter for business
Twitter has more than 300 million active users and will help your business connect with new audiences and spread brand awareness. 
Here are some awesome benefits that Twitter can provide to any small business. 
Twitter Ads for businesses
Twitter has some powerful targeting capabilities with their online ads that allow you to reach your intended audience. Select specific demographics and interests for your audience and show your ads only to those who match your criteria.
Monitor your brand
With Twitter, you can monitor brand mentions and see when people are talking about your business. Those are the perfect profiles to connect with to help you grow your social media presence. 
Communicate with followers
With direct messaging and responding to Tweets, you can communicate directly with your followers and grow your brand awareness. Engaging on social channels is how you can grow your following and get your business in front of more people. 
Drive traffic to your website
Sharing blog articles from your website and even just listing your website on your Twitter profile will drive more traffic to your website. Twitter users often check out the websites of the brands they follow on Twitter to learn more about them. 
See how Twitter can help your business? Continue on to learn how to add your business to Twitter. 
How to create your business Twitter account
We'll get right to it. Follow these steps to set up your business profile on Twitter. 
1. Sign up on Twitter
Go to twitter.com and click "Sign up." Add the following information:
Name (use the name of your business)

Cell phone number* or email (just click "Use email instead" to add your email)

Date of birth (this isn't public on your profile)
*You have to use a cell phone number if you choose this option because Twitter will verify your account with a text message.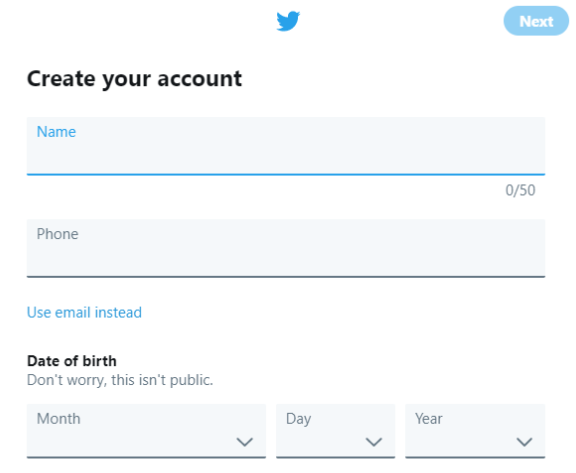 When you click "Next" Twitter will give you some options to customize your experience with personalized ads. This personalization can be convenient for seeing what other businesses in your industry are doing for their ads.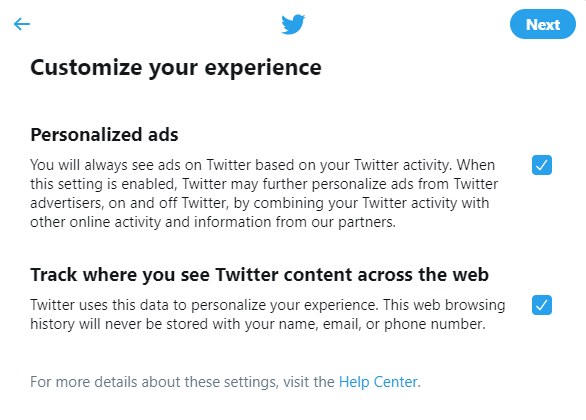 Click "Next" again, and Twitter will allow you to update your information if you need to. Then just click "Sign up" and Twitter will ask you to verify your phone or email.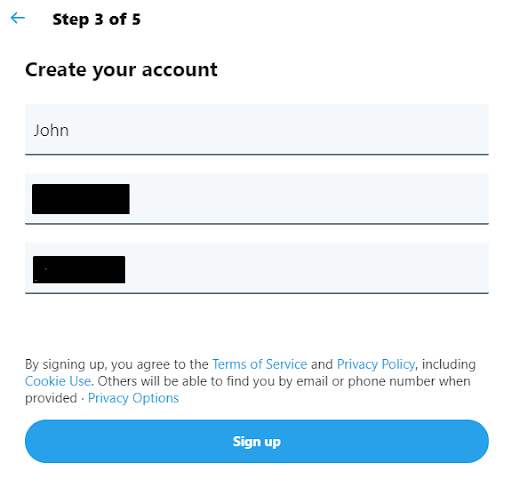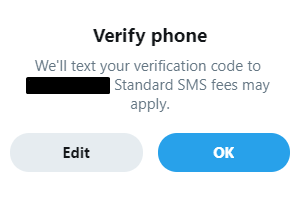 You can edit the phone or email that you entered or hit "OK" to finish the verification process. Enter the verification code you received and click "Next."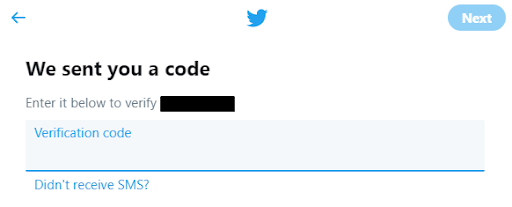 Then you'll need to set up a password that is at least 6 characters. Record this somewhere so you don't forget it.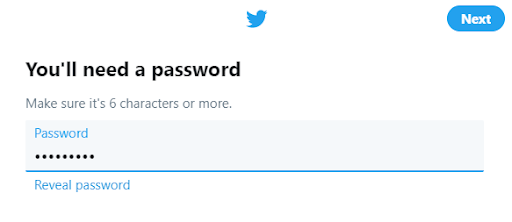 Choose a profile picture for your account. Your business logo is perfect here.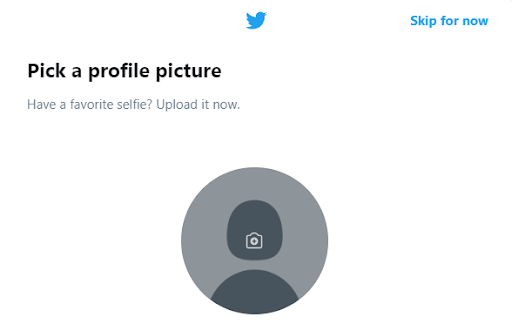 Add a description of your business next. Be sure to keep it under 160 characters.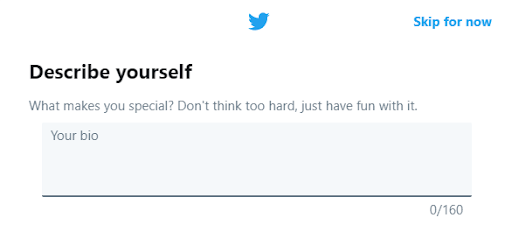 Next, add interests that will help generate your feed with relevant topics. Choose things that are relevant to your business that you can Retweet and share to build up your following.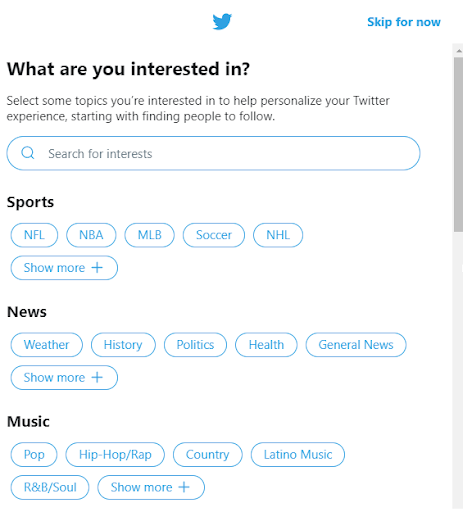 Next, based on your interests, Twitter will show you some top profiles that you can follow. Select a few that you feel will provide good content for your business account to share and follow.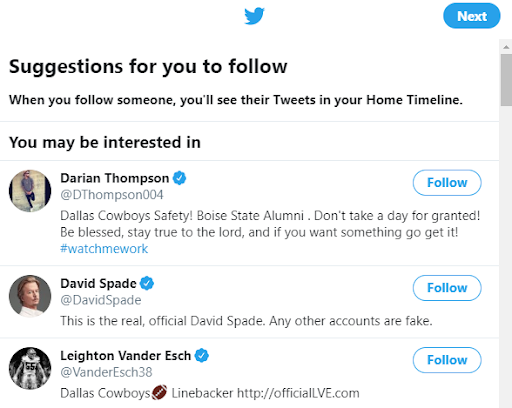 Click "Allow notifications" to get notifications when someone follows your business, Retweets your content, direct messages you, and when relevant news is posted.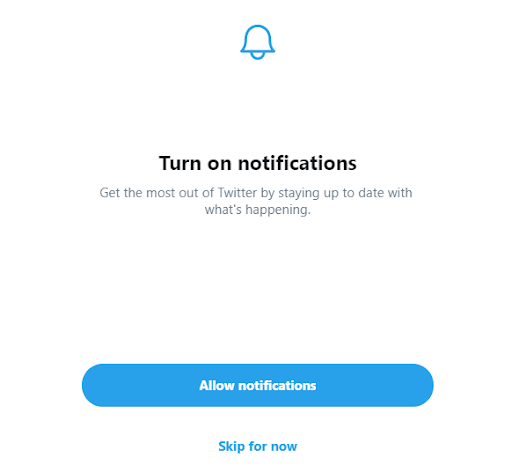 Now you have officially signed up for Twitter! The next steps will help you set up the rest of your account. 
2. Update your Twitter business profile
Next, you'll want to add things like a cover photo and your website to your Twitter profile. Go to your profile by clicking on your profile photo in the left menu bar.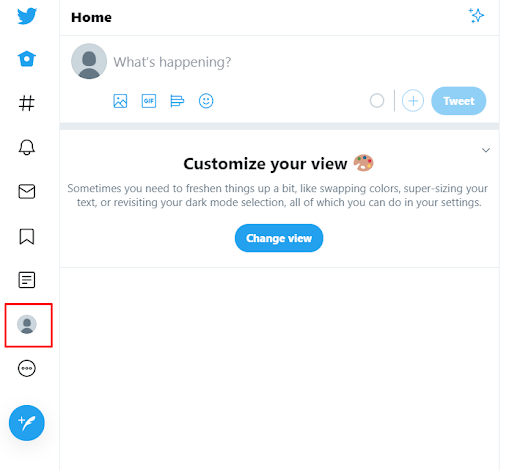 Then select "Edit profile" to update your information.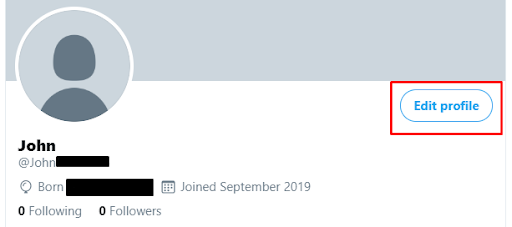 This will allow you to update your profile and cover photos, change your name, update your bio (this is the description you entered in the signup process), add your location, add your website, and edit your birthday. 
Be sure to scroll through this window and add your website so followers can learn more about your business. Then click "Save" when you are done.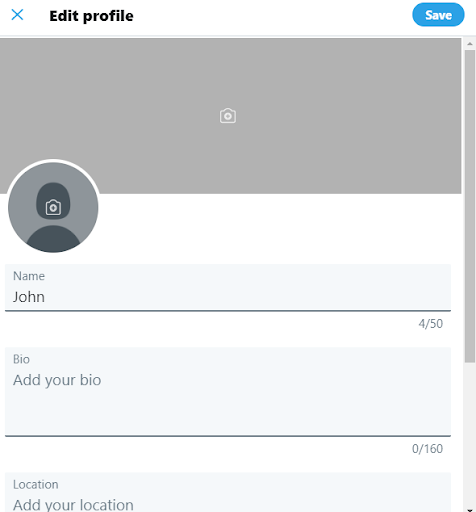 3. Start Tweeting
Now that your Twitter business account is set up with relevant interests, information, and photos, it's time to start Tweeting. 
Select "Tweet now" on your profile to get started.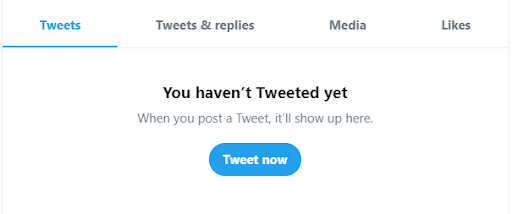 Not sure what to Tweet? Read on to get a few tips about the best content for businesses to share on Twitter. 
What to post on your business Twitter profile
Your business Twitter profile is now set up, so it's time to start Tweeting and sharing content like crazy. Tweets don't last long, so it's important to have someone dedicated to your Twitter account to regularly Tweet for you. 
The average lifespan of a Tweet is less than 18 minutes because there is a constant stream of fresh new content. Unless your Tweet gets tons or Retweets, people won't likely see it after that 18-minute period from the time you post it. So keep at it!
Here are some great things for your business to Tweet or Retweet:
Industry news. Do a search on Twitter and Retweet relevant industry news that your followers should know about

Share photos of new products or services

Share promotions and discounts (with photos!)

Share blog posts from your own website with a short punchy description

Be sure to use relevant and trending hashtags to help your Tweets to show up for more people

Ask questions and run polls

Retweet, Retweet, Retweet–we cannot stress this last one enough. Retweeting is the best way to get more followers and increase your business's presence on Twitter
Sources:
https://moz.com/blog/when-is-my-tweets-prime-of-life
Solo

is the easiest way for small businesses to pay and get paid.

Solo mobile app is now available for everyone
Scan QR to download the Solo App
Solo mobile app is now available for everyone