In this article:
Why use LinkedIn for your business

How to set up a LinkedIn business profile

How to use LinkedIn to grow your business
LinkedIn has more than 645 million members worldwide. That's a lot of people to connect with to help grow your business. 
The best part is, any business can set up a free LinkedIn account. With the many opportunities that LinkedIn offers to connect you with potential employees and other professionals in your industry, it's a great tool to utilize for your business. 
Why use LinkedIn for businesses
Beyond just the sheer number of people who use LinkedIn on a regular basis, this professional network can provide your business with tons of opportunities, from spreading the word about a new job to connecting with industry leaders and staying up to date on industry news. 
The three main benefits your business can get from Linked in are as follows:
1. Build your professional network
LinkedIn is a powerhouse for connecting with other like-minded professionals. You can follow industry leaders, trending topics for your industry, and gain valuable insight into what other business owners are doing to thrive in their businesses. 
2. Increase your company's exposure to attract quality employees
When you create a company page on LinkedIn, you have more opportunities to attract quality employees to your business. You can post job opportunities to gain interest from qualified applicants all over the place. 
3. LinkedIn increases your business's credibility
When customers and potential employees see that your business has a LinkedIn account, that adds another level of trust to your business. LinkedIn is widely known as a professional network, so simply having a company page can boost your trust and help others learn more about your business. 
How to set up a LinkedIn company page
Now that you know why LinkedIn is a good idea, let's get started on creating an account. 
Step 1: Sign up for LinkedIn
If you don't already have a LinkedIn account, you will need to create one. In order to create a company page, you must create a personal LinkedIn account from which to manage your page. 
Go to Linkedin.com and click "Join now" to sign up for an account. If you already have an account, sign in and proceed to step 2 to create your company page.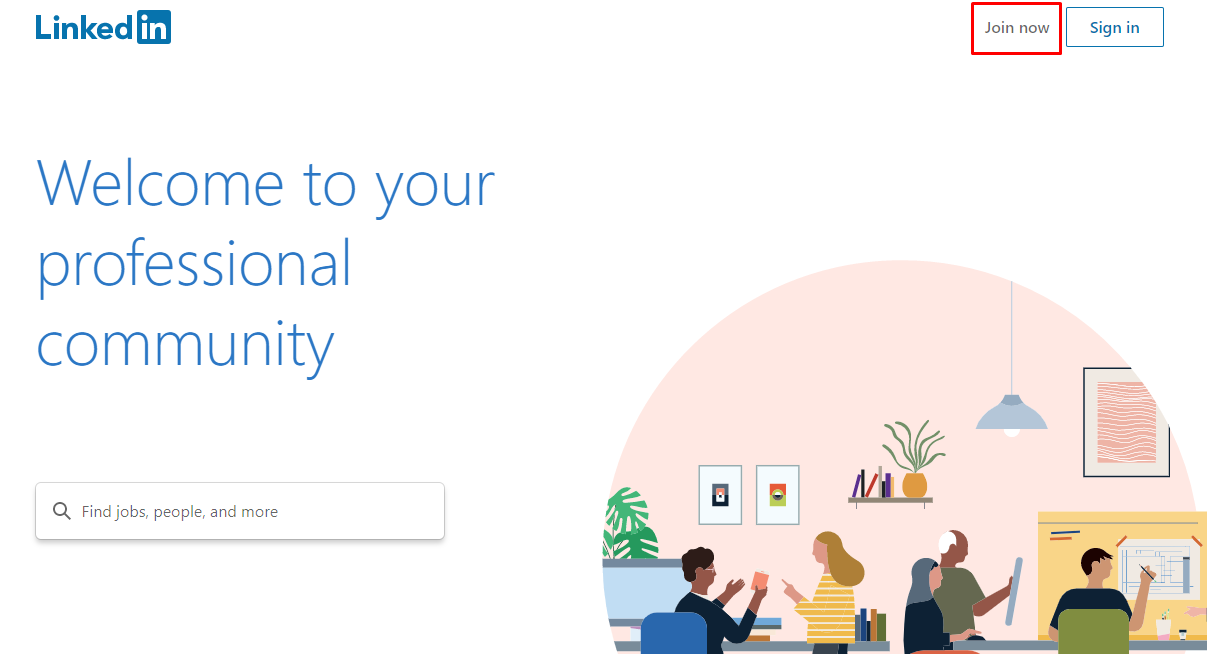 Step 2: Create your company page on LinkedIn
When you get logged in to LinkedIn, navigate to the top menu bar and click the "Work" dropdown menu next to your profile picture. 
From there, go to the bottom of the new window and click "Create a Company Page."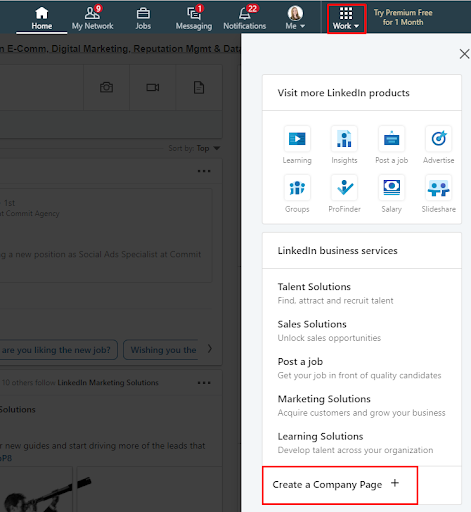 You'll then be given the option to select the type of page you wish to create. 
The options include:
Small business (for fewer than 200 employees)

Medium to large business (for more than 200 employees)

Showcase page (a sub-page for an existing business page)

Education institution (for schools and universities)
Select the appropriate page for your business–for most of you, this will be the "small business" option.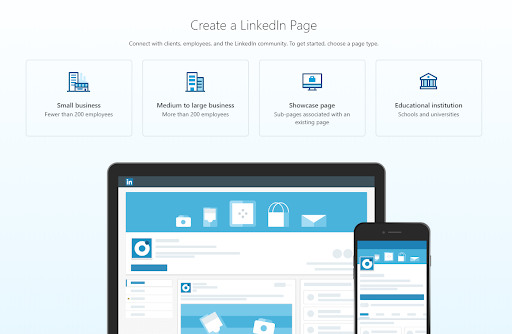 Next, you need to add all of your company information. This includes:
Business name (make sure this is the same name you use across all of your company's online listings)

A unique URL (you can put your company name here if it's available)

Business website

Your industry

Company size

Company type

Company logo (for profile photo)

Tagline
When you have filled out all of your information and added a photo, click "Create page."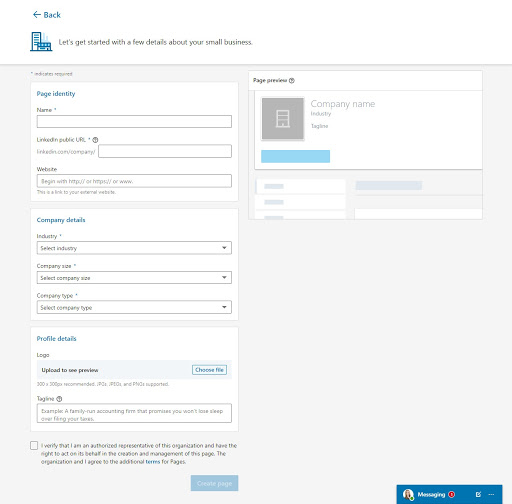 Step 3: Complete your profile
Now that your company page is created, there are a few things you can do to really round out your LinkedIn profile. 
First, add a cover photo. A picture of your location or something that represents your business well should go here. 

Next, let's add a little more information about your company. Click the pencil icon below your cover photo to edit your business info. 

In the next window that pops up, you can first update "Page info." This is your profile picture, the name of your company and a tagline. You would have entered all of these when creating the page, but if you want to switch anything up, you can do that here.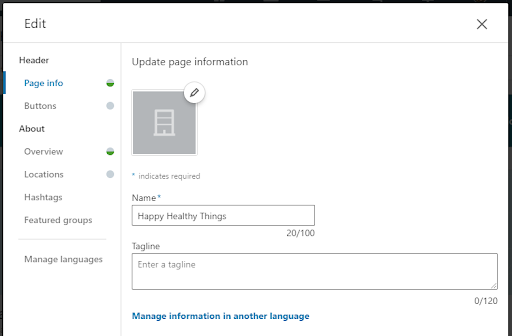 Then move down to "Buttons." This allows you to add a custom button to the header of your company page. Click the toggle from "Off" to "On," select a button name, and enter the URL that you want your button to go to. 
This could be a contact page on your website, a careers page, or whatever you feel is relevant for the goals of your LinkedIn account. Click "Save" and move to the "About" section.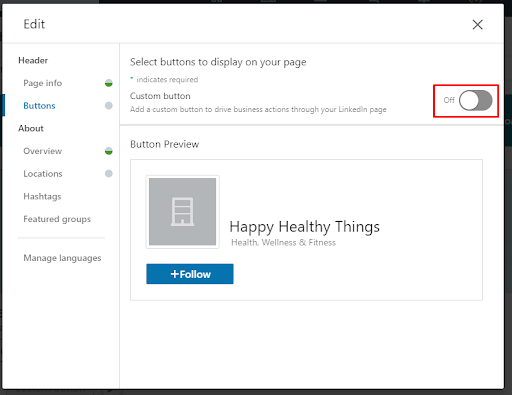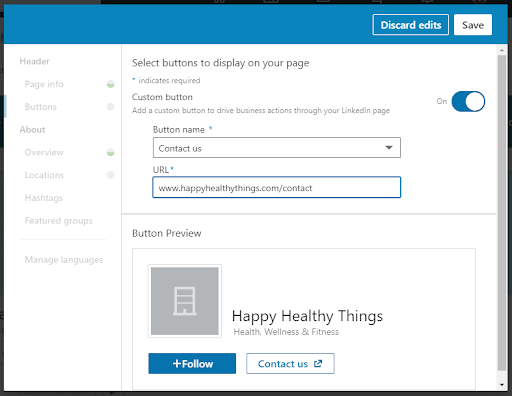 Under "Overview," you can and should enter a description of your company to help others know what you do. Add your website too if you haven't done this already and enter your business phone number. 
You'll see that your industry, company size, and company type are all filled in from when you created the page. Now you can add the year your company was founded and up to 20 specialties–these can be unique services you offer and the qualities that your company exudes.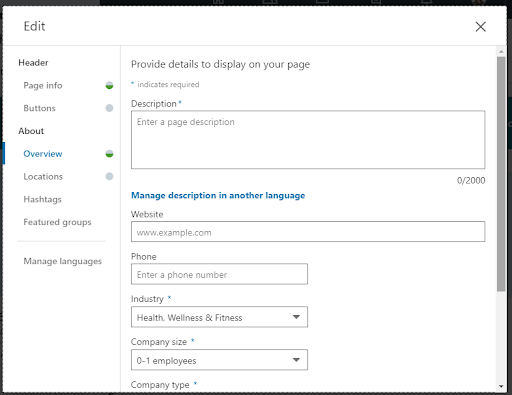 On to locations. This is where you can add your address to help potential employees and customers find your business easier. 
Click "Add a location" and then fill in the fields for your address.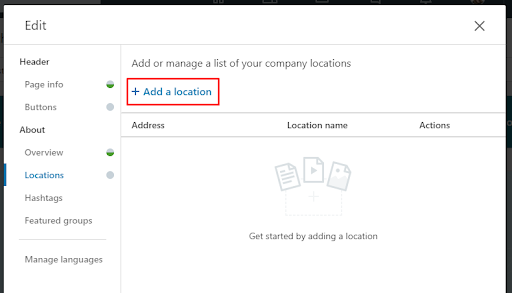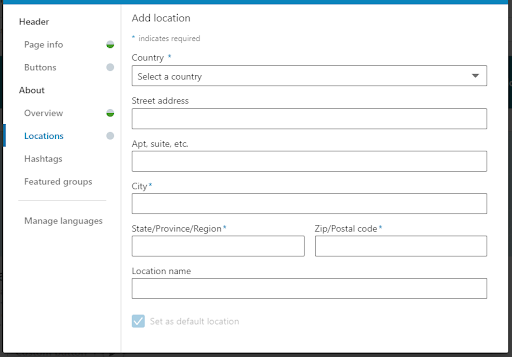 Next, add community hashtags to your profile. This will help you see when others are posting about your interests, industry, and brand. Stay in the know by adding relevant hashtags and sharing the content you find with your community.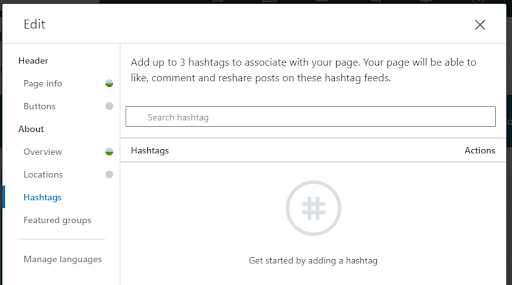 Finally, add featured groups to your page to show your followers what groups you are involved with and/or interested in. This can say a lot about your company and will help convey the right messages to your connections.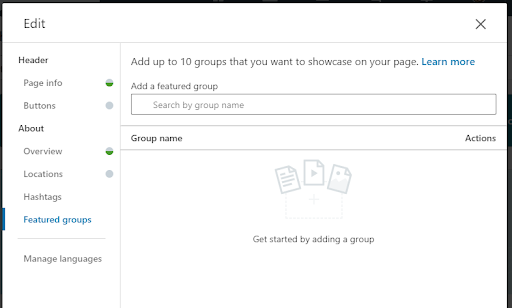 Now your profile is complete! The only thing that's left it to start posting. Read on to learn more about how you can utilize posts and other features to help grow your business. 
How to use LinkedIn to grow your business
LinkedIn has some pretty cool features that your business should definitely take advantage of. We've listed a few to help you get started on improving your LinkedIn profile and growing your business. 
1. Content suggestions
When you are on your LinkedIn company page, there's an option near the top that says "Content Suggestions." This feature is great for when you aren't quite sure what to post or share on your page. 

Click this and then add filters based on industry, location, and employee level to find the kind of content you'd like to share. Click "View content suggestions," and LinkedIn will generate a list of content that others have already posted. 
Browse through this list and share the content that speaks to you and your business. 
2. Job postings
You can create job listings from your company page, and LinkedIn will help put your post in front of the most qualified candidates. 
This feature is not free, but it is so helpful for finding the best job applicants. You need to pay a small daily fee in order to put your job post in front of candidates on LinkedIn. LinkedIn will provide a recommended daily budget based on the type of job you post. The average job post budget ranges from $10-$30 per day. 
3. Analytics and activity reporting
LinkedIn shows your page's analytics and the actions that people have taken on your page. With analytics, you can see how many page views, unique visitors, and followers you've had and filter these by dates and demographics. 
The activity reporting will tell you how people have engaged with your company profile and content. If they've mentioned your brand, shared or reacted to your content, or commented on your posts, you'll be notified of it. 
These reports can help you to know what you're doing right and where you can make improvements with your page. 
Solo

is the easiest way for small businesses to pay and get paid.

Solo mobile app is now available for everyone
Scan QR to download the Solo App
Solo mobile app is now available for everyone