In this article:
Why use Instagram for business

How to set up and claim your business Instagram account

What to post on Instagram
Eighty percent of Instagram's one billion users follow at least one business on their Instagram account. They enjoy the aesthetically pleasing content that brands tend to share on this channel, and feel more connected to brands they like.  
With so many potential customers on Instagram, this platform provides tons of opportunities for your business to increase awareness of your brand and improve your online visibility. 
Why use Instagram for your business?
More people join Instagram every year. This popular social media channel is the perfect way for consumers to relax and pass time as they check out fun and inspiring images and engage with their favorite brands. 
Some advantages that Instagram can provide your business:
Any size business can be successful on Instagram

There are about 1 billion active Instagram users worldwide daily

Local advertising functionality can help you reach targeted audiences

You can partner with influencers to share your brand and gain more awareness

Easily engage with customers through comments, polls, and direct messaging

Mobile users are more frequently on Instagram than any other social media channel

Monitor competitors' Instagram accounts to see how they engage their followers

Boost sales by showcasing new products and services

Get feedback from consumer polls and collect data to improve your business
How to set up your business Instagram account
Now that you know some ways Instagram can help your business, let's dive in. Follow these steps to set up your business Instagram account. 
1. Download the app or go to the Instagram website
First, you'll need to go to Instagram's platform. You can download the mobile app on your phone or tablet, or you can go to Instagram.com in any web browser. 
From there, you'll need to sign up for a new account.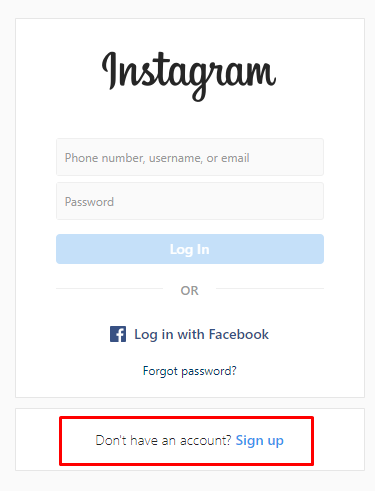 2. Sign up for Instagram
Continue the signup process by clicking "Sign up" and entering in all of the required information. You are given the option to "Log in with Facebook," but this is really only a good option for personal accounts. (For those who aren't aware, Facebook owns Instagram.)
For a business account, you'll want to keep it separate from personal Facebook accounts so anyone that you need to can have access to the account. 
Enter a mobile number or email (one of these will be used to verify the account), the name of your business, a username, and a password. Then click "Sign up."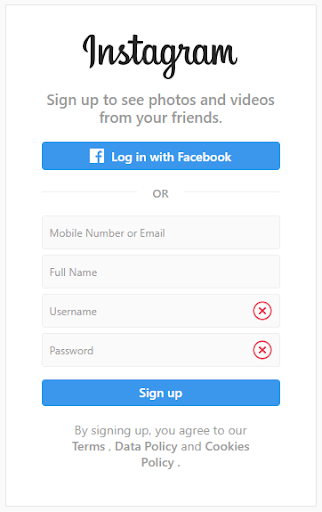 Verify your phone number or email next. You'll receive a 6-digit code that you need to confirm in order to finish setting up your account.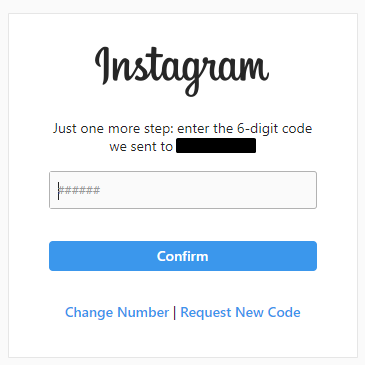 3. Switch to a business Instagram account. 
Now that you've created an account, you'll want to make sure you change the settings so your profile appears as a business account. You'll need to log in to the mobile app to do this. 
When you're there, click the user icon on the bottom right corner of the app. 
Next, click the menu icon in the top right of your screen and navigate to your settings.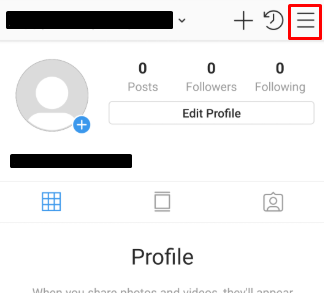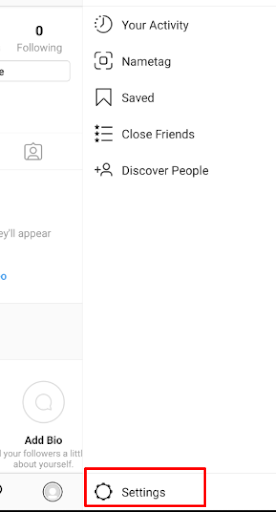 After that, click "Account"…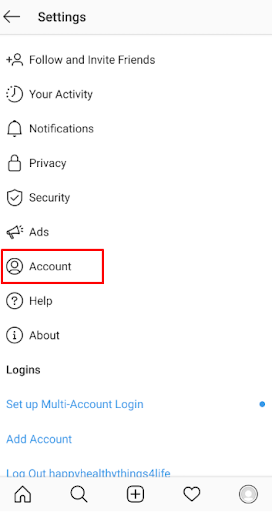 …and then go to "Switch to Professional Account."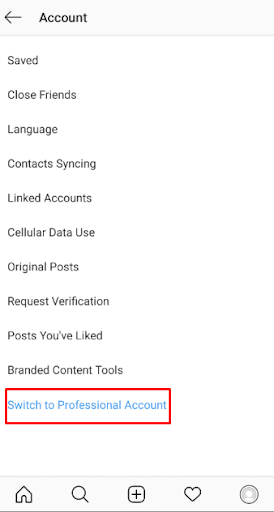 From there, you will be prompted to select a "Creator" account or a "Business" account. As a small business, we urge you to select business to gain the best opportunities for your brand.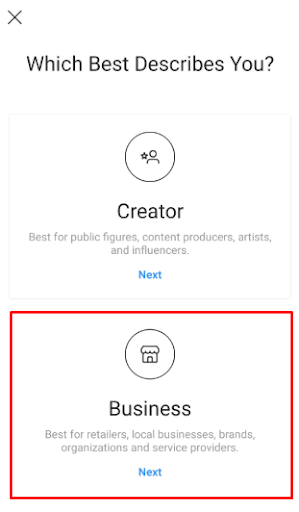 Then you'll be directed to a series of screens that let you know what a business account can do for you. Click "Continue" through each of the next four slides.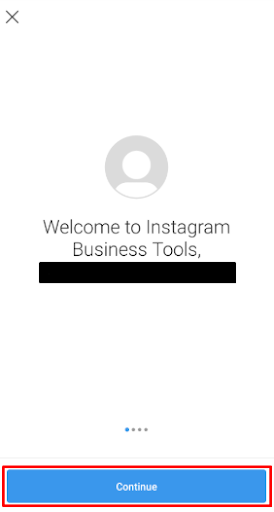 Next, select the best category for your business. Scroll through the list or search for the most relevant category that represents your business.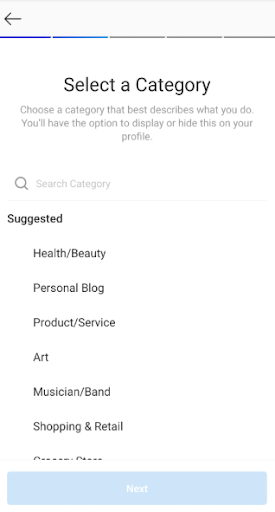 Then you'll want to add your business's contact information: email, phone number, and address. If you have a business cell phone, that would be the best number to associate with the account. 
You don't have to display your contact information, but the more places this is accessible, the more opportunities you have for customers to get in touch with your business.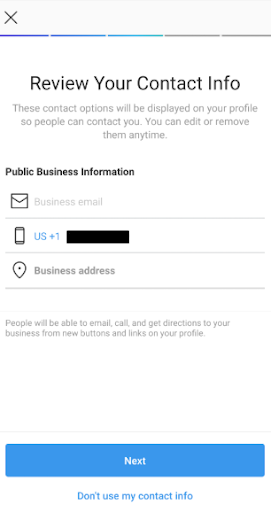 After you've updated your information, it's time to connect to your business Facebook page. Facebook and Instagram advertising are integrated together, so you'll want to make sure to link these two accounts. 
Don't have a Facebook page for your business? Check out our guide: How to create and claim your Facebook business page
You will need to be an admin of your business Facebook page in order to connect it to your Instagram account, and when you select "Choose Page" you'll be prompted to log into your personal Facebook account to see the pages that you are an admin on. 
Select your business page and click "Done." 
You can also link your Instagram account from your Facebook page on a desktop computer if someone else is the admin or if you want to do this at a later time.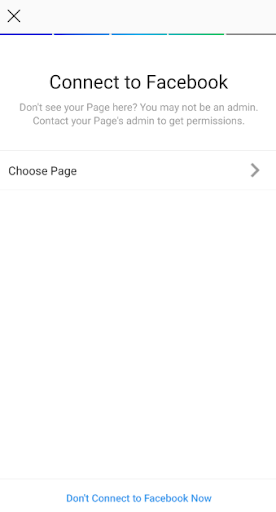 Now you officially have a business Instagram account! But there are a couple more things you'll want to do to really complete your profile. 
4. Complete your profile
Now you need to add a profile photo, bio, and your website in order to complete your business's Instagram profile. 
To add a profile photo, go back to your profile and click the "+" on the profile icon in the top left of your screen. 
From there, select "Add Profile Photo" and "New Profile Photo." 
A company logo is usually the best picture to use here because it helps to reinforce your brand.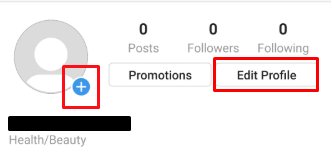 When you have your profile photo added, go back to your profile and select "Edit Profile."
This is where you can update your bio and website. Add your website into the appropriate field. And then add a short description of your business into the bio section. 
Then click the checkmark in the top right corner, and your profile is officially complete!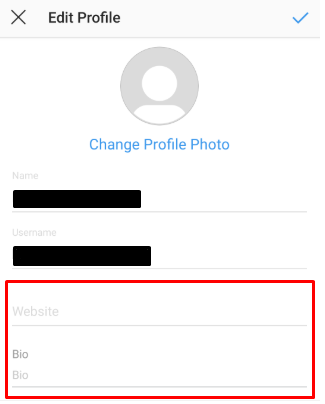 5. Add content
You have signed up for Instagram, switched to a business account, and completed your profile. Now it's time to start posting. 
Get some beautiful images together of products or employees on the job and start tracking engagement. 
Most businesses post on Instagram between 1 and 3 times each day. Try to set a goal for your business and select an employee who can keep up with the posts. 
Read on to learn more about what kinds of things you should post. 
What kind of content should businesses post on Instagram?
Instagram is a creative platform, so be sure to get creative with your posts. Professional photos and videos will go a long way here. 
To get help you get started, we've put together this small list of ideas that your business can use to post on Instagram:
New products and services

Discounts and deals

Employee features

Customer features

Inspirational images and quotes

Memes

Contests/giveaways

Celebrations for your business (anniversaries, milestones reached)

Trending hashtag posts (#NationalDoughnutDay anyone?)

Behind the scenes photos and videos

Upcoming events

Holiday posts
Get creative and have fun with it!
There are so many ways that small businesses can take advantage of Instagram and find success on this platform. You just need to determine your goals for your business's Instagram account and start working toward those.
Solo

is the easiest way for small businesses to pay and get paid.

Solo mobile app is now available for everyone
Scan QR to download the Solo App
Solo mobile app is now available for everyone