In this article:
How to claim and create your Bing business listing (2 ways)

What you should do next
Bing currently holds around 3% of the market share for search engines, which may not seem like a lot. But when you consider the billions of people that do internet searches every day, that means that Bing still gets hundreds of millions of searches daily.
Don't limit the opportunities for your business by leaving your Bing listing unclaimed. Follow the simple steps below to get your business added to and claimed on Bing. 
How to create and claim your Bing Places business listing
Let's get to it!
Step 1: Log in to Bing
The first thing you need to do is create a Bing account, or sign in with your Google account (we recommend the latter as it will speed up the process). 
Logging in with Google will allow you to important any existing Google My Business listings that you own directly onto Bing without going through their verification process. Pretty sweet, right?
Go to bingplaces.com to sign in or sign up. 

Sign in with Google, if you are able to, otherwise, select one of the other options for signing in: Facebook, Microsoft, Work Account, or create one.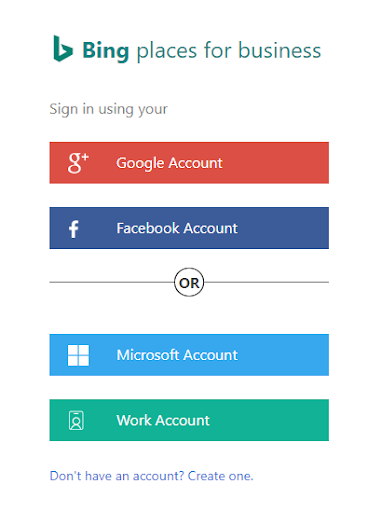 When you get signed in, Bing will prompt you to finish setting up your profile, feel free to finish this by adding your phone number and email or just click save and move on.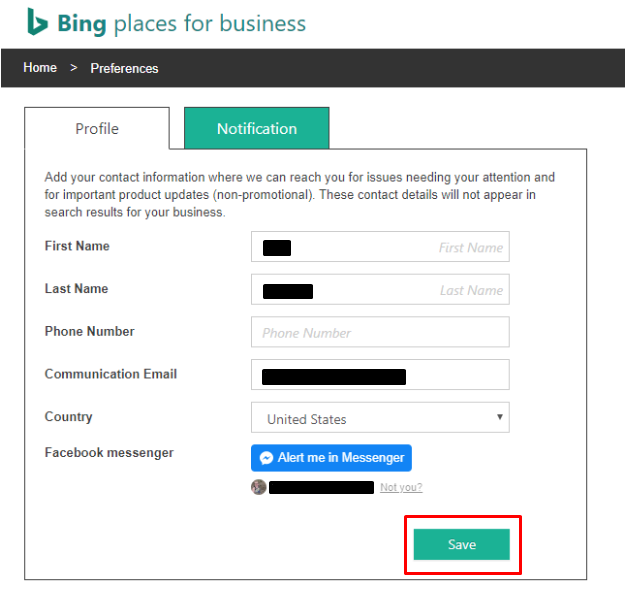 When you click save on your profile information, Bing will take you to a screen that allows you to import your business from Google or claim and add your business manually. Follow the steps below for each of these options. 
Step 2 (Option 1): Import your Google My Business listing to Bing
If you don't own a Google My Business listing, or don't have a Google account, then skip this step and go to Step 2 (Option 2). 
If you do own your business's Google My Business listing, this is the faster way of claiming your business listing on Bing. Click "Import from Google My Business Now."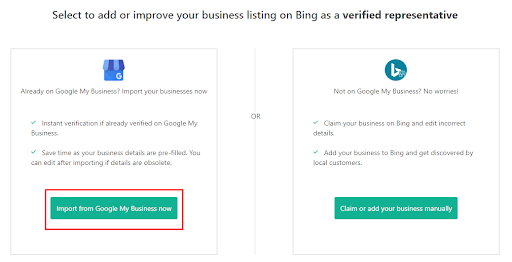 A new window will then pop up from Bing and prompt you to continue to Google My Business. This window shows what you should do once you get to Google.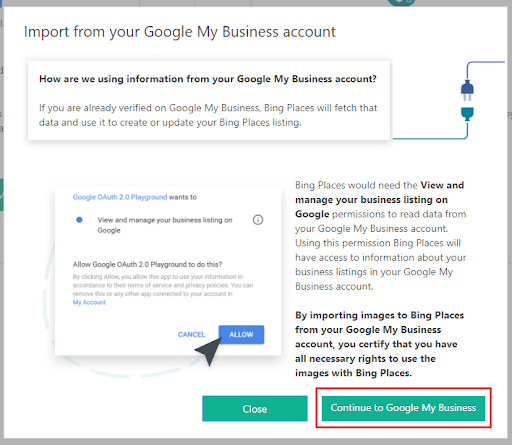 Make sure you select the Google account that is associated with your Google My Business listing.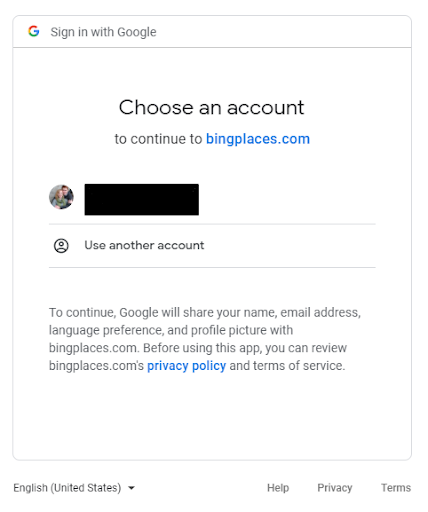 Click "Allow" on the next screen to grant Bing access to your Google My Business listing.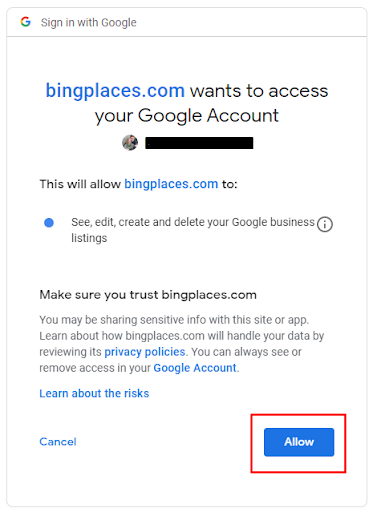 You'll then be brought back to Bing and prompted to "Continue."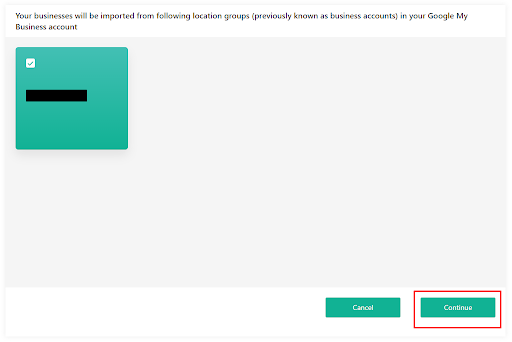 Bing will then show you that your business has successfully been imported into their directory. Your listing may show "Not verified" because Bing places each listing under review before publishing them.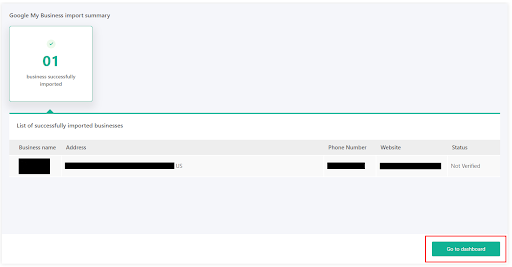 When you click "Go to dashboard" there will be a little sliding bar that shows you when your listing will be published. 

In your dashboard, be sure to "Sync with Google My Business" so that whenever you update your Google list, your Bing listing will automatically get those updates too. 

Your Bing business listing is now done! Just wait for the review process to complete and your Bing listing will go live. 
Step 2 (Option 2): Manually claim or add a new Bing Places account for your business
If you don't own your Google My Business listing or have access to the Google account that does, then select "Claim or add your business manually."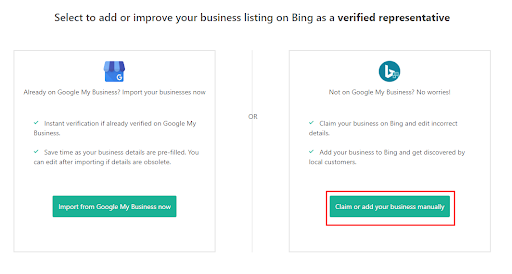 Next, fill out the information in the form provided: business type, country, and phone number OR business name and location.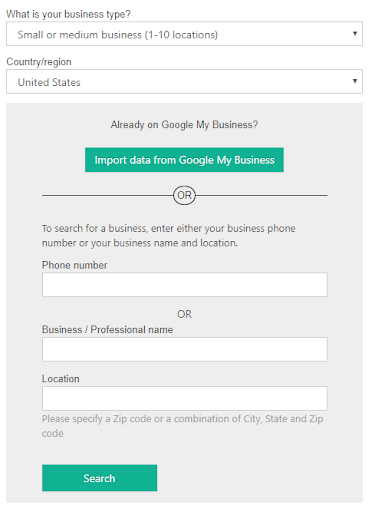 Bing will do a search for your business in their directory. If it is in their directory, you'll see your business listed and be given the option to claim your listing. If your business has ever had a name change or other information change, it may be outdated, so look for the best match and click "Claim and edit details." 
If you do see your business, we urge you to claim and edit it so you don't create duplicate listings. 
If none of the businesses displayed are yours, then click "My business is not listed in the search results."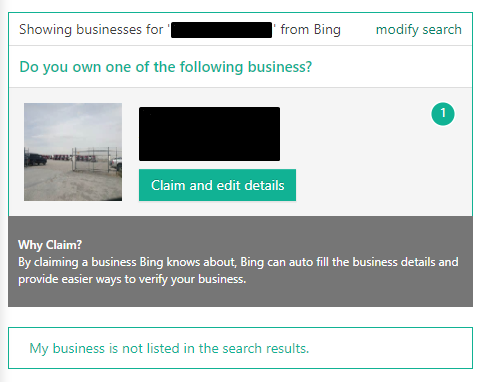 Both options will redirect you to the same form, but if you select a pre-existing business listing, then the information will already be filled out for you. So make edits to the existing information or add your new business information to your Bing listing. 
First, add your business name, phone number, and address (make sure these are the same that you use across all your online listings). 
If you have a website, be sure to add that here too.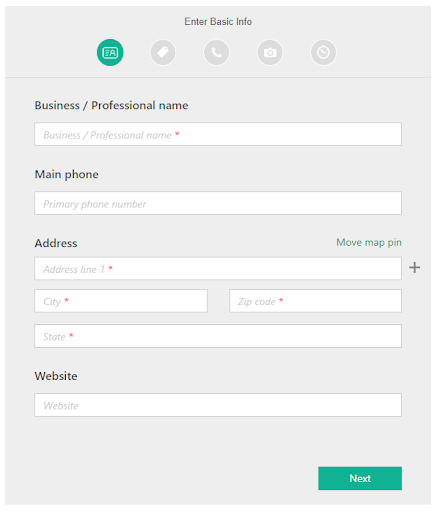 Next, select the best category segment and category for your business. You can add multiple categories, and once you have these added, you will need to select a primary category. 
Add your business description and click "Next."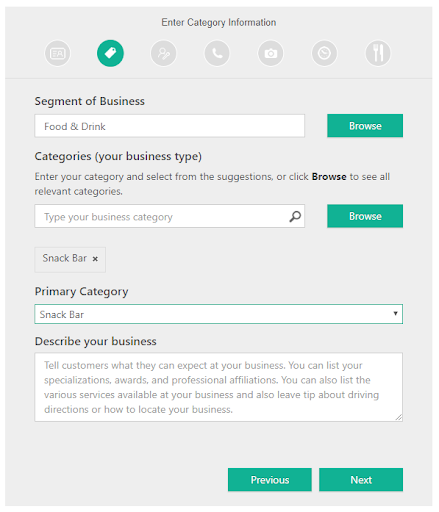 Next, you will need to indicate whether or not Bing should show your address to customers. If you have a physical storefront where customers can come in to see you, then you should select "Yes." This will help you show up better in Bing's search results. 
If you have a service area business where you go to your customer and are using a satellite office or employee's home for your address, you should select "No" to hide the address.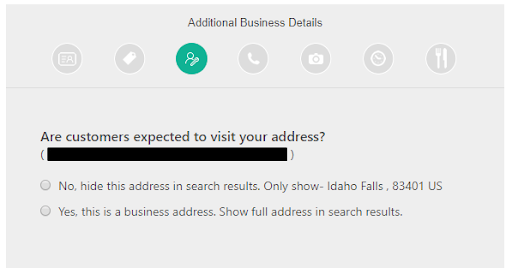 Then you will need to enter contact information for your business. This will have an email address option, so make sure you enter an email that customers can reach you with. 
You can also enter information for the following social accounts: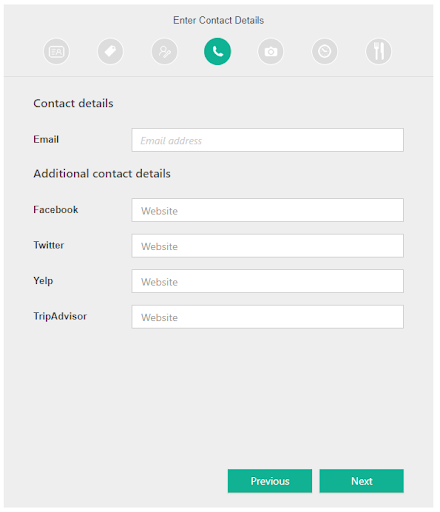 Then be sure to add plenty of photos to your Bing listing. Photos of your location, logo, and branding will be helpful for customers to recognize and find you. If you sell products or serve food, images of those would also be great to include here.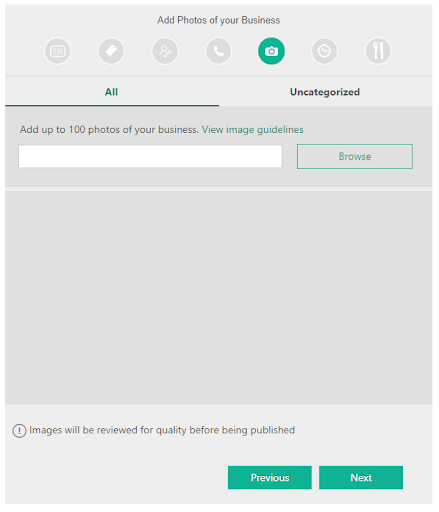 Next, add your hours so customers will know when you are open and available.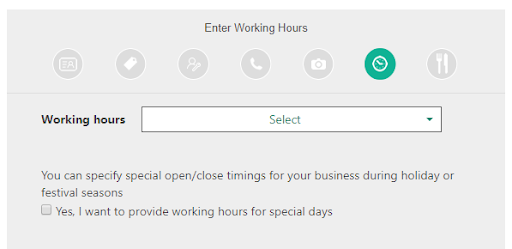 The last section of your listing is for menus and pricing. If your business is a restaurant, be sure to include a link to your menu and online ordering if applicable. 
Once that is done, click "Submit" to complete your Bing listing. Proceed to Step 3 to verify your listing.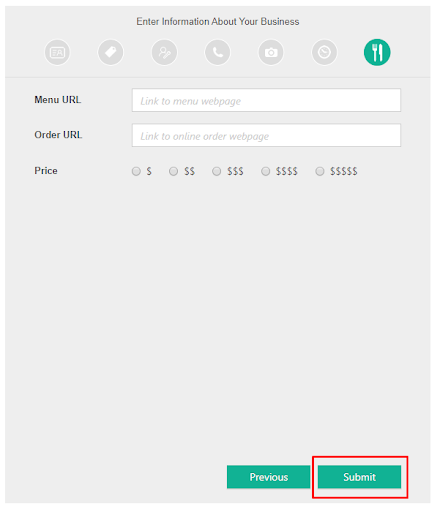 Step 3: Verify your business listing on Bing Places
Bing provides four options for verifying businesses in their directory: phone verification (by text or phone call), email, and mail. Phone verification will only be an option for your business if it was already listed on Bing and your address didn't change. 
Email will only be an option if you have are updating an existing listing and have an email on the domain of the listing's website. For example, support@solo.co. 
Proceed through each option to see how you can verify your business listing on Bing. 
1. Phone call
With this option, Bing will place an automated call to the phone number on your listing. They will provide a code that you will need to enter once you click "Verify now" and receive the call.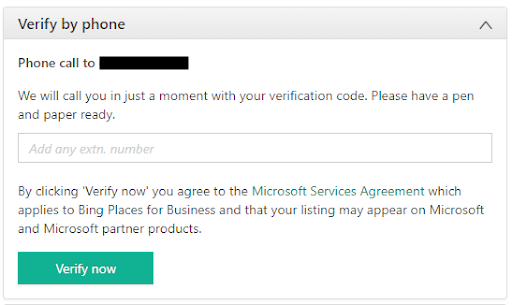 2. SMS/text
You'll only be able to do this option if you have the ability to receive text messages for your office line. Click "Verify now" to receive a text message to verify your Bing listing.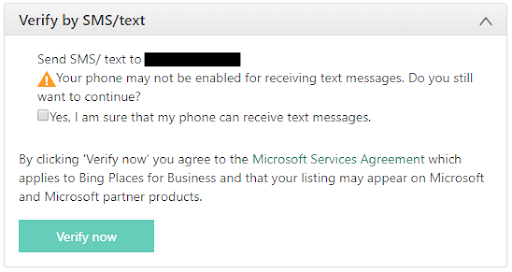 3. Email
Enter in an email address you have access to that is on your website's domain. Then click "Verify now" to get an email to verify your Bing listing.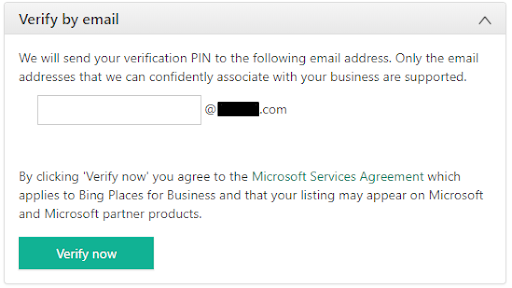 4. Mail
If you are unable to complete any of the previous methods for verification, you'll need to have Bing send you a piece of mail with a verification code. This can take 5-6 business days to reach you. 
Bing will send the code by mail to the address you listed, so make sure you can receive mail at your address before doing this. 
When you receive the code, just log back into your Bing Places account and enter it on your business listing to finish your verification.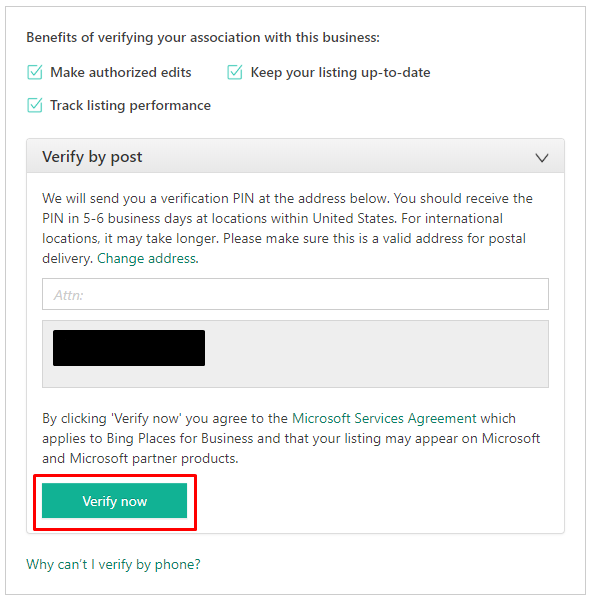 Finished claiming your Bing business listing? Here's what you should do next
Now that your listing is complete on Bing, there's a lot more that you can do to improve your online visibility. But don't get intimidated—we have a couple of great guides with some free tips to help you improve your local search engine rankings. 
Solo

is the easiest way for small businesses to pay and get paid.

Solo mobile app is now available for everyone
Scan QR to download the Solo App
Solo mobile app is now available for everyone