In this article:
Why your business needs to be on Facebook

How to get access to your page

How to create your Facebook page

What to add to your page

Manage your online reputation
When 68% of Americans are using Facebook on a daily basis, that's a pretty good indicator that your business should be there. More and more frequently, people are going to Facebook Messenger as their initial point of contact with any given business. 
Facebook is a powerful resource for increasing your brand awareness, growing your customer base, and showing up better in the search engines. 
Why your business needs a Facebook page
Your business can gain several advantages from starting and maintaining a Facebook business page. Some of the biggest benefits of putting your business on Facebook include the following:
Adding a personal touch to your business

Providing more information for customers

More opportunities to interact with customers

Improved online visibility
Follow the steps through the rest of this article to claim or create your Facebook page and start reaping the rewards. 
How to get access to your Facebook page
The first thing you'll want to keep in mind is that in order to manage or create a Facebook page, you need to have a personal Facebook profile. It is from your profile that you can claim and create pages. 
Before you create a new Facebook page for your business, you'll want to be sure that there isn't already a business page out there. There are two instances when this will be the case: Facebook created an unofficial page for your business, or someone else created a page for your business. 
How to claim an unofficial Facebook business page
Sometimes Facebook automatically generates an unofficial business listing for your company. This can occur if users are trying to "check-in" to a business that they recently visited, but for which no official Facebook page has been created. 
If enough people are trying to check in, Facebook recognizes that as a real business and tries to provide that information for its users. 
Facebook has also generated "unofficial pages" based on Wikipedia articles. If a business is listed on Wikipedia and the owners didn't create a Facebook page, Facebook may just create one for them. 
When a page is unmanaged, it will indicate "Unofficial Page" below the cover photo. 

Follow these instructions to claim your unofficial page:
Click "Is this your business?" below the cover photo at the top of the page. 

A window will pop up with two options: "Merge *your business* into a Verified page you manage" or "Claim and verify *your business* with a phone call or documents." Select the appropriate option. If you don't already have a Facebook page, select "Claim and Verify…" and click Continue.

You will have two options to claim your listing: verify by phone or verify with documents. 
To verify by phone:
Enter your business's phone number and click "Call Now." You will need to make sure you can answer an incoming call from Facebook to that number, which will give you a 4-digit verification code to enter on the following page to verify your account.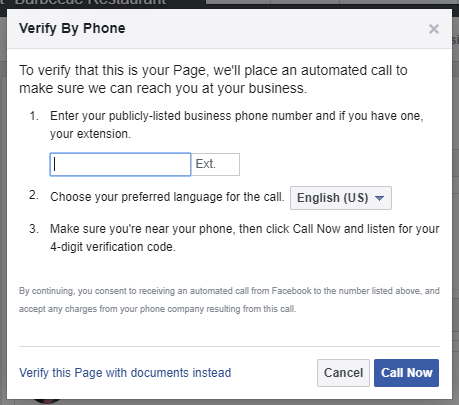 To verify with documents:
Facebook will prompt you to scan an official business document to prove that you are the business owner. This option can take up to 24 hours because Facebook has to verify the documentation.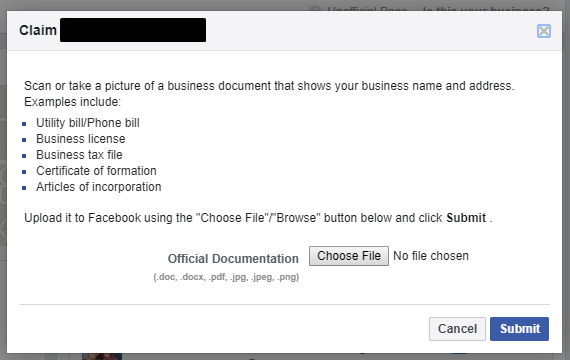 Once your page is claimed, you'll have access and can update all of your business information, update your profile and cover photos, add new photos and videos, and post content on a regular basis.
How to claim a Facebook page that someone else owns 
This process can be a little more tricky. If you took over a business that someone already created a Facebook page for, or if another employee (or someone else) created a business page and you don't have access, you'll want to go through the process of adding yourself as an "admin" to that page. 
The easiest way to do this (if possible) is going to be for the person who created the page to give you admin access to the page. 
For this, they just need to follow these instructions:
Go to the business page. 

Click "Settings."

Go to "Page Roles," and under "Assign a New Page Role" enter the name or email of the person whom you wish to give access.

Change the dropdown item next to the name to "Admin" and click "Add."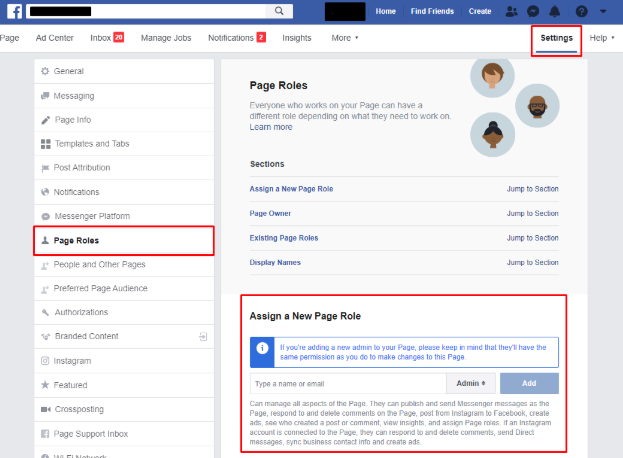 If you don't know who created the page or the person has left your company and you can't get access by asking them to grant it, that's when things get a little hairy. Your best bet is to instigate a chat with Facebook's customer support team to work this out. 
Follow this link for quick access to Facebook's support team. Click "Get Started" and give Facebook as much detail as possible into your situation. 
Facebook will usually ask for documents to verify your affiliation with the business and will work to move the page ownership over to you. 
How to create your Facebook business page
Now, if you know that your business does not have a Facebook page, it's time to create one. 
Start by logging into Facebook with your personal Facebook account on a desktop computer or laptop. 

Click "Create" at the top right of your window, and select "Page."

Click "Get Started" on the "Business or Brand" option to create your business page.

Name your Page with your business's name. Be sure that the name is the same name you use on your 

Google Business listing

and other online profiles. Select the category that best describes your business.

Upload your profile and cover photos. Your company logo and a staff or office photo are perfect for this.
After these steps, your business page is official and yours!
What you should add to your business's Facebook page
Now that your Facebook page is official and created, it's time to add all of the relevant information your customers need. 
Go to the About section on your business page to update your company's information.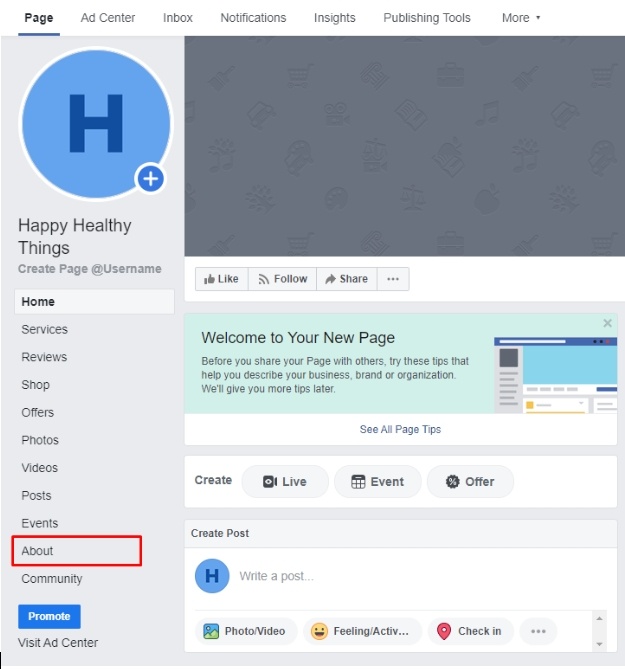 Be sure to include all of the following information:
Create a page username

Company start date

Business type, if relevant

Company mission

Phone number (should be the same number you list on Google)

Email

Website

Links to other social accounts

Company overview

Awards

Products or Menu

Privacy Policy

Your story
Lastly, be sure to add plenty of photos and start posting to your Facebook page to help customers get to know you better. Invite your friends and family to like and share your page to start building up your Facebook reach. 
Manage your online reputation
Now that you've got your Facebook page claimed and you have added everything your customers need to know, it's time to start pushing reviews to your page and building up your online reputation. 
Sources:
https://www.pewresearch.org/internet/2018/03/01/social-media-use-in-2018/
https://sproutsocial.com/insights/index/
https://www.facebook.com/help/168172433243582?helpref=uf_permalink
Solo

is the easiest way for small businesses to pay and get paid.

Solo mobile app is now available for everyone
Scan QR to download the Solo App
Solo mobile app is now available for everyone