In this article:
Why use Crunchbase

How to create and claim your Crunchbase business listing

What to do next
Crunchbase is a platform where professionals can discover new technologies and innovative companies, connect with other like-minded professionals, and pursue new opportunities.  
They have a free online directory which you should add your business to. 
Why add your business to Crunchbase
First, adding your business to multiple online directories is super helpful for improving your online visibility and local SEO. 
Go deeper: 15 free tips to improve your local SEO
Second, once you've added your business to Crunchbase, they have some awesome features that you can take advantage of:
Crunchbase Pro to access company, investor, and funding data

Tools to identify new prospects and improve lead generation

Access to their market research to stay on top of the latest market trends in your industry
These additional features aren't free, but they definitely have their appeal. 
How to create and claim your Crunchbase listing
Let's get started!
Step 1: Create a Crunchbase account 
The first thing you need to do is set up a new account on Crunchbase. Go to crunchbase.com and click "Log in" in the header. 

Then click "Register" on the new window that opens and fill in your email address, first and last name, and password.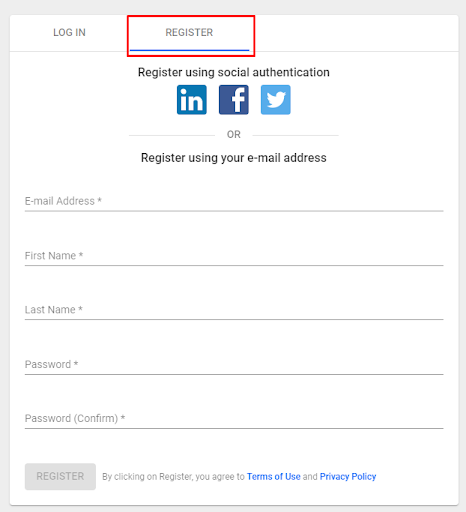 Click "Register" and you're done! Crunchbase will take you to a new page that helps you fill out your profile more in-depth, so you can continue that process or go back to crunchbase.com. 
Step 2: Authenticate your Crunchbase account
When you are logged into Crunchbase, go to the top right corner and click your profile icon, then select "My Account." 
This will take you to your account where you will then click on "Social Authentication." Crunchbase just wants to verify that you are a real person before allowing you to create a company profile. 

Choose at least one social network that you are on in order to authenticate yourself. When you click the profile you choose to use, Crunchbase will open a window for you to log in to that social account and allow them to access your information. Click "Allow" and then click "Done."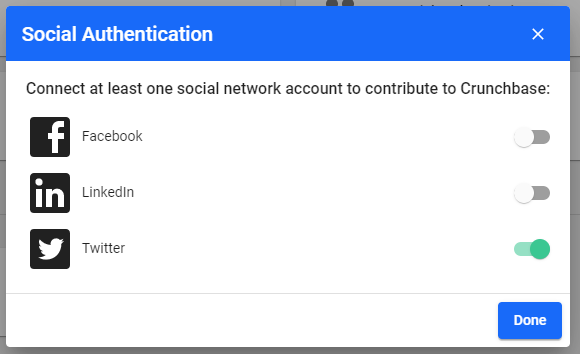 Step 3: Check to see if your company exists on Crunchbase
Sometimes online directories like this pull information from other databases or someone else created a profile for your company without your knowledge. 
So it's always a good idea to check to see if your company exists in any online directory before adding it. 
Simply go to the search bar in the top navigation and type in your company's name. 

If your company shows up in the list, proceed to Step 4 (Option 1). If your company is not in the Crunchbase directory, proceed to Step 4 (Option 2). 
Step 4 (Option 1): Edit your Crunchbase listing
If your company does exist in Crunchbase's directory, click on it and select "Edit." This will allow you to update all of your company's information. 

A form like will appear that has some of your information already filled out. If anything is incorrect, be sure to update it, and also add any missing information like your website or customer contact information.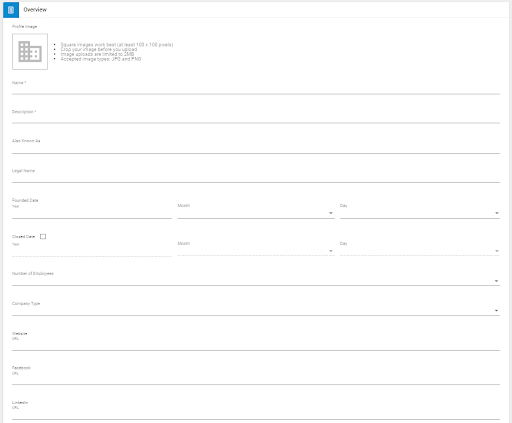 When done, click "Save All Edits."

After that, you'll see the following message: "Your edits have been submitted. They may take a few minutes to appear." And your edits will be live. 

Step 4 (Option 2): Add your company profile to Crunchbase
If your company is not on Crunchbase, click on the menu icon in the top left of your screen and then click "Add New Profile."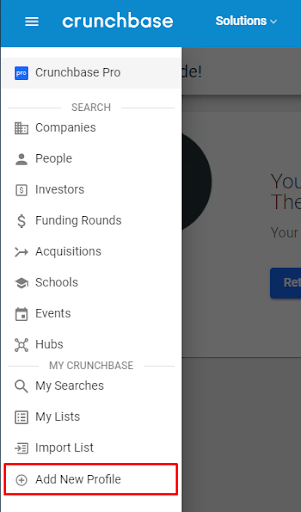 Select the type of profile you are adding to Crunchbase (this will likely be a "company" if you are doing this for your small business.)

Go through the form on the next page and fill out all of the following information for your business:
Business name

Description

Also known as (other names that your business goes by)

Legal name

Founded date

Number of employees

Company type

Website

Social profiles

Contact email

Phone number

Detailed description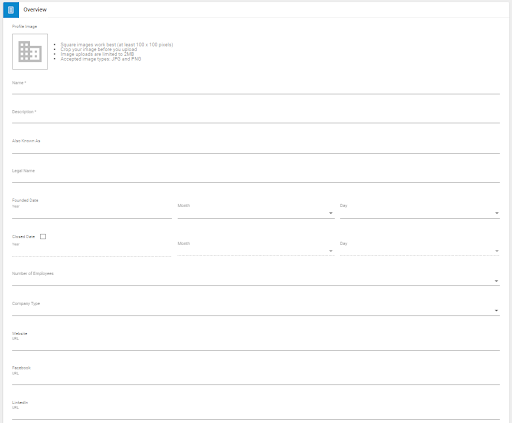 After the form there are several additional types of information you can add to better complete your company profile. Fill out any that apply to you. At the very least, be sure to add your "Categories."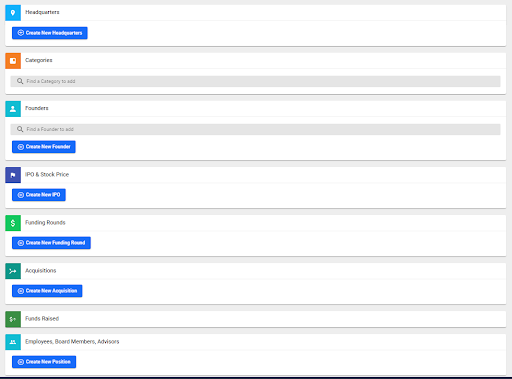 Click "Save all edits" and your profile will be added to Crunchbase. 

Crunchbase will make all of your information live after a few minutes, and there are no additional steps to claim or verify your business profile. 
Now that you claimed your Crunchbase business listing, what's next?
When you've completed your Crunchbase company profile, be sure to continue adding your business to other online directories. This will help improve your business's online visibility and provide you with more opportunities to get found by customers. 
Check out our list of 25 free sites that every small business should be listed on. 
Solo

is the easiest way for small businesses to pay and get paid.

Solo mobile app is now available for everyone
Scan QR to download the Solo App
Solo mobile app is now available for everyone