In this article:
Why get listed on MerchantCircle

How to create and claim MerchantCircle business listings

What you should do next
MerchantCircle is a network of people dedicated to connecting busy consumers with top-quality local merchants. 
MerchantCircle wants to help small businesses like yours improve their online visibility, so they give you everything you need to do just that. That's why we want to show you how to add your business to their platform. 
Why should I add my business to MerchantCircle?
MerchantCircle is the perfect platform for connecting with new, local consumers, and it also helps improve your local search rankings. The more online directories you can list your business on, the better chance you have to rank high in the local search results. 
Check this out: 25 free business listing websites every small or local business should be on
Some other cool features and benefits that MerchantCircle can offer your business include:
Online advertising on their platform

Online reputation management services

Top-rated customer support
Read on to learn how to add your business to MerchantCircle.
How to create and claim your business account on MerchantCircle
Let's get started. 
Step 1: Create a MerchantCircle account
In order to add a business to or claim a business on MerchantCircle, you need to sign up for an account. 
Go to merchantcircle.com and click "Sign up."

On the next screen, fill out the form with the following information:
First and last name

Email address

Password

Password confirmation

Zip code

Business name

Business phone number
Be sure that the "I'm a merchant" box is checked at the top of the form, check the reCaptcha ("I'm not a robot"), and click "Create my account."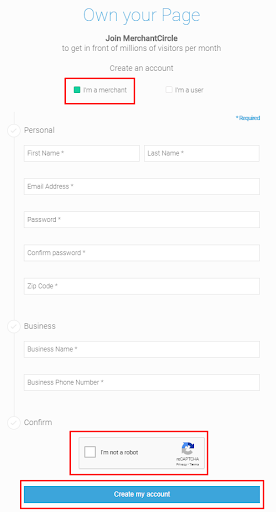 Step 2: Add or update your business on MerchantCircle and claim it
When you add in your business name and phone number in the signup form, it allows MerchantCircle to check their database to see if your business is already there. If it is, it will show up on the following screen once you click "Create my account."
You'll be brought to a page that has your business listed. Click "Claim this business."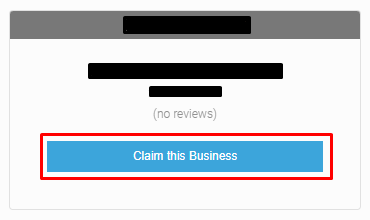 If you don't see your business listed, click "Add your business to MerchantCircle."
No matter which option you choose, you will then be brought to the same form. If your business was already on MerchantCircle, some of your business information will be filled out for you. Just complete the form and click "Next."
If your business wasn't listed on MerchantCircle, and you clicked "Add your business…" then your form will be blank. Fill out all of your information and click "Next."
Make sure to include all of the following information in the form:
Business name

Address

Phone number

Business category

Business description

Business website

Accepted payment types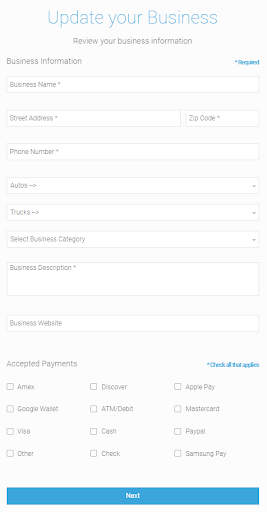 You will then be brought to a page to select the plan you would like to be on for your MerchantCircle account. To avoid paying any fees, select "Try It Free."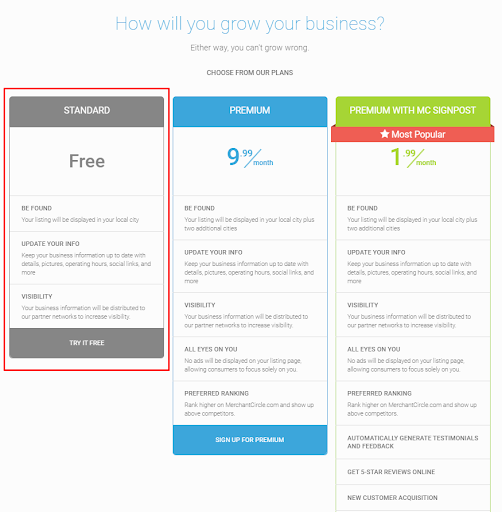 Next, MerchantCircle will prompt you to purchase "Hero Ads." Feel free to skip this or click "Next" to stick with the free listing.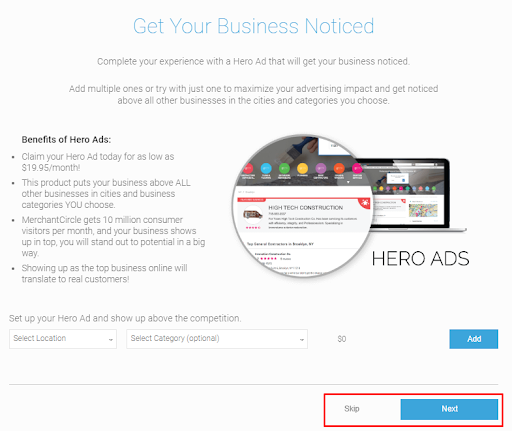 On the next screen, MerchantCircle will direct you to verify your email. Do this to gain full access to your business listing. 
Check your email (this often comes into the spam/junk folder) and click "Verify your account."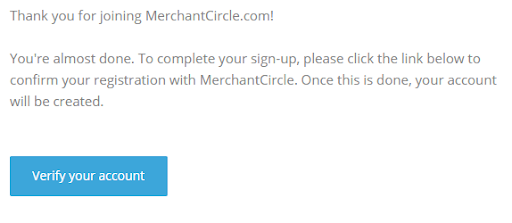 Now you have a verified MerchantCircle account!
You added your business to MerchantCircle… what's next?
Once you've added your business to this online directory, there's still a lot more you can do to improve your online visibility and improve your opportunities to get more customers. 
Adding your business to this directory is one small piece of improving your local SEO (search engine optimization), and we have some other great resources to help you improve this even further. 
Check out our guides:
Solo

is the easiest way for small businesses to pay and get paid.

Solo mobile app is now available for everyone
Scan QR to download the Solo App
Solo mobile app is now available for everyone