In this article:
How to encourage customers to wear a face mask

What to do when a customer refuses to wear a mask
Whether or not to wear a face mask during a pandemic has become largely political across the country, and as such, you may find some customers refuse to wear face masks, even if this type of PPE (personal protective equipment) is required in your area for your type of business. We're not here to discuss the politics, but rather the policies that your business has in place, and discuss ways of dealing with customers who refuse to follow those policies. 
How to encourage customers to wear face masks
Owning a public-facing business during a pandemic is not easy, and new local laws that require masking in public can make that even more difficult—particularly if your business has customers frequently coming through its doors. 
Not everyone is comfortable wearing a face mask, and because of this, you may need to provide some additional encouragement and support around this policy. 
Here are some ways that you can encourage your customers to wear face masks:
Put up signs throughout your business (and especially at the entrance) that make it very clear that you require masks to be worn in your facilities, along with any exceptions you may have (like when sitting at one's designated table in a restaurant, small children, people with certain medical conditions, etc.)

Share updates to masking policies on your social media channels and website

Provide free face masks to those who may not have them

Train and support your employees and provide them with the resources to help enforce your policies
What can you do when a customer refuses to wear a face mask?
It's no secret that many people are averse to wearing face masks for various reasons, and some may refuse to do so when they enter your business. This may happen even if masks are required by law in your area (or if you have chosen to make them mandatory in your business where they aren't required by law). So, what are some effective ways of dealing with a customer that won't wear a mask?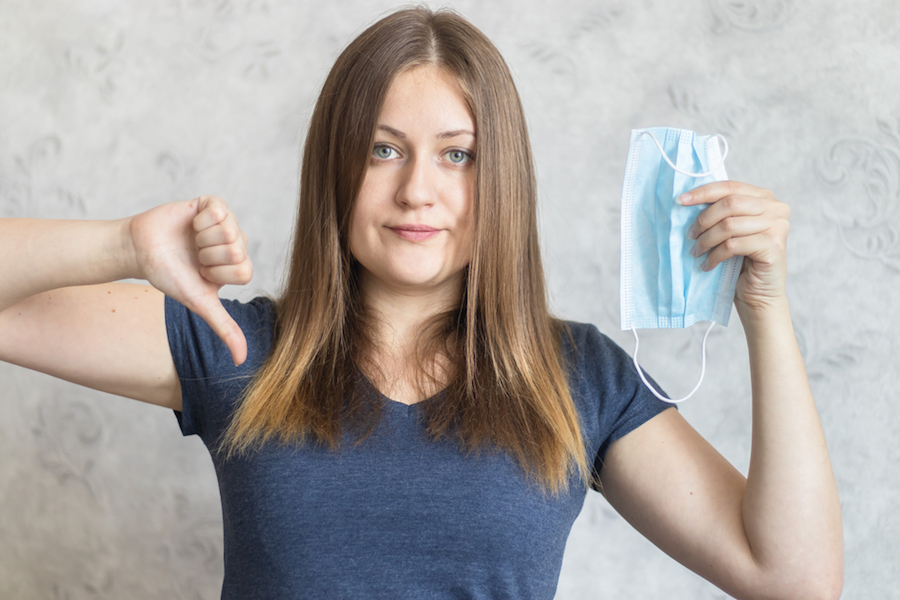 Make a plan
It's always better to be prepared in advance, rather than getting surprised on the spot. Make a plan with your staff for how to handle customers who refuse to wear a mask. If you already have policies in place for dealing with upset customers, great, use them!
What would you do if a customer tried to come in without a shirt or shoes? The premise is similar with masking. 
Talk to your employees about what to do in this situation and be a support to them as they handle angry customers. The next few steps can help you in your planning. 
Have extra disposable masks on hand
Give your customer the benefit of the doubt by first offering them a mask before escalating the situation. Maybe they don't have one, left theirs at home, or didn't know about your mask-wearing policies. Keep extra masks on hand for your employees to hand out should they need them. 
Keep your emotions in check
When dealing with any upset customer, but especially one who thinks their rights are being infringed upon, it is important to keep emotion out of it. If you can't talk to the customer without getting angry and letting them hear all about it, then designate another employee who can stay rational and calm while talking to the customer. 
Keep your tone calm and professional as you speak with all customers, even those who are being belligerent. 
Don't debate with or shame your customer
Don't try to debate with or shame your customer into wearing a mask. That may only escalate the situation. Simply give them the facts. They must wear a mask to enter the premises or they will need to leave. You don't need to explain to them why they need to wear a mask other than it is your business's policy (or the local ordinance). Trying to argue the effectiveness of masks or convince people to change their position is generally not an effective approach.
Refuse service to those who don't comply with your policy
You have every right to refuse service to a customer who won't wear a mask, unless the customer has a legitimate medical excuse or physical condition that prevents it.
"As long as businesses are enforcing that in a nondiscriminatory manner and they are requiring everyone to wear the mask, they have the right on their premises to say if you want to shop here you have to wear a mask," David Senseman, a Minneapolis attorney, told Kare 11. "Unfortunately, there is a lot of misunderstanding about what rights we have and who we have them against. That is not something the constitution gives you a right to prevent. You can exercise your right by not shopping at that particular store."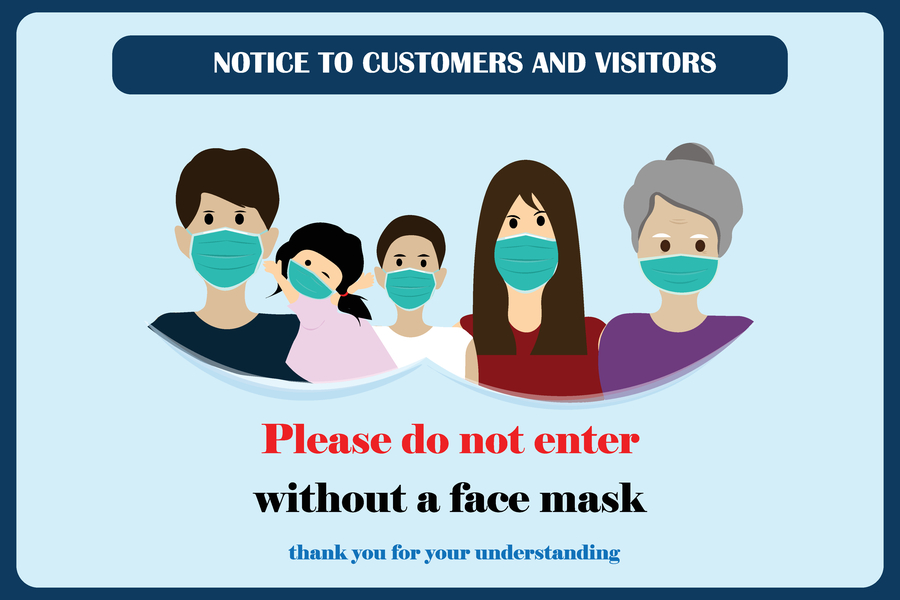 Provide alternative service or delivery methods
Some people may feel less upset about your policy if you inform them they can still get the goods or services they want in other ways. For retail, restaurant, or other businesses that deal with the sale of goods, setting up curbside, drive-through, and/or delivery options can defuse tempers and still allow people to get the things they need.
Consulting businesses or other service providers can get creative in the use of Zoom or other not-on-site ways of interacting with customers, or set up meetings outside where masks may not be required and where proper social distancing can be practiced to help ensure the safety of all parties.
Call security or law enforcement if necessary
If you have customers who refuse to wear a mask, refuse to leave, and start to cause a disturbance, you may need to call your security team or local law enforcement to help de-escalate the situation. 
Keep yourself, your employees, and your other customers safe by engaging the help of people who are trained to handle these types of situations. You do not need to put yourself or anyone else in danger to deal with a customer who is causing trouble. Encourage your employees and other customers to keep their distance from the upset customer until security or law enforcement arrives. 
This should also be part of your crisis plan, and be thoroughly discussed and reviewed with all employees beforehand, and refreshed regularly in training.
Solo

is the easiest way for small businesses to pay and get paid.

Solo mobile app is now available for everyone
Scan QR to download the Solo App
Solo mobile app is now available for everyone