In this article:
Start brainstorming

Solve a problem

Don't look for a completely unique business idea

Start doing something

Talk to professionals

Do market research

Determine the costs

Determine the time commitment

Talk to your personal network
Starting a business is a big decision and a great step toward independence in your career. Before you can start a business though, you need to have a solid idea to get off the ground. 
Coming up with a business idea and deciding the type of business you want to run is the most important part of starting a business. We'll walk you through some important steps in determining what kind of business you should start. 
Start brainstorming about small business ideas
When you start your own business, you should make sure it's something that you're passionate about and enjoy. This will help you find the motivation to keep it going when times get tough. 
So, to find your passion, start brainstorming. 
Get a sheet of paper or jump onto a Google doc and make a list about yourself. List the things that you really enjoy doing and things that you're good at. These can be things like "I'm really good with kids," "I enjoy talking to people," "I'm organized," "I'm great at strategic planning," etc. 
On another page, make a list of things that you really don't prefer to do or aren't particularly good at. Maybe you're great at talking to people one-on-one but you don't like talking to large groups or making big presentations. Write those things down. 
Let the creative juices start flowing and keep writing until you have an expansive list of things about you that can help you to determine the perfect type of business for you to run.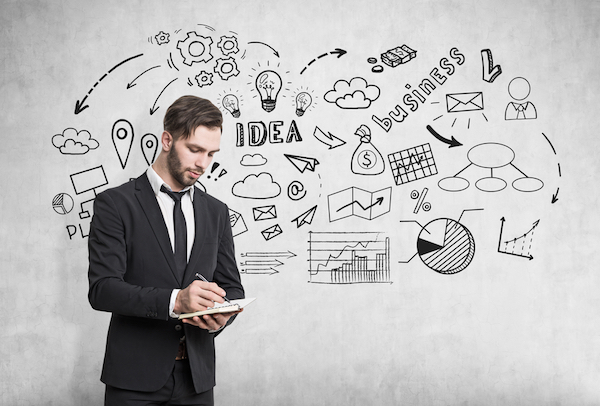 Your idea for small business should solve a problem
Ultimately, your business idea should solve a problem for someone—and it doesn't have to be a problem that no one's ever solved before. 
If you're good at landscaping and lawn care, look at what it takes to start a lawn-care business. It's been done before, but it's perfectly fine to enter into a market that has some competition. 
Think about a common problem that people have and will have for many years to come. Then, come up with an idea that solves that problem, whether it's a new way of fixing an old problem or the same way that other businesses are already solving the problem (just better). 
Don't look for a completely unique small business idea
This may seem like an odd suggestion, but most ideas that you come up with aren't going to be totally unique. You might think of some grand idea only to go look it up on Google and someone is already doing it. That's OK!
Business ideas that are already in use are proven to be successful, and competition is a necessary aspect of the free market. If you think you can excel with a business idea that someone else has already started, then give it a try and look for ways that you can make it better. 
On the other side of this coin, if you start a business that is too unique, consumers probably won't know that it's even a service or product that they need and won't think to look for it. 
In this online world, coming up with a business that people already need and are searching for is going to help you immensely. 
We aren't trying to discourage you from being unique, we just want to bring up these points for your awareness in your search for the perfect business idea. 
A unique business idea can succeed if you've done the research on the need/desire for it and know how to market it well. For example, an existing small business idea can work in a small town. The people in that town would probably appreciate a regular laundromat if they don't already have one!
Start doing something
Don't just wait around for an idea to fall into your lap. Start doing something. Maybe you don't have your business idea totally figured out, but you know what you're good at doing, so do it.
Start freelancing and taking on side jobs that relate to specific skills that you enjoy using. Use those side gigs to determine if you'd be interested in starting something like that full-time. 
You might find that you don't enjoy doing those things as much as you thought you did, or you may decide that you've hit on a great idea and have a great place to start from. 
Talk to small business professionals
We cannot stress this one enough. Talk to a lot of professionals who have started their own businesses or who help run businesses in the industry that you're interested in. 
You don't have to do this all on your own, nor should you. Plenty of people have started successful businesses before you, so take advantage of their experience and ask questions to help guide you in the right direction. 
Upon talking to people in your desired field, you may decide that this is the perfect route for you, or you might find out that it's not at all what you thought it would be. 
Your local chamber of commerce or SBA association can be a big help in networking with local businesses and getting you talking with the right people.
Do market research
As you start to really narrow down the ideas for your new business, do a lot of market research. You need to determine if your business idea is even a viable solution for the demographics you would serve in your specific location. 
Here are some questions to look into during this process:
Who would benefit from this business idea? 

Is there enough demand in your target location to provide profits?

How would your business solve your target customer's problem?

What would motivate consumers to choose you over competitors?

Who would your competitors be?

How does your audience view your competitors?

What are your competitors doing to get customers?

How would people purchase from you (online, in-store, through affiliates)?

How would you reach your target audience (marketing strategies)?
Determine the costs of starting a small business
If there seems to be a good demand for your business idea and it makes sense from a market research perspective, then it's time to determine if it makes sense for you personally from a financial perspective. 
What will the costs be for you to start up this business? Will you be financing everything yourself, or will you be seeking out investors or loans?
Depending on the type of business you are starting, there could be a decent amount of capital that you need to get off the ground. So make sure you know what your costs will be before diving all in. 
Determine the time commitment of your small business idea
Along with costs, starting a business also requires a huge time commitment. Maybe you're starting small as a side gig, so it only takes a small amount of your time at first. But as you get more clients, that could change quickly. 
Determine what kind of time will be necessary for the business idea you've come up with and plan accordingly. 
If you don't have the time to devote to getting this business idea into action, then it might not be the idea for you, or it may not be the right time to start a new business. 
Run your small business idea by your network
When you have thought through your new business idea or even before this point, you should run your idea by your personal network of people that you trust. Talk to friends, family members, mentors, and get their thoughts on your idea. 
Sometimes when we get a new idea, we get so emotionally invested in it that we haven't thought through all of the risks that could come with it. 
Talking to people you trust and letting them give their feedback can help bring up points that you didn't think about. 
Solo

is the easiest way for small businesses to pay and get paid.

Solo mobile app is now available for everyone
Scan QR to download the Solo App
Solo mobile app is now available for everyone