Figuring out how to file your self-employment taxes can feel intimidating and time-consuming, especially with the ever-changing tax laws that can confuse even an experienced filer.
However, this process doesn't have to be a headache. As the 2023 deadline quickly approaches, preparing in advance can help you avoid costly penalties and fees. That way, you can enter tax season feeling confident and stress-free.
Keep reading to learn how to prep, calculate, pay, and file your self-employment taxes in 2023.
What is self-employment tax?
One of the first major shocks of working for yourself is learning that you're now responsible for additional taxes. In short, the self-employment tax is something that all self-employed individuals must pay in addition to the income tax. The Internal Revenue Service (IRS) uses this tax to fund the Social Security and Medicare programs. If it helps, you can think of it as investing in your own retirement since those programs largely support retirees.
The good news is that you don't have to pay this tax until you earn more than $400 in self-employed net income. After that, you'll have to put aside a percentage of your earnings to ensure you can afford to pay what you owe when the time comes.
This process differs slightly from filing taxes with a regular job because employers pay half their employees' Medicare and Social Security taxes while self-employed workers pay the entire thing. And unlike with a regular job, there's no employer to take these taxes out automatically, so you have to be responsible.
Also, remember that the self-employment tax is not the same as income tax—which you'll also have to pay.
What is the self-employment tax rate in 2023?
The official self-employment tax rate for 2023 is 15.3%. To break that down, 12.4% goes toward Social Security, and 2.9% funds Medicare.
There's also a cut-off for paying the Social Security portion based on your overall income from net earnings, wages, and tips. Keep in mind that the cutoff increased 8.2% to $160,200 for the 2023 tax season.
On the other hand, Medicare taxes never cut off. If you are a single filer who earns more than $200,000 from self-employment, you might even have to apply a 0.9% additional Medicare tax. For joint files, the income limit is $250,000.
Who pays self-employment taxes?
Self-employment taxes are the responsibility of all self-employed individuals. These rules apply regardless of age or whether you are on Medicare or receive Social Security benefits. You'll likely have to pay if you earned more than $400 from a self-owned business.
Here are some specific examples of who pays self-employment taxes:
Gig workers like rideshare and delivery drivers

Anyone earning passive income from:

Being a partner in a business

Book/digital product sales

Music sales

Product sales

Online marketplaces (Etsy)

Real estate investors

Anyone earning more than $108.28 a year from church employment
Note that if you also have a full-time job, you'll only apply the self-employment tax to your self-employment income. Also, in-home caregivers for disabled and elderly individuals do not pay self-employment taxes.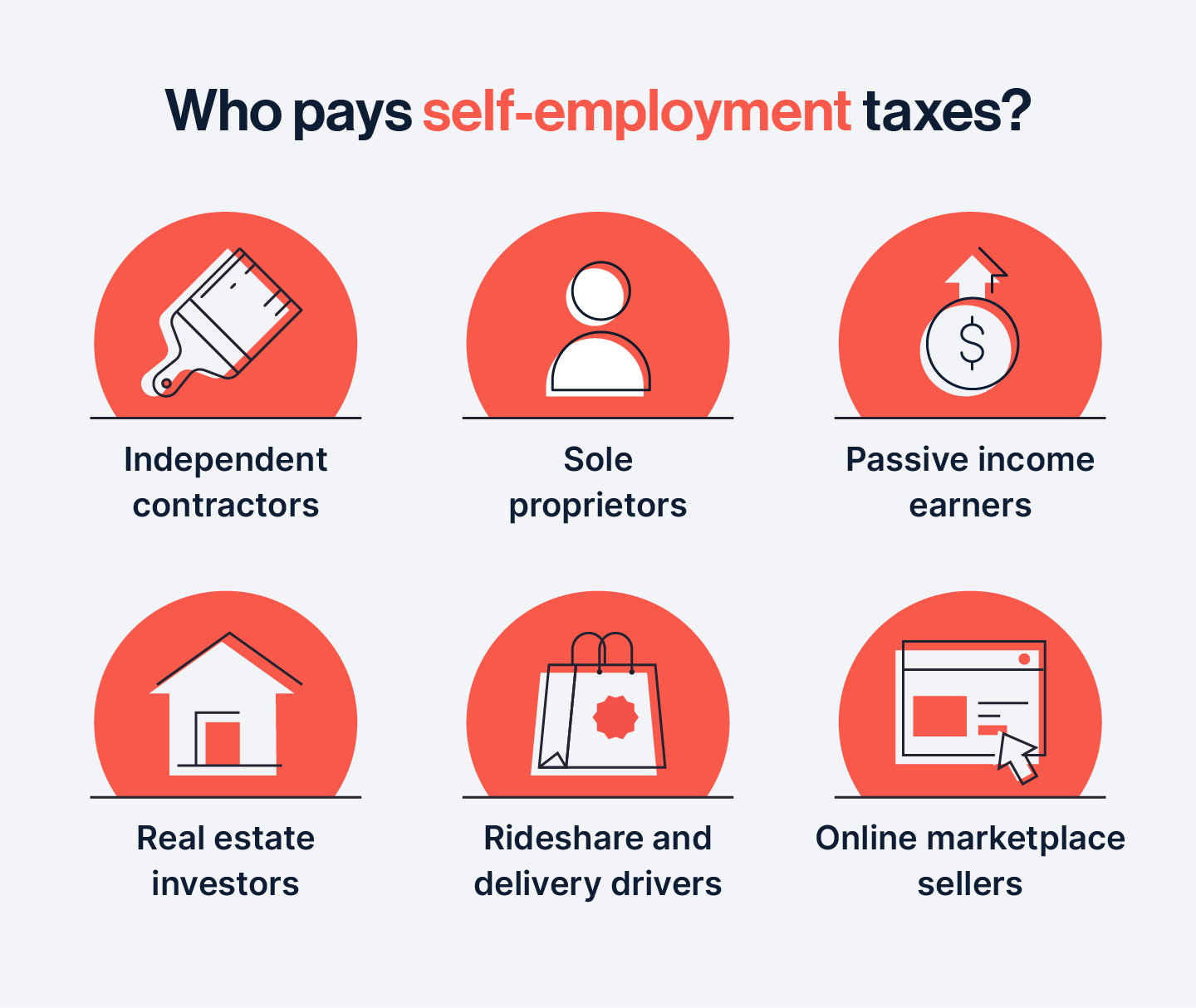 How to file self-employment taxes step by step
Filing your self-employment taxes can be a daunting task, but with the correct information and a few helpful tips, you can make the process much smoother. Below, we'll walk you through the steps of filing your self-employment taxes step by step. These tips and tricks will help you easily and confidently navigate the filing process.
Step 1: Gather your documents and relevant info
For a stress-free filing experience, you'll want to have all the necessary information and documents ready to go before you do anything else.
First, you'll have to provide identification in the form of either your Social Security number or your Individual Taxpayer Identification Number (ITIN). If you pay people to work for your business—even if they're contractors—you will need an Employer Identification Number (EIN). Otherwise, you can use your social security number.
The next document you need is the 1099 form. If you don't know, a 1099 form is for reporting income that doesn't fit traditional W-2 reporting, such as freelance work, rentals, royalties, and independent contractor payments.
You can also use it to report non-employee compensation to contractors and other service providers of more than $600. If you did contract work for a company during the tax year, they should send you a 1099 form before tax time.
Tip: Companies will likely request that you fill out a W-9 form while establishing the service contract. The purpose of that document is to collect your tax-relevant information so that the company can accurately fill out your 1099 form.
Additionally, you should find all ledgers or bookkeeping tools you used to record income and expenses. You'll want to keep your expenses organized throughout the year, so finding proof of income is super easy when tax season rolls around.
Step 2: Total up your earnings
Once you've gathered all the necessary information, it's time to calculate your earnings. The formula for this step is:
[Net earnings = Gross self-employment income - Business expenses]
To avoid mistakes, you can make these calculations using Schedule C (form 1040) if you're filing as a sole proprietor or Schedule E (form 1040) to report passive or supplemental income.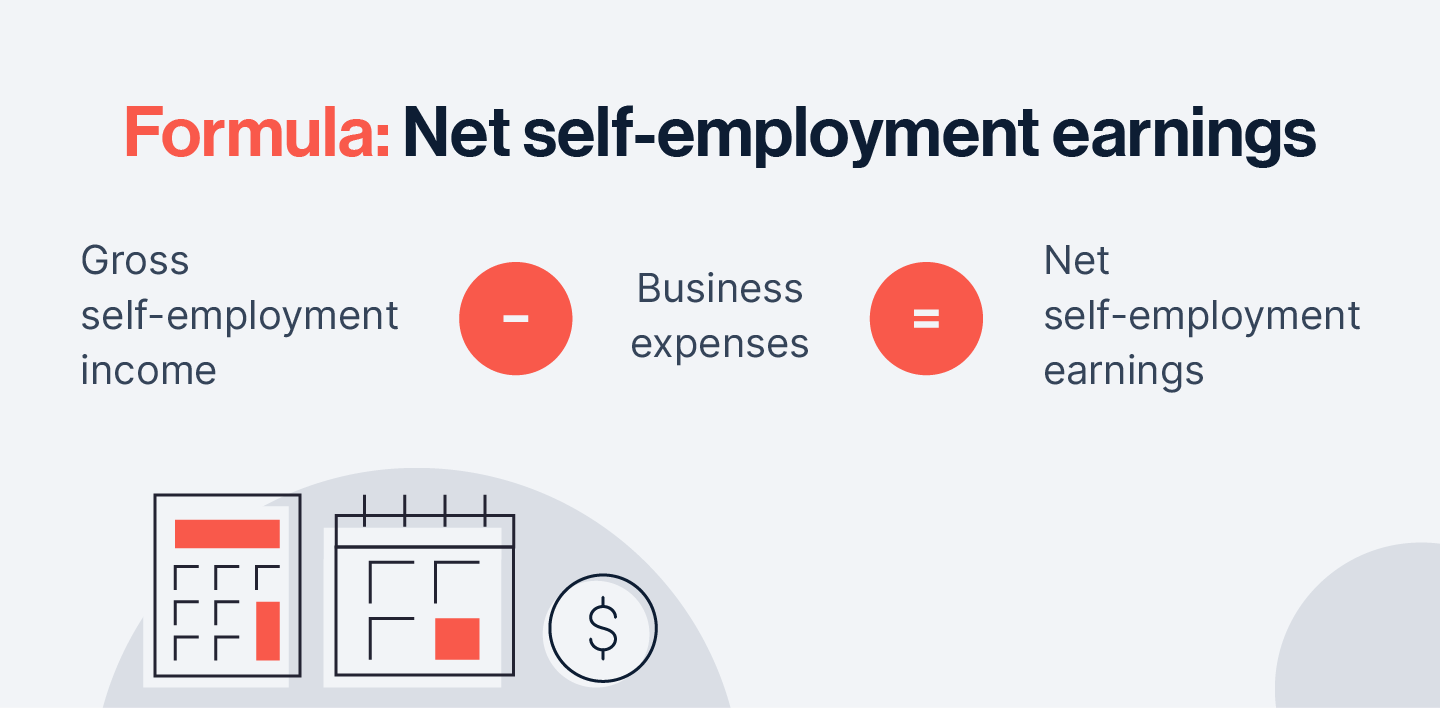 Step 3: Total up any possible tax deductions
As a self-employed individual, the IRS allows you to deduct certain business expenses from your taxes. This can help reduce your overall tax burden and save on the extra costs of self-employment. Here's a quick overview the deductibles you could be eligible for:
Home office: Expenses involved in running your business from home.

Education: Funds you spend to gain expertise towards your business.

"Above-the-line" deduction: Half of your self-employment tax is deductible from your income tax.

Qualified business income (QBI): Up to 20% of your net profit.

Phone and internet costs: Expenses you incurred from using your phone or internet for business purposes.

Memberships: Expenses related to joining professional organizations in your industry.

Advertising/Marketing: Expenses involved in marketing your business.

Startup costs: The costs of getting your business up and running.

Office supplies: Any funds you spend on necessary items for your office.

Credit card and loan interest: Interest you gained on credit accounts from business purchases.

Business travel and meals: Expenses involved in traveling for work.

Car: Expenses related to using your personal vehicle for business.

Business insurance premiums: Funds you pay towards insurance if you have employees.

Health insurance: Expenses related to securing health insurance.

Retirement plan contributions:

Expenses involved in securing a retirement plan.
Keep in mind that each of these self-employed tax deductions has rules and requirements you need to follow.
It's also possible to avoid the self-employment tax altogether if you file your LLC as an S Corp. You'll only have to pay on your personal salary, as opposed to all your business profits. This solution may not work in all situations, so ensure you're clear on the pros and cons of incorporating your business.
Step 4: Figure out how much you have to pay
To calculate the self-employment tax, multiply your net income by the self-employment tax rate. If your net earnings from self-employment from all businesses are $400 or more, use Schedule SE (Form 1040) to calculate your tax.
Once you have your answer, add it to Schedule 2 of Form 1040, part II.
Tip: You only have to apply the self-employment tax to 92.35 percent of your net earnings, which could save you thousands of dollars in tax payments.
Here's how that works. When using Schedule SE, you'll chop 7.65 percent (or half of the self-employment tax rate) off your self-employment income before you apply the self-employment tax. For example: If you made $55,000 in self-employment income, you would only pay self-employment taxes on $50,792.50. That keeps almost $5,000 in your pocket.
The formula for this calculation is:
[Net income x .9235 = Taxable income]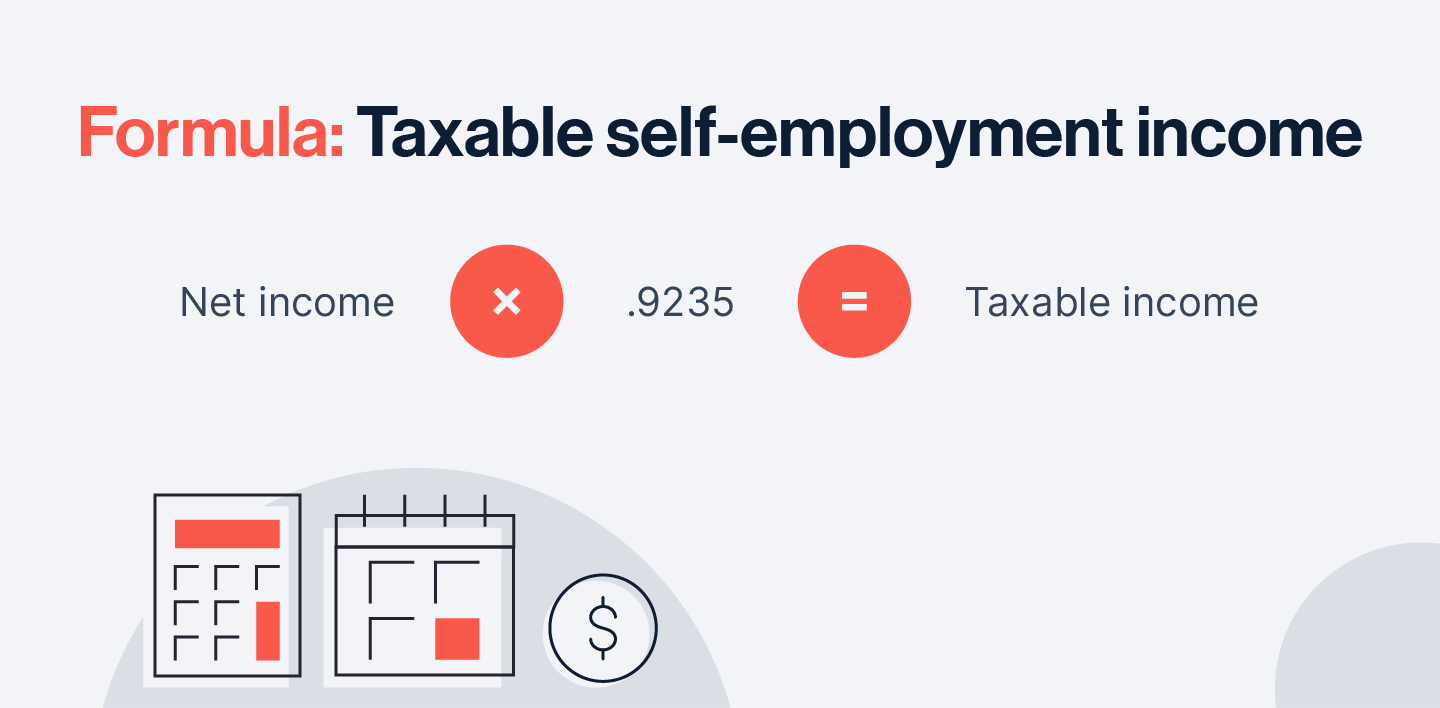 Step 5: Make quarterly payments
While you only report and file self-employment taxes once yearly during tax season, aim to pay them throughout the year to avoid penalties or interest charges. You should also track all the tax payments you make during the year for accurate reporting.
You're eligible for estimated quarterly payments if:
You owe a minimum of $1,000 in federal income taxes this year, even after tax credits.

Your withholding and refundable credits don't cover at least 90% of your tax liability for this year or 100% of last year's liability.
To pay your taxes quarterly, you should first estimate your annual earnings and calculate the amount of tax you owe using the formula from earlier. Divide that total into four payments and send those to the IRS every quarter. Remember to attach your payment to the appropriate payment voucher on Form 1040-ES.
Don't forget that there are deadlines. These are estimated quarterly payment due dates for 2023:
April 18, 2023

June 15, 2023

September 15, 2023

January 15, 2024
As for payment methods, you can opt for cash or money order through the U.S. mail or pay online or through the IRS2Go mobile app.
Step 6: Filing your self-employment tax
The final step to filing your self-employment tax is when all the previous steps come together. In this portion, you'll finalize the information and forms you need to send to the IRS.
First, use the results from your self-employment tax calculations to fill out Form 1040. Remember that you'll need to provide your Social Security number or ITIN.
Attach Schedule C (or E), which you filled out earlier. Next, report the tax calculations from your Schedule SE form on part II of the 1040 Schedule 2, and attach that to your 1040.
When you're ready to send these forms off, you have a few options: The free IRS e-filing service, a third-party e-filing company, or you can send the physical forms to the filing office in your state.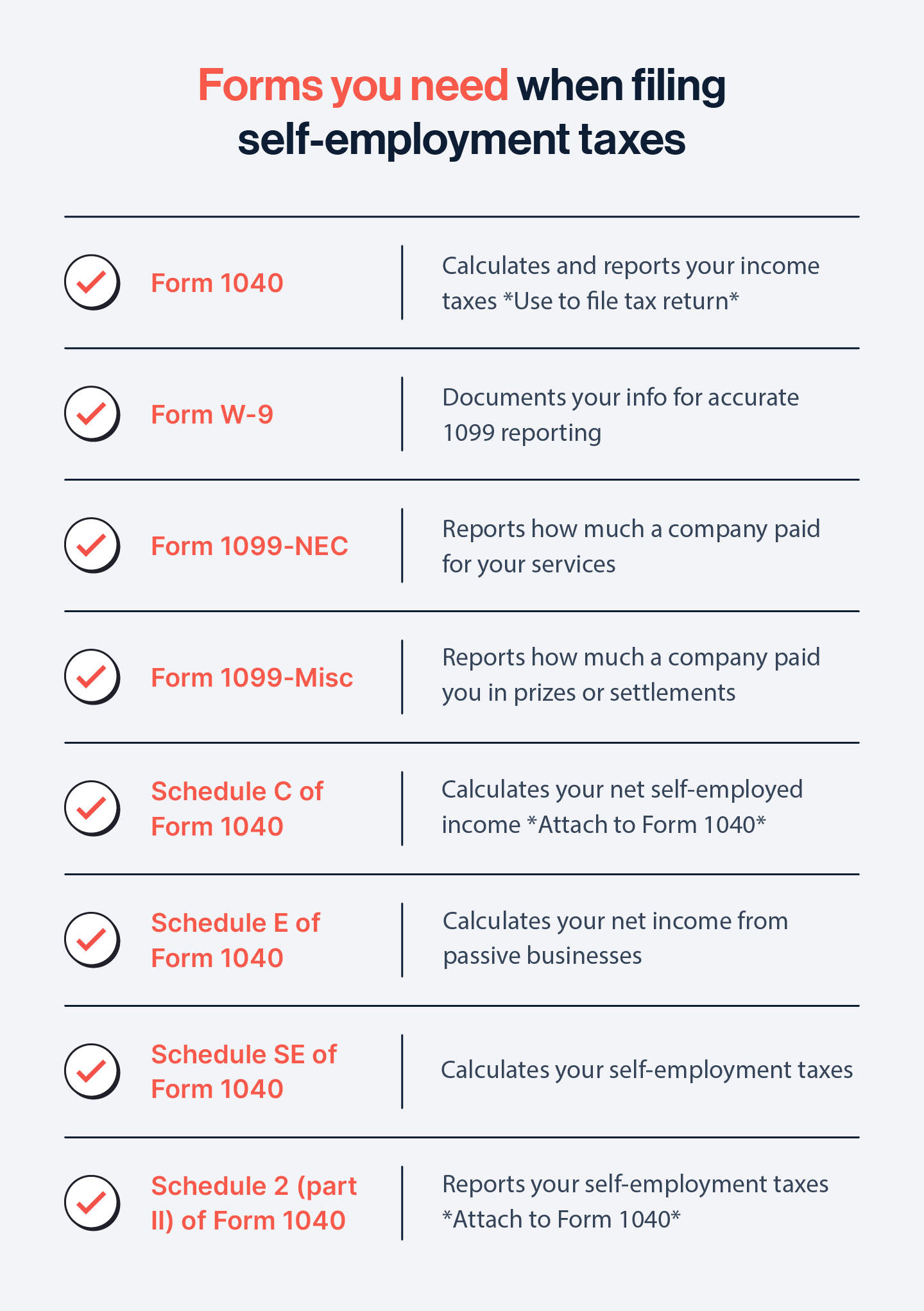 Now that you can confidently file your self-employment taxes, it's important to stay organized and ready for tax season. Track and streamline all transactions for your self-employed business and keep them separate from your personal finances with the Solo app.
Sources: IRS
Solo

is the easiest way for small businesses to pay and get paid.

Solo mobile app is now available for everyone
Scan QR to download the Solo App
Solo mobile app is now available for everyone