If you're a small business owner, getting a business credit card can help you organize your finances and build strong credit. And with the right card, you can earn rewards, such as cashback, redeemable points, and free hotel accommodations, allowing you to run your business with ease. 
There are many business credit cards to choose from and it can be overwhelming when faced with choosing the best fit for your business's needs—however, with this guide, we'll break down everything you need to make the process of getting a business credit card as smooth as possible. 
Learn how to get a business credit card, its requirements, and tips to use the card successfully.  
Pros and cons of business credit cards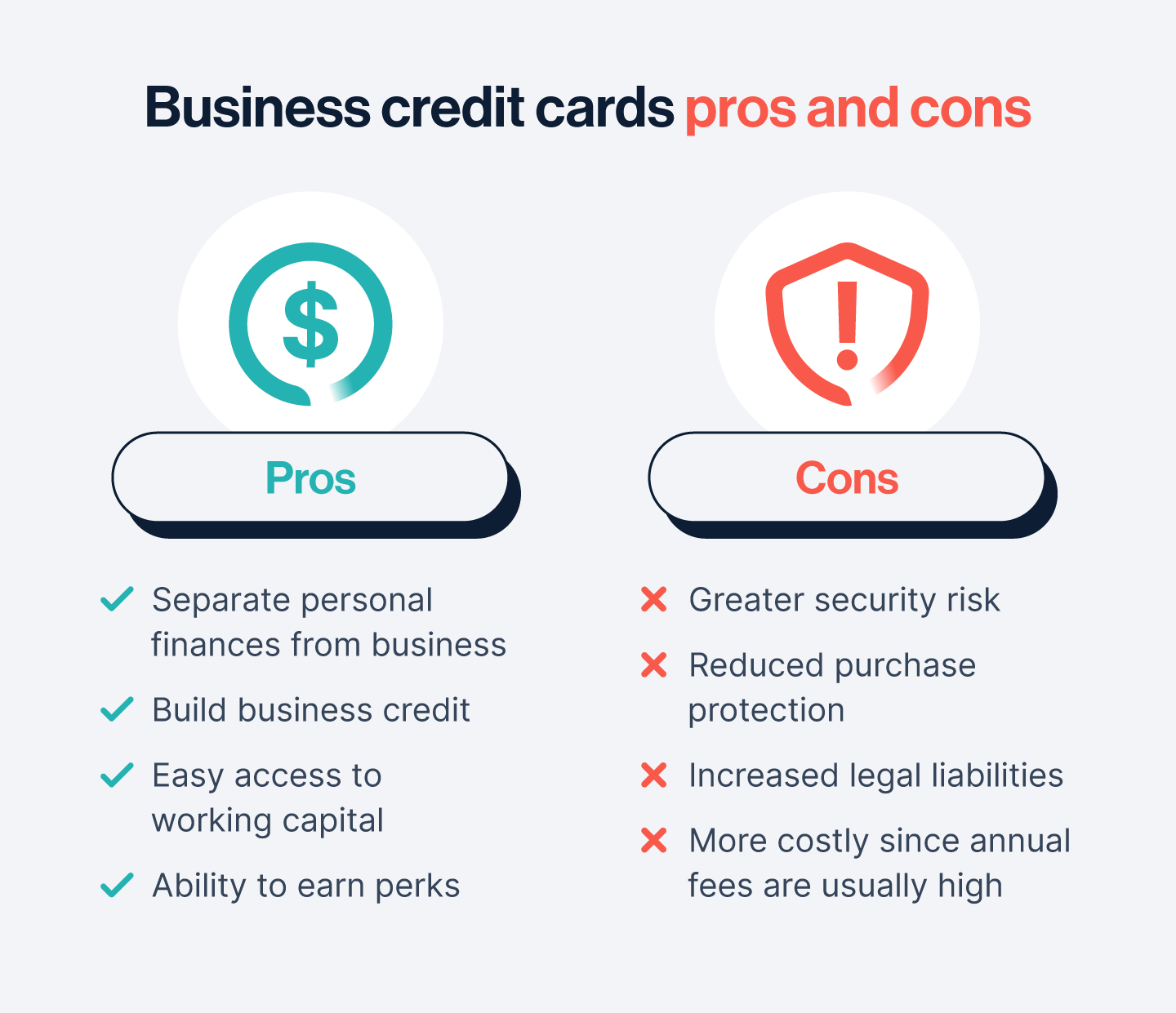 Even if you have a very small business or are a sole proprietor, a business credit card can still be advantageous to the financial progression of your company. Learn more about the advantages and disadvantages of business credit cards below.  
Advantages of business credit cards
Business credit cards offer many advantages over personal credit cards, such as being able to keep better track of your business finances and earning reward points that are specific to your business's needs. On the other hand, there are also some disadvantages that you need to consider before applying.
Some advantages of a business credit card include: 
Allows you to separate your personal finances from business: This helps make tax season more organized and will protect your personal finances from anything that may happen to your business. 

Builds business credit: Unlike credit for personal finances, business credit is tied to your EIN and the payments and spending your company makes, which includes what you spend with a business card. A business with a strong credit score is more likely to be approved for things like business loans.

Easy access to working capital: A business credit card can grant you access to working capital—this can be useful if your business is new, since you most likely won't qualify for traditional bank-financed business loans. With a business credit card, you will have instant access to a line of credit you can use for any business purpose. 

Ability to earn perks: Similar to personal credit cards, business credit cards allow you to earn reward points. This includes sign-on bonuses, cashback points, and gift cards, plus flight miles and hotel discounts, which can be particularly beneficial if you or your employees (if you have any) are required to travel for work. These perks will allow you to earn more for your business as you spend. 
Drawbacks of business credit cards  
Although there are many advantages of having a business credit card, there are a few drawbacks that are worth considering. This includes: 
Security risk: With all credit cards, there is always the risk of your card number being stolen and used fraudulently. However, there may be an increased risk if you have employees who handle or who are authorized users of your business credit card. Consider implementing strict policies on who can access the card and what purchases can be made. 

Reduced purchase protection: Business credit cards tend to offer less purchase protection than personal and consumer credit cards, meaning that they don't have the same level of guaranteed services when it comes to fighting billing errors or needing to make merchandise returns. Be sure to review your business credit card purchase protection terms before applying. 

Legal liabilities: To repay any debts, many small business credit cards will require a personal liability agreement showing that you have backup funds. 

More costly: Business credit cards tend to carry a higher annual fee compared to personal credit cards. They also may charge higher interest rates than you would receive for something like a fixed line of credit or a small business loan from a bank or community lender. 
If you've decided that getting a business credit card is the right move for your business, it's important to become aware of all the information needed in the application process.
Business credit card considerations 
There are many different types of business credit cards to choose from, but there are limitations on who is qualified to apply for one. These restrictions include:
Type of industry: Some financial institutions won't issue business credit cards to certain industries. This may include businesses that operate in cannabis, firearms, gambling, adult entertainment, or multilevel marketing. 

Type of organization: There are some financial institutions that don't give out business credit cards to those who operate as sole proprietors (working for yourself) or as a nonprofit—be sure to double-check before applying. 

Personal qualifications: Even though a business credit card isn't for personal use, your approval is still based on your own qualifying criteria, such as your personal credit score and proof of income. Note: If your business has been in operation for more than three years, you will likely have a business credit score that you can use in place of your personal info. 
Requirements for a business credit card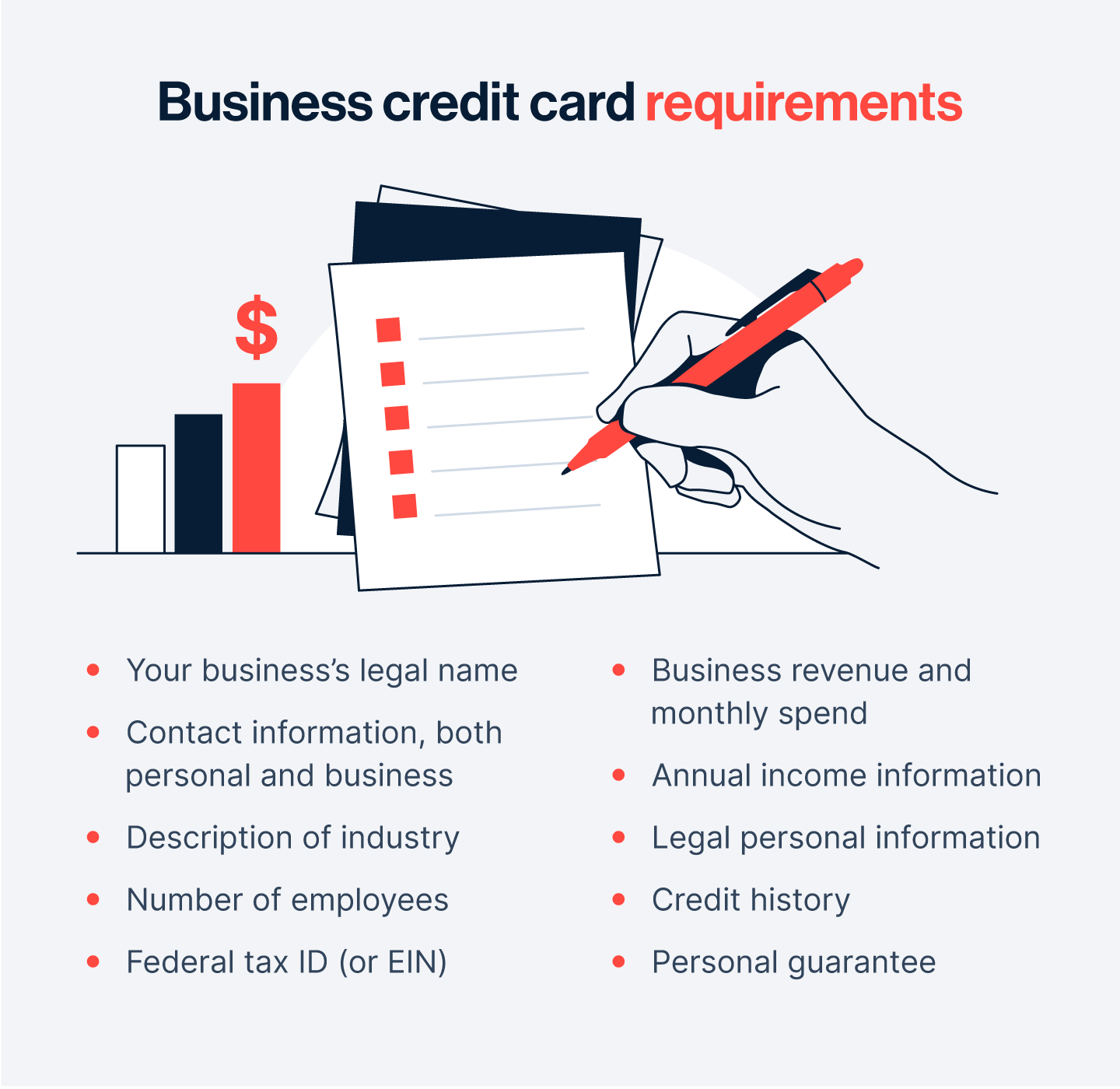 Business credit card requirements include: 
Your business's legal name

Contact information, both personal and business

Description of industry 

Number of employees 

Federal tax ID (or EIN)

Business revenue and monthly spend 

Annual income information 

Legal personal information 

Credit history 

Personal guarantee 
Below are some additional details and in-depth information you need to have on hand when applying for a business credit card. 
The legal name of your business  
When you first apply for a business credit card, you'll need to list the basic information of your business, like its name. Depending on the type of business you have, this information may vary. 
LLC, limited partnership, S-corp, or C-corp: You'll provide the business name that you registered with the state

Sole proprietorship or general partnership: You'll be able to provide just your own legal name 
Contact information
You'll also need your contact information to apply for a business credit card. This information includes your business's phone number and mailing address. However, if you operate your business from home, you can also just list your personal address. 
Description of industry 
Next, you'll provide a description of the type of industry your business operates in. Online applications will usually have a drop-down menu that features a list of options to choose from. Pick the closest option that relates to your business or fill in a custom field if they allow. 
Legal structure or business entity  
An application for a business credit card will ask that you state your business's entity type. These types of businesses include LLCs, nonprofits, corporations, partnerships, government, and sole proprietorships. 
Note: If you register your business as a partnership or corporation, you may be asked to provide beneficial owner information—this includes individuals who own at least 25% of your business. If you do have beneficial owners, you'll be asked to provide their personal information as well. 
Number of employees and time in business 
A business credit card application will ask you how many employees you have and how long your business has been in operation.  
If you're a new business: Choose the lowest time option in the application 

If you don't have any employees: List the number of employees as "1" in the application
Federal tax ID (aka EIN)
When applying for a business credit card, you'll also need your federal tax ID on hand. Also known as your EIN (employer identification number), this nine-digit number is what's assigned to you once you've registered your business and is what credit card companies use to verify its legitimacy. 
There are several places you can locate this number, including: 
A letter from the IRS pertaining to your business, like a Form W-7 or SS-4 

Payroll paperwork

Old tax returns 

Business loan applications
If you're still unable to locate your federal tax ID, you can contact the IRS and they will provide it for you. 
Note: If you're operating as a sole proprietorship, you can list your Social Security number instead. 
Estimated monthly spending and annual business revenue 
This information is a bit more involved and will require some digging. A business credit card issuer will want to see evidence that you can spend money responsibly and that your business will have enough revenue to cover card payments. Therefore, you'll need to calculate your estimated monthly spending and annual business revenue. 
In most cases, the larger your annual business revenue, the more likely you are to have your application approved. 
Note: If you're a new business and don't yet have annual business revenue to report, the issuer will look at your personal income instead. 
Annual income information   
Credit card companies will also look at your annual income information to ensure you have backup funds required to repay outstanding balances and to determine your debt-to-income ratio. 
Note: When reporting your annual income, you can also include anything you have already earned from your new business. In some cases, you can also include your spouse's income in your calculation. 
Legal personal information  
Regardless of the type of business you have, you'll need your legal personal information, including your: 
Legal name 

Social Security number

Contact information 
The issuer will use this information to check your personal credit score if you have not yet established a business credit score. 
Credit history of personal account(s) 
While checking your personal credit with the information above, the issuer will also check the credit history of your personal accounts. They'll do this to determine how reliable you are as a borrower of funds. Certain red flags from your accounts that might deem you less qualified include: 
Bankruptcies

Collections 

Judgments

Tax liens

Late payments
Note: Having an issuer do a credit check will result in a "hard inquiry" on your credit report—this will temporarily drop your credit score, usually only a few points. For this reason, you'll want to avoid applying for too many credit cards at once so that your score doesn't take too many hits. 
Personal guarantee 
Most business credit cards will require a personal guarantee with your application. The guarantee that you are financially responsible as the primary payer of the card, meaning you'd be on the hook personally for any late and outstanding payments. You'll usually see this personal guarantee in the terms and conditions of the agreement portion of the application. 
Note: If you do not want to sign up for a credit card that requires a personal guarantee, you can either prove that you have a solid relationship with your bank (good payment history, low debt-to-income ratio) or you can meet the annual revenue requirements. 
How to get a business credit card
Applying for a business credit card is similar to applying for a personal credit card—but with a twist. Here are the various steps involved with getting a business credit card: 
1. Research your options  
There are many different types of business credit cards available, so it's important to take some time to research all the different options. To start, be sure to take a look at your business expenses to see what categories you spend the most on—this can guide you on what type of card you should get, whether it be a travel card or a cashback card. 
Also, be sure to consider other business credit card factors, such as fees and interest rates.  
Business credit cards vs. charge cards
While there are many business credit cards with different rewards and perks, you might also want to consider charge cards. The main difference between the two is that a charge card does not have a preset spending limit. 
Not having this preset spending limit is best for businesses or individuals who need to make very large purchases at once. However, unlike business credit cards, you'll have to pay off the entire balance in full at the end of the billing cycle. 
If you want to consider a charge card instead, make sure that you are in good financial standing to be able to pay off large balances within the statement period to avoid hefty penalties.   
2. Review your credit score 
Your credit score—whether it be a business credit score or a personal one, depending on your situation—is important in the application process and is a large factor in determining your eligibility.  
Before applying for a business credit card, it's beneficial to review this beforehand and take the steps necessary to make sure your score is high enough to likely get you approved. You can help improve your credit score by paying down debts and resolving any outstanding credit disputes.  
Note: Most business credit cards require a score of 650 or above—if your credit score is below this, you should hold off on applying and work on boosting your score first. 
3. Gather information 
After reviewing your credit score and making sure it's in good shape, gather all the information you need before filling out the credit card application. This information includes your: 
Federal tax ID number 

Social Security number 

Business documents that confirm the number of years in operation

Financial documents that state your monthly spend estimates and revenue 

List of employees (if any) who need access to the business credit card 
4. Fill out and submit the application 
Once you have your business credit card picked out and all of your documents and information ready, you can then apply. Most applications are done online, but you can also print out the application, fill it out, scan it, and send it to the credit card company via email. 
If you're filling out the application online, the approval process usually happens within a few minutes. If approved, you'll receive your card in the mail to activate and begin using. 
Note: If your application is denied, review the reason why you weren't qualified and remedy that issue to help ensure you'll be approved in the future.  
5. Activate your business credit card 
After you've received the business credit card in the mail, you'll need to activate it in order to use it. To activate most credit cards, all you need to do is call the number provided or simply use it. Be sure to review the credit limit granted to you before buying anything—spending wisely and staying below that limit is in your best interest.  
Read on for important tips on how to make the most of your business credit card. 
Tips for successfully using a business credit card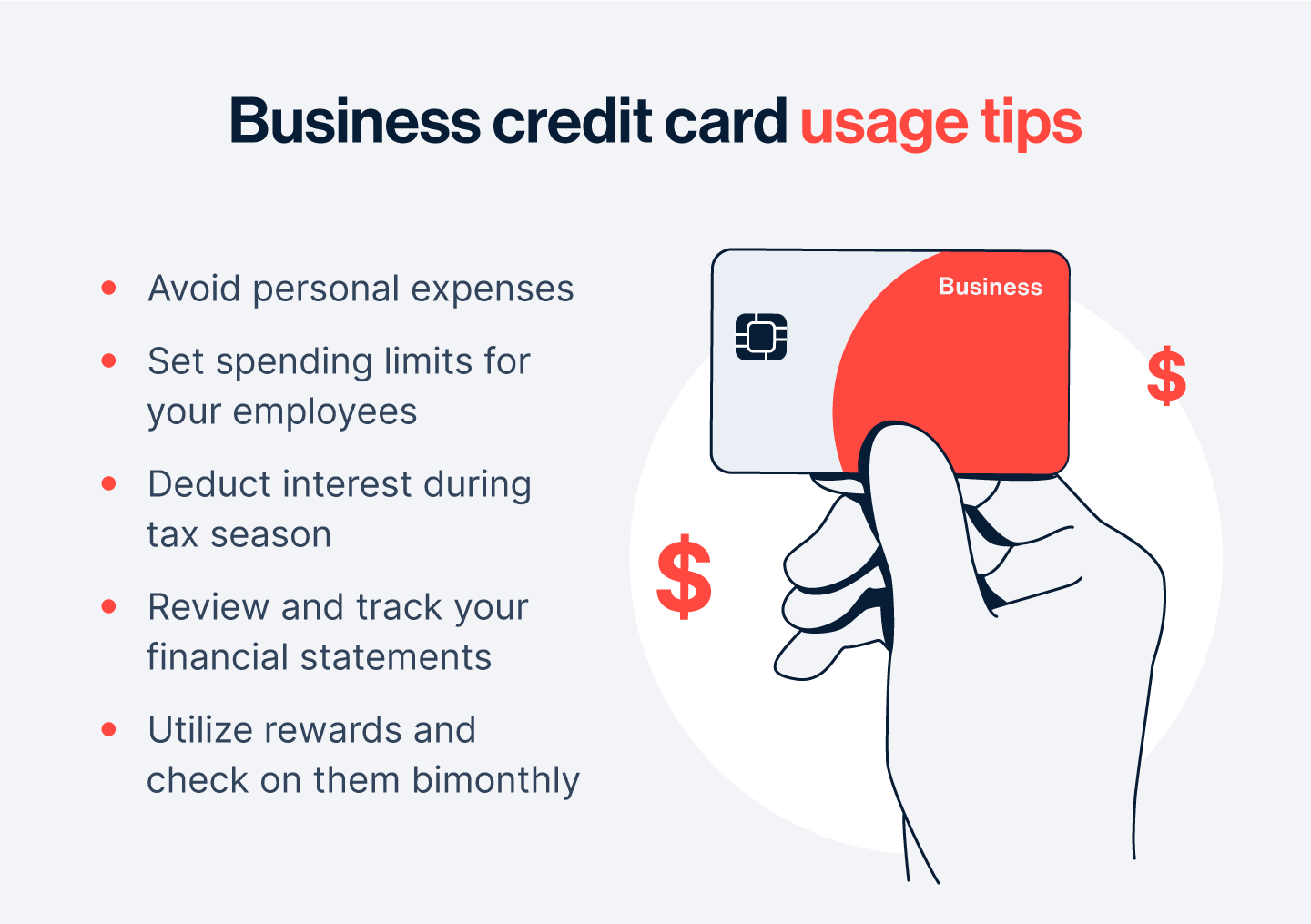 When used responsibly, a business credit card can help you grow and achieve many things for your business. Here are some tips on how to maximize the benefits that a business credit card offers: 
Set spending limits for employees 
If your business has employees, consider setting a spending limit that they have to follow. This will ensure that your employees are sticking to the business's budget and that they're not taking advantage of the card. 
If you don't have employees, pay close attention to your own spending (which you should be doing anyway) so you don't get in over your head and end up carrying a large balance for a long time.
Deduct interest during tax season
Business credit card payments can add up—if you end up having to pay interest, you can deduct that interest from your taxes if those purchases were business-related expenses. Annual fees and other charges made on your business credit card may also be deductible. 
Additionally, you can pay your balance in full to avoid having to pay any interest at all and decrease the risk of your credit score dropping. 
Avoid personal expenses
It may be tempting to charge personal expenses on your business credit card. However, doing so will make it much more difficult to keep track of your business profits and expenses once tax season rolls around. It's best to just avoid this habit altogether. Keeping your personal and business expenses separated is one of the main reasons for getting a business credit card in the first place, right?
Review and track your financial statements 
Since you'll likely be making larger purchases on your business card, make sure to review and track the statements that you receive each month. 
Keeping a close eye on these statements will give you a clear picture of how your business is doing financially. Plus, you'll be able to spot any errors or fraudulent charges. 
Utilize rewards
Keep track of the rewards benefits your business credit card offers and take advantage of them. Many of these rewards cards automatically give you what is promised. However, points and perks can expire. To take full advantage, ensure you know how your rewards program works and make purchases accordingly. 
For example, if you need to make a purchase from a merchant that currently has a credit card reward, be sure to do so before the points expire.  
Reach your goals with a business credit card 
Using a business credit card can help you pay business bills and take advantage of rewards perks. Now that you've learned how to get a business credit card, use the tips above to help you get the most out of your card and reach your business's goals, as well as build your business credit.
Solo makes it easy to pay and get paid
Solo is not a bank, but is a financial super-app for small businesses, freelancers, sole proprietors, contractors, and more. Solo is the easy way to pay and get paid. Your customers don't have to sign up to pay you, and can use several payment methods, including Apple Pay, Google Pay, and cards. QR codes make it easy to get paid, and you can easily cashout your Solo account balance for free, or spend it using your Solo Cash Card anywhere Visa is accepted. Learn more at Solo.co.
Solo

is the easiest way for small businesses to pay and get paid.

Solo mobile app is now available for everyone
Scan QR to download the Solo App
Solo mobile app is now available for everyone