In this article:
Is selling online right for your business?

How to start selling online

Update your customers

Best practices for selling online
Setting up an online store can help maximize profits and customer reach. In this guide, we'll walk you through some of the best e-commerce solutions for your business and what best practices you should be keeping as you get set up. 
Is selling online right for your business?
Your business doesn't have to be a retail store to benefit from selling online. Even service industry businesses can often reap the rewards of online sales. 
If you don't have physical products to sell, as a service business, you can still market and sell your services, and even schedule appointments online.
Think about what your business can offer and sell online and consider whether the potential cashflow you'll receive from it will outweigh the costs to get it started. 
How to set up an e-commerce store
Setting up an e-commerce store and selling online take a lot more than just uploading your products to a website. There are several aspects of online sales that you need to consider as you move into this sales venue. 
What will you be selling?
Are you going to offer all of your products online? Or are there a specific few that are popular that you want to focus on?
Consider what you can viably sell online and what items will bring you the most profits. It's important to try to keep costs to a minimum so only sell items that are easy and quick to fulfill orders on or that bring in good profits. 
Dropshipping or selling from your inventory
You'll need to determine if you'll keep your store stocked up (if you're in retail) or if you'll ship directly from your manufacturer. Some businesses may not have the option to do the latter, but it's something to think about. 
If you have a physical location, you may have a large enough inventory on-hand right now to start selling products that you have in-store, in which case you'll need to determine how best to ship your products from your store (see below for more info).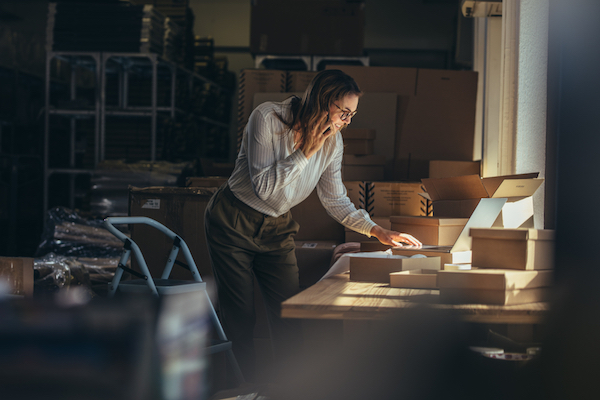 With dropshipping, you can have products shipped directly from the manufacturer, so if this is an option for you, it might be a good one to take since it takes less people to fulfill the order. 
E-commerce website builders and platforms
If you've never sold online before, you're going to need to find a platform that will allow you to do so. 
If you have your own website that your customers regularly visit, then you might consider one of the following options which you can integrate into your current website:
Ecwid is a subscription-based ecommerce platform that can integrate seamlessly with most content management systems. You just set up your account and online store and have your web developer drop the code into your website. If you only have 10 products or less, you can use their free plan. 

Shopify works similarly where you'll need to create an account, upload your products, and then you can integrate them onto your website. Their lowest plan starts at $29/month for unlimited products. 
If you don't have a website or you prefer to sell through third-party platforms, you might look into Amazon or Etsy, depending on the type of items you sell. 
Shipping and order fulfillment
The point of having an online store is to maximize profits and increase customer reach. Most of your orders will likely be shipped directly to your customer's home or mailbox. You'll need to determine how you will fulfill those orders. 
Many businesses offer free shipping to encourage customers to make more online purchases. If you choose this route, just make sure that you are still making a profit and that shipping costs aren't going to pull you under. Raise the prices of your products to cover the cost of shipping if needed. 
Choose the shipping service that you will use to get your orders to your customers: USPS, FedEX, UPS. 
Go deeper: Complete guide to fulfilling and shipping orders for your online store
Test your store to make sure everything works
Before launching your online store and advertising it, make sure everything works like it should so you aren't missing orders.
Learn more: How to set up an eCommerce store for your small business
Inform your customers that you are selling online
Customer communication is critical, so make sure you inform them of any changes you make to your business—including selling online. 
Create a bold call-to-action on the home page of your website that links to your online store or products. 
Share the news on your social media channels and online business listings, and create online advertising that targets new customers who are looking to shop online. 
Best practices for selling online
Keep these best practices in mind as you are setting up your online store. They will help draw in more customers and convert more sales. 
Online promotions
Create enticing promotions like BOGO deals and free shipping that encourage customers to spend more in one transaction. 
Quality photos
Take appealing photos of your products. Spend a little time to make your photos look professional. Not sure you can do this on your own? There are likely plenty of local photographers looking for work right now that can help you. 
Read our helpful guides:
Product names and descriptions
Create well-written product names and descriptions. Keep the names simple and descriptive of what the product actually is. Add any additional and essential details (color, size, weight, etc.) in the description of the product. 
Automate as many processes as possible
Super-small businesses typically have limited time and resources, so it's important to find ways to be as efficient as possible. Your e-commerce platform should be able to do a lot of this for you, like automatically creating packing slips and determining sales tax. 
Set up online newsletters
As you are creating your e-commerce platform, add an online newsletter/email campaign to your website and social media platforms to allow customers to stay up to date on new deals and changes that your business may be facing right now. 
Read more: Best practices for small business email marketing
Solo

is the easiest way for small businesses to pay and get paid.

Solo mobile app is now available for everyone
Scan QR to download the Solo App
Solo mobile app is now available for everyone