In this article: 
Strategies for growing your business in a "down year."

Strategies to prepare for increased demand during recovery

Additional resources to help with financial struggles
One of the biggest strategies small business owners are continuously trying to implement is how to grow their business. After all, business growth means that you are gaining success and more profits. 
But what happens when the economy takes a turn for the worse? It can be difficult to continue growing or even to maintain your current level of profits during a recession or "down year." 
Throughout this article, we'll go over the best strategies for growing your business during an economic downturn, how to prepare for increased business as the economy recovers, and financial assistance resources you can reach out to during crisis situations. 
What strategies can you implement to grow your business when the economy is slow?
Growing your business really comes down to two things: getting new customers and having the resources in place to acquire and maintain new customers. The following strategies can help you accomplish these goals. 
Improve your cashflow
Cashflow is crucial to a thriving business, whether during a thriving economy or a recession. You need to pay your bills and operating expenses in order to gain new customers and you need that incoming profit from new customers to continue paying your operating expenses, and the cycle continues. 
A cashflow strategy should come well before an economic downturn if you have an established business. And if you are just starting out, you should have a plan to keep your incoming cashflow strong, especially through times of economic turmoil. 
Check out this article: 6 common small business cash flow problems and how to solve them
Find ways to reduce costs
This strategy comes back to cash flow and having enough money to put towards your other growth strategies. Finding ways to reduce unnecessary expenses will help you allocate those funds towards improving the function and outlook of your company. 
Do an audit of your current expenses and determine what you can reasonably cut down to improve your spend in other areas. If you have an office or brick-and-mortar location, some common places that you can try to reduce costs include:
Utilities: reduce your electric, water, and sewage costs by utilizing more renewable energy strategies

Internet and phone plans: these companies are always trying to keep competitive quotes, so ask around for better pricing

Go paperless and reduce the use of office supplies

Cut down on "luxuries" in the workplace, like expensed meals, trips, and more
Keep marketing your business
One place where many business owners hurt themselves during a recession is marketing. When money gets tight, the marketing and advertising budget is often the first thing to go. But how do you expect to gain new business if you aren't getting your name out there and keeping people informed? Cutting off marketing can cause a vicious spiral that can hurt your business even more than it already is.
This is especially important during a time like a global pandemic when people are more cautious about visiting businesses and staying at home more. 
Rather than shutting off your marketing efforts, you need to get creative about how you can reach your customers during this time. Think about what they are going through and how your product or services can help them. Use that to appeal to them and gain their business. 
Use resources like social media, your website, and Google ads to help get your name and promotions out there.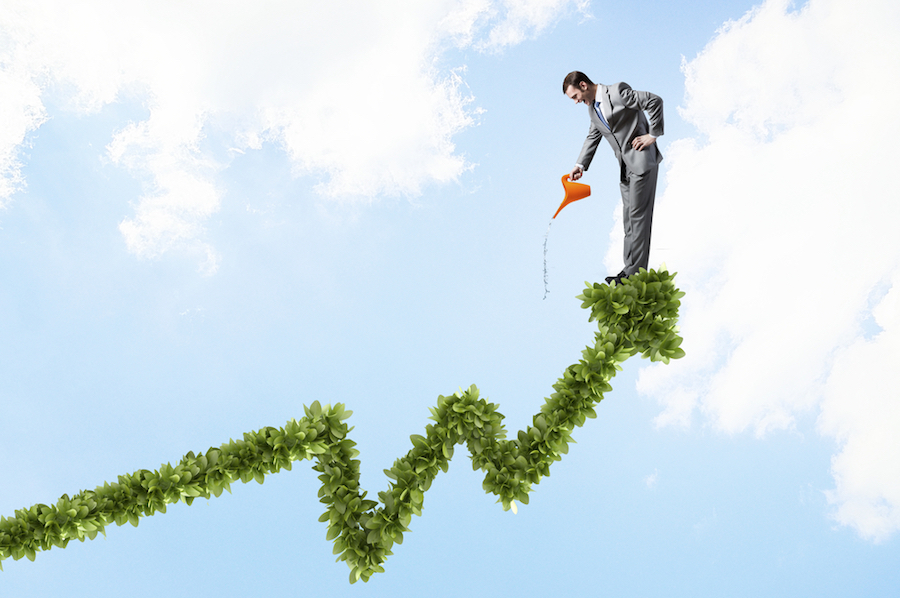 How can you better prepare for increased growth as the economy recovers?
As the economy moves into a recovery and growth phase, it's crucial to prepare for the influx of business that will occur. What can you do to prepare for that increased demand?
Exploit opportunities to reduce costs while the demand is low
Yes, this is important here too. Before the recovery phase begins, you can look for opportunities to reduce costs that will help you to prepare for the increased growth that will occur. 
Look for some of the following opportunities in your community:
Commercial rentals at a lower cost (you may even be able to use this to negotiate a deal with your current landlord)

Deals on equipment 

Upgrades in software, internet plans, marketing campaigns, etc., due to the lower demand
Don't take on too much too fast
It's an exciting time when the sales leads are constantly flowing in, but it's important to be realistic in the amount of work that you can handle. Don't accept every lead that walks in the (real or virtual) door, or if you do, set realistic expectations for your clients of when you'll be able to get to their project. 
You may have to turn down some business during this time, and that's okay. It's better to turn down a couple of leads that you don't have the capacity to handle than to take on too much and not deliver on the work that you've promised. Just know your limits and be smart about the work that you take on. 
Continue your marketing efforts
We will always recommend you keep up your marketing efforts, even if it's just finding free ways to market your business within your community. 
Even as demand increases, it's important to keep up marketing efforts that revolve around brand awareness and maintaining your online visibility. The high demand won't last forever, and you'll want to have continued business growth as things slow down again. Tasks like social media posting, email marketing, and SEO can all help with your long-term marketing strategy for gaining new customers. 
You may also like:
What resources are available to help small businesses during economic struggles?
If you are struggling to keep positive cashflow or need help financially supporting the influx of business as the economy starts to recover, there are resources available that you can reach out to. 
A few options that can help in an economic downturn or emergency situation:
Solo

is the easiest way for small businesses to pay and get paid.

Solo mobile app is now available for everyone
Scan QR to download the Solo App
Solo mobile app is now available for everyone