In this article:
Keep up with the changing rules of email marketing

Fundamental "dos and don'ts" for improving marketing email engagement

Should I use emojis and other symbols in my email subject lines?

When is the best time to send marketing emails?

Why you should consider professional help with your emails
So you've taken the time to get your business set up to send marketing emails. That's great! Studies show email marketing has the highest ROI of any marketing approach, and the volume of email still dwarfs all social media by a healthy margin.
However, if you're not optimizing your email process, content, subject lines, and deliverability, you could be spinning your wheels. In this article we'll go over some of the key tips, techniques, and tricks to improve your marketing email engagement.
Everything matters, and "the rules" of email marketing change often
To start off with, creating an effective marketing email is not easy. There's a reason why big companies spend billions of dollars on teams, software, and content to improve email function, deliverability, click-through-rate (CTR), and general engagement. So don't assume you can just blast everyone on your list with a sloppy "give us your money!" message and expect the dough to roll in.
You need to pay careful attention to every aspect of your marketing emails, and ideally, get professional help.
Email marketing success is in constant flux, and the "rules" that apply today may need to be updated or changed next month. So it's a good idea to reevaluate your approach often, and be open to improvements. However, our experts have provided some key "do's" and "don'ts" for better email marketing success.
Include your value proposition in the first couple of sentences
If you want good open rates, get to the point quickly. Focus hard on your subject line, your pre-header, and your first sentence. 
Spend some time thinking about every word. Write down several variations and ask a friend or employee to tell you which one catches their attention. (You should also try A/B testing several variations and keep track of which performs best. More on this later.)
Short email subject lines that are carefully crafted to be both catchy and informative tend to perform the best. If your subject line is too long, the email provider may cut it off. 5-8 words is usually the most successful. 
Don't send too many emails… or too few
Unless your customers fit very specific use cases, they likely won't appreciate you sending them a marketing email every day. (Of course, if they signed up for "deal of the day" emails, that's another story). One a week is probably okay, but be absolutely sure you're not just sending the same offer over and over.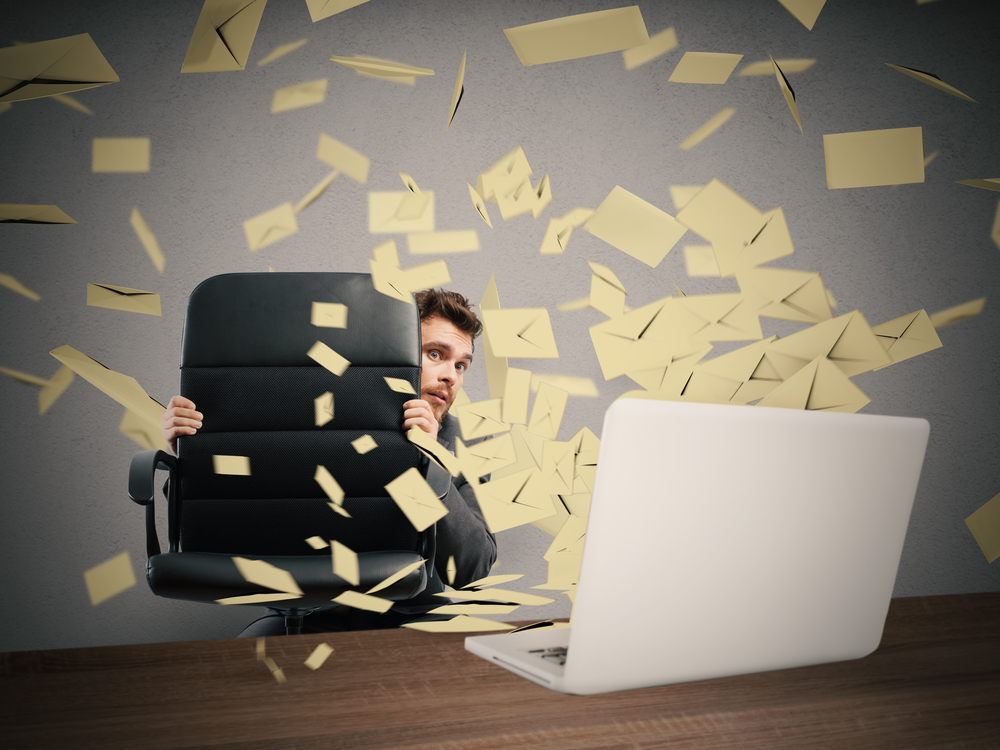 Have a specific reason for emailing your current and potential customers, and make it worth their while to click.
On the other side of the coin, if you only send one email a year, people will likely forget who you are. You'll have to adjust according to your testing and feedback, but anywhere from once a week to once a month is generally appropriate, assuming you're providing real value.
Test your campaigns and see whether you get better results with a bigger offer sent once a month, or whether you see more engagement with more regular emails that may not have quite as big a reward for the customer.
Should I use emojis in my marketing emails?
Old-school email marketing gurus shudder at the thought of including those pesky "smiley faces" in the subject line of a "professional" email. However, depending on your business's brand strategy and personality, it may be entirely appropriate. Today's consumers are almost all on mobile devices, where emojis are not only common, they are expected.
We've found that the basic "hand wave," thumbs-up, "pray/hands," and "big smile" emojis perform well. Our general recommendation regarding emojis is they can be appropriate and effective for marketing/sales emails, but for announcement or informational emails, it's probably best to not use them. 
This is something else you should be testing in your email campaigns. Try sending one batch including an emoji, and one batch (using the otherwise identical subject line) without an emoji. If you find emojis perform better, try a batch with a different emoji, and see which performs best for you and your customers.
Symbols, special characters, and some words may impact deliverability, depending on email service provider
An important note: while emojis, symbols, dollar signs, and other attention-grabbing subject-line tricks may improve email open rates and engagement in certain cases, they may also get your emails flagged by automatic spam-detection engines on some email service providers. 
What's more, some filters will automatically send emails with subject lines that include dollar signs, asterisks, exclamation points, symbols, "FREE," etc. to the recipient's spam folder, so your customers might not even see the email you so carefully crafted.
Of course, you should always get permission to send emails to EVERY recipient on your list, and follow the rules about including an opt-out/unsubscribe link in every email, but even when you do this, if you put "****>>>SAVE HUUUGE WITH OUR FREEEEE MONEY SAAAALE!!$$$$<<<****" in your subject line, you might get your emails automatically flagged or not delivered at all.
This is another reason why you should be testing regularly to see what resonates with your recipients.
Don't ignore the "preview" or "pre-header"
If you want to have strong open rates you need to focus on your pre-header (your first sentence, or whatever the email software displays). When you look at a list of emails on your phone or in an email platform on your desktop, what is typically shown is the sender name, subject line (or part of it), the pre-header, and some of the first line of your email.
Be sure to test-send your emails to yourself and check on multiple platforms to make sure the preview/pre-header is what you want people to see and pay attention to. If not, fix it!
Keep your emails short: within one "thumb scroll" on mobile is best
Today's consumers are inundated with messaging in varied forms. So when we say "get to the point quickly," we mean within the first sentence or two… and when we say "keep your email short," we mean within one thumb scroll on a mobile device.
It may be tempting to craft a tome that slowly builds interest for a committed reader, but save that for your webpage or other online marketing avenues. For email, get to the point and include a clear call-to-action quickly. Most people aren't actually reading your emails anyway, but rather skimming to get to the meat of the message.
Your call-to-action (CTA) should be specific, high in the email, and buttons work best
We've found that for maximum engagement, your CTA needs to be towards the top of your email. Again, it should be within the first scroll on mobile devices.
Additionally, "button" or image-based CTAs have produced higher click-through-rates. Regarding your call to action, carefully ask and answer the following questions:
What is the reader's motivation for clicking the button?

What is the reader going to get when they click the button?

Is it very clear what they will get? 
As for what color the CTA button should be for best engagement, we have found there is no statistically significant difference between different colors of the button. Just make sure it's easy to see and easy to read.
When is the best time to send marketing emails for maximum engagement?
Everyone is different, so be sure to test your list and track your results. However, we've found the following as a general rule.
Best times to send emails:
Tuesday mornings

Thursday mornings

Wednesday mornings

Saturday mid-mornings (10 am-noon)
Worst times to send emails: 
Anytime after 5 pm 

Fridays

Mondays 

Saturday after noon 

Sundays
How many links are best in a marketing email?
You may be tempted to include every possible bit of info about your business in every email, since this might be the "one chance" you have to reach a particular customer. 
However, if you want maximum email engagement, don't go nuts with the links. Keep them to 3 or fewer in a single email, and we see the best performance from emails with just 2 links (excluding required links such as unsubscribe options and links to your business's terms of service if applicable). 
Be sure to double-check all links both for accuracy of the URL and for functionality on both desktop and mobile. Can your fingers easily click on each link on your mobile device? If not, fix it!
Email engagement tips from a pro
Ellen Ford, Marketing Communications Specialist, shares some of the email tips that have attracted the attention of reporters and scored her team unpaid placements in the New York Times, The Washington Post, Bloomberg, AP, and Reuters, among many others.
"Format matters! Number one, make sure the format you use looks good on desktop and mobile screens. Number two, make sure to split up different thoughts into different paragraphs. This may seem obvious, but I still receive huge, one-paragraph emails that border on unreadable due to their wall-of-text format"

"Don't be afraid to experiment with subject lines. Depending on the audience, catchy subject lines may work better than down-to-business subject lines, and vice versa. You'll need to figure out which method works best for your message and business."

"When it comes to the body of the email, cut the fluff, but be interesting. Most people are skimming promotional emails, not reading them word-for-word, which means you need to get to the point quickly. But don't sacrifice character for succinctness. Use a tone that will keep the reader engaged while you lay out the important information."

"Don't overdo it with the links. Inserting 2 or 3 per email is standard. More than that might be going overboard."
Ellen's tips are a valuable look into a very successful marketing and PR team's approach to email engagement success—one that can work for any business looking to improve their email marketing results.
Every local business should use email marketing
One final thought to leave you with: happy customers often don't come back to your store. According to a Bain & Company study, 60-80% of customers who describe themselves as satisfied do not go back to do more business with the company that initially satisfied them. Why? It may be because there is a lack of connection.
Customers forget. Customers are busy. It's natural.
That's why, for small business owners, email marketing is the best way to create a lasting connection that keeps customers coming back with smiles on their faces and cash in their hands.
Solo

is the easiest way for small businesses to pay and get paid.

Solo mobile app is now available for everyone
Scan QR to download the Solo App
Solo mobile app is now available for everyone