Sorting through credit card charges and paper receipts can be an overwhelming and time-consuming process to handle while running your own small business. Especially if you have to retroactively sort through and categorize personal and business expenses, it can cause even more wasted time and unnecessary stress. 
Overall financial management is essential for the success of any business—it can help you track your cash flow and determine where to cut down or supplement certain areas of your company. To get a more clear picture of these factors, you'll need to stay organized with your finances. Read more to learn how to keep track of your small business expenses and why it's important. 
Quick overview: What are business expenses? 
Business expenses are the costs related to running a business. Also known as deductions, business expenses are recorded on your income statement. These expenses are subtracted from the revenue to determine the net profit or loss, as well as taxable income. 
According to Section 162 of the Internal Revenue Code, as long as the expense is considered necessary and ordinary, it can be reported to the IRS to reduce tax liability. 
Ordinary expenses refer to those that are common in the trade or industry in which your business operates. Below are some common business expenses that can be partially or fully tax deductible: 
Business mileage and some business travel costs

Furniture

Marketing and advertising

Insurance

Legal fees

Rent or office lease

Software

Office equipment and supplies

Employee benefits

Educational expenses for employees

Commissions

Bank fees and interest
Examples of business expenses that are not tax deductible include: 
Demolition losses or expenses

Educational expenses required to conduct a business

Fines and penalties from the government

Political contributions

Any illegal activities
Why is tracking business expenses important?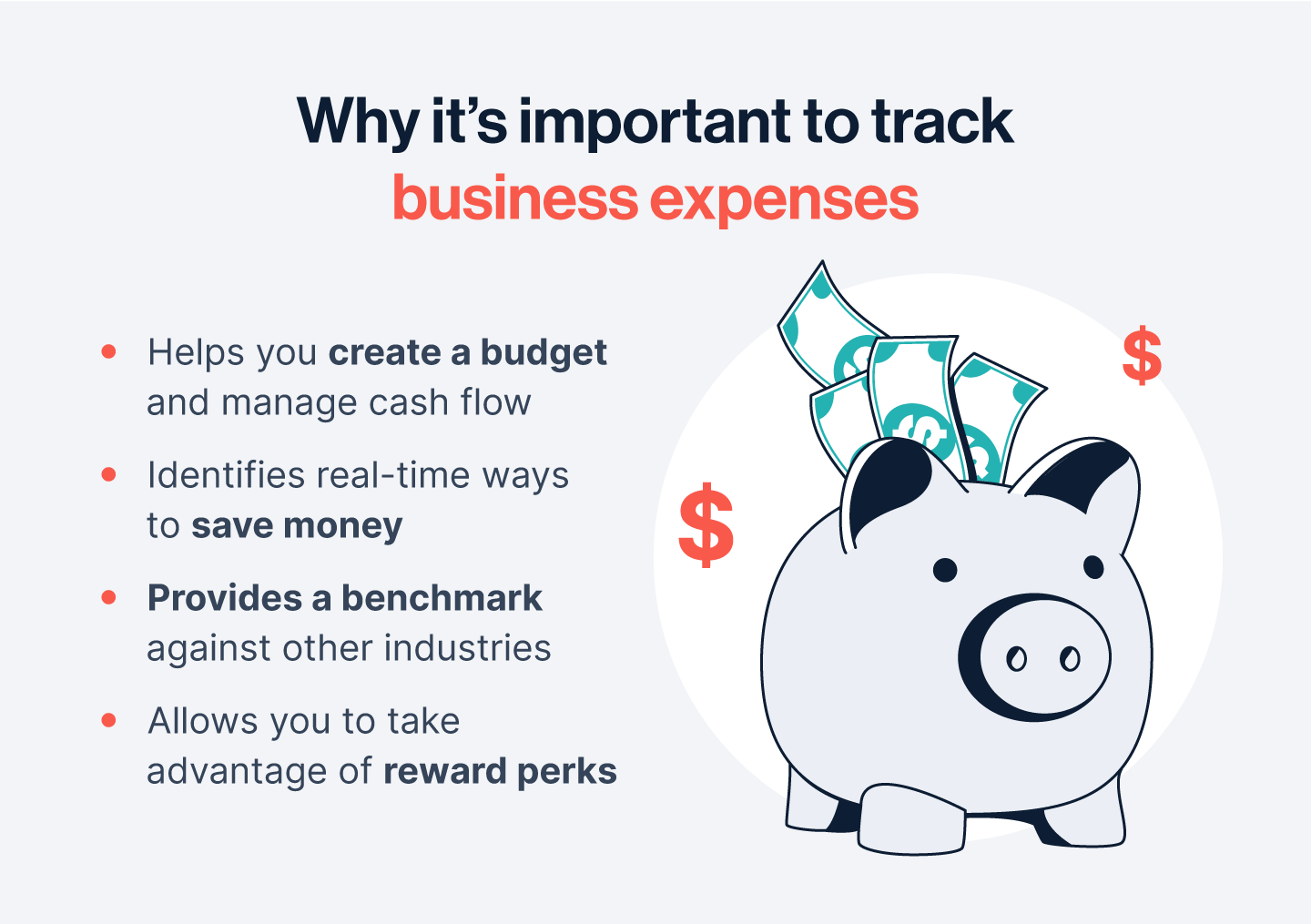 There are many benefits of tracking business expenses. It's not only important for seeing what qualifies as a tax deduction but also helps you understand how to better manage your cash flow. Here are some reasons why tracking business expenses is so important:
Helps you create a budget and manage cash flow 
To know how much money your business has and how much room you have to spend, you need to create a budget—that's where tracking expenses comes in. As you develop better tracking habits, you'll be able to categorize your expenses and create an accurate budget for your business to manage your cash flow.  
Tracking expenses and making a budget can help you become more financially aware, which is beneficial to the overall health of your business.    
Identifies real-time ways to save money 
Having a visual of what your business spends each month can help you spot areas where costs have either increased or decreased and where you should allocate your money. You'll also be able to see if there are any areas where you can cut costs altogether, saving you money in the long run. 
Allows you to take advantage of reward perks 
Creating a separate business account and obtaining a business credit card is part of the process of tracking your business expenses. Business credit cards offer many perks, such as free hotel stays and airline points that can keep you and your employees (if you have any) happy.  
Tracking your business expenses enables you to provide any employees with quick reimbursements when they pay for meals, gas, or flights out of their own pocket. By staying organized with these expenses, you can ensure you pay them back quickly, which also helps with employee satisfaction. 
Provides a benchmark against other industries 
If your business begins tracking expenses, you can compare and contrast these expenses with competitors in the industry. You'll have a clear idea of where your money is going and will allow you to create benchmarks to see how you stack up against others. 
This can help you look for opportunities to cut expenses if you see you're overspending compared to competitors. 
Now that you're aware of the importance of tracking business expenses, read on to learn how to get started in seven simple steps. 
7 steps to track business expenses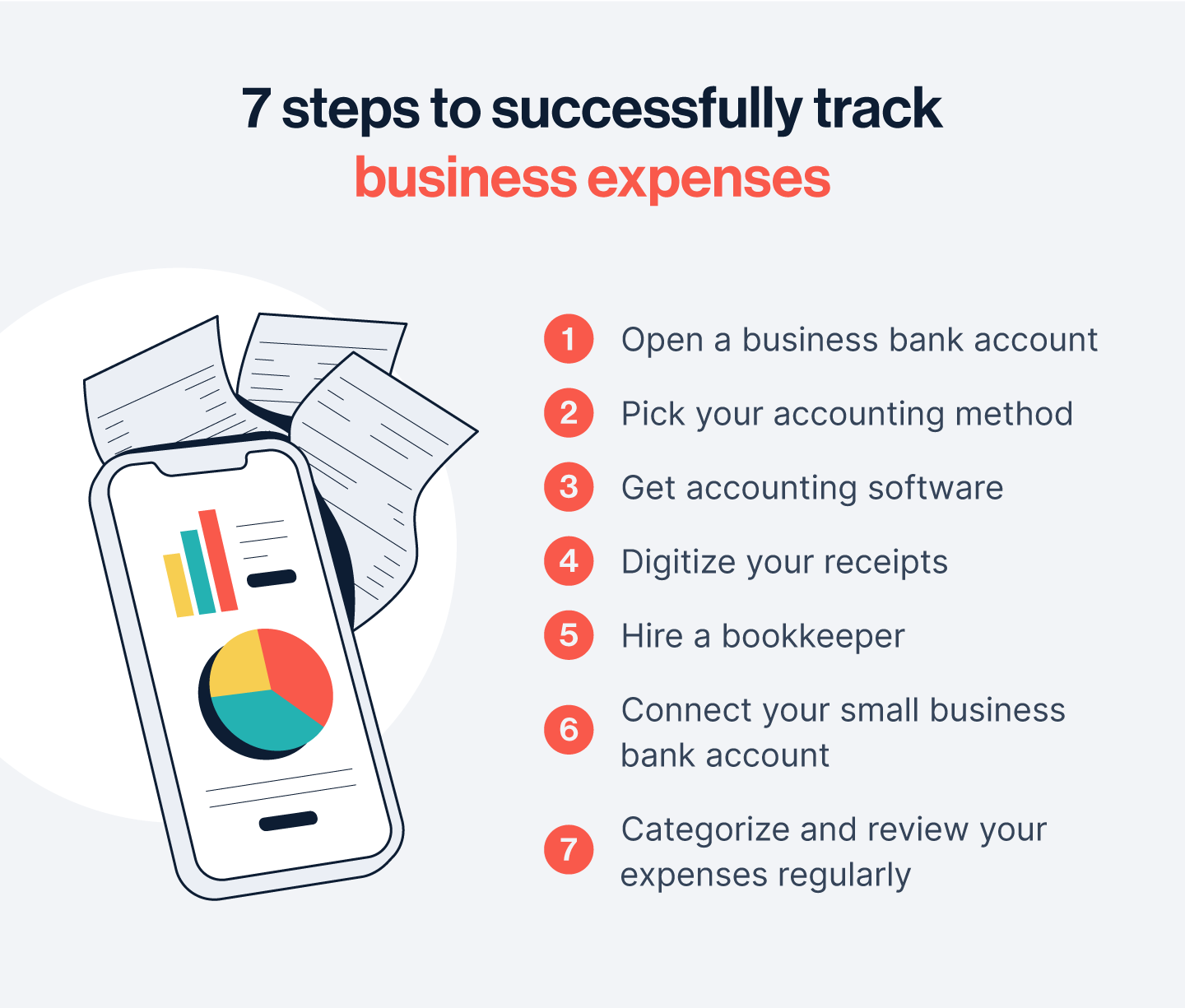 Business expense tracking requires a little more effort than just storing paper receipts in a dusty shoebox. Keep reading to explore the steps involved in the expense tracking process. 
1. Open a business bank account  
The most important step to successfully tracking your business expenses is to make sure that your business expenses are separate from your personal expenses. With separate finances, you can more easily do your taxes and avoid overspending.
If your business is a corporation or LLC, you'll be required to open a business bank account. There are many business credit cards to choose from, so review your options carefully. Here's what you'll need to open a business bank account: 
Business name

Employer Identification Number (EIN) 

Social Security number (SSN)

Organizing documents (LLC, corporation, partnership docs, etc) 

Business license
After opening a business bank account, apply for a business credit card to take advantage of the different rewards and perks it offers, as well as build business credit. If you have employees, consider also getting employee expense cards to track their payments—these types of cards have personalized spending limits and are linked to an approving manager, limiting the risk of reckless spending.  
Tip: If you operate as a sole proprietorship, it's not required to open a business bank account, but it's recommended to get a business credit card to help separate your finances. 
2. Determine your accounting method  
As a business, you must decide how to report income and expenses, which helps establish a consistent and accurate process for tax season. Small businesses with $25 million or less in annual gross receipts for the last three tax years can choose between the following:
Cash accounting: This is the most common method used by small businesses. It's the process of recording income as you receive payment and recording expenses after they're paid. 

Accrual method: This method records income when it's earned and records expenses when they're incurred, rather than when you receive payment.

Tip: Cash accounting is a much simpler process than the accrual method because it only accounts for cash received. The accrual method doesn't track cash flow and might not identify major short-term cash shortages, plus you also have to account for things like prepaid expenses and unearned revenue. 
3. Get accounting software
Automate your business expense tracking with accounting software. Many business owners will try to track these expenses themselves with Microsoft Excel, but this method is more prone to human error.
Accounting software is a simple and easy way to monitor, pay, and organize expenses, allowing you to allocate more time to other business needs. Popular software includes: 
QuickBooks Online 

Xero 

Freshbooks 

Wave 

Zoho Books 
Tip: Many accounting software programs are cloud-based solutions, meaning you can avoid misplacement or loss of information. They tend to also come with reporting tools that provide insights into your spending on a year-over-year basis. 
4. Digitize your receipts   
After obtaining accounting software, start getting into the habit of digitizing your receipts. This is one of the many helpful features of accounting software—it will also likely feature the ability to scan receipts using a mobile phone camera through the use of an app. 
Accounting software uses optical character recognition (OCR) technology that turns text from receipts into machine-readable code, which is then stored in your expenses tracker. Some paper transactions you'll want to consider digitizing include: 
Invoices 

Expense claims 

Receipts
Tip: Make sure you scan your receipts clearly. As you scan, ensure you can read the vendor's name and address, the purchase date, and the amount you paid.
5. Connect your small business bank account   
The next step involved in tracking your small business's expenses is to connect your business bank account to your accounting software so you can import all transactions. There are several ways to do this: 
Manual upload: You may choose to download bank and credit card statements into a CSV file, which you can then upload into the software. 

Data import: Many accounting software tools have a connectivity plug-in that you can use to automatically import data dailys. 

Connect with bank account: Some accounting software programs offer integrations with your bank—in that case, you would connect your small business bank account. With this method, you'd be able to complete and manage all banking within the accounting software without needing to also input data to your bank account portal. 
6. Hire a bookkeeper 
If your company is growing or you don't want to spend additional time sorting through numbers, you may want to consider hiring a bookkeeper. They can use the accounting software to track invoices and receipts and do the heavy lifting for you. 
Using a professional bookkeeper can also help avoid tracking errors and ensure proper records, so that you stay off the IRS's radar. 
Tip: If hiring a full-time bookkeeper is out of your budget, you can also consider hiring one on a contract basis, like before tax season.  
7.  Categorize and review your expenses regularly
Once you've implemented a tracking process, it's crucial that you review and categorize your expenses regularly. If you're unsure of how to categorize your expenses, some common categories include: 
Office supplies 

Travel expenses 

Daily expenses 

Utilities and office rent 

Vehicle expenses (like gas and maintenance)

Employee expenses 
Tip: Creating categories of your expenses also makes it easier to look up data when needed and will help you stay better prepared for tax season. 
Tracking business expenses may seem like a ton of work, but with these tips and the right tools, you can simplify the process and avoid stress during tax season. You'll be able to rest assured that your business's documents are organized and know that you have a better idea of your financial standing. 
Solo makes it easy to pay, get paid, and track business spending
Solo is not a bank, but is a financial super-app for small businesses, freelancers, sole proprietors, contractors, and more. Solo is the easy way to pay, get paid, and keep track of your business spending. Your customers don't have to sign up to pay you, and can use several payment methods, including Apple Pay, Google Pay, and cards. QR codes make it easy to get paid, and you can easily cash out your Solo account balance for free, or spend it using your Solo Cash Card anywhere Visa is accepted. Learn more at Solo.co.
Solo

is the easiest way for small businesses to pay and get paid.

Solo mobile app is now available for everyone
Scan QR to download the Solo App
Solo mobile app is now available for everyone