In this article:
What is a promoted Tweet?

Why you need Twitter for Business

Best practices for Twitter advertising

How to promote a Tweet on your business account

Other forms of social media advertising that you should try
Twitter is a huge resource for sharing news and getting updates in real time. Because of this, it's the perfect place to connect with industry leaders and customers who have a relevant interest for your business. 
However, with the average lifespan of a Tweet being around 18 minutes, it's easy for your Twitter messages to get lost in the crowd. Promoting your Tweets can help you get more exposure and traffic. Read on to learn more about promoted Tweets and how you can set them up on your business Twitter account. 
What is a promoted Tweet?
A promoted Tweet is the same—content wise—as any other Tweet. You still have your 280-character limit (since late 2017) and can add an image to it if so desired. But, promoted Tweets can achieve a broader reach through paid amplification. You can choose your target audience, set a budget, and watch as your Tweet receives more engagement and traffic.  
First, you need Twitter for Business
Before you can start any kind of Twitter promotion, you need to have a Twitter business account. 
Get started with our guide: How to create a business Twitter account
Then, you can begin promoting your Tweets and gaining more exposure for your brand on this highly popular social media giant. 
Best practices for advertising on Twitter
As with every marketing strategy, there are some best practices you should keep in mind to get the most benefits from your Twitter advertising campaign. 
1. Focus on the copy
Twitter isn't as visual a platform as Instagram, Pinterest, or even Facebook. Users engage more frequently with Tweets that tell a compelling story or bit of information through the written word. So be sure to write or source good copy for your Tweets that will compel users to engage with them. 
2. Use a strategy of continuous promotion, rather than a one-off
Multiple exposures to promoted Tweets from the same brand can lead to a 10% lift in brand favorability compared to those who only saw one Tweet from the same brand or campaign. This shows that your business can benefit from a continuous Twitter promotion strategy to increase the exposure of your brand to potential customers.  
3. Include a call to action
Don't promote a Tweet with no real purpose. Include a CTA (call-to-action) that will drive consumers into doing something, whether you are asking them to Retweet, respond, or visit your website. Catch their attention, and then ask them to do something. 
4. Create timely messages
As mentioned, Tweets die quickly, so be sure to create a timely message that people will either be searching for already or will be interested in because they recently heard something about that message. Some great examples of this are big games in the sporting world, celebrity gossip, and political movements. 
Timely news related to your industry is always a good topic to test out in your advertising as well. 
This can be a tall order for local, small businesses, but we've seen some very successful campaigns from places like cookie shops or other "cult" restaurants with varying menus. They tweet updates or specials to drive local business and get customers excited about this week's flavors.
How to promote a Tweet on your business account
Now that you have a Twitter account and a few good tips for your promotion strategy, let's get started on promoting your first Tweet.
We'll walk you through two options for creating a Tweet promotion: Quick Promote and the traditional promotion. 
Quick Promote is a good strategy if your Tweet already has a lot of engagement and you want to boost it even further without going through the process of creating an entire campaign. 
The traditional method is a better option if you don't already get a lot of traffic on Twitter and are just getting started. It also allows you more flexibility in your targeting and budget options. 
Option 1: Quick Promote
Step 1: Log into your business Twitter account
Go to twitter.com and sign in. 

Step 2: Go to your business profile
Find your profile icon on the left menu bar (if you're using a desktop). Click on it to go to your business profile.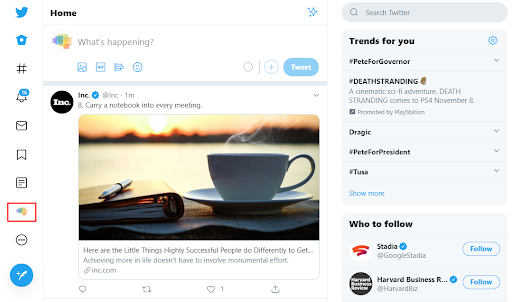 Step 3: Select a Tweet that you want to promote
Next, find a recent Tweet of yours that you want to promote, or create a new Tweet and then promote that one. Go to the tweet you want to promote and click the activity icon. 
Then, click "Promote your Tweet" in the window that pops up.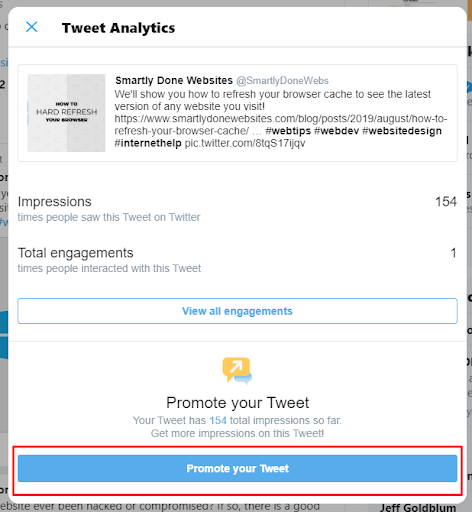 Step 4: Promote your Tweet
In the next window, select a location for your Tweet to reach, choose your budget from the options provided, and click "Confirm Spend."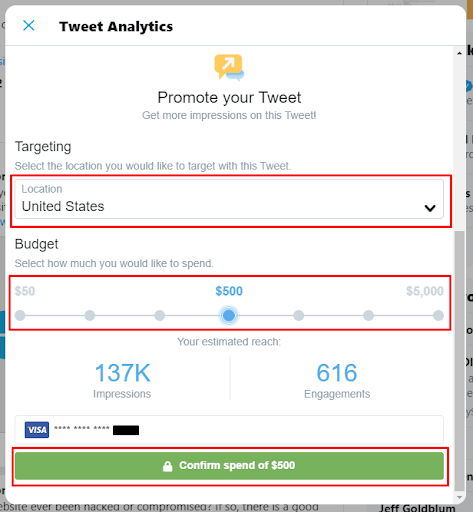 Option 2: The traditional method
Step 1: Log into your business Twitter account
Go to twitter.com and sign in. 

Step 2: Go to Twitter Ads
Find the three-dot icon on the left menu bar (if you're using a desktop). Click on it and then click "Twitter Ads."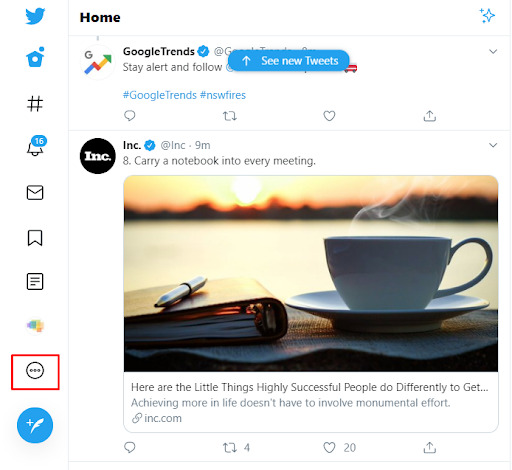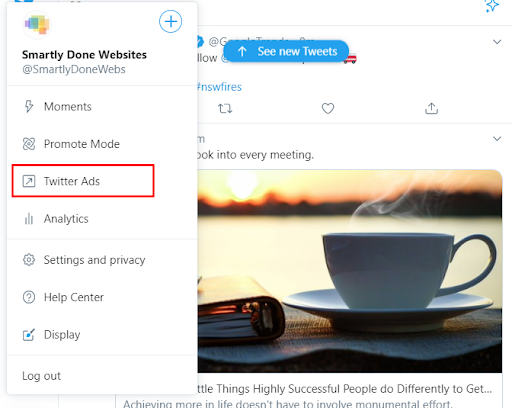 Step 3: Create a campaign
Find the "create campaign" button on the top right of your screen and click on it. 

Select an objective for your new campaign.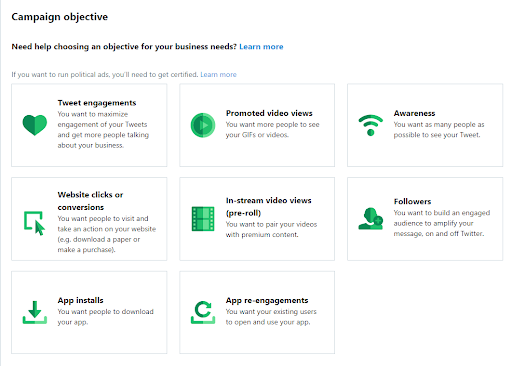 Name your campaign and add a daily budget (and total budget if desired). Select a start and end date for your campaign. You can also choose to run the ad ongoing. Click "Next" in the top right corner.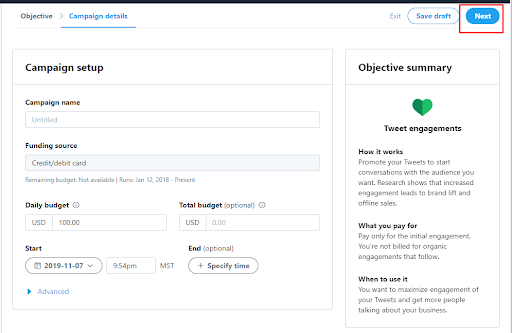 Next, you'll set up an ad group. Ad groups are used to organize your ads within a single campaign. This allows you to have different targeting for different ads within the same campaign. 
Name your ad group, add a start and end time if different from the campaign start and end time. Add a total group budget if different from the total campaign budget. Select your bid type–automatic or maximum–and click next. 
Note: Automatic bidding is the default option for Twitter ads, and Twitter will select how much an engagement is worth based on your budget. With the maximum bid option, you can choose how much a single engagement is worth to you.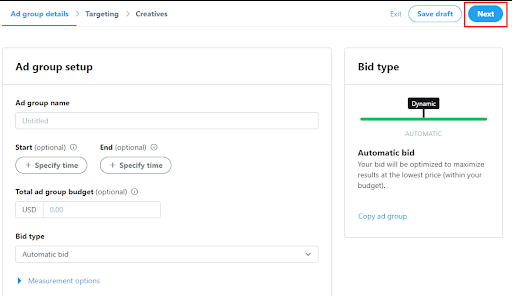 Next, it's time to add audience targeting. 
Start by selecting the demographics that you wish to target: gender, ages, locations, languages, and type of device they use.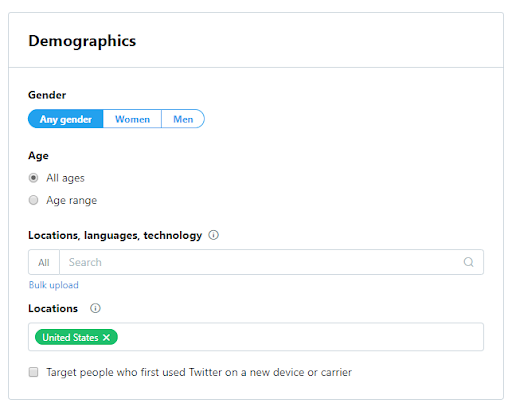 Then, you can choose additional features for your audience, like specific interests or behaviors that they exhibit. When you're done narrowing down your audience, click "Next" in the top right corner.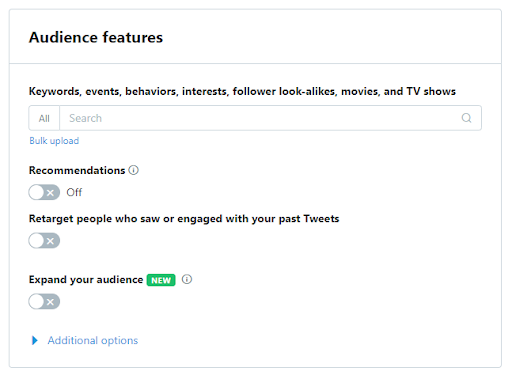 Now it's time to select the Tweet, or Tweets, that you want to promote in this campaign. 
Choose the Tweet(s) you want to promote and click "Next."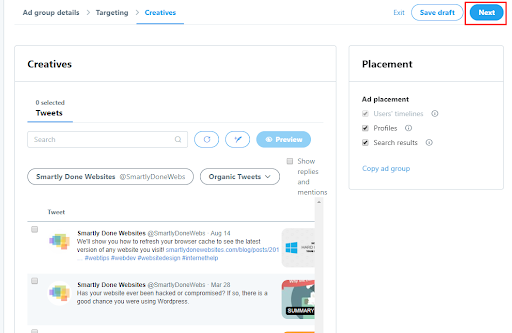 Lastly, review all of the details of your campaign, make any last-minute edits if necessary, and launch your campaign. Go back to Twitter Ads periodically to see how your ads are performing. 

Other forms of social media advertising that you should try
Twitter isn't the only advertising platform that can help with brand awareness and gaining more online visibility for your business. Facebook and Instagram are also great channels to use to get more leads, awareness, and consideration for your brand. 
The best part about Facebook and Instagram advertising is that (since Facebook owns Instagram) they are both run by the same platform: Facebook Ads Manager.
To create Facebook and Instagram ads for your business, check out our guide: How to set up Facebook Ads Manager for your small business.
Sources:
https://blog.twitter.com/marketing/en_us/a/2013/nielsen-brand-effect-for-twitter-how-promoted-tweets-impact-brand-metrics.html
Solo

is the easiest way for small businesses to pay and get paid.

Solo mobile app is now available for everyone
Scan QR to download the Solo App
Solo mobile app is now available for everyone