In this article:
Can I remove a Facebook review?

Should I remove Facebook reviews?

When should I remove Facebook reviews?

How do I remove reviews from my Facebook business page?

Best practices for Facebook reviews
Online reviews are an important part of reputation management for any business, including small local businesses. Consumers look to online reviews on Facebook and other sites to see if their friends like your business and what others are saying about you. 
Sometimes, however, the reviews that we get on Facebook are less than ideal. Whether they include false claims or come from a disgruntled customer, bad reviews are never fun to get. We'll walk you through a few different scenarios in which you may want to remove a Facebook review. 
Can I remove a Facebook review?
Let's start by answering this question: Is it even possible to remove a Facebook review completely? 
The answer is yes, but this process doesn't come without its challenges. Some reviews are easier to remove than others. 
For example, if the review clearly violates Facebook's policies, whether it be spam, hate speech, and any other discriminatory content, then Facebook is usually pretty good about removing these right away. 
Sometimes false reviews can go undetected though, and that's where you may need to get involved to take the review down.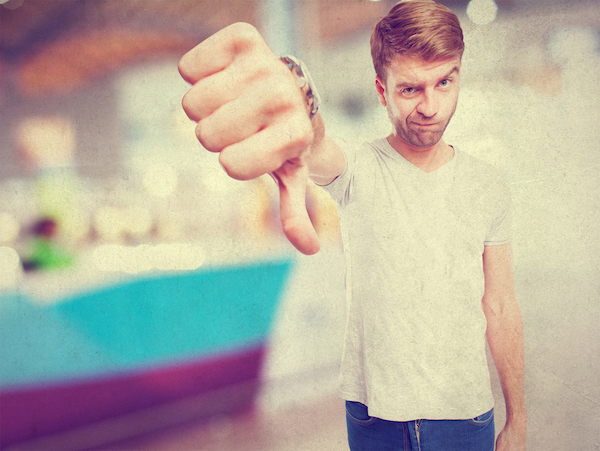 Should I remove Facebook reviews?
Before we get into how to remove Facebook reviews, let's talk about whether or not you should try to remove every bad review that comes across your business's Facebook page. 
Not all bad reviews are necessarily bad for business. Sometimes a bad review, if legitimate, can even be good for business if you handle it well by responding and resolving the issue with your customer. 
Bad reviews can provide valuable feedback, bringing to light issues with your products, services, staff, or facilities that you might not hear about from other sources. 
And if you take the opportunity remedy the situation, this often results in a more loyal customer than one who doesn't leave a review at all. 
So, to answer the "should I remove negative Facebook reviews?" question: if the review is legit and from a real customer, you should probably not try remove it. 
This brings us to another good question. 
When should I remove Facebook reviews?
When a Facebook review seems suspicious, fake, or spammy, that's when it is a good idea to try and get it removed. 
Here are some tips for spotting fake Facebook reviews:
The description is vague (no specific detail about the business offerings)

The reviewer is connected with a competitor

The reviewer is connected with a former employee
Read more: How to spot fake online reviews
How do I remove reviews from my Facebook business page?
There are two main ways to remove reviews from your Facebook page: reporting the review to Facebook or turning off reviews and recommendations on your Facebook page. 
We recommend the first option because turning off your reviews completely isn't going to help your online reputation. Customers expect to be able to read reviews, and if you don't allow them, it may seem like you're trying to hide something. 
So, let's go over the process of reporting reviews. 
How to report reviews on your Facebook page
If you are fairly certain that a review is fake, then you should definitely report it. To report a review, go to the review on your page and click on the exclamation point in the comment box icon. 

From there, you will have the option to tell Facebook what about the review goes against their policies:
Not relevant to the company

Unfair review

Nudity

Harassment

Violence

Suicide or self-injury

Drugs

Hate speech

Spam
More often than not, if you are reporting a false review it will fall under "not relevant" or "spam." Select the reason that fits best, and then click "Send."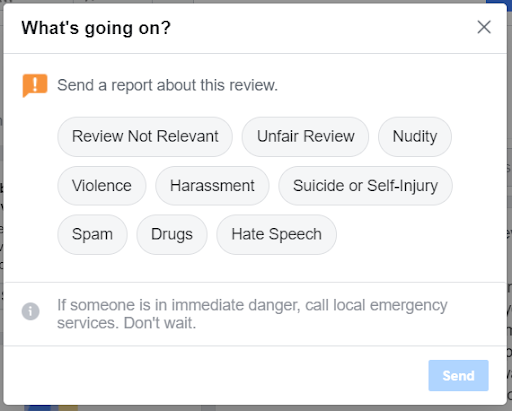 From there, Facebook will determine whether or not the review qualifies for removal. And that's about as far as you can take it on your own. 
If you personally know who left the review, you can also reach out to them and ask that they remove the review. 
How to turn reviews off on your Facebook page
The other option is to hide your reviews from your Facebook page completely. The benefit of this is that no one can leave false reviews on your Facebook page. The downside is that no one can leave any reviews on your Facebook page. So, if possible, try to avoid this option in order to provide a better experience for consumers who are researching your business. 
To turn off Facebook reviews, follow these instructions:
Go to your Facebook page and click Settings. 

On the left menu bar, click Templates and Tabs.

Scroll down to the Tabs list and find Reviews. Click Settings. 

Click the ON switch so it says "OFF" and then click Save. 
If you'd like to remove Recommendations from your business page as well, you can follow these same instructions for Recommendations. 
Best practices for Facebook reviews
The number one best practice that we can give you for Facebook reviews is to always respond to them. Even if the review is clearly fake, you still need to wait for Facebook to check your report and remove it. In the meantime, respond to the review letting the reviewer (and all who read the review) know that you don't have a record of them as a customer. 
Whenever a review comes in—good, bad, or fake—leave a prompt response that shows you acknowledged the review and, if bad, are working on fixing the situation. 
Learn more: How to respond to negative reviews
A few easy best practices to keep in mind when it comes to Facebook reviews:
Always respond

Respond quickly

Remind people that you appreciate their feedback to encourage regular reviews
Solo

is the easiest way for small businesses to pay and get paid.

Solo mobile app is now available for everyone
Scan QR to download the Solo App
Solo mobile app is now available for everyone