Getting a bad review on Yelp can feel like a punch to the gut for small business owners, especially if it was unwarranted. It's frustrating and sometimes it seems like there's nothing you can do about it. But wait! There might might be. If you're hoping to remove a Yelp review, you've come to the right place.
Before we explore how to remove a review from your Yelp page, let's back up. How often do bad reviews happen and what does a bad review mean for your small business? 
How often do bad reviews happen on Yelp?
If you're distressed about getting a bad review on Yelp, don't worry, it happens all the time. According to Yelp's Factsheet, there are over 171 million reviews on the platform and given that 16% of those are 1 star reviews, that's roughly 27,360,000 awful reviews on Yelp. So if you get a scorcher, it's okay. It's part of the program.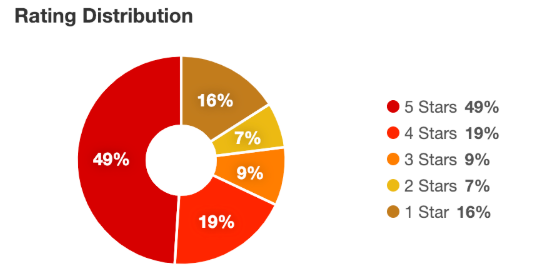 But what if it's a completely groundless review? Let's see what we can do about getting it removed.
Is it possible to remove a Yelp review?
Yes, it is possible for a Yelp review to be removed. However, business owners cannot directly remove them (reviewers can delete their own reviews). 
Only Yelp can eliminate reviews from its platform. Never work with an individual or a consultancy that claims they can bypass Yelp's platform to remove a Yelp remove, or a reputation management company that purchases fake reviews to boost your star rating. Short of requesting the removal of a definitively bogus or defamatory reviews, legitimate reviews from actual customers should be your only recourse in improving your star rating on Yelp and other review sites. 
While Yelp takes a somewhat "laissez faire" approach—they keep discretion mostly in the hands of Yelpers— there are reasons the Yelp moderators or recommendation software may remove a review. Keep in mind that one or more of these reasons will have to be true for your case in order to get a review removed from your page. Otherwise, the review—good or bad—will remain.
Plus, research shows that negative online business reviews aren't necessarily as harmful as you might think. Businesses with between 10 and 25% negative reviews make the most money!
5 instances that justify the removal of a Yelp Review 
You can have a Yelp review removed if you can prove that an undesired review is "questionable" by demonstrating to the Yelp team one of the following things.
The review is fake. Similar to 

how Google detects and removes reviews

, Yelp will dismiss any spam reviews (content posted multiple times from different accounts or many reviews from one IP address), conflicts of interest (reviewing your own business), and impersonations (representing the views of someone other than yourself).

The review violates

Yelp's content guidelines

. Yelp prohibits inappropriate, promotional, irrelevant content, and violations of people's privacy, intellectual property.

The review is "not recommended." Yelp's recommendation software automatically filters out reviews based on dozens of signals, including lack of quality, unreliability, and questionable user activity. According to Yelp, 25% of reviews are not recommended. They're filtered out and not displayed (and don't affect anything) on your business's profile.

The author deletes the review. The only other party besides Yelp that has the power to remove a user's review is the user himself/herself. To remove a Yelp review, a user simply navigates to their account, opens their Reviews, selects the review they'd like to remove, and taps "Remove" (the trash can icon).

Legal process proves the review is defamatory. According to Yelp, if a questionable or fraudulent review is NOT removed by Yelp's moderators or recommendation software,  

"you or your lawyer can obtain a final adjudication from a court of competent jurisdiction indicating that the review is defamatory"

and 

contact Yelp's Support team

.
How to flag and remove Yelp reviews that violate the terms of service
If the Yelp review you're hoping to remove falls under one of the above criteria, you may have a chance of having it taken down. Here's how to flag and report a review (keep in mind that reporting doesn't guarantee a review will be taken down).
Note: Before reporting a Yelp review, read this helpful article from Yelp  first: "When should I report a review?"
Log in to your Yelp account (the "Report review" button won't show up if you're not logged in).

Find the review you'd like to report. 

On desktop, select the "Report review" button that looks like a flag.

Note: if you're on mobile, the "Report review" function is located in the "three dot" menu.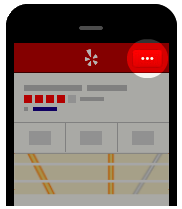 After you report the review, Yelp will assess and analyze the best decision based on its content guidelines, which may take several days. 
Fortunately, Yelp will email you regardless of their decision to remove or keep the review. Either way, you'll hear back. 
What if I can't get a Yelp review removed? 
Alas, if you've exhausted all possible options and you've found the negative review cannot be justified for removal and it must remain, there are some things you can do that will lessen its pejorative impact.
Message the reviewer privately and try to work things out. Without being a jerk, see if you can make amends, solve the problem, or redress the situation. The best case scenario is they edit, update, or remove their own review.

Respond publicly and diplomatically. If the reviewer still won't take down their review, respond to the review with professionalism and objective problem solving. Keep in mind that hundreds or even thousands of potential customers may see your response, so use this as an opportunity to bring in more business, not to shoot your business in the foot with an overly-defensive or emotional retort.
Solo

is the easiest way for small businesses to pay and get paid.

Solo mobile app is now available for everyone
Scan QR to download the Solo App
Solo mobile app is now available for everyone