In this article:
Why you need to respond to Google reviews

How to respond to Google reviews

Strategy for replying to negative online reviews
Word of mouth has moved online.
You've probably heard that phrase (or something like it) countless times over the past several years. Especially if you own or manage a local business. You know better than most how the rules of the game have changed. Where word of mouth used to be a vague sense of how the community felt about your business, it's now boiled down to whether your customers give you 1-5 stars and how you respond to Google reviews, Yelp reviews, and more.
As a business owner, it's understandable to feel powerless and frustrated by review sites and longing for the "good old days."
Don't get trapped by that line of thinking.
Whenever we talk to business owners about the new age of online review sites, we like to ask them all the same question: "How often do you respond to your reviews?" The typical response ranges from "We're pretty good at responding, but only to complaints," to "You can respond to reviews?" We almost never get the answer we're hoping to hear: 
"Always."
Responding to Google Reviews
Posting responses to your Google reviews, both positive and negative, can go a long way to build customer loyalty and boost your online reputation. We'll get into exactly how and why this practice is so important later on in the article, but let's start with a quick overview on how to respond to Google reviews.
Claim your Google my Business listing (if you haven't already)
You can't respond to a Google review unless you've first claimed your business listing. At last count, only 44% of Google listings have been claimed, which leaves a lot of your competition already a step behind. Plus, research shows that businesses that claim their listings on multiple online business reviews sites make more money!
If you've already claimed your listing, feel free to jump to the next step. If you haven't, don't worry, it's free and easy. Click here to learn how to claim your Google my Business listing.
Once you've claimed your business, you have a few options available to respond to reviews. We'll walk you through each of them. 
You might also like: How to set up Google customer reviews for your business.
How to Respond to Google reviews from Google's Business Dashboard
1) Log into your account at business.google.com
If you have more than one location, select the location you'd like to manage.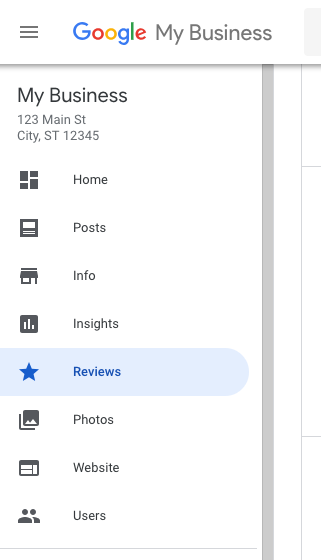 2) Click on Reviews in the left-hand navigation

3) Click the Reply button under the review you're responding to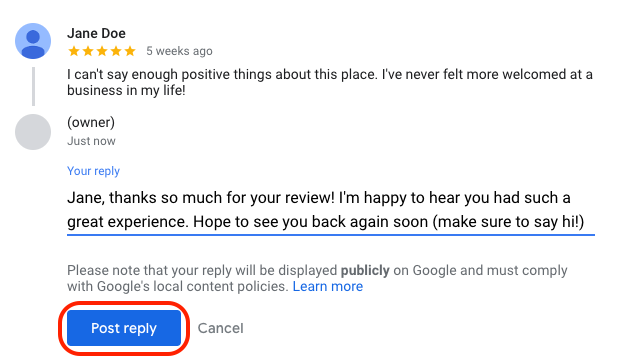 4) Write your response and click Post Reply
How to respond to Google reviews from Google Search or Maps results
1) Search for your business
Make sure you're logged into the Google account you use to manage your Google business listing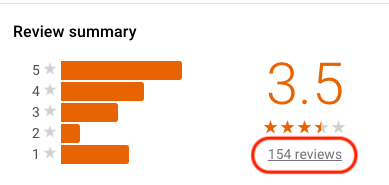 2) Scroll to your reviews and click to view them all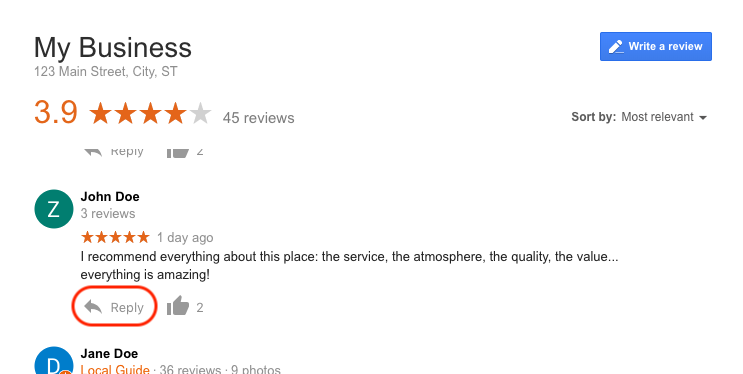 3) Click Reply under the review you'd like to respond to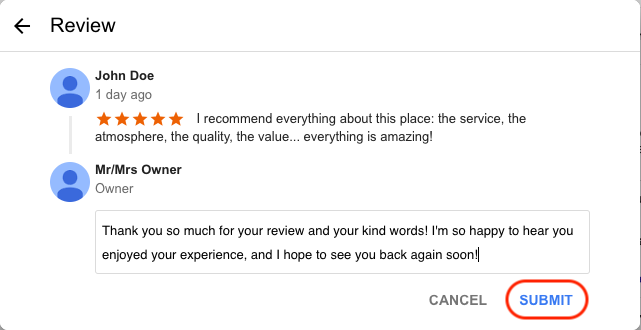 4) Write your response and click Submit
Should I respond to Google reviews?
Yes. The game has changed. Your business's online reputation matters now more than ever. 97% of consumers read online reviews for local businesses. Most consumers trust online reviews as much as personal recommendations from friends and family. But there's a bright side to this new world of local business marketing that too few businesses take full advantage of. 
You now have a voice in the conversation. In the past, business owners had little to no visibility into what people said about them, and they certainly didn't have a seat at the table. These days, that's all changed with review sites like Google My Business, Yelp, TripAdvisor, and more. 
Win loyalty by showing customers you care
Whereas before word of mouth was something vague and undefined, it's now exists in an interactive online space. If a customer has a bad experience with your business and vents their frustration in a bad Google review, you now have the opportunity to engage that customer personally to mend the situation. 
This not only gives you the chance to win back upset customers, but it also gives you a platform to show future customers that you care.
Make a good first impression
Don't limit yourself to responding only to resolve issues and complaints. As mentioned earlier, you should respond to all your Google reviews. Even the positive ones. Think of it like this: if a satisfied customer took a moment to share their positive experience with you in person, you wouldn't respond with just a smile and a nod, right?
Treat your Google reviews like you would any in-person review. A list of Google reviews complete with engaged responses from a business goes a long way to set your business apart and make a curious searcher feel welcome and invited before they ever set foot in your place of business.
Increase revenue by boosting your online reputation
But you don't just have to take us at our word on this. Studies have shown that when businesses start responding to online reviews, they receive an increase both in the total number of reviews received and their overall rating.
We're not suggesting that responding to reviews will result in an immediate flood of hundreds of new 5-star reviews, of course. But according to research from Cornell, even incremental changes in your business's online rating can affect your revenue by up to 39% for better or worse. 
If you find yourself ready to respond to reviews but unsure what to say, read our helpful guide on how to respond to negative reviews. The most important thing, though, is to stay consistent and be prompt. Don't let your reviews sit for weeks or even days without responding.
Word of mouth has moved online. Don't leave yourself out of the conversation.
Solo

is the easiest way for small businesses to pay and get paid.

Solo mobile app is now available for everyone
Scan QR to download the Solo App
Solo mobile app is now available for everyone