In this article:
How your small business can benefit from a YouTube presence

How to set up a YouTube account for your small business

Enhance your marketing efforts with other social media outlets
YouTube is a great resource and social media channel for small businesses to utilize, particularly if your business is visual by nature or you have a big personality. 
However, even plumbers, landscapers, decorators, pet groomers—pretty much any type of business you can think of—have developed huge followings and marketing reach on YouTube
If your business doesn't have a YouTube channel yet, we'll show you how to create one, as well as give you some pointers for how a YouTube account can benefit your small business.
Why your small business should be on YouTube
Consumers are highly engaged by visual media—memes, photography, infographics, and video. YouTube is also the 3rd-largest search engine and the 3rd most visited site on a global scale with more than 1 billion visitors each month. 
If that's not reason enough to help increase some brand awareness by using this channel, here are a few additional benefits your business can gain by using YouTube as a marketing tool:
YouTube videos can help your business get found on Google through video search

Your content can last longer as you repurpose blog posts into videos that you can share on YouTube

Your audience will promote you as they share your videos

Increase customer conversions with video

Target video ads through Google Ads on YouTube

Add a face to your brand that people will recognize and connect with

YouTube can add transcripts and captions to videos to make them more accessible
If you are already producing video content for your business, then take advantage of the many benefits of YouTube and set up an account. We'll show you how in the next section of this article. 
How to set up a YouTube account for your small business
Let's get to it. 
Step 1: Set up a business Google account
Do you have a Gmail that you've already set up for your business? That will be the first step to creating your YouTube account. If you already have a business Google account, skip to Step 2. 
YouTube is owned by Google, so you need to sign in with a Google account. We recommend creating a separate Google account for your business rather than signing in with a personal account. This will make it easier to share the account information with other employees as your business grows. 
Go to Google.com and click "Sign in" to set up a Google account.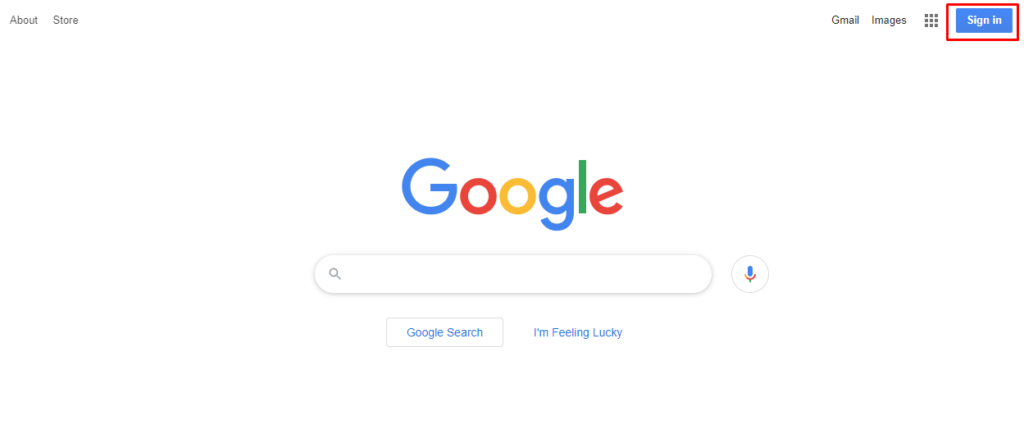 Click "Create account" and then select "To manage my business."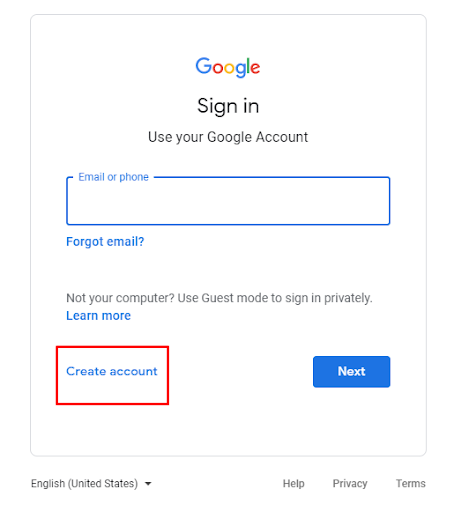 Add your first name, last name, username, and password. Then click "Next" and follow the prompts to finish setting up your account. 
Step 2: Create your YouTube channel
Now go to YouTube.com. If you are already signed into your Google account, then YouTube will already be signed in for you. If you're not signed in yet, just click "Sign in" in the top right corner and use your business Google account to sign in. 

Once you are signed in, click on your profile avatar in the top right corner and go to "Create a channel."

Click "Get Started."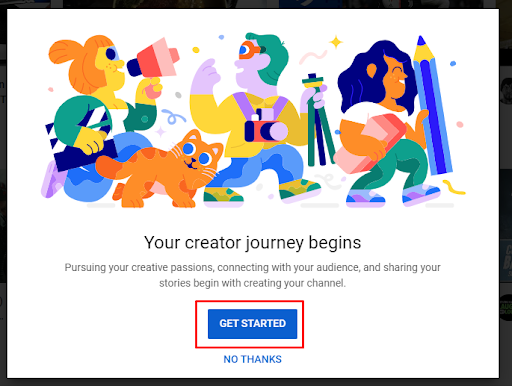 Next, you'll be given the option to use your username for your new channel or use a custom name. For businesses and brands, we recommend using a custom name so you can brand your YouTube channel.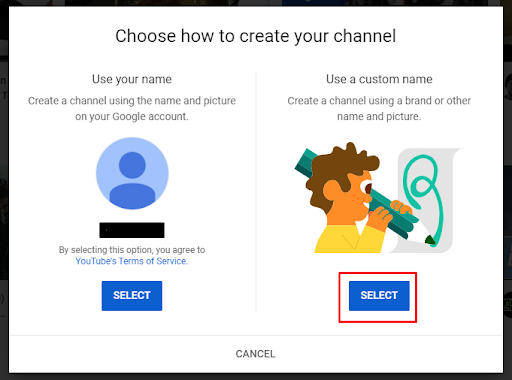 Add your channel name (your business name is fine here), check the "I understand…" box and click "Create."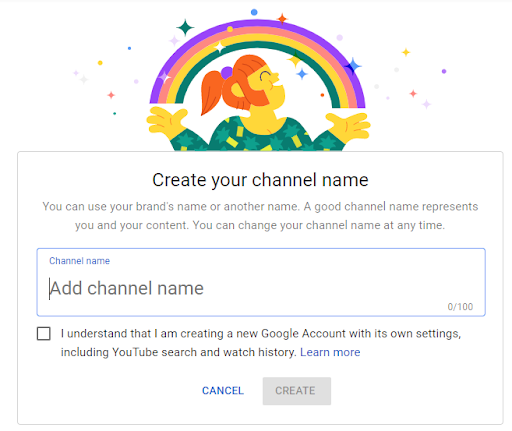 On the next screen you can and should add all of the following:
Profile picture (your business logo is great for this)

Channel description (what kind of videos will you be sharing?)

Link to your website and other social profiles
Click "Save and Continue."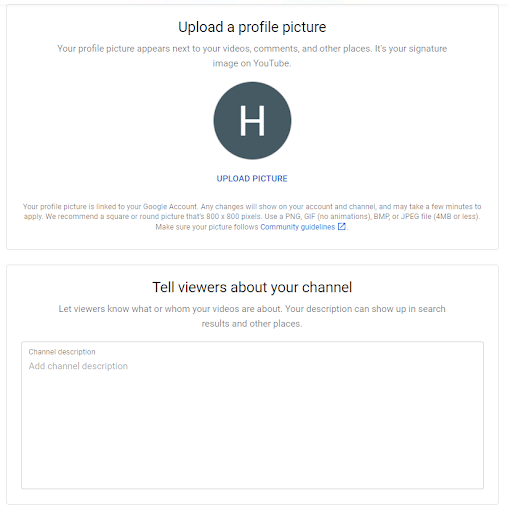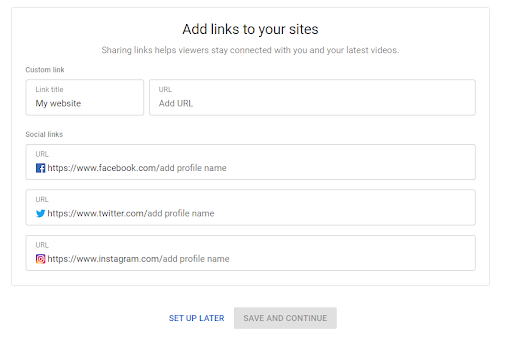 Now you have a YouTube channel for your business! Continue to Step 3 to further customize your channel. 
Step 3: Customize your YouTube channel
While you can now upload videos and technically do have a YouTube channel for your business, you should customize your channel to fit with your branding. 
Start by clicking "Customize channel" on the new screen you are brought to. 

Here, you can add channel art (a banner photo), add featured channels that are relevant to your business, and add new sections to organize your videos.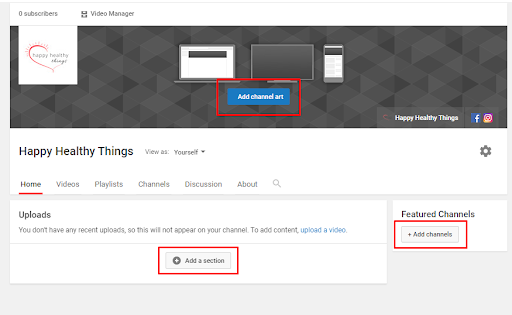 Go to the "About" section to edit your description, add a business email, and add your location.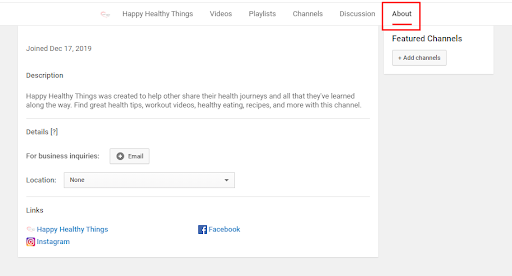 Step 4: Upload your first video
Now all that's left to do is start adding videos. Wherever you are on YouTube, you can always click the video camera icon in the top right corner to upload a new video to your business channel. Click "Upload video" and follow the prompts to get your video added. 

Enhance your marketing efforts with other social media outlets
YouTube isn't the only social media outlet that you should take advantage of. Learn the benefits that you can gain from other social media channels for your business and use those that best suit your needs. 
Here are a few guides to get you started:
Solo

is the easiest way for small businesses to pay and get paid.

Solo mobile app is now available for everyone
Scan QR to download the Solo App
Solo mobile app is now available for everyone