Starting a business from home involves lots of planning and preparation, just like starting any other business. You won't have to worry about leasing office or retail space, but there are some unique considerations for home businesses that you should keep in mind.
If you're curious to learn more about how to start a business from home, read on and learn about home businesses in this guide.
Starting a business from home in 8 steps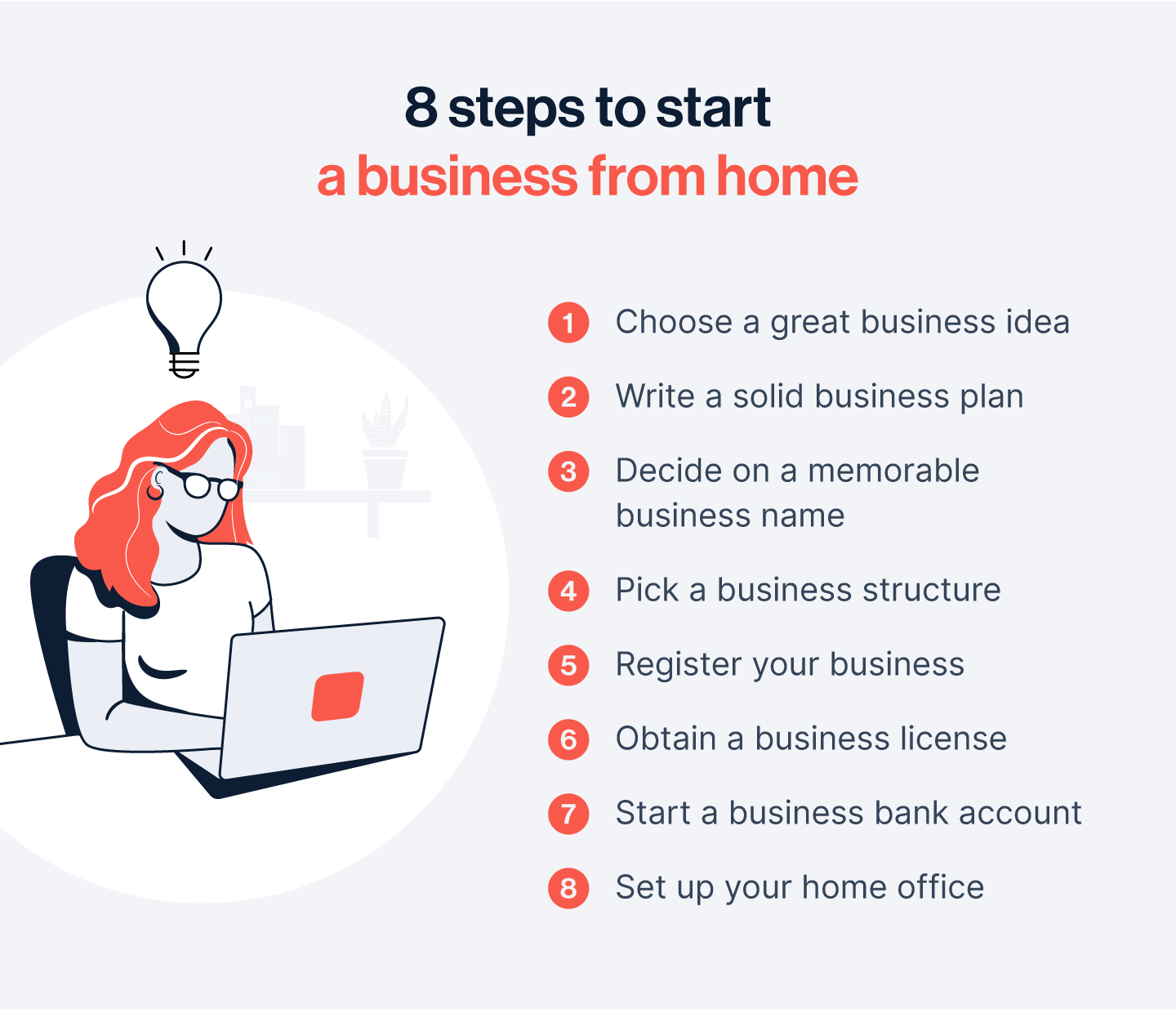 Starting a small business isn't always easy, but careful preparation can help your home business launch without a hitch. Home businesses have many benefits and can be deeply rewarding endeavors for small business owners.
If you're wondering how to start a business from home, these eight steps can get you started.
1. Choose a great business idea
A successful home business starts with a well-thought-out idea.
The sky's the limit for home business ideas and you may be surprised at the different types of businesses that people run from their home. Your town or neighborhood may even have a local entrepreneur group that you could speak to for inspiration.
Think about the following questions while you concoct your home business idea:
What type of business do you see yourself running? Your passions might be the key to your success when it comes to working for yourself. It can be a good idea to align your home business with your interests and skills.

Will this business be successful if run from home? Some interests and skills won't turn out to be good home business ideas. Others might be runaway success stories. Consider your idea's market demand and any competitors.

How will I run this business from home? Think about the logistics of running your business from home and any local regulations that may restrict the type of home business you can operate. You should aim to estimate the cost of getting your business up and running?
2. Write a solid business plan
A great business idea isn't complete without a solid business plan to back it up.
Writing a business plan takes considerable time and effort, but it's the foundation for setting your idea apart from the competition. Forming a business plan involves lots of research that connects the dots between your goals and the work it will take to achieve them.
Mull over these questions as you develop your business plan:
How will I grow my business to become profitable? Your business plan is a sort of guide to achieving your goals. Take the ideas you developed when thinking about forming your business and expand on them in detail.

Will I need funding in the future? You may not need to know the answer to this question right now, but a detailed business plan is a great asset to show potential investors when you're looking to grow your business.

Do I have any blind spots in my industry? It's certainly possible that you're launching a new business in a field where you have minimal experience. Use this phase to conduct as much research as you can about your idea.
Elements of your realized business plan should include:
Table of contents

Executive summary

Business overview

Market and competitor analysis

Product or service description

Marketing plan

Financial projections
The exact details of your business plan are likely to vary based on your industry and the products or services you provide, but the above list is universal.
3. Decide on a memorable business name
Your business's name is the first impression that most people will have before they ever become clients or customers.
When you choose a name for your home business, be sure to pick one that fits the industry as well as the products or services you plan to provide. In other words, it might be a good idea to make sure people aren't confused about what you do when they hear the name of your business.
Think about the following questions as you come up with the perfect name for your business:
Is my business name easy to remember? While not a make-or-break factor, a memorable name can ensure that your business stays on the minds and in the mouths of your customers, giving it a better chance of spreading beyond your community.

Is my business name available in my state? If your business name is already taken, you'll need to modify it or choose another name. If the name is taken by a competitor, it may be a good idea to go in a different direction to avoid confusion.

Is my business name available in other places? If your business grows significantly, someday you may want to open a location in another state. At the very least, you'll probably want to establish an online presence for your business, so you'll need to ensure your preferred domain name is available. In most states, you can check with your business bureau for business name availability via an online tool.
4. Pick a business structure
How you structure your business is entirely up to you. The different structures offer pros and cons depending on the type of business you're starting.
The entity or structure that you select for your home business affects its taxation and registration, as well as legal liability you might face as the owner. You can form your business as a:
If you're unsure about your business structure options or need help deciding, it might be worth consulting with an attorney to make sure you're making the right choice for your business.
5. Register your home business
Unless you decide to form a sole proprietorship or general partnership, you'll be required to register your home business with your state.
The registration process for LLCs and C corporations varies, so it's a good idea to check with your state's business office or secretary of state to address any questions you may have.
You may also decide to register your business with the federal government to obtain an employer identification number (EIN). You can submit an application to the IRS for an EIN, which will help you:
Hire employees or contractors

Start a business bank account or credit card

File business taxes
The IRS requires partnerships and corporations to apply for an EIN, but it can be beneficial to anyone with a home business.
6. Obtain a business license
Registering your business is different from obtaining a license to operate, which you'll want in order to legitimize and protect your home business.
There are several types of licenses and permits you can obtain as a home-based business, and there might even be licenses required by your state for the specific industry you're in, like if you want to run a catering business from home.
Here are some of the most common types of licenses that home business owners can apply for:
Home occupation permit: Most, if not all, home businesses require a home occupation permit to prove that your business isn't causing any detriment to your residential area, like excessive noise, extra traffic or dangerous environmental hazards.

Zoning or property use permits: Many cities have local zoning ordinances that restrict certain types of businesses in some areas. These ordinances can also apply to home businesses, and some locales limit or entirely restrict home businesses from running.
When in doubt, it's a good idea to ask — assuming you don't need a permit can cause you to be sorry down the line if you have to pay a fine. Connect with local regulatory offices and an attorney to make sure you have all the permits you need for your business.
7. Start a business bank account
Running a home business can be rewarding, but it can also be complicated. Once your business is greenlit for legal operations, it's time to make sure you run it efficiently.
You'll likely want to separate your business and personal expenses to avoid headaches and mix-ups when it comes time to file taxes. If you run a sole proprietorship or a general partnership, you're entirely responsible for debts and liabilities associated with your business. Protect your assets by keeping business income and expenses separate with a business bank account.
A business bank account can help you:
Pay suppliers, contractors and employees

Manage business income and track accounts receivable

Categorize expenses to make tax filing simpler
One of the best ways to reduce stress as a business owner is to minimize your liability. By separating your business expenses from your personal accounts, you reduce the risk of misreporting business financials.
8. Get your ideal home office ready to go
In most cases, you can't run a business from home without a space to operate in.
Running a home business can be difficult for some people that find it distracting to live and work from the same space. As much as possible, you should aim to separate your home office space from the rest of your home so that you can minimize distractions and also retreat to your sanctuary at the end of the workday.
To set your home office up for success, consider:
Investing in items that will last, including technology and office furniture

Decorating your space to inspire you and minimize distractions

Close your space off from the rest of your home with a door or room screen
Unless you're an interior designer, your home business probably doesn't depend on the way your space is designed. However, you'll likely be spending more time at home while running your business, so it pays to create a space that makes you feel comfortable and ready to work.
4 tips for running a successful home business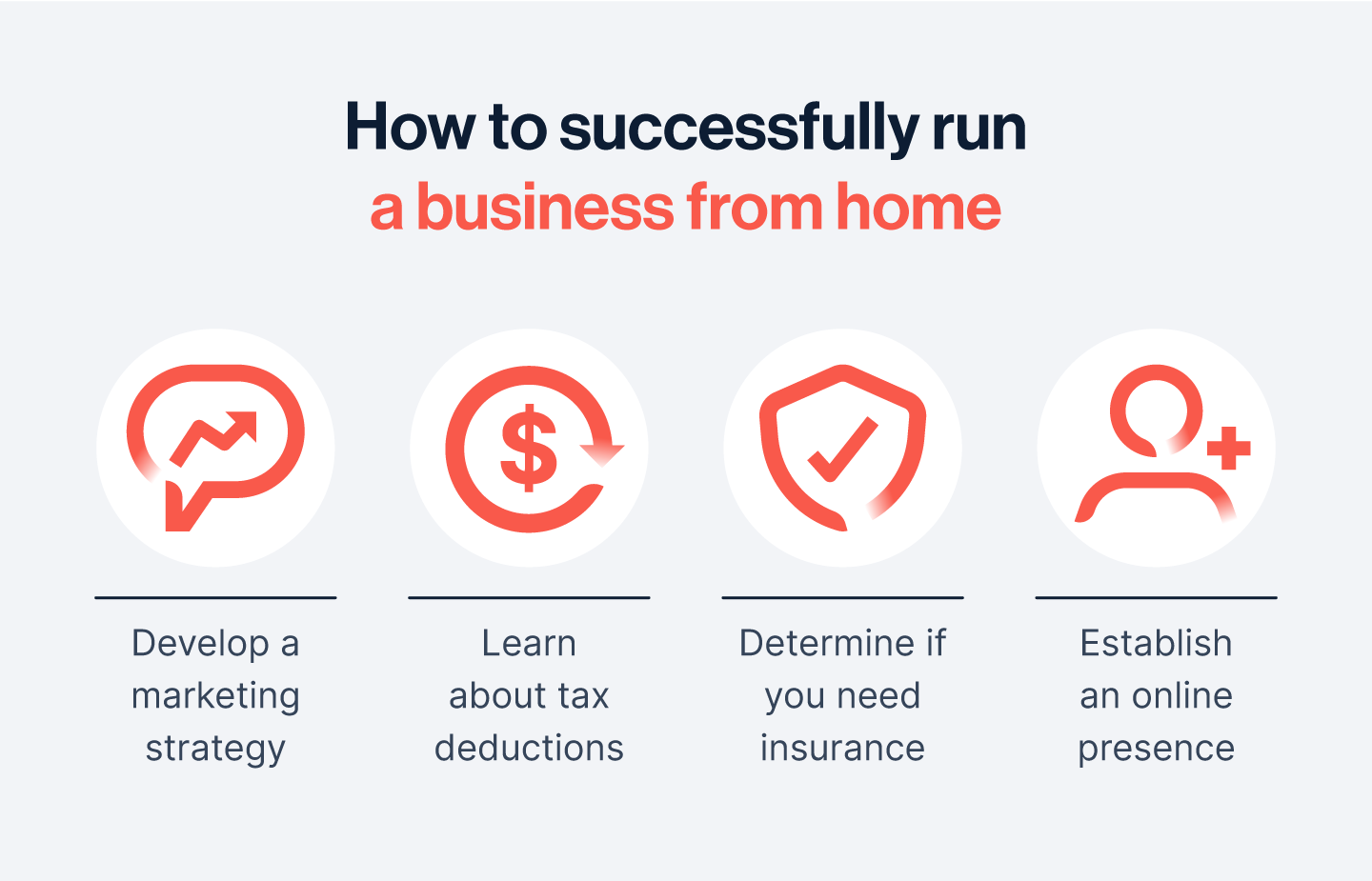 Keeping your business running smoothly is a marathon, not a sprint.
Owning a home business means constant opportunities for growth and learning new lessons. You may reinvent the way you run your business several times before finding exactly what works for you.
Try out these tips for running a successful home business: 
1. Develop a marketing strategy
Some home business owners may rely on word of mouth to grow their business. This method limits you from collecting insights on your growth. Instead, devise a marketing strategy that aims to grow your business at a pace that's comfortable for you. Think of:
Your target market and customers, who they are, what they want and how you can meet their needs

Channels you would like to market your business through, like social media or

physical advertising

, such as a billboard

A timeline for marketing campaigns and associated tasks
Once you develop a marketing strategy, building and promoting your company brand can become easier.
2. Learn about taxes and deductions
If you run a sole proprietorship or general partnership, you're responsible for your debts and liabilities and all business income passes through you, ending up on your tax return. Even if you hire a bookkeeper and a small business accountant, it's useful to learn about any tax obligations you may face as a home business owner, as well as any deductions that are available to you.
As a small business owner, you should consider:
Home office expenses and deductions

Payroll withholding accounts

Sales tax accounts
If you do your own bookkeeping, you should consider taking advantage of deductions to save money when tax season rolls around.
3. Determine if you need insurance
Especially if you work alone and don't employ anyone, you might not consider business insurance for your home-based business. However, obtaining general liability insurance can provide some peace of mind to sole proprietors and partners who assume total liability for their businesses.
4. Establish an online presence
Promoting your business online is one of the easiest ways to market your business to new customers. Websites, social media profiles and email newsletters create engagement opportunities for new and existing users and provide new learning opportunities to highlight your products or services. As customers begin to reach out to you for information, an online presence allows you to leverage responses to build a reputation for customer service.
Avoid these mistakes when starting a home business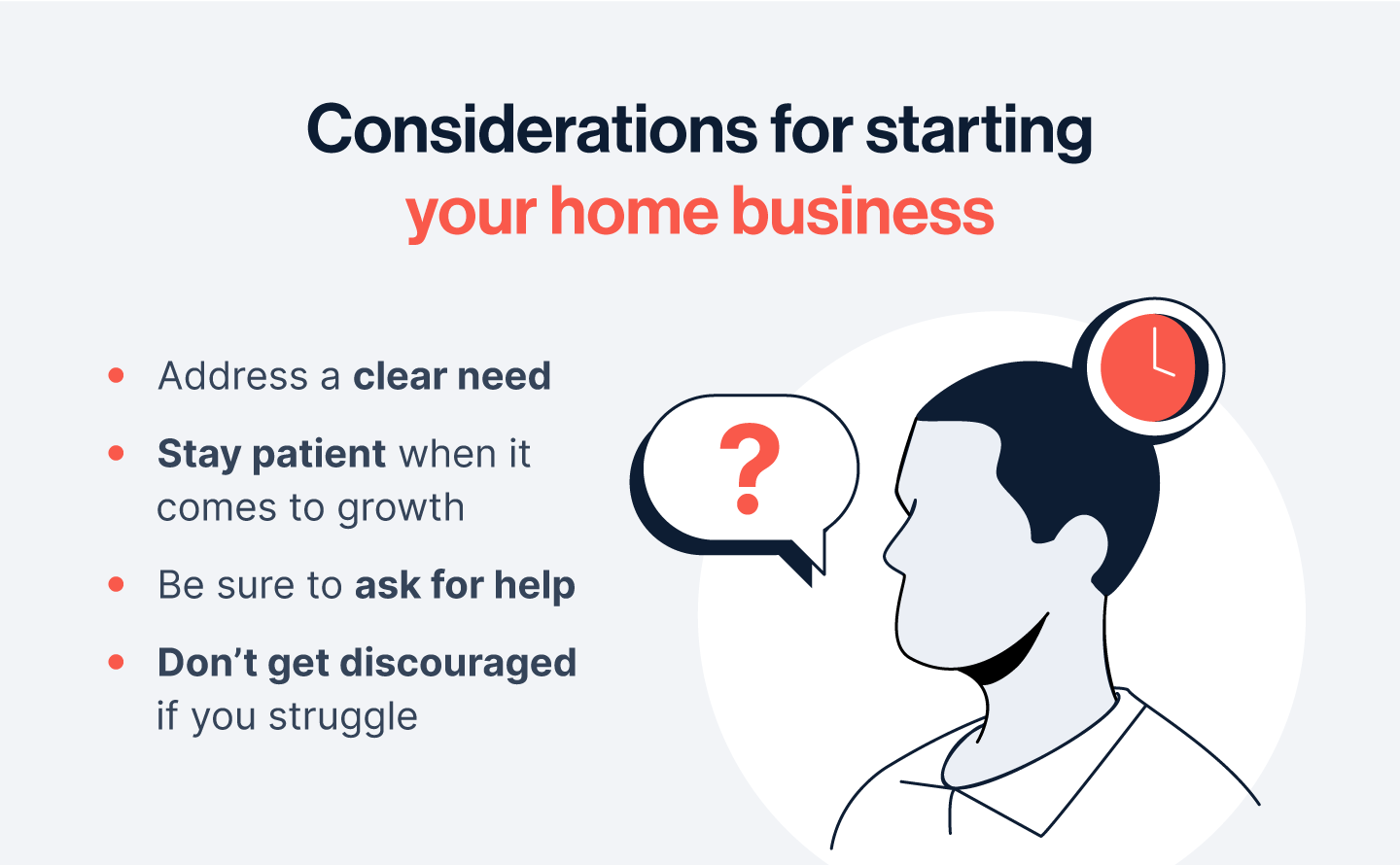 Owning a home business involves making mistakes along the way in most cases. Some mistakes are relatively minor, while others can cost thousands of dollars or exhaust your time as you work to solve them.
Take a look through some of the top mistakes small business owners make when starting a business from home.
Failing to address a clear need
As you put together a business plan, you should be looking to solve a clear problem that your target market has. Just because you're starting a home business doesn't mean it exists entirely within your home — you have to engage with customers and clients, and you have to address a need that causes them to single out your services.
Tip: Put yourself in the shoes of your ideal client: What is your biggest frustration? What would solve your problem? What options do you have?
Getting impatient with growth
Impatience is common for new business owners. It can be difficult to see your business struggle or to realize you won't reach profitability for a few years as you get up and running. Building a successful business takes considerable time and effort, and getting impatient about the results is never a good idea.
Tip: Center your business around some of your passions and goals so that it feels rewarding to work toward them, even if you stumble along the way.
Avoiding asking for help
Every home business is unique, but it's extremely likely that someone before you has encountered the same problems you're facing. With a plethora of online resources, it may often feel like you should be able to find all the answers to your own questions, rather than seeking assistance from another source.
Tip: Engage with a business coach, browse small business websites or attend panel discussions that feature experienced entrepreneurs, preferably with a history in your industry.
Letting failure discourage you
Fear of failure is certainly common among entrepreneurs, but most successful business leaders know that overcoming fear is crucial for success. Not only that, but failure is important because it teaches lessons for future success.
Tip: Read stories of entrepreneurs you admire and take notes when they mention how they overcame failures. Apply those lessons to your own model.
Starting a business from home is exhilarating. You're the boss, you create the rules and you get to work from home as much as you want. Along the way, remember to plan ahead for the inevitable.
As your home business and your reputation grow, the preparation work you put in along the way is sure to pay off.
Solo makes it easy to pay, get paid, and track spending
Solo is not a bank, but is a financial super-app for small businesses, freelancers, sole proprietors, contractors, and more. Solo is the easy way to pay, get paid, and keep track of your spending. Your customers don't have to sign up to pay you, and can use several payment methods, including Apple Pay, Google Pay, and cards. QR codes make it easy to get paid, and you can easily cash out your Solo account balance for free, or spend it using your Solo Cash Card anywhere Visa is accepted. Learn more at Solo.co.
Solo

is the easiest way for small businesses to pay and get paid.

Solo mobile app is now available for everyone
Scan QR to download the Solo App
Solo mobile app is now available for everyone