Aspiring entrepreneurs are on the hunt for financial freedom, work schedule flexibility, and the benefits of being their own boss. Side hustles seem to fit that bill in more ways than one. On one side you have side hustles that entrepreneurs build from scratch with the intention of growing their side hustle into a full-time business. On the other side there are people that may love their job but just thirst for a little more compensation in addition to their salaries.
But what exactly is a side hustle? Side hustling is when a person works another job in addition to their full-time job to supplement their income.
While there are many challenges that aspiring side hustlers face, there are also many avenues to success. We've gathered proven tips and steps to increase your chances of creating a successful side hustle.
What makes a good side hustle?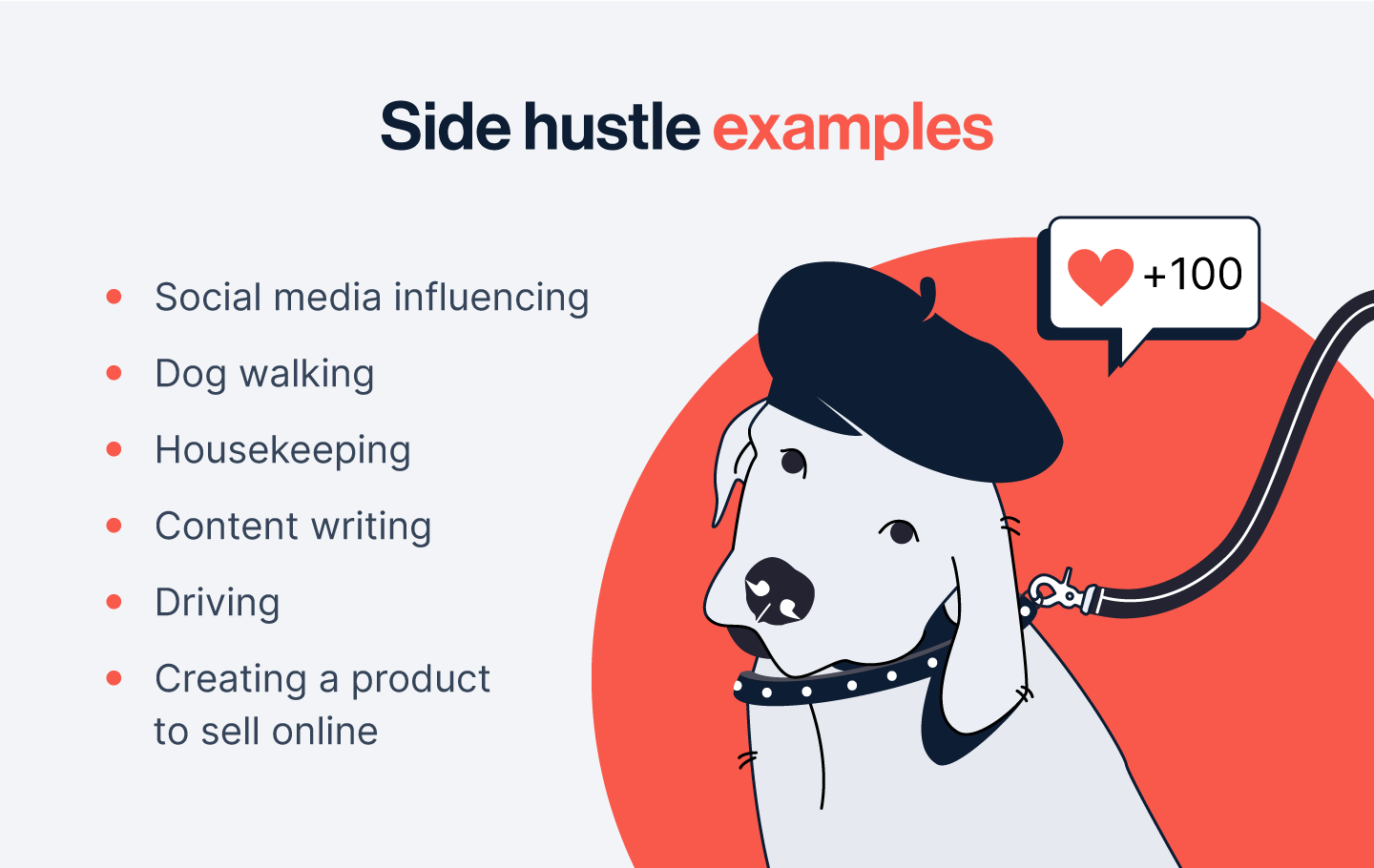 Though some people have several side hustles, we recommend starting with one, making sure it's:
Something that focuses on your strengths and skills

Something you have time for

Something you can afford upfront
6 side hustle examples to inspire you
Side hustles come in all shapes and sizes. Some require little to no budget to get started, while others require more significant funding. Let's look at six ideas to inspire your creativity. 
Social media influencer: Offering your skills as a social media influencer by using your audience to promote products and produce content can help draw in and engage a company's followers. 

Dog walking: If you have a passion for pets and love caring for them, then becoming a dog walker could be a perfect side hustle. Plus, there's really no cost to get started.

Housekeeping: With no shortage of homes that need to be cleaned, you will only need to supply your own cleaning essentials to get started as a housekeeper.

Content writing: Digital media is booming, and all that content needs to come from somewhere. Writing content for online platforms and magazines can turn into a lucrative side hustle once you build up your resume.    

Creating a product to sell online: Use your skills to create a product like jewelry or artwork that can be sold either on your own website or through a seller's platform like Amazon or Etsy. 

Driving: Becoming a rideshare or food delivery driver (Uber, Lyft, Uber Eats, DoorDash, etc.) are great ways to boost your income on your own time. 
Tips and steps to start a simple side hustle 
Side hustles that are truly hands-off in terms of building it from scratch (think uberEats or Instacart) are much easier to get going. Usually, with side hustles like these, users can simply sign up and go with no worry about marketing, budgets, or products. Here are the basic steps of starting a simple side hustle, using Instacart for example. 
Instacart is a delivery service where people can order groceries and have them delivered, usually within an hour or two window. As a driver for Instacart, signup is simple:
Download the Instacart Shopper app, not to be confused with the Instacart delivery app where patrons place their orders

Next, you wait for your account request to be approved. They don't want to oversaturate an area so they only allow so many people to join at a time. 

Once approved you receive your Instacart shopper card. This is where money is loaded for each purchase.

From here you pick your deliveries which can range from $7 to $100+ depending on added tips, location, item weight, and number of stops 

Payout happens once the order has been successfully completed and dropped off
As we can see, this form of side hustle is a no-brainer that eliminates the worry of collecting payments, taxes and pitching yourself. 
7 steps to start a side hustle business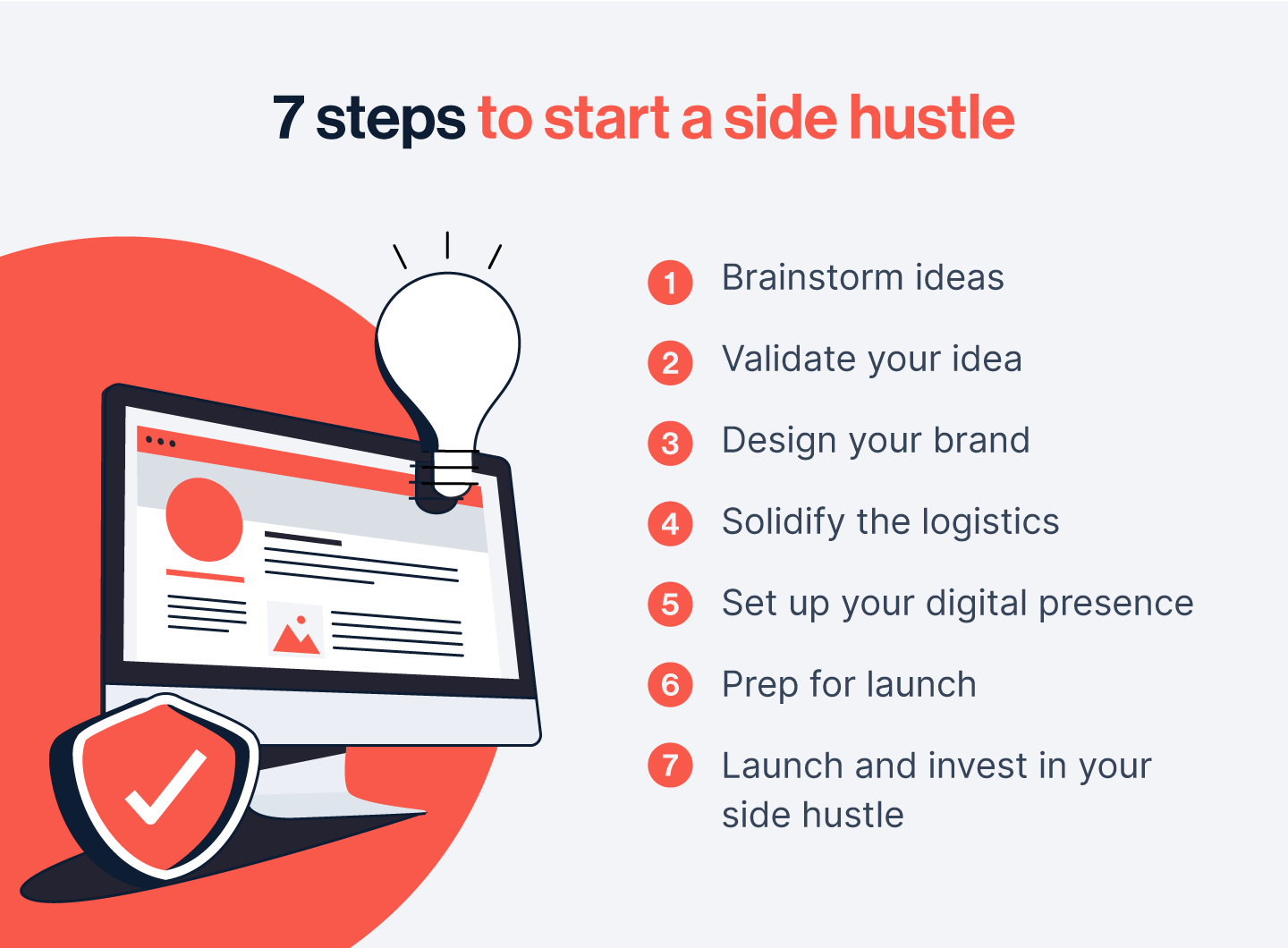 Ask any successful side hustler and they'll likely tell you that starting a side hustle is both exciting and daunting. While full-time employment may not be your ultimate goal, if you're serious about growing your side hustle, set yourself up for that success from the very beginning. This includes:
Brainstorming ideas

Validating your idea

Designing your brand

Solidifying your logistics

Setting up your digital presence

Launching and investing in your side hustle
This isn't the case for every side hustle, however. If your side hustle is driving for a rideshare service, for example, it's simply a matter of signing up for the platform and going through the steps to get approved to start working. The steps below pertain more to those who have a product or service that they'd like to market and sell. 
Step 1: Brainstorm ideas 
The first step is the ideation phase. Allow your creative juices to flow, find inspiration in anything, and let the process get messy if necessary. Here's what you'll want to accomplish during this phase:
Consider potential options: Think about things you enjoy doing, have the time for and that could be lucrative. How many hours per day or week are you able to invest in your side hustle? 

Identify your target audience: Identify your ideal customer. Name them, give them a personality and define a need that you can meet with your product or service.

Create a marketing plan: Think about the best ways to reach your intended audience. If you'll be selling a product online, you might think about using social media to reach people from all over the country. If you'll be offering a service locally, like cleaning or dog walking, you might want to put up old-school, physical flyers in areas with high foot traffic.
Step 2: Validate your idea
Idea validation is the process of proving to yourself that your product or service hypothesis is valid. This means you're answering yes to the question: Is this product or service unique, needed, and potentially profitable? Here's how you do it:
Look at trends: Trends are a great way to gather social proof that a product is creating a buzz or has the potential to grow based on how it's trending in the market. If you're performing a local service, join community Facebook pages and get a feel for any major needs. 

Ask for advice: Simply ask those you trust if an idea is potentially a winner. Sometimes you may be too close to a situation to determine what is and isn't a winning idea. 

Poll your audience: Who better to ask than the potential customers you'll be marketing to? If you plan to run an online service, use social media to ask your audience questions. If you plan to run a local service, go back to the community Facebook pages or relevant forums and create a poll there. 
Step 3: Design your brand
This step mostly applies to online businesses. Create the baseline for your product, your website, and your social media through brand design. Now is when you'll flesh out the fine details of the way you want your brand to look and feel to your audience. This involves:
Choosing brand colors that match your vision and appeal to your customer

Selecting layouts and fonts to use in your marketing

Creating a website design mockup for you or a designer to model after
Step 4: Solidify the logistics
Now it's time to take a tangible step toward your side hustle creation by getting everything set up. This applies to both online side hustles and those you perform in person. In this step, you'll be solidifying the foundation of your business by getting your presence built out. This includes:
Create your business entity: 
This is the structure of your business — for example, an LLC, sole proprietorship, or partnership.
Develop a financial plan: 
Plan out what you have to invest now in your business, how you need to price your products or services, and budget for your marketing efforts.
Plan for taxes: 
Keep taxes at the forefront of your mind. From the moment you make your first sale, you should be planning to set a percentage aside for taxes. 
Step 5: Set up your digital presence
Digital marketing can be most accessible and fairly inexpensive compared to more traditional marketing routes. Here are some ways to implement digital marketing in your side hustle:
Set up social channels: You'll want to be where your audience is, such as Instagram, Facebook, and Twitter.
Step 6: Prep for launch
This is when you'll prepare products, social posts, and email newsletters for the release of your product or service. Sometimes new business owners will offer discounts or incentives to draw in new customers. Here's what you need for your launch:
Create hype through marketing and outreach
Have a strategic posting plan for the days leading up to your launch as well as the day of to build hype and remind your audience of your release. Also, consider visiting local events like farmers' markets to spread the word if you offer local services like cleaning or dog walking. 
Test your product and website 
For those with an online business, do a dry run to double-check that your email sign-up, website, and checkout process are all running smoothly. You don't want anyone deterred by malfunctions at any point in the purchasing process.
Establish a launch timeline
For some side hustles that are needed year-round, like dog walking and home cleaning services, you may find that any time is a good time to launch. For online-only businesses, you should determine the best time to launch. Most companies choose Wednesay, Thursday and Friday to launch according to research. You want to avoid competing with other brand launches to not take away the hype from you. 
Step 7: Launch and invest in your side hustle
Launch occurs when all systems are firing, you have your social outreach blazing, your promos are in full effect and your incentives are out there baiting new leads. Since a side hustle isn't likely your main source of income, it's something that you can invest time into when you have the time.
Certainly not necessary to run a side hustle, but below there are some tasks to consider if you're interested in growing your side hustle into a full-time gig:
Collect metrics
As your first time out of the gate, it's more important than ever to have your website and social media metrics collecting as much data as possible for future evaluation. From this, you'll be able to see what worked well and what outperformed the rest. Where did you receive the most traction? What were your prime locations or popular offerings?
Plan future product development
Once you've sat down to investigate your first set of metrics, you can now plan for future product development and marketing. Take this insight and maximize your efforts on what could produce an even higher return on your next product launch. 
Side hustle startup challenges (and solutions)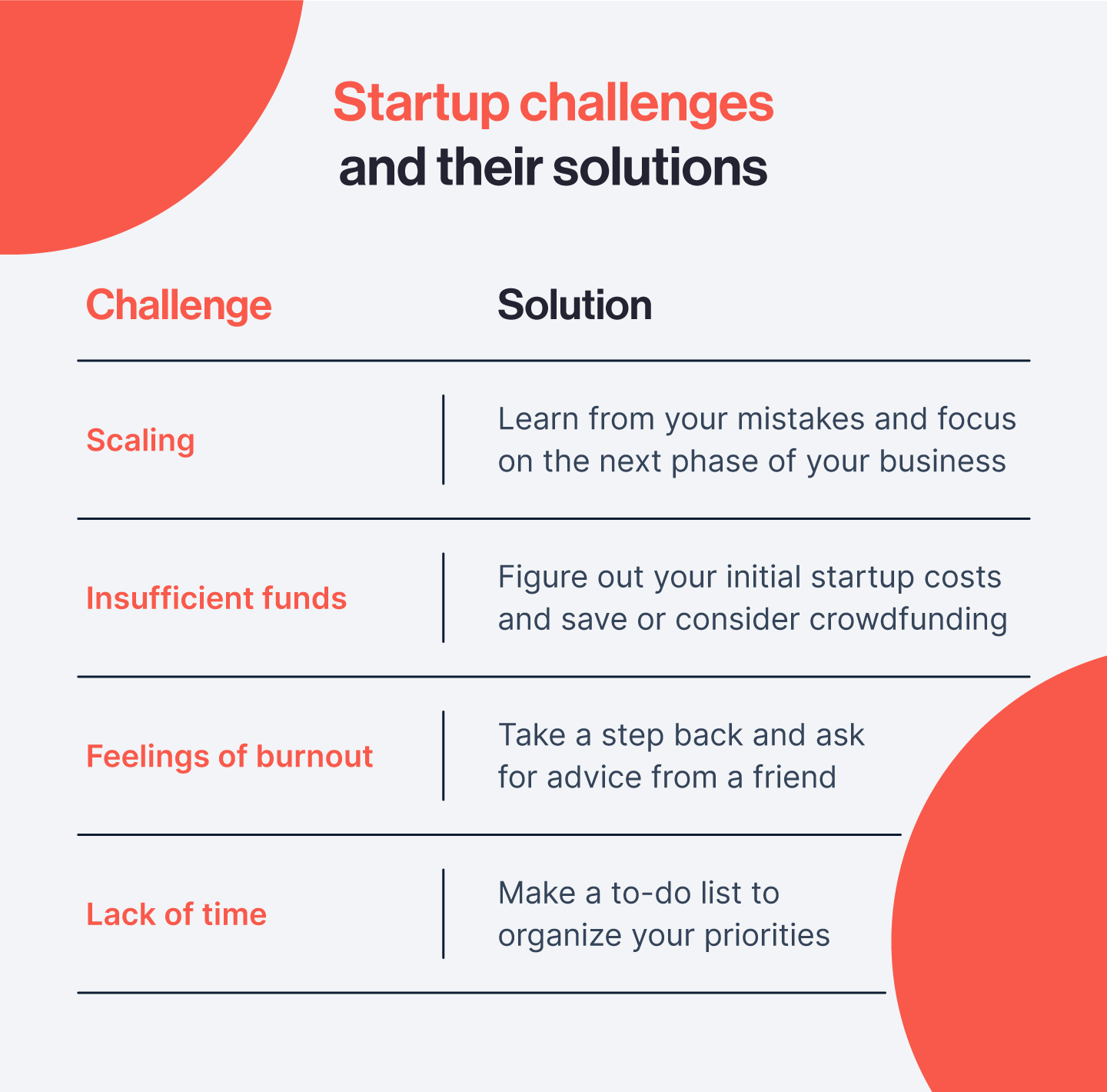 With any business venture, there is a list of potential obstacles to look out for and be prepared to face. Don't be caught off guard by the lack of knowledge and resources needed to respond to them as they come along. Here are our top picks for the challenges you'll likely encounter:
Insufficient funds

Burnout

Lack of time

Scaling
Insufficient funds
This one should come as no surprise: Many businesses need money to get started. Some may need more money than others, but you will eventually need to invest to see a return. 
Potential solutions: The best way to prepare is to have a plan already in place. Know your initial startup costs and save for the budget you'll need and fund your business. Also, consider:
Asking for investments from family and friends

Crowdfunding
Burnout
You may reach a point when you've put in hundreds of hours of work only to feel like you're standing completely still. This is usually about the time when burnout begins to creep in and doubts about your plans for the future can show up.
Potential solutions: Don't ignore your feelings — your body has a good way of letting you know when you've had enough, and it's good to listen. When we're frustrated and fed up, we can often make mistakes. Try these tips:
Take a step back and assess the situation

Refer back to your plan and reassess if changes are needed

Ask for advice from a mentor or friend 
Lack of time
Finding time to partake in a side hustle, especially if you're juggling life in the form of full-time jobs, education, or acting as a caretaker to your family.
Potential solutions: The key is to maximize your efforts during the time you have. Here are a few ways to do this:
Have a to-do list ready to go for each day

Delegate the tasks that are able to be reassigned

Remove distractions
Scaling
For the simpler side hustlers, growth is not a problem you have to worry about. However, if you're trying to build a more complex side hustle, growth is on the mind of every business owner — how to make more, spend less, and increase the customer market. Scaling is part of the business equation, but it's often easier said than done. 
Potential solutions: Taking your business to new heights involves planning, resources, and a winning idea to piggyback on. Here are the best ways to get started on scaling your business:
Learn from your mistakes and your competitors

Focus on the next phase of your business

Be flexible in exchanging what's not working for what is
Crafting success with your side hustle
Side hustles are a great way to earn some extra money, but be wise to not overwhelm yourself with the to-do list. The best way to start is with a plan. 
Establishing a plan and a means to implement it is crucial to success. Learn from those around you and be flexible to make changes along the way. 
Solo can help side-hustlers get paid quickly and easily
Some side hustles use their own integrated payment platforms (Uber, for example), but many side hustles require you to collect payments from customers, which can be a pain. This is where Solo comes in. Solo is not a bank, but is a financial super-app for side-hustlers, freelancers, sole proprietors, contractors, and more. Solo is the easy way to pay, get paid, and keep track of your spending. Your customers don't have to sign up to pay you, and can use several payment methods, including Apple Pay, Google Pay, and cards. QR codes make it easy to get paid, and you can easily cash out your Solo account balance for free, or spend it using your Solo Cash Card anywhere Visa is accepted. Learn more at Solo.co.
Solo

is the easiest way for small businesses to pay and get paid.

Solo mobile app is now available for everyone
Scan QR to download the Solo App
Solo mobile app is now available for everyone