Starting your own business can be a rewarding and exciting experience, but it also requires diligent planning, research, and strong decision-making skills. You must be flexible and adapt to situations that can be ever-changing. Navigating the process may seem daunting, but making sure you follow the necessary steps will help set your business up for success. 
If you want to start a company and work for yourself, learn how to start a small business in 13 steps, plus requirements and tips to help you along the way. 
1. Conduct research
Before diving into the rest of the steps below, make sure you do some initial research. Think about things like: 
Do you have the time? 

Do you have enough finances? 

Do you have the right support and tools you need? 
Thinking about these factors beforehand can help you become more successful in the long run.  
When is the best time to start a small business?
There is no perfect time when it comes to starting a business, but there are certain months that may make bookkeeping easier, like January. 
Stay on top of any business-related New Year's resolutions and start with a clean slate. Bookkeeping tends to be easier this time of year, since you'll have the option to file your taxes the following year.
As long as you have the time, resources, and energy to commit to the process, then you are able to start a business at any time. 
2. Choose a business idea
To start a new business, you'll need to brainstorm a business idea that will align with your skills, personal goals and interests. Aligning your business idea with your personal interests and strengths will help you stay motivated and boost your business's success. To help you brainstorm some ideas, you can also perform a SWOT analysis (strength, weaknesses, opportunities, threats) on yourself. Consider these questions: 
If money wasn't a factor, what would you want to do? 

Is making a lot of money the most important to you?

Do you have support, financially or otherwise? 

Whom do you admire in the business world? What can you learn from them?
These questions can help you discover additional goals and motivations.  
Tip: Before choosing your business idea, make sure to do some light research to make sure your concept has a good chance of succeeding, such as confirming interest in your product or service. 
What small businesses are the most successful?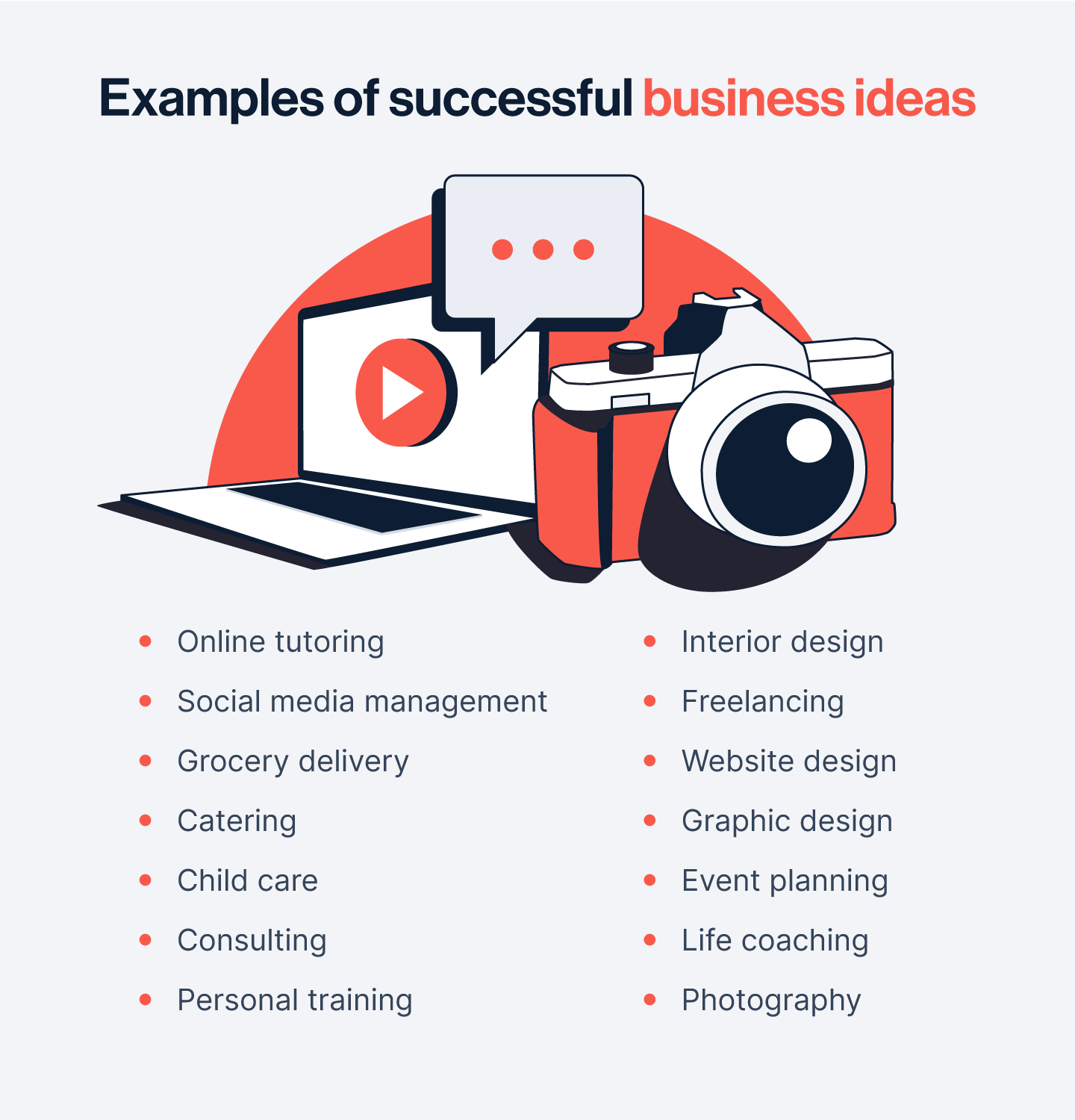 There are so many potential small business ideas out there that the list can seem overwhelming. Below are some examples: 
Online tutoring 

Social media management 

Grocery delivery service 

Catering 

Child care

Consulting 

Personal training 

Interior design 

Website design 

Graphic design 

Event planning 

Life coaching 

Photography
3. Pick a business name and location 
The next step is to pick out a business name. Depending on your state's legal regulations and what's available, pick a name that you think will resonate with your audience. Below are several tips to help you choose a business name: 
Don't pick a name that's too similar to a competitor — this can help you avoid a lawsuit and confusion for customers. 

Choose something that everyone can pronounce and spell. 

Opt for memorable and simple — this makes your business name more web-friendly by reducing spelling errors when people search for your product or service. 
You'll also want to consider where your business will be located. Whether you want to start a brick-and-mortar location or run it out of your home, your business location will help inform you of what type of permits and licenses you'll need to stay in compliance in your state.
4. Research your market 
Research is crucial to understanding how the industry is looking and who your competitors are. This can include running surveys, holding focus groups or doing search engine optimization (SEO) research. 
Understanding the market and your target audience can help you better align your offerings and will also help you create a solid business plan. 
Tip: Don't make assumptions based on what you see in anecdotal patterns — be sure to stick to the numbers and verifiable data as you gather information. 
5. Create your business plan
In this step, you'll want to define your vision for the company and set up your business plan. This will help get you on the right track when starting out and provide a clear path to what's next. Start by creating a business plan. A business plan typically consists of these elements:
Table of contents

Executive summary 

Mission statement  

Competitor and market analysis

Service or product description

Marketing plan 

Financial projections
A mission statement is a short and concise description of what your business's purpose is and what you intend to achieve. It will typically include a: 
Statement of what your company does, how and why

List of your company's goals and the tools and strategies you plan to implement to accomplish those goals 
You should also consider setting a budget to keep your finances under control.
Tip: A well-thought-out mission statement and business plan not only keeps you organized, but is imperative for achieving important milestones and obtaining business funding. 
6. Look for funding options 
Starting a new business isn't cheap, but there are options that can help you finance your idea. Be sure to calculate all business expenses and costs first — this will help you determine which funding option is right for you. This can include: 
Crowdsource: You can raise money from individual contributions on platforms like GoFundMe or Kickstarter. 

Friends and family: Financing through family and friends can help you get the additional capital you need to start your business. If you choose this option, it's recommended that you come up with a repayment plan and establish a written agreement. 

Small business loans: Many banks and credit unions offer small business loans that you can apply for. If you have a strong credit score and your application is approved, a small business loan can provide you with the funds you need upfront, which you will then pay off each month for a predetermined period of time. 

Small business grants: Small business grants provide necessary funds upfront and don't require you to pay them back. Grants are very limited, however. You have to complete an application with a grantor — usually the government or a private company — to determine if you're eligible. Some examples of grants include the U.S. Department of Education, State Trade Expansion Program, and Environmental Protection Agency grants.
Tip: Before applying for any type of loan or grant to help fund your small business, be sure to take the steps necessary to boost your credit score — you'll be more likely to get accepted if you have a strong score. 
How can I start a small business with no money? 
If you're worried about how to start a business if you have no additional funds, there are still some things you can do to get started: 
See what you can get and do for free: Sometimes, there are opportunities right in front of you that are of no or little cost. For example, you could start by creating a free Facebook or other social media page and hold off on that costly new website design for the time being. You can also post products for sale on Etsy, create graphic designs on Canva or trade skills and products with others for free to build your portfolio. 

Support from family, friends and loans: As we mentioned above, you can ask for help from your loved ones and apply for a small business loan for extra help.
7. Pick a business structure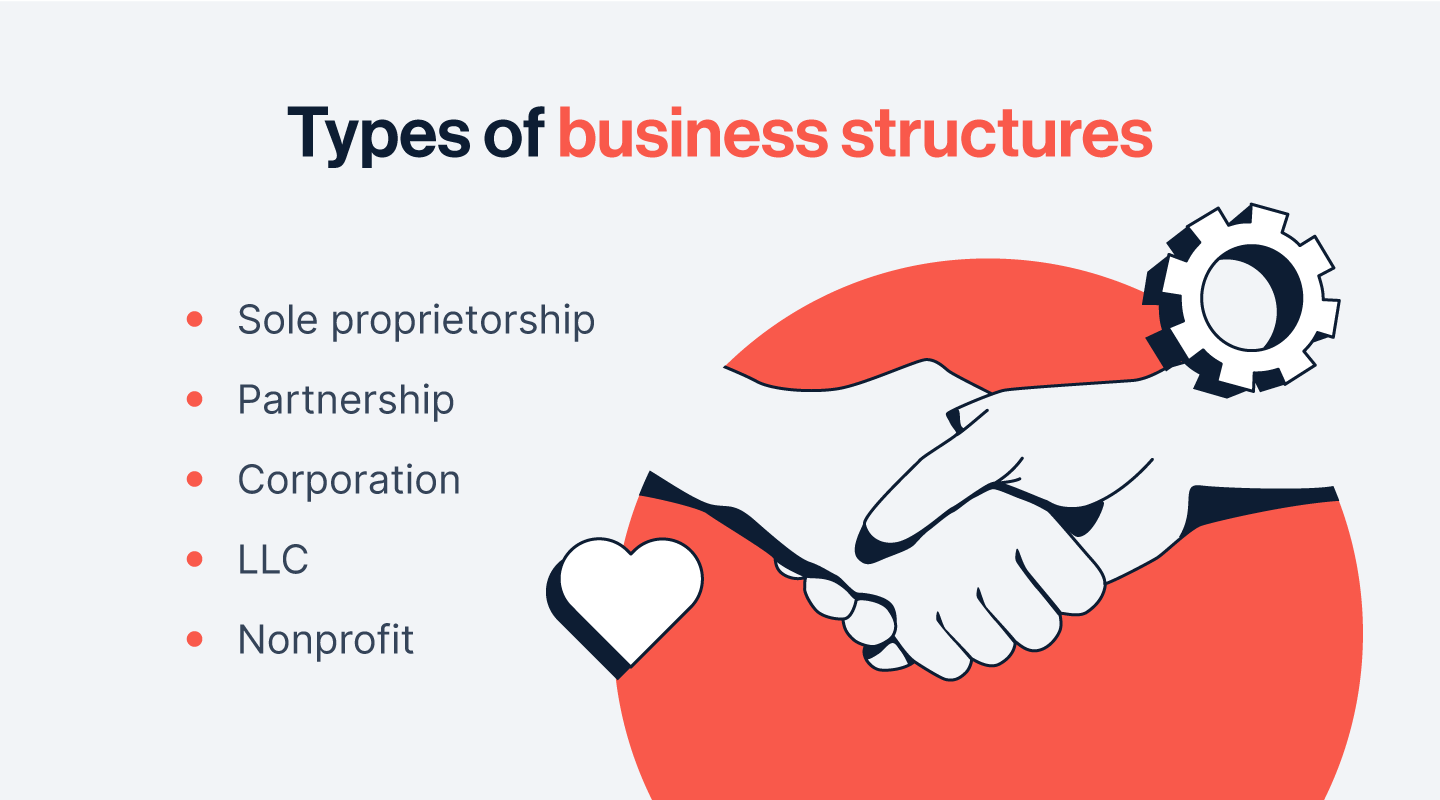 Choose the type of structure you want for your business. Registering your business as a legal entity has benefits, such as: 
Protection from personal liability if you are sued 

Increased credibility 
Types of business structures include: 
Sole proprietorship
A sole proprietorship is an informal business structure that isn't separated from the business owner and isn't incorporated. What this means is that all of the earnings go to the owner and not partners or shareholders. However, all financial liability is on the owner if anything goes wrong.
Partnership
Partnerships are informal like a sole proprietorship, but you are splitting your profits with multiple owners. Like sole proprietorships, you also don't have liability protection with this type of structure. 
Corporation
A corporation structure ensures your business is a separate legal entity that's owned by shareholders, like Apple or Nike. Corporations have regulations that are more formal and stricter than LLCs.
LLC
An LLC, or limited liability company, combines the flexibility of a sole proprietorship and partnership with the asset protection of a corporation. This is the most preferred option for small business owners because it offers favorable tax treatment and requires little maintenance.  
Nonprofit
Nonprofits receive donation-based funding instead of funding through investors. These types of structures usually serve as platforms for social causes, like the American Red Cross.  
Tip: Choosing a formal business structure can provide you with liability protection if something happens to your business, such as damages, employee disputes, injuries, or other losses.  
8. Obtain EIN and state tax ID numbers
After you've chosen your business structure, you're ready to gather the documents necessary to form your business. This includes an EIN (employer identification number) and state tax ID numbers. 
Tax ID: This is a nine-digit number assigned to businesses by the IRS for the purpose of taxation.

EIN: Your EIN is also provided to you by the IRS to help identify your business for tax purposes and separate individuals from tax identity. This is a type of tax ID.
Tip: Partnerships and sole proprietorships can apply for a tax ID at any time. LLCs and corporations can only apply after their articles of incorporation or articles of organization are approved by the state they filed in. 
9. Get permits and a business license
To be able to operate your business legally, you'll need to obtain permits and licenses that comply with local, state and federal government regulations. For example, if you're starting a business in the restaurant or food service industry, you'll need health and signage permits. 
Tip: Check the Small Business Administration website to find out your state's requirements and apply. 
10. Open a business account and business credit card   
Separating your business finances from your personal ones helps you keep things organized when it comes to accounting and tax season. It also helps you protect your personal assets. 
To do this, open a business baking account and apply for a business credit card. Business credit card requirements include: 
Your business's legal name

Contact information, both personal and business

Description of industry

Number of employees 

Federal tax ID (or EIN)

Business revenue and monthly spend 

Legal personal information 

Credit history 

Personal guarantee 
Tip: If you're operating as a sole proprietorship, you can list your Social Security number on your application rather than a federal tax ID or EIN. 
Solo makes it easy to pay, get paid, and track spending
Solo is not a bank, but is a financial super-app for small businesses, freelancers, sole proprietors, contractors, and more. Solo is the easy way to pay, get paid, and keep track of your spending. Your customers don't have to sign up to pay you, and can use several payment methods, including Apple Pay, Google Pay, and cards. QR codes make it easy to get paid, and you can easily cash out your Solo account balance for free, or spend it using your Solo Cash Card anywhere Visa is accepted. Learn more at Solo.co.
11. Apply for business insurance 
Business insurance is essential for managing any potential risks and lets you focus on building your business. Below are the most common types of business insurance: 
Professional liability insurance: This type of insurance covers businesses and professionals, and provides protection against negligence from customers or clients.

Workers' compensation insurance: This provides wage and medical benefits to those who become ill or are injured on the job. 

General liability insurance: Also known as business liability insurance, this type provides protection against claims that your business caused property damage or bodily injury. 
Tip: Depending on your state and how many employees your business has (if any), workers' compensation requirements will vary. 
12. Get software and tools 
Make a list of the different types of software and tools you'll need to perform business tasks. The necessary software can be expensive, but it's a beneficial investment in the long run as it boosts your business's credibility and will help you perform your job better. 
Having the right tools and software can also reduce the amount of heavy lifting you're doing yourself and can allow you to allocate more time to other projects. Here are some examples of tools that entrepreneurs may utilize for their small businesses: 
Accounting software 

Paid ad tools

Email marketing platform 

Project management software

Website builders 

E-commerce platforms  
Tip: Deploy automation tools right off the bat to help support your early marketing and sales efforts. 
13. Hire help 
If you want your small business to run on a team effort versus just yourself, prioritize hiring some additional help. Below are the types of roles that are great for getting some extra hands-on assistance: 
Inventory manager 

Graphic designer 

Marketing specialist 

Customer service representative

Ad specialist 
Tip: If you don't yet have the budget to accommodate full-time employees, you can also consider contracting or hiring an intern or part-time personal assistant to help with the smaller, daily tasks. 
14. Invest in marketing 
Building a brand is crucial to getting your company off the ground, but it's no easy feat. Investing in the right types of advertising can help you stand out in the crowd and attract customers. Start by: 
Creating your branding elements: Hire a graphic designer (or DIY) a logo for your brand and choose your company's colors and font style.

Establishing tone, voice and messaging: It's important to establish a recognizable and consistent voice between your marketing efforts and your website. This helps establish trust and connect more personally with your audience. 

Creating a website: Creating an online site or store will help you gain a presence in the space you're operating in. Consider using an online e-commerce platform like Shopify to streamline the process. 

Promoting: In the first few days of sales, promote your new business with promotions like discount codes, post on social media and ask your friends to do the same, and consider investing in paid advertising to spread the word. 
Considering these steps can help in your small business marketing efforts and aid the growth of your brand.  
15: Continue evolving your business   
If you're looking to achieve new goals and take your skills to the next level, consider learning how to start a business. With these helpful tips and resources, you'll be well on your way to becoming a successful business owner. Additionally, use the checklist below to help you determine if you're ready to start a business.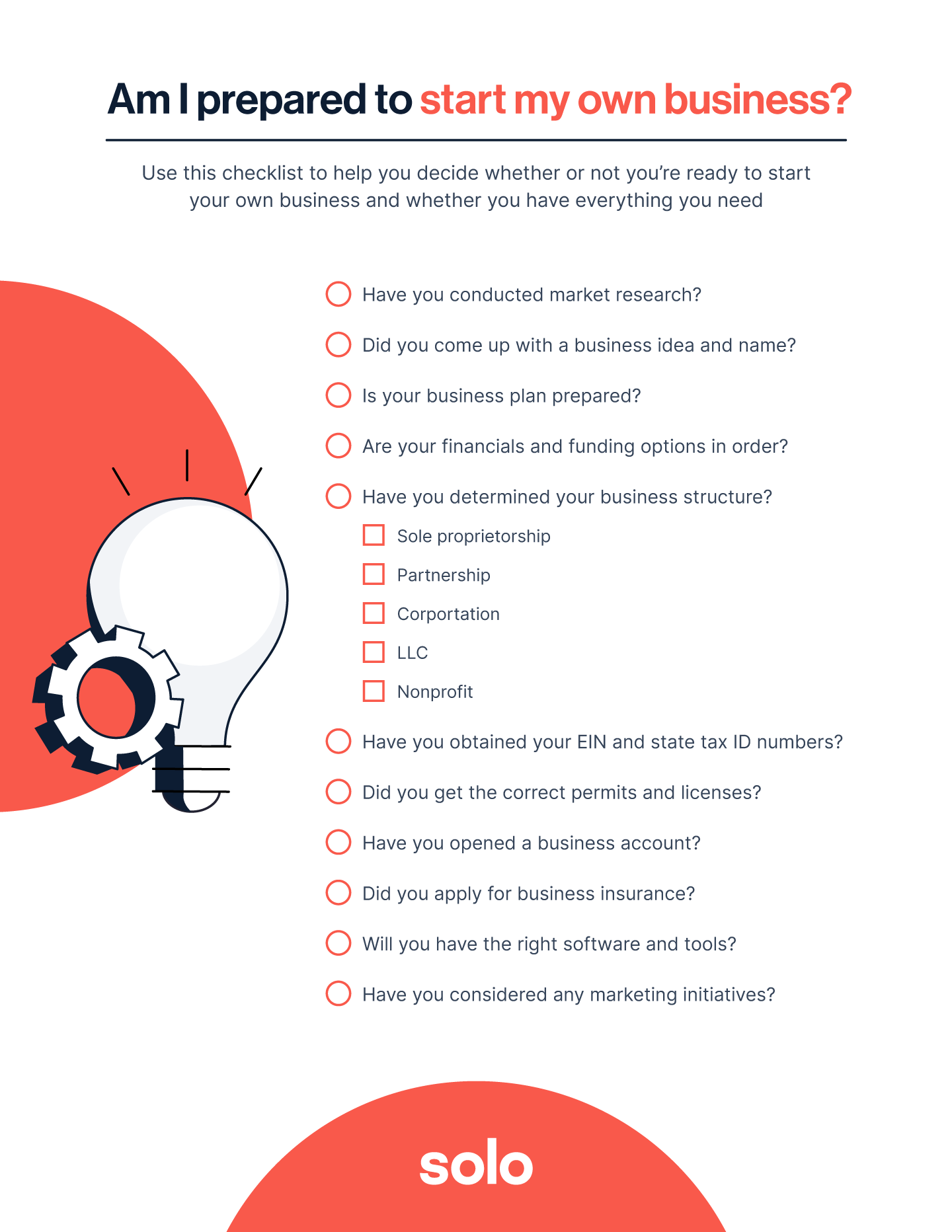 Where can I go for additional help? 
If you still have questions and need some additional assistance, there's a number of national, state, and local resources you can access: 
Solo

is the easiest way for small businesses to pay and get paid.

Solo mobile app is now available for everyone
Scan QR to download the Solo App
Solo mobile app is now available for everyone