Credit cards are an easy way to make purchases and even provide rewards to use at your favorite stores and restaurants. They can also make starting a new business simpler and save you from accounting headaches. Most of all, they provide you with much of the foundation you need for building a healthy credit score. However, credit cards must be used responsibly in order for you to successfully reap their benefits.  
Learn how to use a credit card, their advantages, as well as tips on how to use them responsibly.  
What is a credit card?
A credit card is a physical card issued by banks or financial institutions that allows you to borrow funds to make purchases and pay at a later date, similar to how a short-term loan works. 
In order to make paying a balance at a later date possible, the credit card issuer will set billing cycles for the cardholder to pay a certain percentage of the balance and any interest fees by a specific date. The credit card issuer allows borrowers a certain credit limit that purchases can be made with. Once purchases are made, the total credit available to you decreases. 
Each month, the credit card issuer will send you a statement that details all of your purchases made and the total balance owed. Once that balance is paid, your credit limit is replenished either in full or subtracted from how much you paid off. 
What is APR?  
APR, or annual percentage rate, is the yearly interest that is charged on any given loan. APR applies to many types of activities that involve using credit, such as credit cards, auto loans, and mortgages. 
Credit card companies will use APR as a price that you have to pay to borrow money from them. If you pay off the amount you owe on your credit card by the set due date, then you pay no interest. If you carry a balance over to the next billing cycle, interest may be added to that balance. 
Many credit cards offer different interest rates, even 0% interest rates for a set period of time (usually in the form of a promotion). The lower the interest rate, the better, so it's important to check the fine print before you apply for a credit card. 
Note: Some credit cards have started to include terms like "grace period" in their user agreements. For example, with some cards, if you pay off your statement balance in full for three consecutive months, then they will begin to charge you no interest if you continue to pay off your statement balance in full from that point on. 
However, if one month you pay only the minimum required payment or another partial portion of your statement balance, they may withdraw this "grace period" and charge you interest even on the current month's purchases. Even if you pay off the balance in full, or pay the next month's statement balance in full, you may still be charged interest. Be sure to read all the literature provided before you agree to be bound by these terms.
How to use a credit card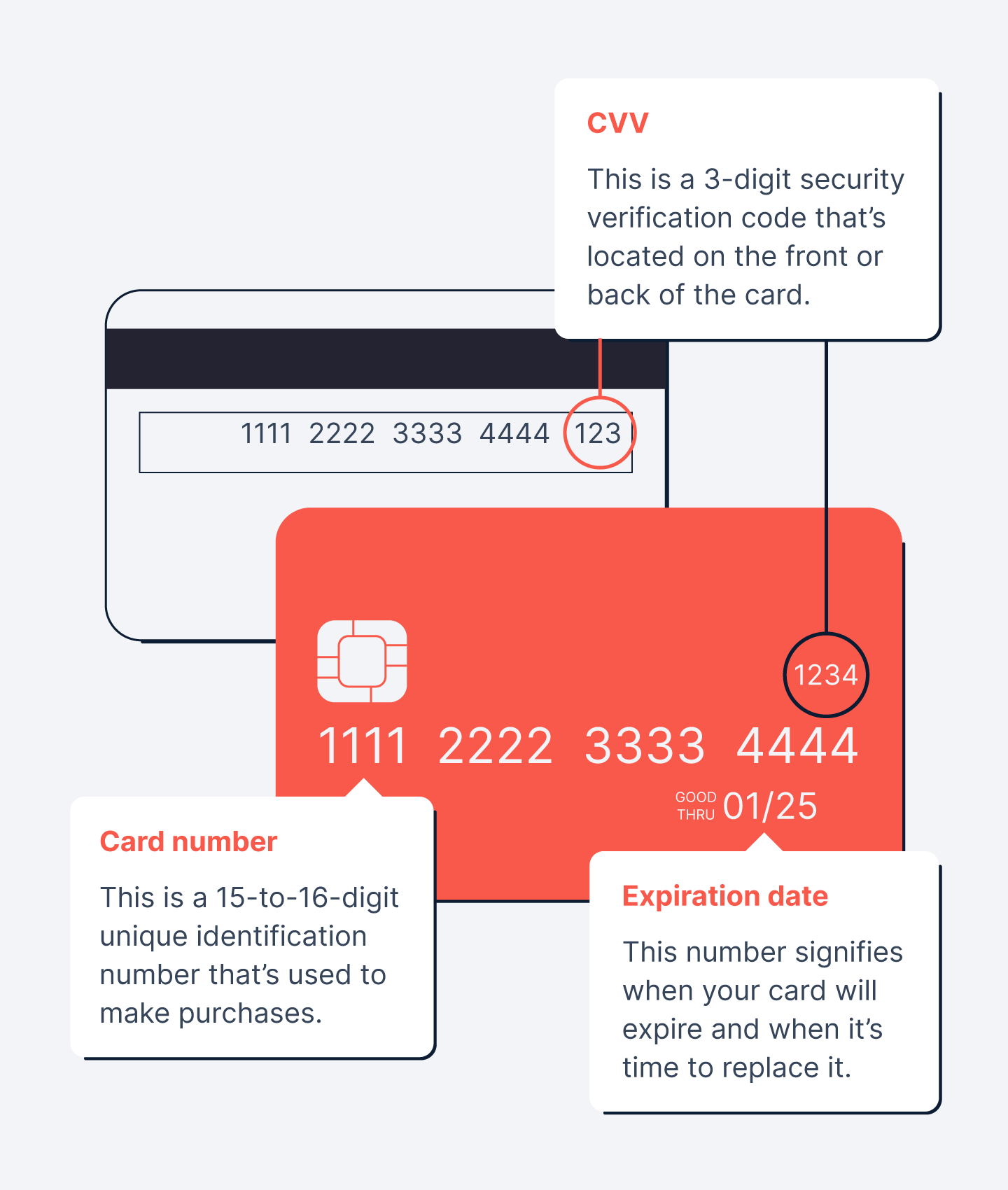 Credit cards are simple to use and are widely accepted at many retailers and establishments. Nowadays, many credit cards even have contactless payment options via radio-frequency identification (RFID) technology.
1. Make your purchase
For in-person payments, you'll be prompted to swipe or insert your credit card into their credit card processing system. The payment will then go through electronically and instantly. 
Many merchants also allow you to use digital wallets, such as Apple Pay, so you can make purchases directly with your phone after you've linked your credit card.
For online payments, you'll check out using the retailer's payment platform by entering your credit card information and shipping details. See more information below on the specifics you'll need when making online purchases.  
Here's a quick breakdown of the information provided on your card that you'll need to be familiar with: 
Card number: This number is unique to you—it's normally on the front of the card and is 15-16 digits long. This is also the number you'll input manually when you make purchases online. 

CVV: Also known as the card verification value or CVC (card verification code), this three-digit number is an added security code that ensures you're in physical possession of the card. This number is usually located on the back of the card and is used for non-present transactions, like online purchases. Note that this is not the PIN you use at an ATM or grocery store.

Expiration date: This date will usually be on the front of the card in a two-digit month-year format. This date signifies when your card expires—usually, the card issuer will notify you and ask if you'd like to renew. 
2. Pay off your balance
Once you've made multiple purchases on your credit card, you'll start to increase your balance. Credit cards will have a set period of when a payment is due—this is usually in a minimum payment format, but you can also choose a custom amount to pay down or pay the full balance. 
Paying down your entire balance is recommended to avoid debt—if you can't pay the full balance, ensure you're able to pay off at least the minimum amount that's due. These payments can be made online through your bank or an app. Your credit card is connected to your bank account, so the funds will be drawn from there after you make a payment.
Tip: Schedule automatic payments for your credit card to avoid missing payment due dates. 
Benefits of credit cards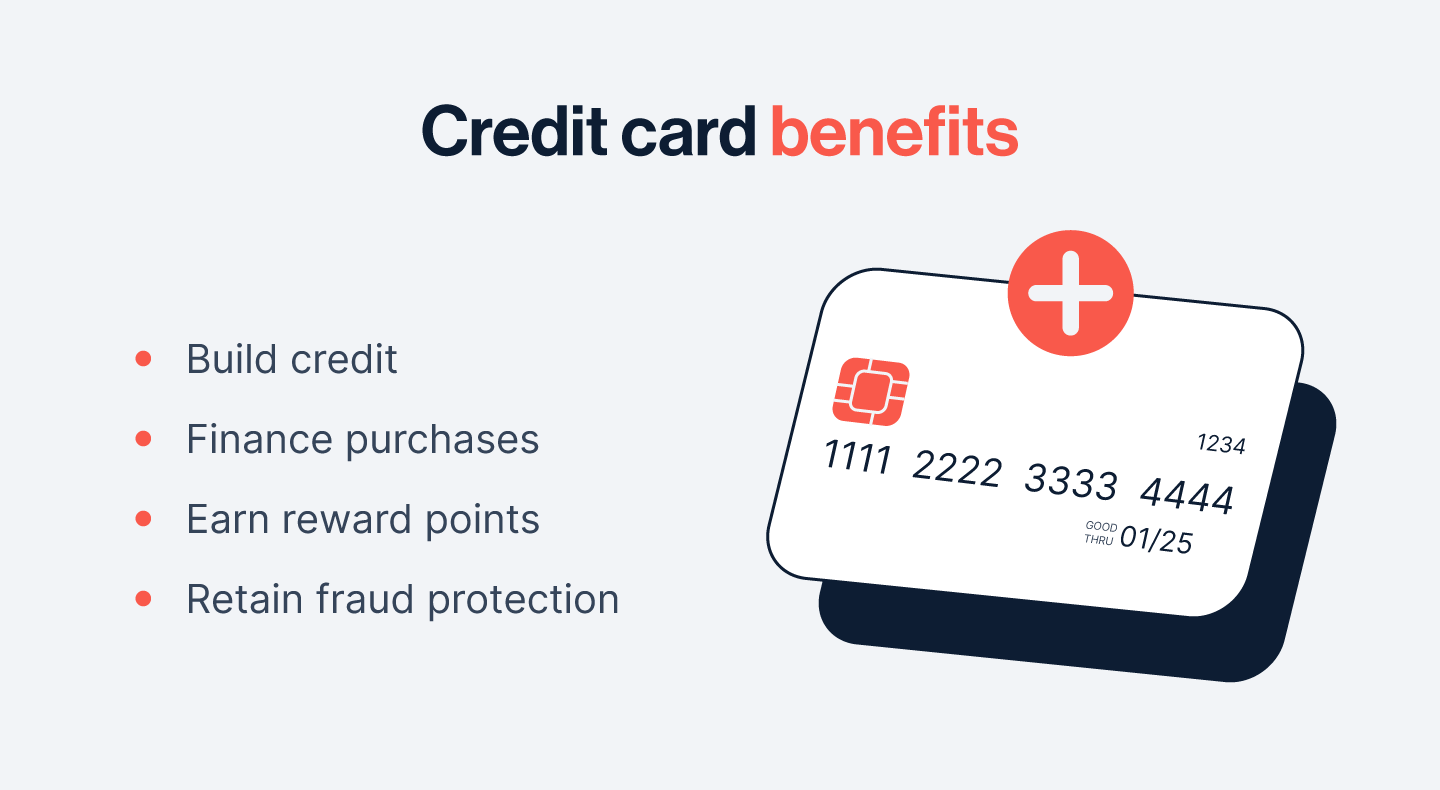 Credit cards are a great financial tool and are widely accepted in many places. You can travel freely with no cash and pay just about anything with it. Credit cards are great for many reasons—when used responsibly, they can help you: 
Build credit 

Finance purchases 

Earn reward points 

Retain fraud protection
Build credit 
If you are just starting out with your credit-building journey or you're trying to boost your score, using your credit card can help. Credit companies report your payment history to credit bureaus, so if you've shown you can make payments on time and keep balances low, your score will increase.
With good credit, you'll have better opportunities for getting approved for loans such as car loans, mortgages, credit card applications, and more. 
Note: Debit card use isn't included in your credit report, so these types of cards cannot help you build credit in the same way as a credit card. 
Finance purchases 
If you're starting a new business or have a large purchase to make, you can use your credit card to finance that payment. This "buy now, pay later" approach is a great option if you're fully confident that you can pay off the balance in full before payment is due for that period. 
Additionally, some credit cards offer a sign-up bonus, which means if you spend a certain amount of money within a set period of time (usually the first few months), then you get an enticing reward, such as cashback or additional travel miles. Large purchases that need financing would work well with these types of cards.
Note: Since interest rates are typically high for credit cards (19.49% on average), financing should be approached with caution—consider an introductory 0% APR card if you're looking to finance. 
Earn reward points 
Many credit card issuers offer members rewards as a sign-up perk. These rewards usually entail cashback on everyday purchases, like groceries and gas, or other purchases like travel and restaurants. 
The type of rewards you can earn with a credit card depends on what kind of card you sign up for, what they offer, as well as your lifestyle. With these reward perks, use your card for items you would normally buy and know you can pay off—this can help you avoid frivolous spending on items you don't necessarily need. 
Note: Most credit cards that offer reward points charge an annual fee, so be sure to keep that in mind before you sign up.  
Retain fraud protection 
Credit card companies take extra measures and have safeguards in place to help prevent and protect you from credit card fraud. Since credit cards aren't pulling actual funds from your checking or savings account, there is less chance of a thief gaining access to those funds like they could with your debit card. 
If you suspect your credit card is lost or stolen, you can contact the credit card company and they'll immediately freeze the use of your credit card and send a replacement. Some companies will also send you real-time alerts if they notice out-of-the-ordinary charges being made on your card. 
Note: If you reported your credit card lost or stolen before unauthorized charges were made, you are not responsible for those charges under the Fair Credit Billing Act. 
Credit card usage tips 
When handled with care, credit cards are a rewarding and convenient way to make everyday purchases and are generally safer than using a debit card or cash. Here are some tips to keep in mind to make the most of your credit card usage: 
Pay balances on time 
The most important aspect of your credit score is your payment history—paying your credit card balance on time is crucial for avoiding dings to your score and late fees. 
Fortunately, many credit card companies and banks allow you to schedule automatic payments and will send due date alerts, making it easy for you to pay on time. 
Tip: Pay more than the required minimum payment to get ahead with paying your balance, avoid late fees, and help boost your credit score.
Keep track of spending 
Stay on top of your spending by calculating the amount you can afford. Once you set a budget for yourself, be conscientious about how much you spend throughout the month. Many credit card companies offer helpful breakdowns of your statements online or through their mobile apps. 
Once you've hit your spending limit, avoid making more purchases on your card until you've paid the balance. This will help you avoid accumulating credit card debt.  
Tip: Keeping a close eye on your credit card transactions can also better help you spot any accidental or fraudulent charges. 
Know your limit and interest
Before opening a new credit card, make sure you understand your limit and interest rate. If you carry a high balance month to month, these interest fees can become costly if you can't pay off the balance in time, which will then drop your credit score. Credit scores are also affected by your credit utilization ratio, which is how much you owe divided by your total available credit, so it's important to keep that ratio low. 
Tip: Stay under 30% of your total credit limit to maintain a healthy credit score. 
Watch for fees 
Credit card companies often charge fees, and some may vary between companies, so be sure to read your card agreement and fine print before signing up. Common credit card fees include: 
Balance transfer fees

Cash advance fees

Late payment fees

Annual fees 

Foreign transaction fees 

Returned payment fees 
The terms of these fees are located in the agreement and also online before you apply for the credit card.  
Tip: If you plan on spending an extended period of time abroad, it may be worthwhile to choose a credit card that doesn't charge foreign transaction fees. 
Store a card for emergency use 
If you have multiple credit cards, you may want to keep one stowed away in case of emergency. The age of your oldest credit card account is factored into your score—the longer you maintain a credit account, the more beneficial it is to your credit score. By storing a card, you'll always have at least one account open. 
Tip: Some credit card companies will close a card after it's been inactive for a certain amount of time, so make sure to check the fine print or periodically make purchases on that card. Once a year is usually sufficient to keep an account open. However, the credit card company may also lower your credit limit on cards you don't use very much.
Credit card application tips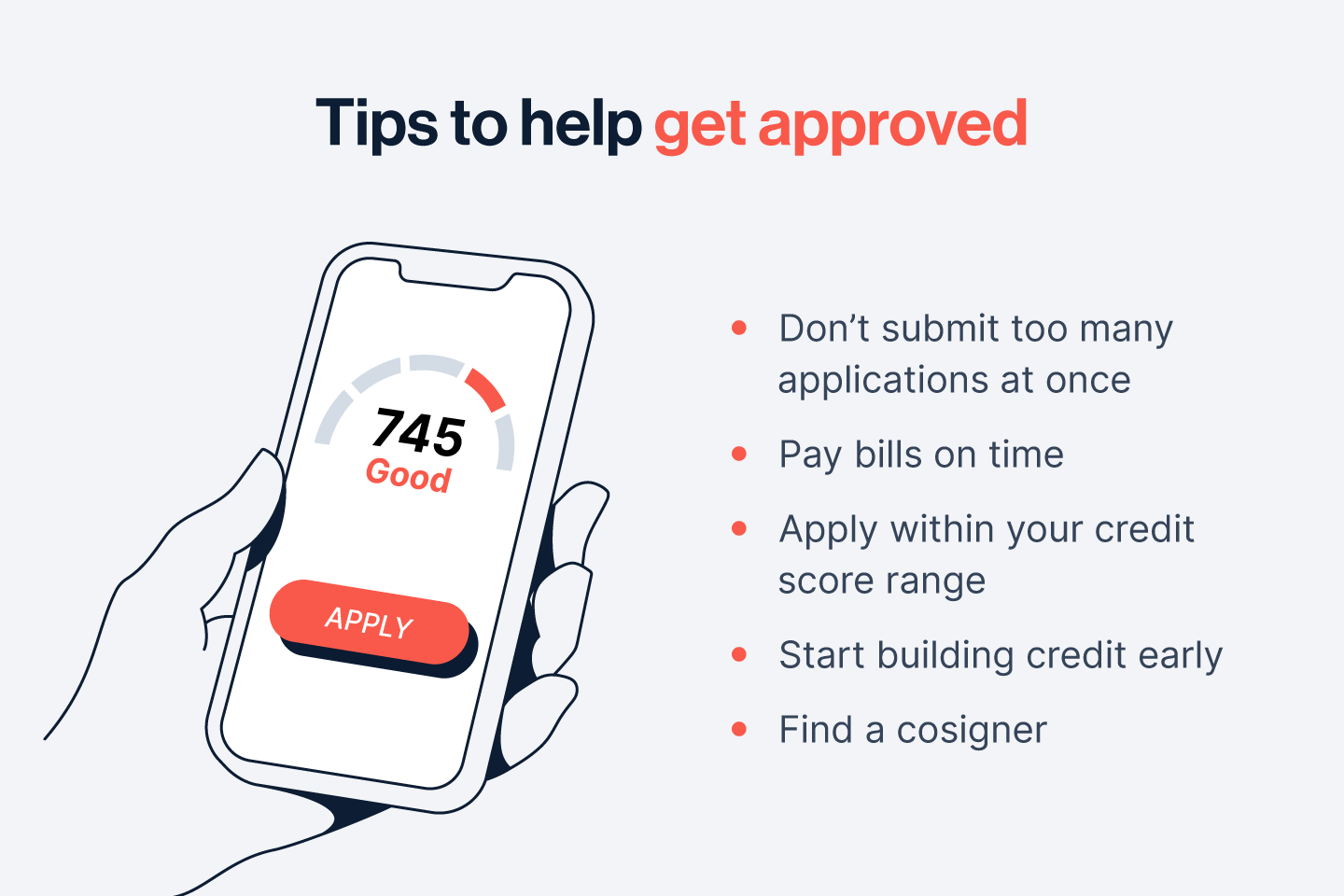 Learning how to apply for a credit card is important, but becoming aware of what credit card companies are looking for before applying sets you up for success.
How to apply for a credit card 
Below are the main steps to follow when applying for a credit card:
1. Check your credit score 
This helps you determine if a credit card is within your range and worth applying for. For example, if you have fair credit, it probably won't be worth it to apply for a credit card that requires excellent credit. This will keep things narrowed down, making it less overwhelming as you look at your options. 
2. Determine the type of card you need 
As you're browsing credit card options, consider what type of card will best suit your lifestyle. There are many types that cater to those who travel frequently, prefer grocery store rewards, and more.
3. Review the terms and conditions
Once you've picked out the card you want to apply for, understand the fine print within the terms and conditions, such as fees, APR, and interest rates. 
4. Check if you're prequalified
A lot of credit card companies will let you see if you're prequalified for a certain credit card. If you're prequalified, you've already met the issuer's criteria and you're more likely to be approved after applying. 
5. Gather your information
Have your information on hand before you fill out your credit card applications. You'll need your personal, financial, and employer or occupation information. 
6. Apply online
After determining the type of card you want and gathering your information, fill out the application. Most of these applications are on the issuer's website, but most of the time you can also submit an application through the mail.
Keep in mind that submitting an application for a credit card can trigger a hard inquiry on your credit report—these occur when a financial institution checks your credit report in the process of reviewing your application.  
This can cause a dip in your credit score, but the impact wears off as time passes. 
Tips to get approved 
After finding the credit card for you, here are some top tips to help your chances of getting approved: 
Don't submit too many applications at once: Each time you apply for a new credit card, your score goes down. It's better to take the time to find the right card and spread out your applications over at least six months. 

Pay bills on time: Paying your other bills such as loan payments and additional credit card payments on time will help boost your credit score and increase your chances of getting approved.  

Apply within your credit score range: Stick to your credit score range; it's unlikely you'll get approved for a card that is out of your range. 

Start building credit early: You typically have a higher chance of getting approved for credit cards if you have a longer credit history. Consider starting to build credit as soon as you can.  

Find a cosigner: If you have bad or no credit, you can add a cosigner to your application. A cosigner, usually someone with strong credit, shows the issuer that there's a backup in case you can't pay back your balance. Alternatively, that person can also add you as an authorized user on their current credit card.  
What to do if you're not approved
If you're not approved for a credit card, don't fret—there are still alternatives you can consider. The first thing to do once you've been rejected is to look for the reason why. Issuers are required to give you a reason for why they turned down your application, whether it be limited credit history, a low credit score, too much debt, or negative items on your credit report.
You can always apply again, but it might be best to apply for a credit card that better suits your credit profile.
If you have bad credit: Look at secured credit cards—these types of cards require you to provide a security deposit, protecting the issuer if you're not able to make payments for any reason.  

If you have good credit but aren't being approved: Try a different credit card company and review their options—it might be a better fit in the long run. 
Credit card FAQs 
There are many elements that factor into responsible credit card use. If you're considering applying for a credit card and still have some reservations, read below for answers to frequently asked questions.
Do I need a credit card? 
Credit cards are great for emergency funding, fraud prevention, and financing large purchases that you're not ready to make all at once. Having a credit card isn't mandatory (you can make purchases on your debit card), however, they are helpful for building credit, which is essential for applying for loans, rentals, and more. 
Tip: If you don't want a credit card, you can alternatively build credit through personal loans or credit builder loans. If you're a student, you might also consider federal student loans, which can give you a jump-start into building credit. 
How many credit cards should you have? 
There is no simple answer to this question, since it depends on your lifestyle and your unique financial situation.
To build credit, it can be helpful to have more than one credit issuer in your portfolio, since it shows you're able to handle multiple credit card payments responsibly. Having more than one credit card can also help you keep your credit utilization low, as your balances are spread across multiple cards. Plus, having more than one credit card can give you a larger variety of perks and reward points. 
You might consider having at least one card that you try to keep open for as long as possible, even if you don't use it very often. The average length of time you've had credit accounts in good standing comes into play when computing your credit score. So if you have two cards you don't use and want to cancel one, pick the one with the shortest account history.
Tip: Be wary of opening too many credit cards at once—applying for a credit card registers as a hard inquiry on your credit report. It's best to do this over time to avoid dropping your score too quickly. 
How are credit cards and debit cards different?
With debit cards, the money for whatever you're purchasing comes directly from your checking account instantly. With credit cards, the money is added to your line of credit that you can pay with your checking account at a later date.   
Tip: Keep your debit card in a safe place and use it only when you have to—recovering money spent on a credit card is easier than from a debit card since credit cards act more like points than actual money.
Can I transfer balances between credit cards?
A balance transfer entails moving outstanding debt from one credit card to another new card. This usually happens when you want to move a high balance from your current card over to a card that has lower interest and better benefits, reducing the high balance on your first card. 
Tip: The ability to perform balance transfers will depend on your credit card company and their rules. These types of cards usually have transfer fees, but sometimes they may offer 0% interest and no-fee balance transfer offers for customers in good standing.
Can I use a credit card to take out cash?
In most cases, you can use your credit card to withdraw cash at an ATM in the form of a cash advance. A cash advance is a short-term loan that usually carries high fees. This fee is typically around $10 or 5% of the cash advance amount, whichever is larger. On top of that, the ATM may charge its own separate fee. 
Tip: Stick to using a debit card and using an ATM network approved by your bank to get cash to avoid any withdrawal or ATM fees.  
What do I do if my credit card expires?
Credit cards have expiration dates because of typical wear and tear and to prevent fraud—the expiration date is updated to provide another layer of security and ensures that the card information is still valid. 
Within 30-60 days before your credit card expires, your credit card company will usually notify you via email or certified mail and ask if you'd like to renew. If you choose to stick with the same credit card, you'll receive one in the mail to activate for use. 
Tip: Before renewing, double-check the credit card company's terms and conditions as they may have changed since you last signed up. 
Do I need a separate credit card for my business?
Separating your personal and business expenses can save you accounting stress, can make tax preparation easier, and can also raise your personal credit score.  Keeping your business expenses on a separate card will reduce your credit utilization ratio for your personal account, thus boosting your score. 
Tip: Even with a business credit card, your Social Security number is still tied to it, meaning you're still responsible for any spending on your business card. 
Simplify your finances with a credit card 
With this guide on how to use a credit card successfully, you can make your finances easier for both your personal lifestyle and your small business. 
If you're starting your own small business or practice, make the process easier by investing in charge cards or a card processing system to help you accept credit card payments from customers.
Solo makes it easy to pay and get paid
Solo is not a bank, but is a financial super-app for small businesses, freelancers, sole proprietors, contractors, and more. Solo is the easy way to pay and get paid. Your customers don't have to sign up to pay you, and can use several payment methods, including Apple Pay, Google Pay, and cards. QR codes make it easy to get paid, and you can easily cash out your Solo account balance for free, or spend it using your Solo Cash Card anywhere Visa is accepted. Learn more at Solo.co.
Solo

is the easiest way for small businesses to pay and get paid.

Solo mobile app is now available for everyone
Scan QR to download the Solo App
Solo mobile app is now available for everyone