In this article:
Why consistency is important in online listings

How to use Yext to help your small business
Yext is a powerful online resource that all businesses should take advantage of, whether you choose to pay for their premium services or not. 
Yext doesn't have its own online directory, but it helps you to find your business across several other online directories and check the consistency of your online listings. 
Consistency across platforms is vital in online business listings
Google and other search engines use online directory listings, also known as citations, to help verify your business's information across multiple sources. The more of these listings you have filled out, the better information the search engines are able to provide their users (your customers). 
Because of this, it's very important that your information is consistent across all of these listings. At the very least, your business name, address, and phone number (or NAP) should be exactly the same across all of your citations. 
The more online listings you have with correct and consistent information, the better opportunity you have to rank in Google's map pack when users do a local search for your services or products. 
So, how can Yext help you with all of this?
How to utilize Yext to enhance your online business listings
Yext has some powerful capabilities that can help you improve your online listings and create consistency among them. 
How to use Yext's free service
The first thing that all businesses should take advantage of is Yext's free business scan. With this tool, any business can enter their information to check the consistency and accuracy across the main business directories you should be listed on. 
Go to yext.com to see how your business appears online. You don't even need to sign in. 
Just scroll down to the section where you can add your business information. Add your country, business type, business name, and phone number. 
Click "Scan Now" and Yext will generate a list of directories and how your business appears on them. 

The next page is your list of citations Yext has found across the web. These will include Google, Yahoo, Facebook, Bing, Yelp, Mapquest, and many more (assuming you have claimed your listings).
The thing that you want to look for here are any listings that have incorrect information. In the far right column, Yext will show you if any information is inaccurate with a red warning sign. 
If you aren't currently subscribed to Yext, you'll likely also see "Not verified on Yext" on your listings that are correct. If you aren't interested in paying for Yext's services at this time, just ignore this (more on premium Yext services below).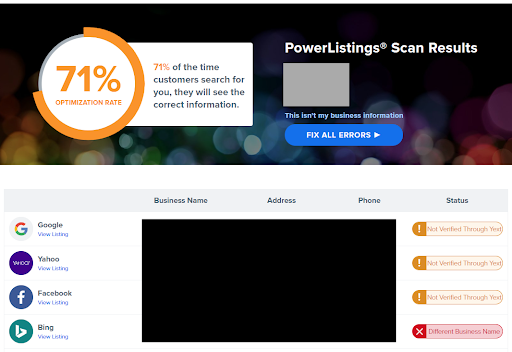 Make a note of any listings that are incorrect. Each listing Yext shows has a link in the left column that says "View Listing." That link will take you directly to your listing for that site, where you can then update it. 
If you want to update these listings yourself without paying for Yext's premium listing service, we have helpful tutorials to guide you through the process, step-by-step. 
If the process of updating all of your listings is beyond the time you have available, then you might want to consider Yext's premium services. 
How to use Yext's premium listings management
Yext's premium solutions allow you to sign up for a plan that has specific listings and features. Yext will then update all of the listings within your plan to make sure that your information is correct. You will need to pay an ongoing fee to keep these listings updated. 
If you are interested in doing this, proceed from the business scan page and click "Fix All Errors."

You'll then be brought to a form to update your information and make sure everything is exactly how you want it to appear across all of your online listings. Click "Continue" to see the four different Yext plans for small businesses.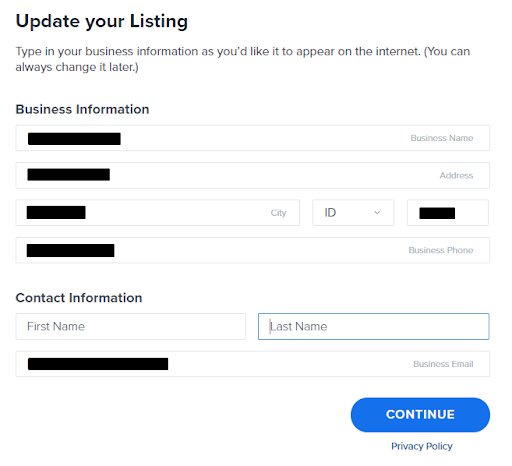 The four plans Yext offers for small businesses are as follows:
Emerging: This plan is what they call their "Starter Package" and is billed at $199 annually. With this plan, you get your information updated across 40 lower level directories. 

Essential: This "Plus Package" is billed at $449 annually and includes listing your information across the main search engines and directory sites, like Google, Yahoo, Bing, Facebook, and 10 others. 

Complete: This "Standard Package" includes all of the listings from both the Emerging and Essential packages and is billed at $499 annually. 

Premium: This last option is Yext's "Advanced Package" and is billed at $999 annually. This includes all of the listings from the previous packages as well as review monitoring and enhanced content for your website. 
Simply select the plan you wish to use, pay for it, and Yext will update your listings and provide you with a free training session on their software.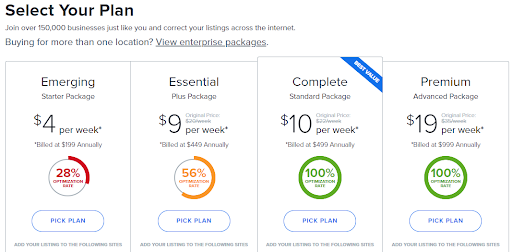 The one thing that you need to remember with Yext solutions is that once you stop paying for their services, you no longer have access to your listings that they've updated for you. 
Solo

is the easiest way for small businesses to pay and get paid.

Solo mobile app is now available for everyone
Scan QR to download the Solo App
Solo mobile app is now available for everyone