Are you someone who dreams of working on your own terms? Working for yourself and starting a small business is a great way to step out of the traditional realm of the workplace and narrow your focus on your passion. Many people choose to be their own boss to have an increased sense of independence and the freedom to control their day-to-day routine. According to Pew Research Center, over 16 million Americans identify as self-employed. 
Thanks to technology and the push to break the boundaries of the traditional working structure, transitioning to self-employment is easier than ever. Our guide covers how to work for yourself, if you're ready, the benefits, as well as job ideas and examples.  
Benefits of self-employment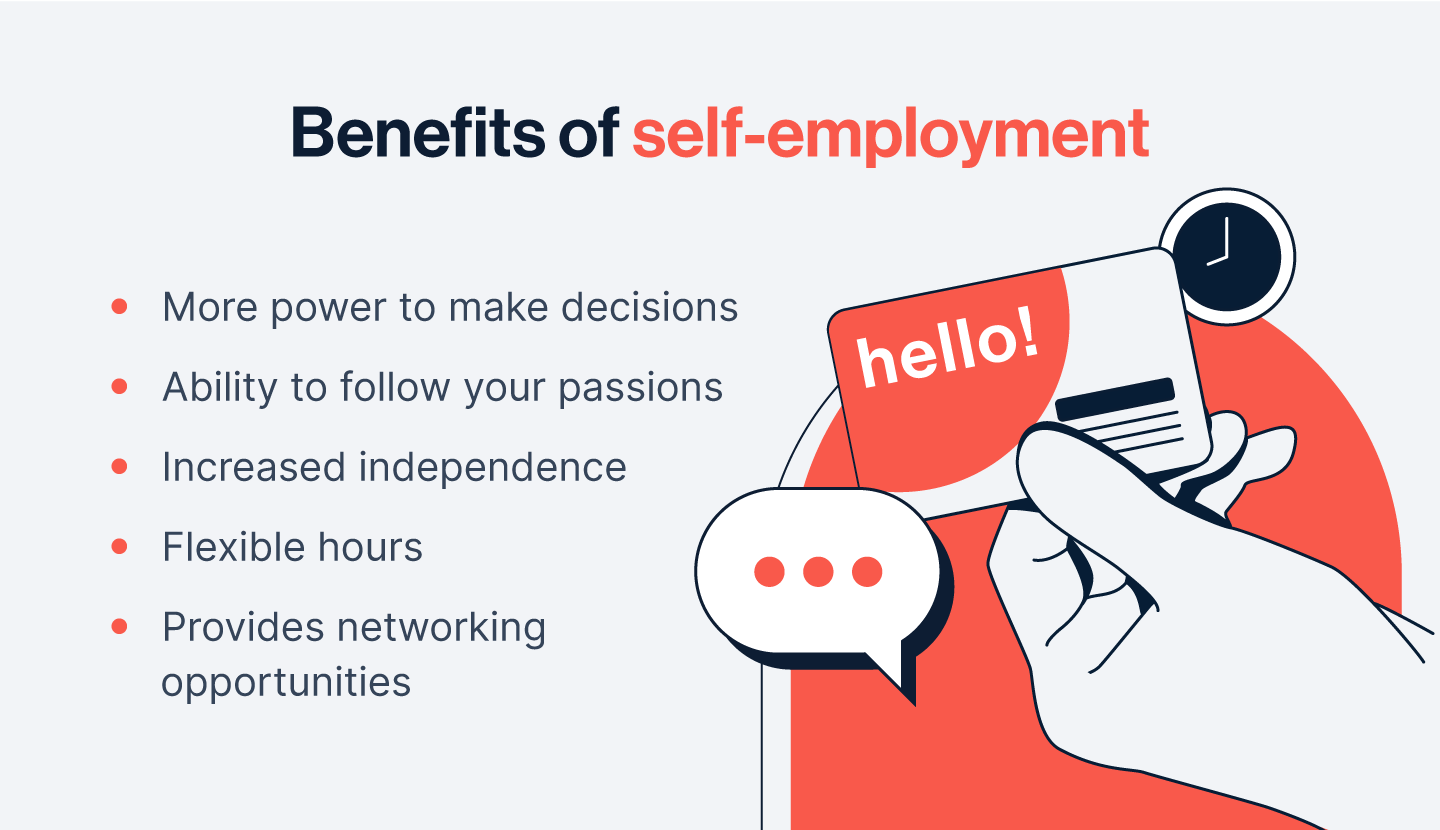 If you're self-disciplined and have a focused mindset, the benefits of being self-employed are endless. From more independence to being able to choose your own path, here are the top advantages of working for yourself:
Increased independence 

Flexible hours 

More power to make decisions 

Ability to follow your passions 

Provides networking opportunities
Read on for a more in-depth explanation of these benefits. 
Increased independence 
Working for yourself means you don't have to report to anyone. You're in charge of how you want your routine to play out during the day. This allows you to avoid the repetitive and sometimes redundant nature of the traditional workplace and promotes excitement and creativity when planning your workflow. 
Flexible hours
One of the best aspects of working for yourself is the ability to choose your own hours and where you want to get work done. No need to sit in an office and wait for the clock to strike five—flexible work hours allow you to better balance your tasks and personal life, taking vacations as you please. Once you have your finances in order, you can also consider renting a space for your small business. 
However, flexible hours require self-discipline, as the number of hours you put into your job translates into your pay, whether directly or indirectly. 
More power to make decisions 
Since you won't be working under anyone, you'll be allowed to make your own decisions. You can make your own decisions about who you want to work with, who to hire and who to fire, where you want to live and work, how to execute tasks, and more. 
Ability to follow your passions 
Since you're able to operate on your own schedule and choose your own tasks, you're better able to follow your passions and growth tracks without getting distracted by other needs that are not necessarily beneficial to you. 
Provides networking opportunities
In a lot of traditional workplaces, you're placed with a team whom you see every day. On the flip side, working for yourself requires you to build a network and cultivate connections. Networking outside of the traditional workplace can connect you with other entrepreneurs who may even be open to partnering with you to create a larger business. 
Connecting with like-minded people can help boost your career as you gain further knowledge of your industry. 
Elements involved in working for yourself 
If you need help deciding whether or not to work for yourself, here are several factors that are involved in being an entrepreneur that you'll need to consider: 
Work-from-home mentality     
Being self-employed usually requires some elements of working from home or space of your choosing. If you're a person who thrives in a structured, traditional working environment, then working for yourself may not be for you. 
Tip: The best way to find out is to test working from home to see if you're able to focus and remain productive outside of the office.  
Income can be uncertain  
Although it's very flexible, working for yourself can also bring on the possibility of uncertainties. A steady paycheck is one of the benefits of working a traditional job, but working for yourself doesn't guarantee income. 
For instance, income as a freelancer can be unpredictable depending on demand and how much work you take on. If you don't have a financial cushion for income fluctuations, working for yourself may not be the best idea for you at the moment.
Tip: Look ahead into emergency funding options for small businesses—this could be a lifesaver if you run into trouble. 
You have to wear multiple hats
As your own boss, you'll have to wear multiple hats and take on multiple tasks and roles yourself. Unless you have the financial ability to hire your own team, you'll have to anticipate taking on everything from accounting and marketing to customer service. 
This is something that entrepreneurs often face—you're responsible for generating your own sales, so you have to be proficient with doing it all yourself. 
Tip: To make juggling tasks feel more manageable, jot down a to-do list for yourself at the beginning of each day or each week. 
How to tell if working for yourself is right for you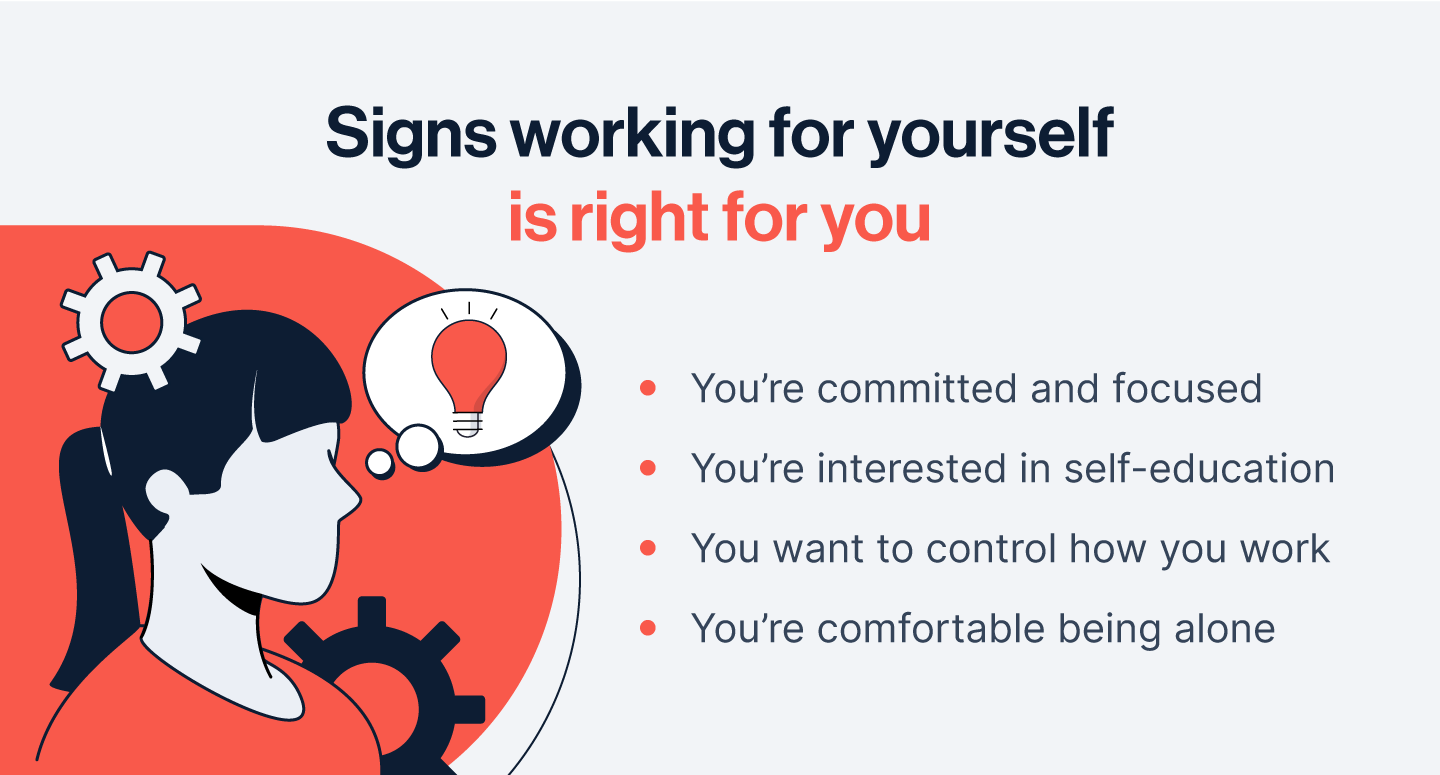 Working for yourself may not be for everyone, so there are various things that you should consider first, such as being able to operate without the traditional work structure, and your willingness to learn. Here are some telltale signs that you're ready to work for yourself: 
You're committed and focused  
Starting up a business or becoming an entrepreneur requires self-discipline and motivation. Since you'll be building your own business from the ground up, you'll need to be self-sufficient and passionate about your craft. 
Additionally, working your own hours requires discipline to stay on track with your progress and growth as a business owner. 
You're interested in self-education 
Working for yourself requires constant change and adaptability as you grow your business. To take your business to the next level, you'll need to educate yourself about what it takes to successfully operate in your industry. 
You want to control how you work
You may have faced times when your passions have been overlooked or ideas have been shut down at your traditional job. With self-employment, you gain control over your projects and what you want to do. If you want a full say in what you work on and are confident in your own decisions, self-employment may be the right path for you. 
You're comfortable being alone
There will be many times along your self-employment journey when you'll be alone. Starting out, you'll no longer have the structure of a team like you would in an office. 
You'll need to branch out and hold yourself accountable to network and meet new people—whether it be at conferences, webinars, or fundraisers. If you're comfortable doing these kinds of social activities on your own, then self-employment may be a great fit. 
Tips for solopreneurs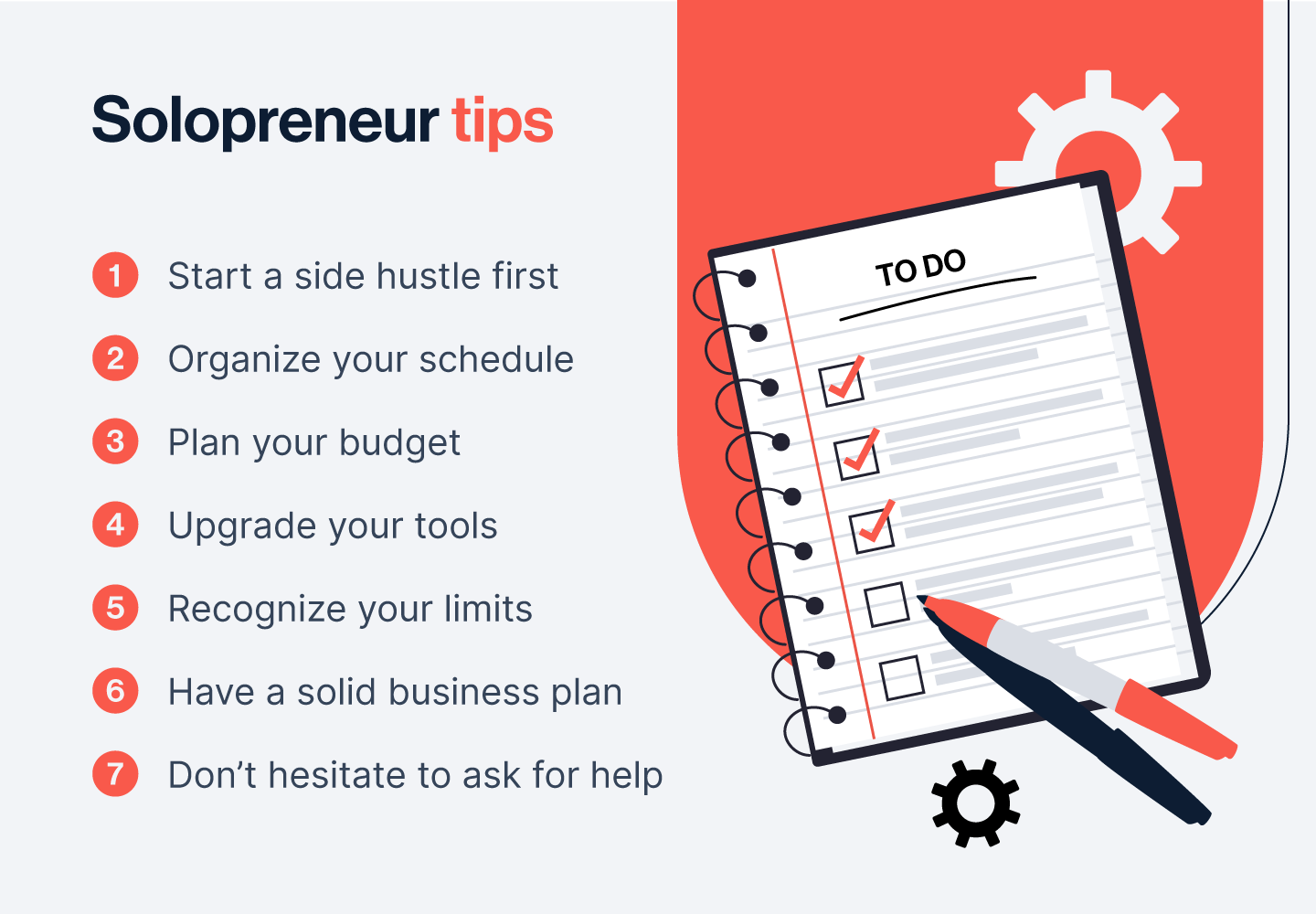 To get the most out of working for yourself, you'll need to have a plan to stay productive and organized. Here are some tips to help you successfully navigate the world of self-employment: 
Start a side hustle first 
If you're not sure you're ready to dive in completely, consider starting a side hustle project while sticking to your full-time job. This can help you determine if you're focused enough and ready to take the plunge into full-time freelancing or entrepreneurship.
Tip: If you're new to side hustling, make sure you start small in the beginning to avoid feeling too overwhelmed. 
Have a solid business plan 
Having a plan before you jump into the entrepreneur life is essential to making sure you stay on track and avoid any overwhelming feelings. Start by creating a business plan and elevator pitch that highlights your skills, what you can offer to potential customers, and how you plan on growing your product or services. 
Tip: Creating a blueprint of different milestones you want to achieve each year can be beneficial to help you stay on track.
Organize your schedule 
Planning out your hours and the days you choose to work is a crucial first step when you start working for yourself. This allows you to hold yourself accountable and set productivity goals. 
Tip: Mimic the same schedule you had while working at your full-time position; as you get into the rhythm, you can adjust based on your needs.  
Plan your budget   
While transitioning into self-employment, it's crucial to be aware of your finances and budget. To ensure you can finance your business goals, you'll need to allocate money to certain areas, budget your expenses, and keep track of spending for reporting taxes. Additionally, you'll likely need to set up a business bank account and get a credit card that's separate from your personal one. 
Tip: The IRS sets specific financial guidelines for those who are self-employed, so be sure to check out your state's requirements as you plan your budget.  
Upgrade your tools    
If you have the means, upgrade technology and invest in tools to boost the performance of your business. Each industry requires its own specific tools, so do some research to see which ones you'll need and which ones are worth purchasing. These kinds of tools can include bookkeeping or productivity software, equipment like laptops, or any data tracking tools. 
Tip: Obtaining up-to-date software and tools will also position you to be more professional, especially if you're looking for investors to help grow your business.  
Recognize your limits    
Being an entrepreneur can be a grind, and it may be tempting to overwork yourself to make extra money. However, it's important to know when too much is too much. 
Make sure to prioritize a healthy work-life balance to avoid neglecting the other important aspects of your life, such as social activities and family. Protecting your mental health is important for the overall success of self-employment.
Tip: Keep a calendar handy to have a visual of your tasks—this makes it easy to spot if you're maintaining enough balance between life and work.  
Don't hesitate to ask for help   
You may face some roadblocks and challenges along your self-employment journey, and there is no shame in asking for help. Reaching out to others can also aid in your networking efforts and teach you something new. 
Tip: Consider getting help from a mentor—they can teach you the skills you need to succeed and keep you on the right path.  
15 self-employed job ideas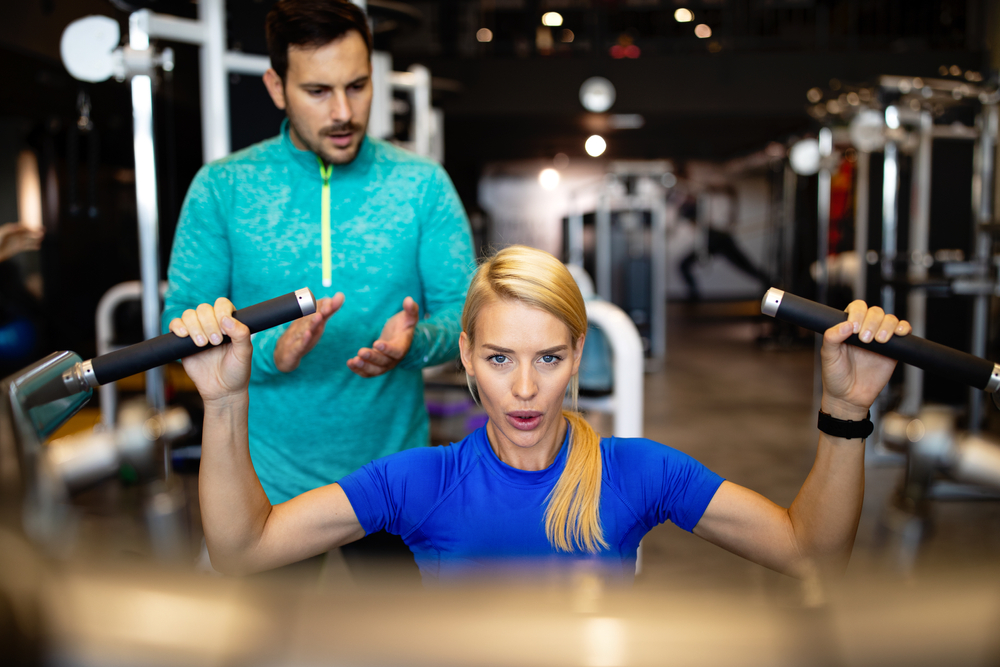 Feeling reading to become self-employed but not sure which direction you want to go in yet? Whether you want to follow a specific passion or generate passive income while you decide, here are 15 job ideas that are great for a self-employed lifestyle. Be sure to check your state's regulations and qualification requirements before starting your own business. 
1. Freelancer 
If you're not interested in starting a small business but want to be self-employed, becoming a freelancer may be a good fit for you. 
There are many freelancing opportunities online that include website and blog building and writing, graphic design, virtual assistants, and more. 
Tip: An advantage of becoming a freelancer is having the ability to choose jobs based on your needs and skill sets. 
2. Interior designer 
Have design chops? Become an interior designer and work creatively every day. Plus, as an interior designer, you won't be tied down to a specific location—you'll get to enjoy working in many different locations and environments.
Tip: If you choose this path, be sure to put together a portfolio showcasing your previous work to attract new clients. 
3. Transportation provider  
Uber and Lyft can be a great source of income for those who want to work for themselves. Transportation services are flexible enough that they also serve as great side hustles in addition to your main gig. 
Tip: Many localities also require you to obtain commercial auto insurance in order to legally work for a car hire service—be sure to check your city's regulations.  
4. Personal trainer  
If you're an expert in fitness and care about helping others reach their health goals, consider starting your own personal fitness business. With this job, you can enjoy staying active while also helping those around you. 
You can choose to work with a fitness establishment or even work independently and visit clients' homes. 
Tip: With most personal training jobs, you'll need to complete a certification program to show your qualifications. 
5. Consultant  
Many large organizations and companies need consultants to help with strategy. If you're an expert in any niche specialties, consider becoming a consultant. This can be a great fit if you're looking to help others make their jobs easier and more efficient. Popular industries for consulting include legal, financial, HR, marketing, operations, and more. 
Tip: Consulting is all about making connections—be sure to focus on building relationships over revenue. 
6. Real estate agent 
Buying and selling homes is difficult for many people. Consider being the person who helps make that process easier by getting into real estate. You can work as a self-employed real estate agent with a real estate license. 
Tip: You can also choose to be a real estate investor—this entails purchasing a property to resell or managing it as a rental, which can be a great source of passive income. 
7. Childcare worker  
Following the pandemic and the rise in working and schooling from home, there is more demand for childcare services. If you enjoy taking care of kids and have the qualifications to do so, consider working independently as a childcare provider. 
Tip: This kind of self-employment can be beneficial if you're looking to work from your own home while still earning cash versus operating through a large facility. 
8. Caterer  
Do you have a passion for cooking and serving food to others? Bring your talents outside of your own kitchen and start a catering business. Catering can allow you to use your talents for special events and get creative with different cuisines, as well as network with those who are attending those events.  
Tip: Try a pop-up, temporary restaurant first to test out a menu and gain interest with potential customers. 
9. Online merchant   
If you have a craft you'd like to share with the world, consider generating income and selling on online merchant sites like Etsy or eBay. You'll be able to take control over what you produce and sell at a certain price. 
Tip: Instead of creating your own product, you can also resell what you already own, such as clothes and furniture. 
10. Tutor   
Consider tutoring to help educate students. Whether you're well-versed in math, sciences, or language, you can make money by offering your services to struggling students. 
Tip: There are also options to offer online tutoring to expand your reach into more locations. 
11. Grocery deliverer   
Many grocery store chains now offer online shopping and delivery services, so if you want to make some easy income, consider creating a delivery partnership with local stores. You can sign up for these services through apps like Instacart or by working directly with a specific grocery store. 
Tip: This job is a great side-gig—consider pairing it with another side gig to boost your income even more. 
12. Life coach   
If you like giving others advice and helping them reach their full potential, you may consider getting certified to become a life coach. Being a life coach requires compassion and listening skills, as well as legitimate credentials.
Tip: Before getting these credentials, find a niche that fits your skills, whether it be professional, nutritional, or romantic coaching. 
13. Event planner 
Event planning is a great job if you love party planning and staying organized with tasks. Since there are a lot of event planners out there, try narrowing your specialty down to a specific type of event, like weddings, birthday parties, or even professional work events.
Tip: Consider obtaining certifications within this industry to get noticed and stand out in the crowd. 
14. Photographer   
Share your love of capturing moments through a lens and become a photographer. If you have a knack for taking pictures, this can be a lucrative business, especially if you want to provide services for weddings and other events. 
Tip: Depending on your specialty, you can also photograph corporate events, travel, nature, or even food.
15. Social media specialist   
Social media is here to stay. If you're comfortable using social media platforms and have experience growing an online presence, becoming a freelance social media specialist can be a huge asset for businesses. 
Tip: Be sure to have materials for a portfolio that highlights your social media skills. 
Work for yourself confidently   
If you're interested in taking your skills and passions into a more fulfilling work lifestyle, then becoming self-employed may be the best move for your career. With this guide and tips, you can now confidently learn how to work for yourself and advertise your services. 
As you're starting your own small business or practice, make the process easier by investing in charge cards or a card processing system to help you accept payment from customers. 
Solo can help you get paid quickly and easily
Some work-for-yourself jobs and side hustles use their own integrated payment platforms (Uber, for example), but most require you to collect payments from customers, which can be a pain. This is where Solo comes in. Solo is not a bank, but is a financial super-app for side-hustlers, freelancers, sole proprietors, contractors, and more. Solo is the easy way to pay, get paid, and keep track of your spending. Your customers don't have to sign up to pay you, and can use several payment methods, including Apple Pay, Google Pay, and cards. QR codes make it easy to get paid, and you can easily cash out your Solo account balance for free, or spend it using your Solo Cash Card anywhere Visa is accepted. Learn more at Solo.co.
Solo

is the easiest way for small businesses to pay and get paid.

Solo mobile app is now available for everyone
Scan QR to download the Solo App
Solo mobile app is now available for everyone