The job and business markets are more competitive than ever — standing out from the crowd is a must in order to succeed. To do this, consider implementing a personal branding strategy. A personal brand statement not only can boost your small business marketing, it can help define who you are as a professional and the services you can offer. 
Learn how to better brand yourself with these personal brand statement examples, how-to construct a statement, and tips to make it successful.  
What is a personal brand statement?
A personal brand statement is a brief one to two sentence description that sums up why you're unique in your field and how you can add value. Three aspects of your personal brand include your: 
Infusing this helps your audience better understand what you offer and who you are. A personal brand statement is also known as a unique selling proposition (USP). 
Think of this as your slogan or catchphrase for marketing yourself to those around you. A classic personal brand statement follows an "I help ___ do ___" format, but you can tweak this based on what feels best for you.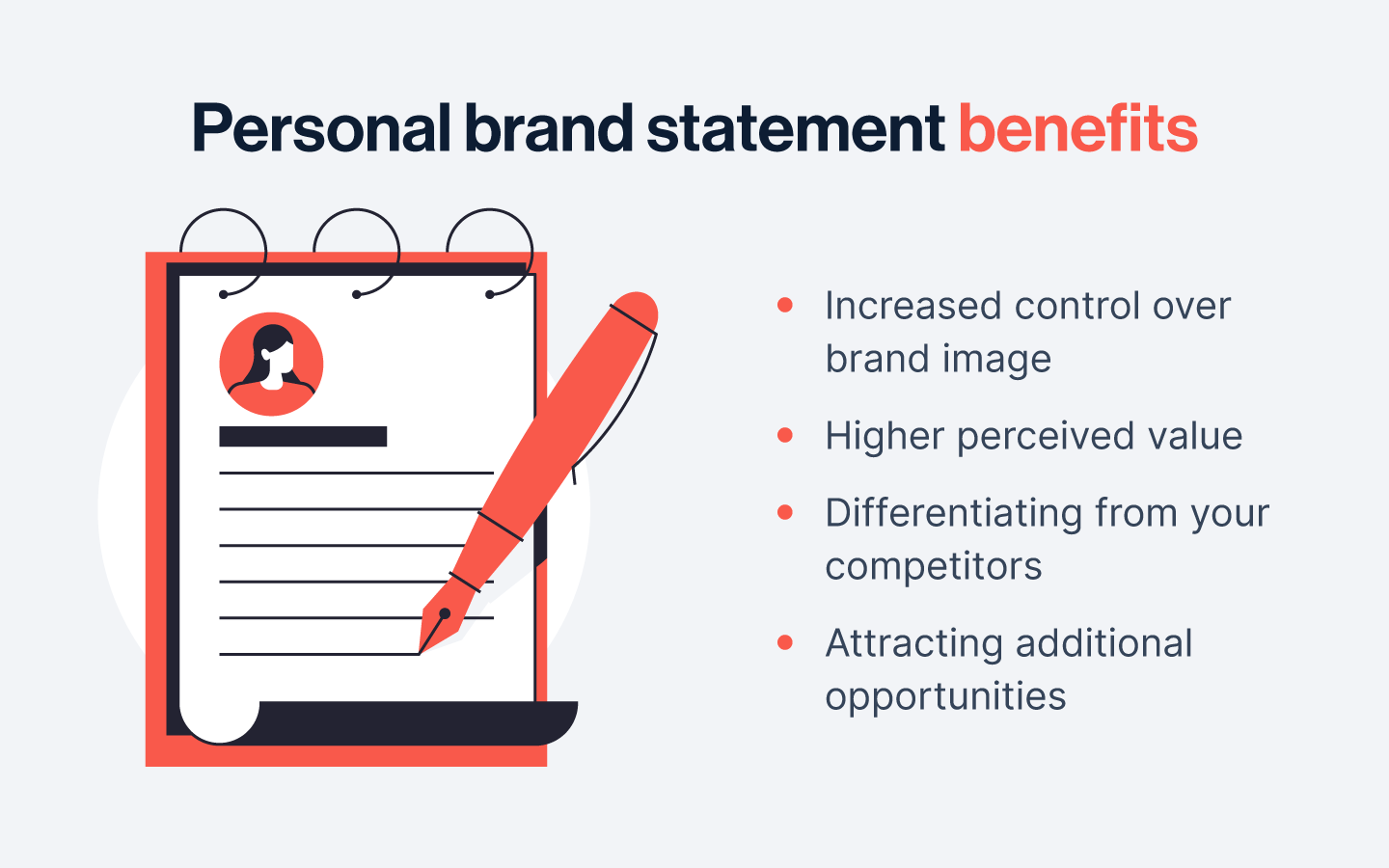 Benefits of having a personal brand statement
Creating and voicing your personal brand statement can help you better communicate your values. It can also act as a marketing tool if you're a small business owner looking to expand within your industry — it can open doors to new possibilities such as speaking opportunities, client relationships, and overall success. 
Other benefits of a personal brand statement include: 
Increased control over your brand image: Having a personal brand statement will allow you to influence how others view your brand.  

Higher perceived value: A personal brand statement helps you better connect with your target audience on an emotional level. A personal brand statement will also make you look more credible since you'll be more likely viewed as an expert in your field. 

Differentiating from your competitors: A personal brand statement can help you stand out from the competition — building up your brand gives you a competitive edge.

Attracting additional opportunities: A product or service with a personal brand statement attached to it will attract other like-minded individuals and boost your network possibilities. Additionally, when you embrace your personal brand on social media, you can share advice and unique insights about your industry to help draw an audience.  
10 personal brand statement examples  
If you're someone looking to work for yourself or start a small business, a personal brand statement is a great way to increase your presence in your industry. Not sure where to start with your personal brand statement? Check out these 10 personal brand statement examples to draw some inspiration.
1.  Classic "I help ___ do ___" format 
"I help thought leaders write great books in just 90 days. 300 satisfied clients so far." -  Mindy Gibbins-Klein
Takeaway: This example follows the classic "I help ___ do ___" format mentioned above. This option is great if you're a coach, freelancer, or consultant. 
2. Descriptive and clear 
"If you have a story that influences people towards positive change, I can teach you how to find the right stages that scale in both revenue and reach." - Pete Vargas, Founder & CEO
Takeaway: With this statement, Vargas gets his point across very clearly. It's also unique and provides information on how he can provide value. Sometimes less is more. 
3. Balances professionalism and personality
"I'm a publicity and marketing strategist who helps experts, authors, and coaches go from "hidden gem" to admired industry leader…and even a household name." - Selena Soo, Publicity Strategist 
Takeaway: Focus on having a blend of professionalism and personality for a unique and personal spin on a personal brand statement. 
4. Maintains conversational tone
"Hi, I'm Marie. An entrepreneur, writer, philanthropist, and an unshakable optimist dedicated to helping you become the person you most want to be." - Marie Forleo, Entrepreneur
Takeaway: This personal brand statement is conversational — her personal brand words such as "unshakable optimist" also come off as confident. The ending also prompts the reader to take action. 
5. Showcases benefits
"Saving the world from bad content. B2B strategy built for humans that drives traffic generates qualified leads, and scales over time." - Aaron Orendorff, VP of Marketing 
Takeaway: In this personal statement, Orendorff ensures that he highlights the top benefits of his content — traffic, scalability, and qualified leads. 
6. Expresses skills
"I've dedicated my life to the power of storytelling. Whether I'm acting, directing, writing or podcasting, I believe sharing stories is what I was born to do because storytelling is what brings us all together." - LeVar Burton, Writer 
Takeaway: Burton does a great job expressing his skills and what he loves doing in one. He also states a few different outlets in his statement, which could grab the attention of multiple audiences. 
7. Infuses value
"I'm Claude Silver and my life's purpose is to be of joyful service and unlock emotional optimism in all." - Claude Silver, HR 
Takeaway: Silver ensures that her personal brand statement is infused with her value — unlocking emotional optimism. 
8. Concise and clear
"Most companies struggle to talk about what they offer but if you confuse, you'll lose. My framework helps you clarify your message so customers place orders." - Donald Miller, Public Speaker
Takeaway: Miller's personal brand statement is concise and clear. He states the problem and presents a solution to that problem right away. 
9. Highlights services
"I teach business owners, educators, and entrepreneurs the profitable action steps for building a highly engaged email list, creating online training courses, and using online marketing strategies to sell with ease." - Amy Porterfield, Entrepreneur
Takeaway: In this personal brand statement, Porterfield emphasizes how her services can serve others and lists multiple areas of expertise. 
10. Straight to the point
"I will teach you how to write in the digital world." - Nicolas Cole, Digital Author 
Takeaway: Cole's personal brand statement is straight to the point and offers insight into what he can offer and in what industry. 
How to write a personal brand statement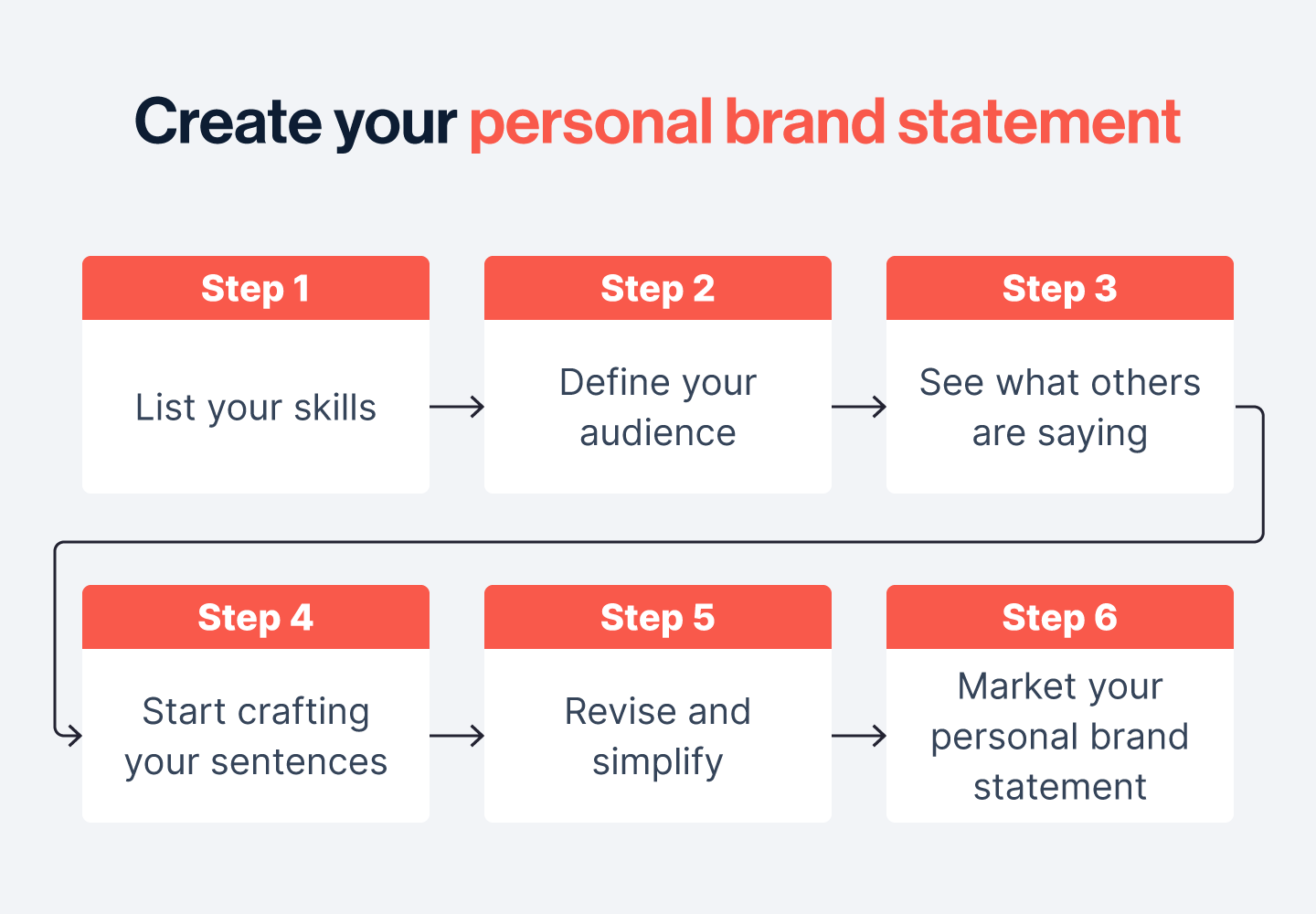 Now that you have some inspiration and ideas from the examples above, you're ready to start crafting your statement. To make your personal brand statement as effective and unique as possible, follow these six steps:  
Step 1: List your skills  
The first step you need to take in creating your personal brand statement is to identify your skills and what makes you stand apart from the crowd. Think of this as your personal brand words. 
Choosing personal brand words is important in this process and helps define your brand personality. Personal brand words can include anything positive that highlights strengths, such as:
Experienced 

Strategic 

Tactical 

Smart 

Supportive 

Collaborative 
Start with a casual list on a piece of paper to fuel your brainstorming process. Consider including some buzzwords that are specific to your industry, like tools, techniques, and software you have experience with. Then, pick your top three words from that list. Think "I am an expert in ________" — the more niche the better. 
Step 2: Define your audience
After coming up with some personal brand words, align them with the audience you want to target. Crafting a statement that's too general and lacks a specific direction toward a particular group will likely get lost in the shuffle. 
Ask yourself where your skills and personal brand words are the most useful — this will help you figure out what industry to target. 
Step 3: See what others are saying 
See what others are saying in the industry you want to target. Are you noticing anything customers feel is lacking in the space? Any wants and needs that customers need fulfilled but aren't currently? 
Thinking this out can help you better analyze the competition and find the gaps that you can fill with your skills and expertise.   
Step 4: Start crafting your sentences 
As you start building out your sentences, think about the story you want to tell. How are you different, and what problems can you solve? Combine these sentiments with your personal brand words in one or two sentences. 
You can also consider these questions: 
Who buys your product or services? 

What industry are you looking to serve?

How do you want others to perceive you and your brand?
Step 5: Revise and simplify 
Revise and simplify your personal brand statement if necessary. Find spots that you can trim down if you find yourself with a statement that's too long (over three sentences). Also, try saying it aloud or in front of friends and family — this can also be good practice in case you'd like to share your personal brand statement in person with an interested customer. 
Step 6: Market your personal brand statement 
Become your own advocate and start promoting and marketing your personal brand statement. Start by sharing it on different platforms. These can include: 
Your business website

Your social media profiles, such as a Twitter or Instagram bio

Your email signature

Your LinkedIn headline
This statement doesn't have to just be online — it can also be transferred into your in-person presence as you network and build connections with other solopreneurs and business owners. 
Make sure this statement is consistent on all the platforms you share it on — this will help maintain your message so people will remember it. Additionally, you can use the template below as a space to brainstorm and create your personal brand statement.
https://res.cloudinary.com/solo-global/image/upload/cms/website/posts/pdfs/personal-brand-statement-template_ltqxcq.pdf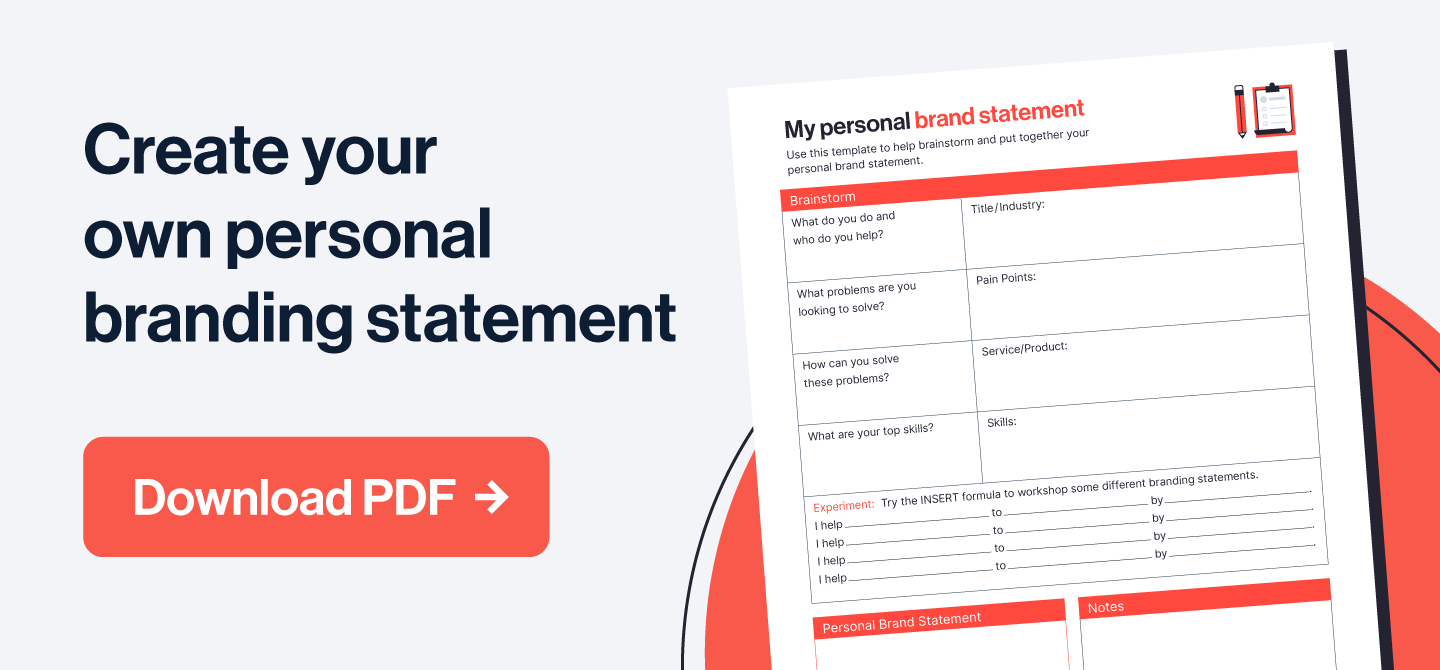 Personal statement tips 
Now that you're familiar with the personal brand statement examples and process, you're ready to take things to the next level. Here are a few personal brand statement tips to keep in mind: 
Keep it simple: Make a great first impression as quickly as possible by keeping your personal statement concise (about 1–2 sentences). 

Avoid cliches: Many words and phrases have become overused, such as "passionate", "motivated", and "detailed-oriented" — while these may all apply to you, think outside the box with some more unique and specific variations. 

Avoid exaggerating: Be sure to stay as honest and authentic as possible when creating your personal statement — this improves your chances of creating a genuine connection with your audience. 

Revise regularly: As you build your professional portfolio, you'll also have more experience and tools under your belt. Consider revising your personal brand statement regularly so it's updated and in line with your current experience. 

Focus on the unique: Anyone can have a personal brand statement, but focusing on what specifically makes you unique will give you an edge in your industry. 
Take your career to a new level of visibility  
Whether you're looking to start a side hustle or business from home, a personal brand statement can help you take your skills and career endeavors to the next level. With this guide, you'll be better prepared to create one of your own — remember to stay simple, unique, and true to yourself.
Solo

is the easiest way for small businesses to pay and get paid.

Solo mobile app is now available for everyone
Scan QR to download the Solo App
Solo mobile app is now available for everyone