Knowing how to show proof of income if you're self-employed can feel daunting, especially since you're likely not earning a set amount each pay period. Showing proof of income for self-employed workers requires additional preparation and organization than it usually does for the traditional employee. 
With this guide, showing proof of income if you're self-employed is easier than ever. Read on to learn about why you need to show proof, the specific documents you need, and other tips.  
What is proof of income?
Proof of income is paperwork that provides insight into your earnings during a certain period of time, usually a full year. The documents are proof that what you say you make is what you actually make. Those that require proof of income usually include: 
Insurers

Banks 

Landlords

Credit companies 

Utility providers
These entities will use proof of income paperwork to determine if you are qualified and able to make payments on time for an extended period. 
Why proof of income matters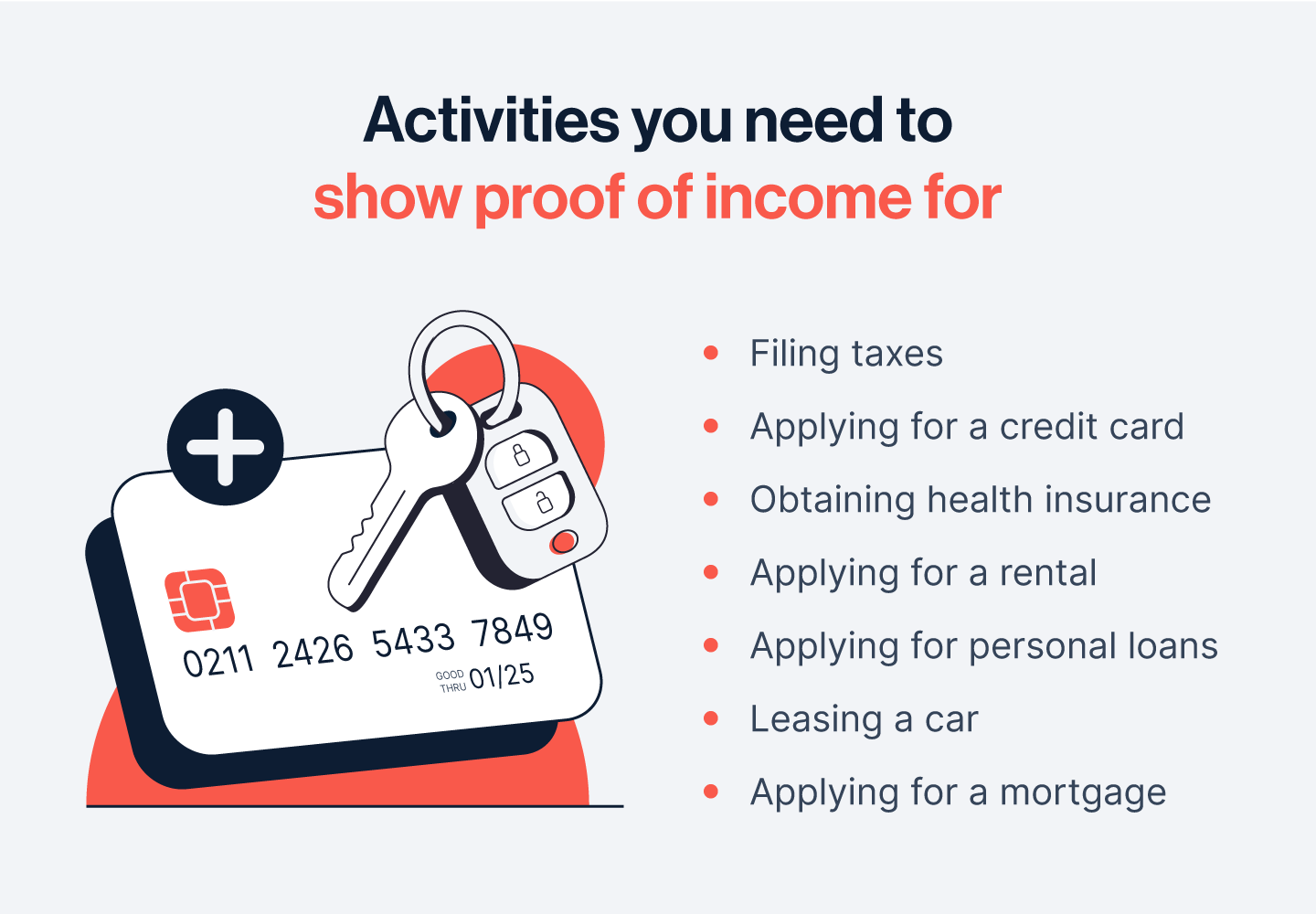 There are certain instances in life where you'll need to show proof of income, typically whenever lending money is involved. This documentation is required for activities such as: 
Filing taxes

Applying for a credit card 

Obtaining health insurance 

Applying for a rental 

Applying for personal loans 

Leasing a car 

Applying for a mortgage 
Aside from filing taxes, these events involve issuers letting you borrow money—this requires a certain level of trust that you'll be able to pay back what's owed. Proof of income matters because it's the proof that you have funds and cash flow to make payments. 
How to show proof of income when you're self-employed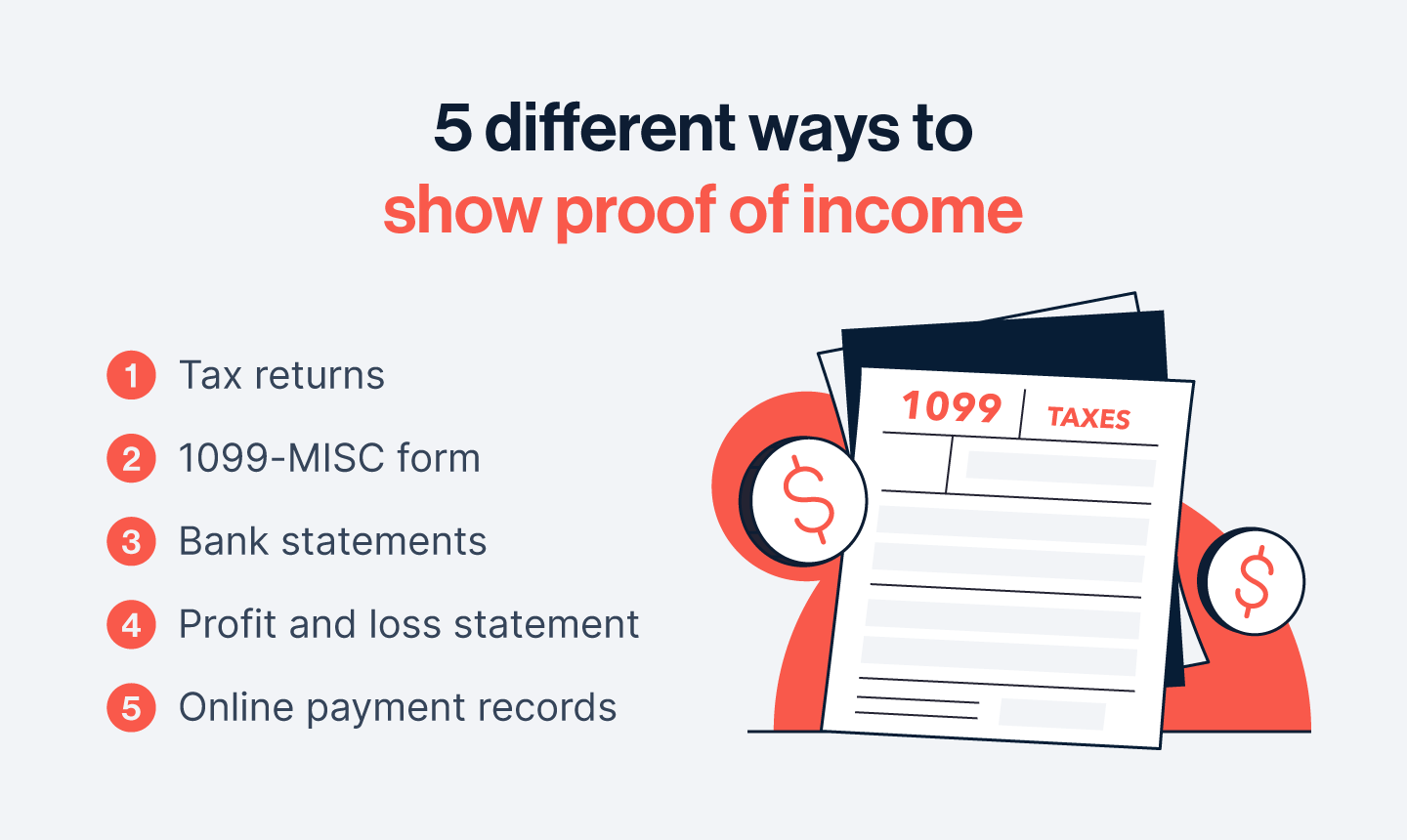 For full-time employees at traditional workplaces, showing proof of income is easy—all you need is a W2, a pay stub, or tax returns. Self-employed individuals can typically provide the same information, but there are a few caveats with each: 
1. Tax returns  
One of the easiest ways to show proof of income is through your annual tax returns. A tax return is a legal form from the Internal Revenue Service (IRS) that states your total earnings and expenses for the year. 
If you're purchasing a large item, such as a home, the more detail you can provide in your tax returns the better. If you don't have this form on hand when you need to show proof, you can alternatively provide your 1099 forms. 
Caveat: Self-employed individuals don't always have to report income that is below a certain threshold, so tax returns may be an underestimation of your total income for that period. 
2. 1099-MISC form 
A 1099-MISC form is used to report miscellaneous as well as non-employee business compensation for freelancers, contractors, sole proprietors, independent contractors, and self-employed individuals. It's a record stating that a person or entity paid or gave you money for services. This form is one of the more commonly used forms in the 1099 series. You are able to file this form through the IRS online. 
Caveat: You must have made at least $600 in the past year as a self-employed worker to receive this form. 
3. Bank statements 
Bank statements can be used to show your income if you're self-employed or have a side hustle. These statements can come from a savings or checking account, credit card records, or an investment account. These details are usually included in a bank statement: 
Information about your bank and its contact information

Account details, like your bank account number and name 

A summary of transactions, including withdrawals and deposit

A period of time summarized within the bank statement
Caveat: If the bank statements you show are from a personal account, be sure to go through and clearly separate your personal expenses and business expenses before presenting this info as proof of income.
4. Profit and loss statement
Profit and loss statements are forms that track your revenue, costs, and expenses from your business over the course of a year. Normally, profit and loss statements cover the following: 
Your revenue

Your expenses 

Business-related deposits

Net profits 

Costs of goods sold 
These statements can be created on your own or with the help of credit companies.
Caveat: Profit and loss statements are more easily accessed by those who operate their own businesses, but an accountant or software can help you obtain these forms if you're a freelancer. 
5. Online payment records 
If you're a freelancer or sell your services or products online, chances are you use an online payment method through a service provider. These providers usually offer monthly or yearly breakdowns of payments received and issued from your account. 
Caveat: Not all of your income may be tracked on these platforms, but it at least provides proof that you do have a steady cash flow.  
Proof of income considerations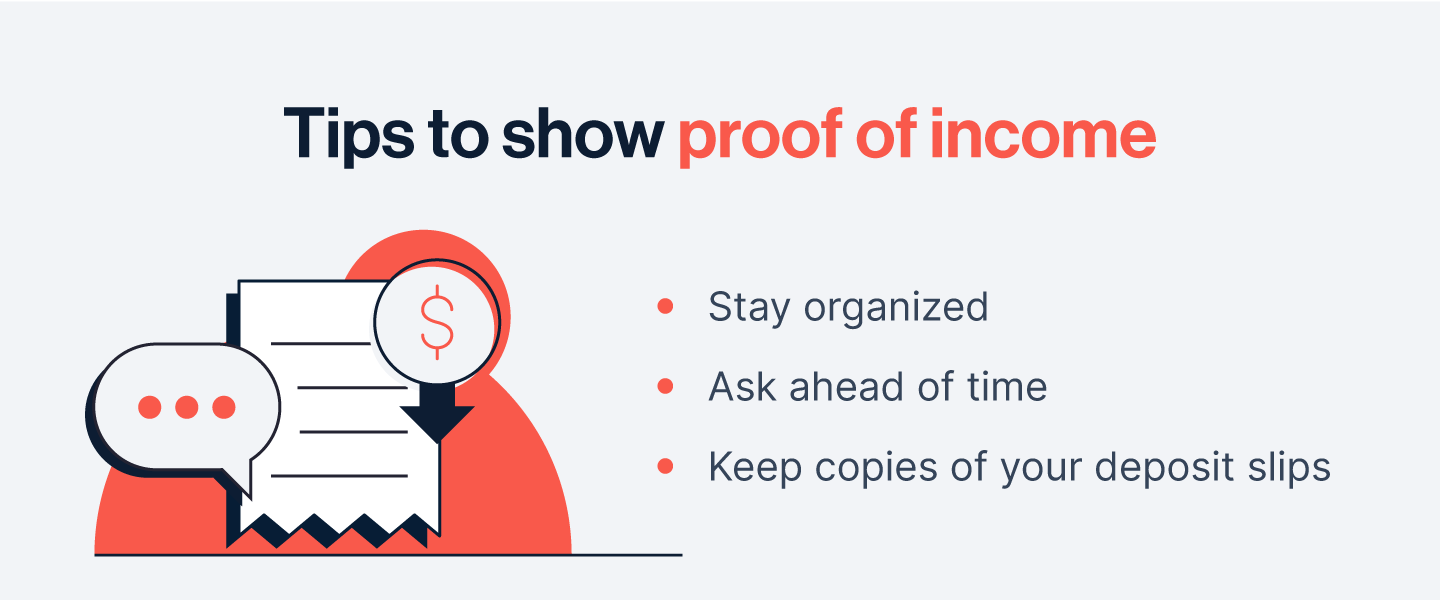 Here are a few considerations and tips to keep in mind to make showing proof of income as simple and successful as possible:  
Stay organized: To make showing proof of income easier, stay as organized as possible and keep track of all business expenses and payments. 

Ask ahead of time: Knowing which documents lenders require will also make the process smoother. Get in touch with lenders ahead of time to see what they need. 

Keep copies of your deposit slips: Keeping a paper trail of deposit slips can provide proof of income since they're a record of money going into your account. 
Proof of income made simple 
Showing proof of income for the self-employed is still important even if you're working for yourself, but it doesn't have to be complicated. After being self-employed for a while, you'll have a larger paper trail of proof and documentation and it will become easier to provide each time. 
If you're starting your own small business, be sure to invest in a card processing system or charge cards to make accepting payments from new customers easier. 
Solo makes it easy to pay, get paid, and track spending
Solo is not a bank, but is a financial super-app for small businesses, freelancers, sole proprietors, contractors, and more. Solo is the easy way to pay, get paid, and keep track of your spending. Your customers don't have to sign up to pay you, and can use several payment methods, including Apple Pay, Google Pay, and cards. QR codes make it easy to get paid, and you can easily cash out your Solo account balance for free, or spend it using your Solo Cash Card anywhere Visa is accepted. Learn more at Solo.co.
Solo

is the easiest way for small businesses to pay and get paid.

Solo mobile app is now available for everyone
Scan QR to download the Solo App
Solo mobile app is now available for everyone