Starting your own business can feel overwhelming, especially when it comes to costs and filing taxes. Luckily, there are tax break benefits you can take advantage of, including car, home, insurance, education, and retirement costs. 
If you want to start your own business or already work for yourself, here are 15 self-employed tax deductions to take this year.  
NOTE: We have made a reasonable effort to provide accurate information, but we are not tax attorneys or accountants. This article is for informational purposes only, and Solo does not accept any liability for the use or misuse of this information. Consult a tax professional familiar with your state's laws.
What is the self-employment tax deduction?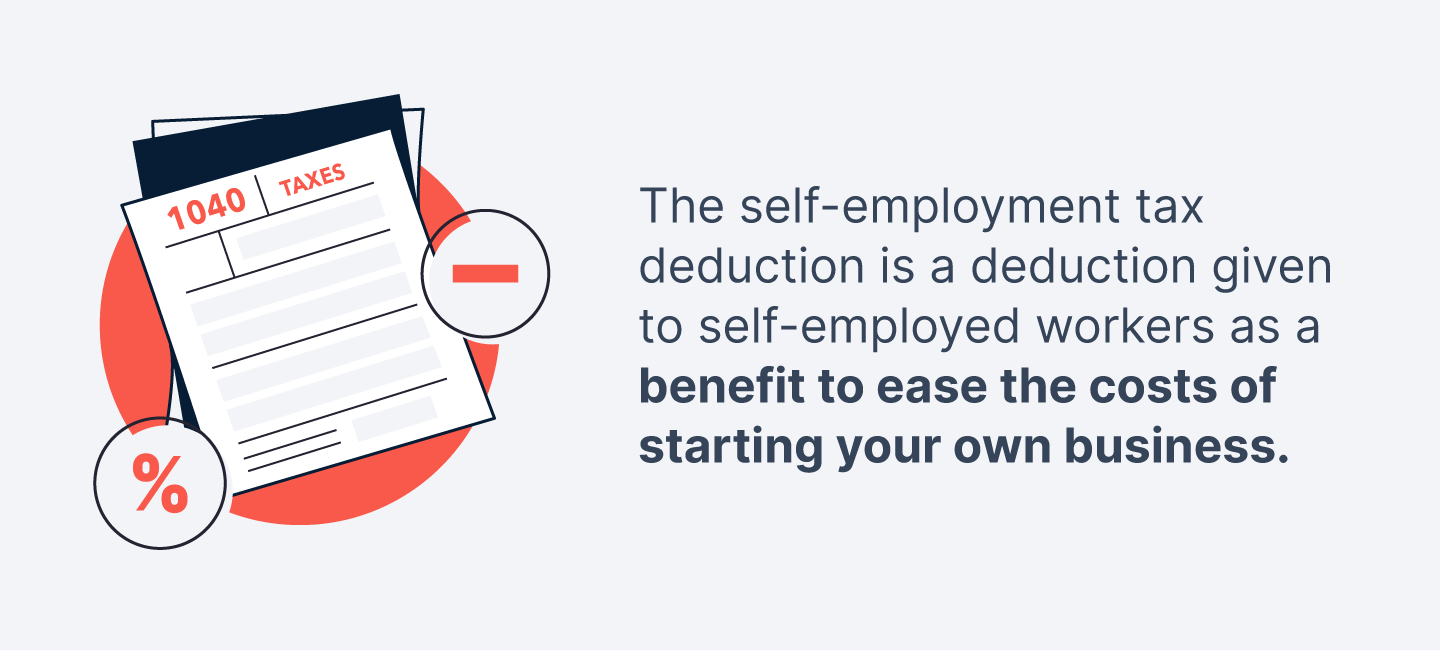 The self-employment tax deduction is a deduction the IRS gives to self-employed workers to soften the heavy costs of starting your own business. This self-employment tax deduction provides great benefits for entrepreneurs who have sole proprietorships, partnerships, and limited liability companies (LLCs).
Those who are self-employed can deduct their business-related expenses on Schedule C of Form 1040 during tax season. If you're eligible, you can deduct up to 20% of your qualified business income (QBI). 
Note: As of 2022, the self-employment tax rate is 15.3% of net earnings, consisting of 2.9% Medicare tax and 12.4% Social Security tax.   
15 Tax deductions for the self-employed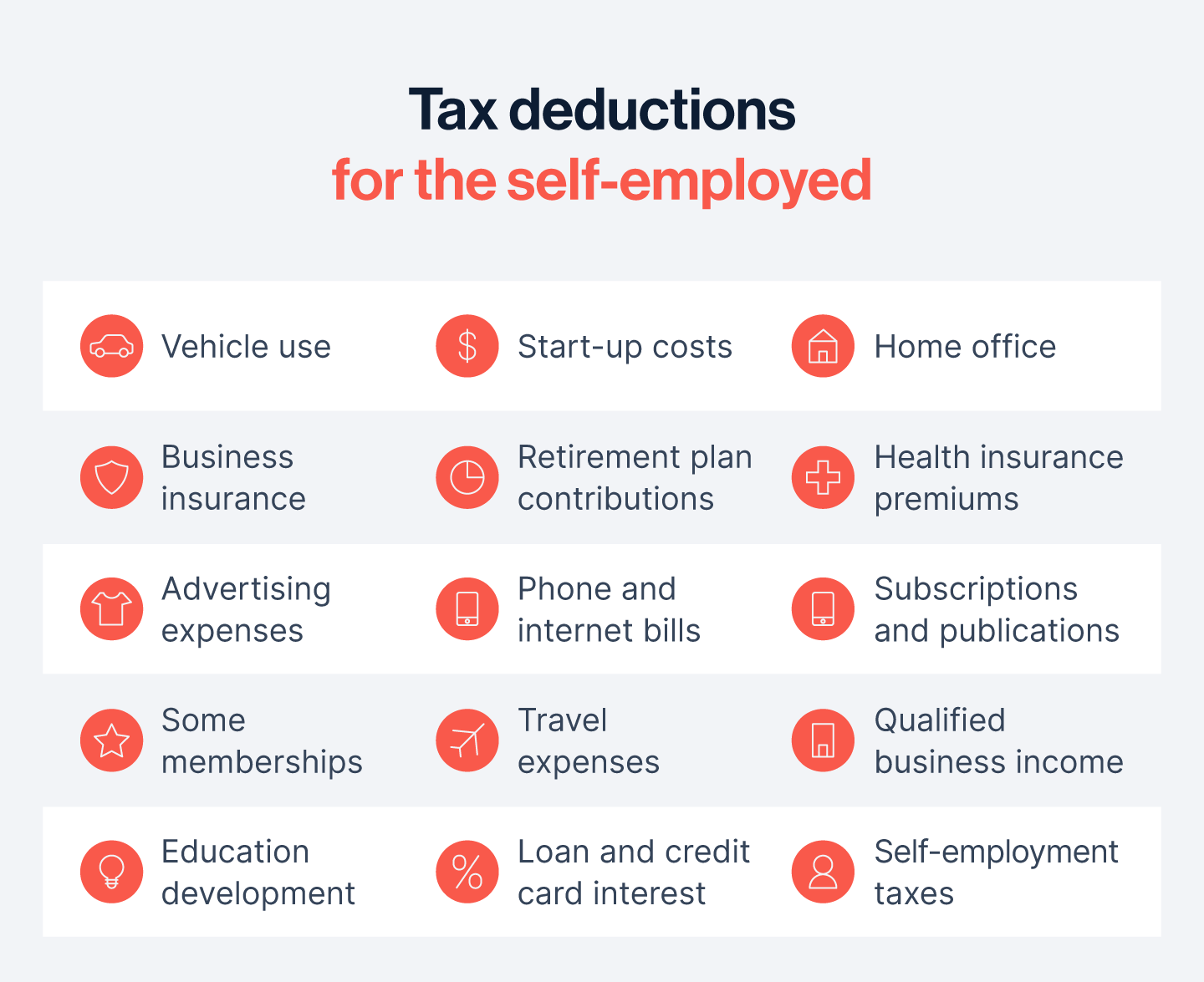 Many self-employed individuals can take advantage of tax deductions, including writers who work from home, rideshare drivers, designers, photographers, consultants, and more. 
Here are 15 self-employed tax deductions you can file on your next tax return.
1. Vehicle use  
If you use your personal car to make business-related trips, such as making deliveries or performing other services, you can deduct the mileage when tax season rolls around. When it comes to claiming vehicle use on your taxes, there are two options: 
Standard mileage: This allows you to deduct the number of miles you used for business purposes. 

Actual expense: This option requires you to calculate how much it costs to operate and maintain your car for business use. 
What you need to know: You can file tax deductions for vehicle wear and tear or mileage on your tax returns.  
2. Home office 
Running a business out of your home has its perks—including deductions on home office expenses. With this, you're able to deduct the costs of: 
Utilities 

A portion of your rent or mortgage 

Property taxes 

Maintenance 
You can also deduct your home office supplies that you use in day-to-day operations. 
What you need to know: First, find out the percentage of the square footage in your home that you use for your business-related activities. That percentage of your rent or mortgage may be deductible according to the IRS. 
3. Business insurance 
If you run your own business and have employees, you can consider deducting your business insurance premiums. This includes: 
Employee accident insurance 

Employee health insurance 
What you need to know: When deducting business insurance, you're only able to claim the amount for the tax year it relates to. For example, if you paid $20,000 on Jan. 1 2022 for a business insurance policy that covers two years, you can only deduct $10,000 each of those two years. 
4. Advertising expenses 
Boosting your business's or side hustle's presence can carry a cost—especially when it comes to advertising efforts. You may be eligible for a deduction if you pay for any of the following: 
Facebook ads 

Google ads 

Billboards

Business cards 

TV commercials 

Flyers 
What you need to know: Schedule C contains a line where you can report your advertising expenses.  
5. Some memberships  
Some memberships may be tax deductible, such as for a professional organization related to your industry of expertise. A professional organization can include: 
Business leagues  

Medical or bar associations

Real estate boards 

Trade associations

Public service organizations 
What you need to know: This does not apply to country club memberships. A legitimate membership does not provide entertainment or access to facilities that provide entertainment. 
6. Education development 
Running or starting your own business takes expertise and knowledge, so continuing your education is important. You can deduct educational development from your self-employment taxes — this can be anything educational, including:  
Books 

Supplies 

School tuition 

Class costs 

Lab fees

Transportation to and from education-related locations 
What you need to know: According to Publication 970 from the IRS, you can deduct these expenses only if they "maintain or improve skills needed in your present work." 
7. Start-up costs 
Costs can add up when you start your own business—but there may be an opportunity for you to deduct the expenses you made to get everything up and running. This self-employed tax deduction usually includes the costs of: 
Grand opening advertising 

Wages and salaries for your employees

Consulting fees 

Business-related travel 
What you need to know: According to Publication 535, if your organization's start-up costs do not exceed $50,000, you may be able to deduct up to $5,000. 
8. Health insurance premiums  
Health insurance premiums may also be deducted from your tax returns. Self-employed workers can obtain health insurance by filling out a Marketplace application or qualifying for low-cost coverage through Medicaid and CHIP programs. 
If you're self-employed, you can usually deduct these as a business expense. To do so, you must show one year of a net business profit. 
What you need to know: These deductions include dental, medical, and long-term care plans for you and your spouse, dependents, and kids under the age of 26.  
9. Phone and internet bills 
Phone and internet bills are usually all part of the job—especially if you work from home. As a self-employed worker, you can have your phone and internet bills deducted. 
What you need to know: Maintain a record of your internet and phone usage and only deduct the percentage that was used for business-related purposes.  
10. Travel expenses 
If your business operations require you to travel frequently, then you may be able to deduct those expenses. This business travel deduction covers accommodation and travel costs but does not include leisure or entertainment costs. Some of these expenses include: 
Cost of plane or bus ticket

Cost of meals 

Cost of hotels 
Be sure to keep accurate records and receipts of all business-related travel expenses to make reporting easier. 
What you need to know: The IRS allows you to deduct 100% of all business-related travel and 50% of meals. 
11. Loan and credit card interest  
Keep track of your business credit card statements to receive potential tax deductions on interest that was gained from business-related purchases. Additionally, almost any interest you pay on a loan is tax deductible. 
What you need to know: A tax-deductible loan can include term loans, business lines of credit, short-term loans, and personal loans, but only if they're business-related. 
12. Retirement plan contributions 
If you're self-employed, you may be able to expense retirement plan contributions that you make to a qualified retirement plan, such as a 401(k). Even if you're a small, one-person business, you can still set up your own 401(k).  
What you need to know: During tax season, you're able to make annual salary deferrals up to $20,500 as of 2022. 
13. Subscriptions and publications  
Those business-related subscriptions and publications you've signed up for can also be tax deductible. The types of subscriptions you can deduct as a business expense include: 
Trade, medical, technical, or professional magazines or journals that are related to your business 

Tool, software, and even business supply subscriptions like printer ink

Fees from hosting your business website 
What you need to know: Add these deductions on Form 1040 Schedule C as "other expenses." If you have a subscription that is prepaid for over a year, you can prorate the cost for each year to deduct that. 
14. Qualified business income  
The qualified business income (QBI) deduction is the net amount of qualified items of deduction, loss, income, and gain that are related to any business or trade. In general words, it's your business's net profit. This does not apply to any business income earned outside of the U.S. 
What you need to know: The qualified business income (QBI) deduction allows those who are self-employed to deduct up to 20% of their QBI on taxes—this only applies if your combined business and personal income is below $164,900 for single filers or $329,800 for joint filers. 
15. Self-employment taxes  
Additionally, you can deduct self-employment taxes as a business expense. Social Security and Medicare taxes are deducted from self-employment taxes. The self-employment tax rate is 2.9% for Medicare and 12.4% for Social Security—15.3% total of all net earnings.  
What you need to know: When filing your income tax return, you can deduct half of your self-employment tax on Form 1040.  
How to calculate self-employment tax 
To calculate your self-employment tax, you first need to figure out the net earnings that you made in self-employment for the year. This is usually gross income minus business expenses. 
About 92.35% of your net earnings may be subject to taxation—once you've figured out how much net earnings are subject to taxation, apply the 15.3% tax rate.
Self-employment tax deductions FAQ 
Still curious about self-employment tax deductions? Explore the frequently asked questions below.
What is the 20% self-employment deduction? 
The 20% self-employment tax deduction is placed on net business income. This tax deduction applies to sole proprietors, LLCs, partnerships, pass-through entities, and shareholders in S and C corporations. 
What deductions can I claim without receipts?
It's difficult to keep track of all of your day-to-day receipts. With that being said, there are some deductions that you can claim without receipts. These deductions include: 
Loan interest

Maintenance 

Insurance 

Fuel 

Registration 

Charitable donations 

Membership fees 
It's always safe to keep track the best you can and log your credit card statements to make things simpler when tax season approaches. 
Is car insurance a tax deduction?
Car insurance is considered a self-employment tax deduction. Those who are self-employed can deduct car insurance from their taxes. When it comes to your business-related vehicle, there are a few other deductions you can add, including: 
Gas and oil 

Tires

Tolls and parking fees

Car repairs 

Garage rent 

Lease payments 

Registration fees 

Depreciation 
Receive a tax break as a one-person business  
Consider these self-employed tax deductions if you work for yourself or are looking to get your new business off the ground—they can be especially helpful if you want to find ways to save some extra cash. Be sure to sign up for a separate business credit card to make reporting your expenses simpler when tax season begins.  
Solo makes it easy to pay, get paid, and track spending
Solo is not a bank, but is a financial super-app for small businesses, freelancers, sole proprietors, contractors, and more. Solo is the easy way to pay, get paid, and keep track of your spending. Your customers don't have to sign up to pay you, and can use several payment methods, including Apple Pay, Google Pay, and cards. QR codes make it easy to get paid, and you can easily cash out your Solo account balance for free, or spend it using your Solo Cash Card anywhere Visa is accepted. Learn more at Solo.co.
Solo

is the easiest way for small businesses to pay and get paid.

Solo mobile app is now available for everyone
Scan QR to download the Solo App
Solo mobile app is now available for everyone