So, you've finally finished crocheting that blanket or painting that portrait and you're ready to join the millions of small business owners in the United States. What's next? The internet makes it easier than ever for small business owners to sell items online. But with so many marketplace options, it can be easy to fall into information overload. 
And don't get us started on the fees. Listing fees and selling commissions can prohibit sellers—especially small businesses—from making money. In the early days, this can be especially difficult. 
We've put together a list of the best selling sites where small business owners can sell stuff online and considerations to make about each one.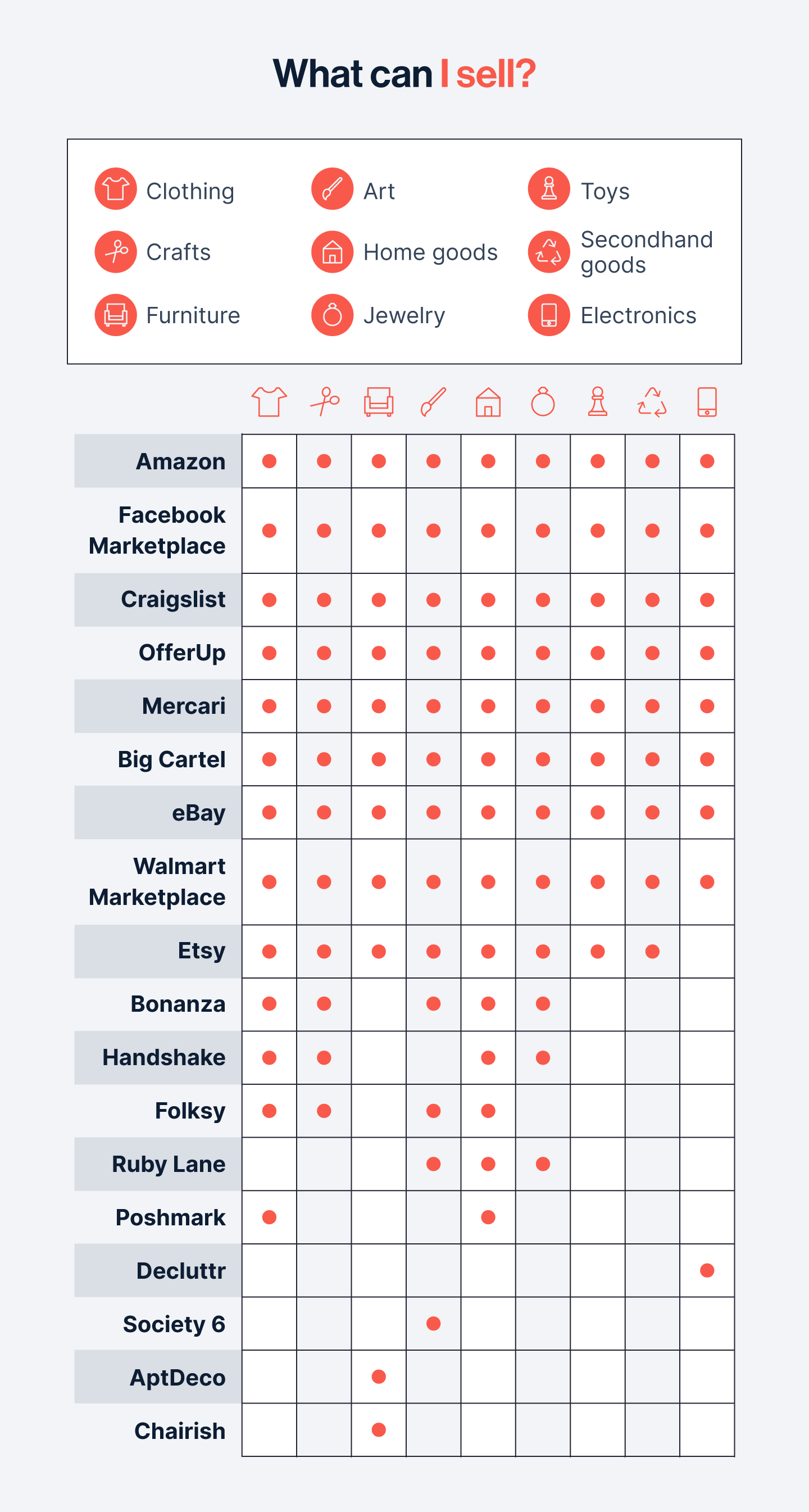 1. Etsy
Etsy is one of the biggest names for online craft marketplaces. With thousands of sellers making everything from personalized portraits to handmade jewelry or furniture, many sellers use this platform to market their business. 
Fees: Listing fees are $0.20 per item, plus 6.5% of each transaction amount. 
Considerations: Many makers have been looking for alternatives to Etsy due to their listing prices. 
2. Amazon 
Amazon is a huge global marketplace. No matter what buyers are looking for, they can find it on Amazon and have it arrive on their doorstep within days. Small business owners can build an Amazon storefront to find customers on the marketplace behemoth. 
Fees: Sellers can pick between plans before selling on Amazon. The plans are the following: 
Individual: $0.99 per item sold, plus selling fees 

Professional: $39.99 per month, plus selling fees 
Considerations: You may have to pay more to market your items on Amazon since there are so many businesses selling on the platform. 
3. Facebook Marketplace
Facebook Marketplace is an online marketplace for people to sell new or used items. Businesses are able to sign up for and sell on this platform, so it's a good place to get visibility for your small business. 
Fees: Facebook Marketplace charges a fee of 10% for sales of $9 or more, or a flat fee of $0.40 for sales of $8 or less.
Considerations: Facebook Marketplace only works for people who have a Facebook account. 
4. Bonanza 
Bonanza's slogan is "Find everything but the ordinary." That speaks to the diverse catalog of entrepreneurs who sell on the site. Bonanza features everything from women's and men's clothing to home goods and beauty supplies. 
Fees: Bonanza operates with a Final Offer Value (FOV), which is the amount the buyer paid for the item plus any amount paid for shipping that exceeds $10. So, if the item costs $20 and shipping is $14, the FOV would be $24. 
From there, the pricing breakdown is as follows: 
FOV of $1,000 or less: 3.5% of FOV

FOV of $1,001 or more: 3.5% of FOV, plus a flat rate of 1.5% of the amount that exceeds $1,000 

Minimum fee: $0.50 per item
You may also pay a higher percentage if you opt in to advertising. 
Considerations: There is no cost to list an item.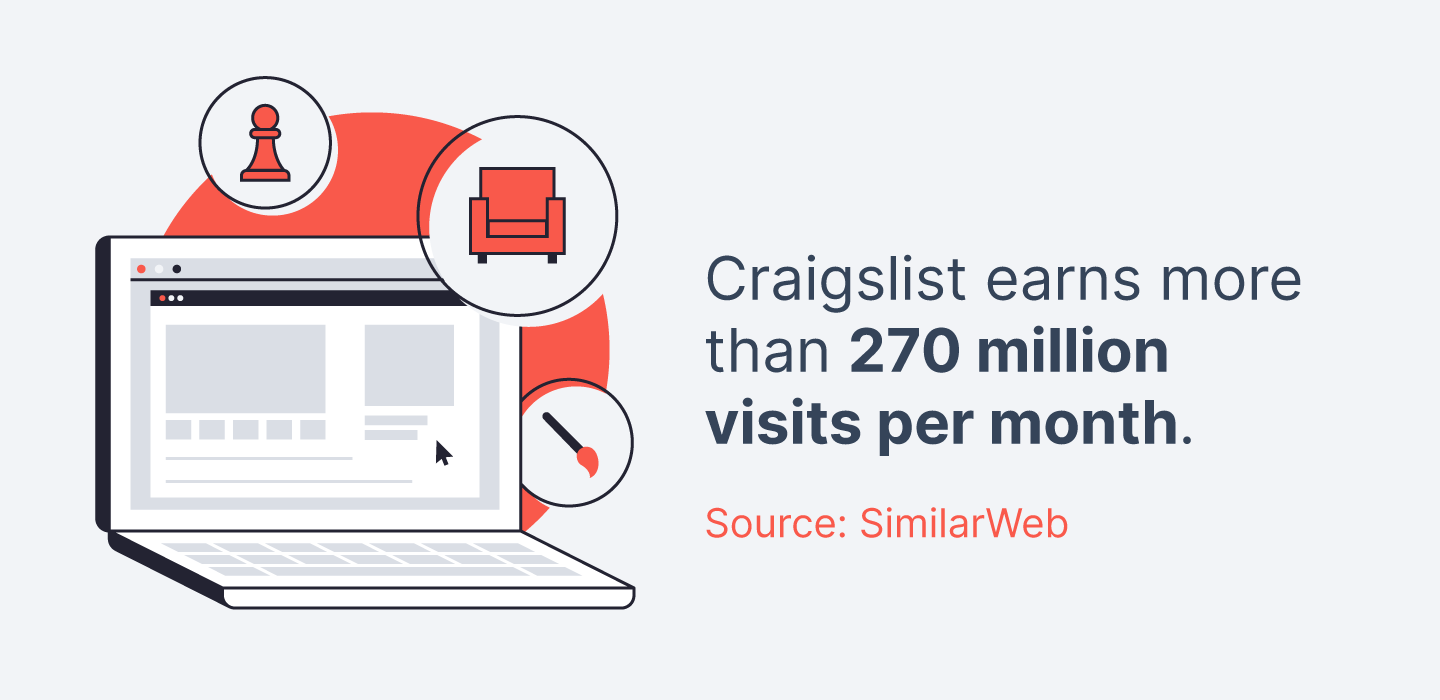 5. Craigslist
While you probably don't think of Craigslist when you're thinking of places to sell your goods, it can be a useful tool for small business owners. Whether you provide a service or you're selling goods, you can list your business on Craigslist to generate some local buzz. 
Fees: None
Considerations: Craigslist can be a breeding ground for robots or scammers, so make sure you're selling to an actual person. 
6. Poshmark 
Poshmark is best known for its secondhand or vintage clothing resellers, but the marketplace allows sellers to list both new and used items ranging from clothing to home goods, accessories, electronics, and pet supplies. 
Fees: For sales under $15, Poshmark takes a $2.95 flat fee. For sales over $15, they take 20%. 
Considerations: Poshmark has a reputation as a website to buy clothes. If you sell something else, you may need to work hard on your marketing. 
7. Ruby Lane 
Ruby Lane is an online marketplace that focuses specifically on home goods, most notably antiques, collectibles, and other vintage finds. However, artisans and other makers also sell on the platform. So whether you're a vintage seller or a jewelry maker, you can find your home on Ruby Lane. 
Fees: The fee is $25 per month for shop upkeep, plus 9.9% of each sale (capped at $250). 
Considerations: Shops that add 15 items in a month get a $25 rebate. So, you can get your shop upkeep fee back by listing 15 items. 
8. OfferUp
OfferUp is a local, consumer-to-consumer marketplace that specializes in local, in-person transactions. This means that small business owners on that platform can use OfferUp as a way to generate a local customer base. 
Fees: The fee is $1.99, or 12.9% of the sale price. 
Considerations: Many people on OfferUp are selling used goods. 
9. Mercari 
Mercari is another marketplace to find secondhand goods, but their Mercari Shops feature allows small business owners and creators to open a storefront and sell their goods on the site. 
Fees: The fee is 10% of the item's cost.
Considerations: Sellers on Mercari may also pay fees for payment processing and shipping. 
10. Decluttr 
Decluttr is a technology-specific resale website. So, if you're in the business of finding, refurbishing, and selling old technology, this could be a good platform for you. Decluttr will determine the value of your computer, tablet, phone, CDs, or other technology and give you a payment. 
Fees: None 
Considerations: With Decluttr, you don't get a storefront or build relationships with customers. It's simply a site to send in and sell old tech. 
11. Society 6 
Society 6 is a place for artists to post (and sell) their designs, but instead of having to create their own products, the artist only needs to upload the design to the marketplace. From there, consumers can purchase the design on a variety of mediums including canvas prints, shower curtains, mouse pads, and more. 
Fees: Artists pay 90% of each sale to Society 6. The exception is art prints, where artists can earn more. 
Considerations: Society 6 fulfills and ships all orders on behalf of the artist. 
12. AptDeco
AptDeco is a marketplace to buy and sell used furniture. The AptDeco website coordinates the pickup and delivery of the furniture after the sale is made, so buyers and sellers don't have to meet up in person. 
Fees: The fee varies between 19% and 38% depending on the brand and selling price of the item. 
Considerations: AptDeco is purely a secondhand resale website, so it would work best for people who refurbish furniture. 
13. Folksy
Folksy calls itself an "online craft fair." So, makers of all kinds can sell their goods on the marketplace. Makers on Folksy sell many types of handmade goods, from home decor to clothing, art and accessories. 
Fees: Folksy has tiered fees for sellers. Sellers can pick one of the following plans: 
Basic: £0.15 plus Value Added Tax (VAT) 

Plus: £7.50 per month

Plus Annual: £75 per year 
Considerations: Folksy is only open to sellers based in the United Kingdom. 
14. Handshake
Handshake is a wholesale marketplace, meaning people who run shops can buy bulk products to add to their inventories. For makers, this means the opportunity to get more eyes on your products if they start stocking your stuff on online or brick-and-mortar stores. 
Fees: None
Considerations: Handshake currently only operates in the United States. 
15. Chairish
Chairish is a vintage and newly made furniture marketplace. A team of curators approves each listing, which they hope means every purchase will be high quality. Resellers or makers can use Chairish to sell furniture, art, and other types of decor. 
Fees: Chairish fees depend on how diligently you use the platform. The tiers are as follows: 
Consignor (fewer than 10 listings): Flat 30%

Professional (10 or more listings): 20% for vintage pieces, 30% for newly made pieces

Elite: 20% for sales less than $2,500; 12% for sales $2,501-$25,000; 3% for amounts greater than $25,000
Considerations: If you're an elite seller with an item between two tiers, you pay the commission rate for the lesser tier and then the new rate only on the difference. For example, if your item sold for $8,000, you'd pay 20% on the first $2,500 and then 12% on the remaining amount of $5,500. 
16. Big Cartel
Big Cartel says it's "made for makers," and boasts that more than 1 million people have sold their goods on the site since it was founded in 2005. Big Cartel lets small business owners create their own storefront with one of their design templates, or you can code your own. 
Fees: Tiered monthly plans range from a free basic plan to a $19.99 plan. 
Considerations: The free plan doesn't require a credit card to activate if you want to try out the platform. 
17. eBay
eBay is an established marketplace for sellers of all kinds. On eBay, you can sell stuff as small as an earring or as large as a car. This is a consumer-to-consumer platform, meaning you'll sell and ship your items directly to your customers. 
Fees: The fee is a percentage of the sale based on the type of item, plus $0.30.  
Considerations: Many buyers look to eBay for secondhand goods. 
18. Walmart Marketplace
Walmart is an established global retailer, and through its online marketplace, small business owners can get their products in front of the world's eyes. Small business owners need to apply to become part of the Walmart Marketplace before they can list their products. 
Fees: The fee varies based on the type of product.  
Considerations: You won't get to build relationships with your customers. 
19. Your own website
For businesses with a little name recognition, building your own website can be a lucrative venture. This allows you total control over your website's design, process, and inventory. But it also puts all the work on your shoulders. 
Fees: The fee varies depending on which service you use to build your website. 
Considerations: Keeping up a website can be a job itself, in addition to the work of making your product and running your business. 
FAQ
Need more answers about where to sell stuff online? We've got them. 
How can I sell things online for free? 
There are some online marketplaces that allow you to sell for free, including Craigslist or Facebook Marketplace. If you're willing to put up with a little more grunt work to get your name out there and weed out scammy buyers, these marketplaces will allow you to list free of charge. 
Where can I sell things online fast? 
There's no surefire way to ensure your product will sell quickly. The speed with which your product sells will depend on things like quality, marketing, and price. 
Where can I sell things online and get paid instantly? 
Many marketplaces now have an option for makers to get paid instantly. On some, you pay an additional fee to get the money transferred instantly, or you can avoid the fee if you're willing to wait a few days for the bank transfer. 
Find which platform works for you
We know each business is unique, which means each business has a unique set of needs. When starting your business, finding the right e-commerce platform to sell stuff online can be a challenge—not to mention the rest of small business management. 
Solo makes it easy to pay, get paid, and track spending
Solo is not a bank, but is a financial super-app for small businesses, freelancers, sole proprietors, contractors, and more. Solo is the easy way to pay, get paid, and keep track of your spending. Your customers don't have to sign up to pay you, and can use several payment methods, including Apple Pay, Google Pay, and cards. QR codes make it easy to get paid, and you can easily cash out your Solo account balance for free, or spend it using your Solo Cash Card anywhere Visa is accepted. Learn more at Solo.co.
Solo

is the easiest way for small businesses to pay and get paid.

Solo mobile app is now available for everyone
Scan QR to download the Solo App
Solo mobile app is now available for everyone