In this article:
8 Chicago events to add to your 2022 business calendar
Wherever your business is located, you can and should take advantage of local events. Whether that is a 2-day business conference to help your team members grow and develop in their roles or a fun family fair in the next town over, these are opportunities to grow your business. 
We've highlighted several Chicago area events that you should consider adding to your calendar. Check them out and see which ones you can actively participate in. Even large, regional events can benefit smaller local businesses if you know how to benefit from the hype and the extra visitors. 
PLEASE NOTE: We have made every attempt to be accurate in our information but unforeseen circumstances may arise. Please consult the websites for the individual events and confirm the status of the events you wish to attend.
Chicago Auto Show
When: February 11-20 2022
Check back at chicagoautoshow.com for more specific times and dates as we get closer to the event.
The Chicago Auto Show is the nation's largest auto show, featuring vehicles all across the board to show consumers the newest and greatest automobiles to date as well as the classics that will never go out of style. 
Whether your business is in the auto industry or not, this is a valuable opportunity to gain some traction with your customers. If you are in the auto industry, see what it takes to participate in the show and bring in more customers that way. 
And if you're not, then take advantage of this national event by creating fun discounts and deals related to the show. Share that on your social media channels, website, and storefront to bring in more customers throughout the week of the show. 
Maxwell Street Market
When: Sundays, March-December
The Maxwell Street Market starts March 1 and generally goes through the Sunday before Christmas. Every Sunday, Maxwell Street is open to vendors across multiple industries to sell their goods. Become a vendor at the Maxwell Street Market this year or during the market, offer some fun deals at your business to bring in more customers while they are out browsing through the market. 
Learn more about becoming a vendor at chicago.gov.
DigiMarCon
When: May 9-10, 2022
DigiMarCon is one of the largest digital marketing conferences in the world. At this conference you will learn the best ways to keep up with your competition through digital marketing strategies and which methods will be most valuable for your business. 
You'll have the opportunity to learn from the industry's best, including speakers from Microsoft, Adobe, SEMRush, NBC Sports, Amazon, Paypal, Hubspot, Pizza Hut, and many, many more. 
Sign your marketing team up for this conference now at digimarconmidwest.com.
Chicago Small Business Expo
When: May 19, 2022
Don't miss out on the Small Business Expo. This national expo is perfect for entrepreneurs in every industry. Hear from speakers on ways to enhance your business strategies, participate in workshops, and network with other local businesses. 
The best part is your team can attend the event for free! Sign up now at thesmallbusinessexpo.com.
Illinois State Fair
When: August 11-21, 2022
Located in Springfield, just three hours south of Chicago is the Illinois State Fair. Businesses can gain new customers by setting up a booth at the fair. People from all over the state gather at the fair to have fun, and as they escape the heat to check out the exhibits, they may just find what they have been looking for at your booth. 
Whether you are a service or product-based business, you can benefit from having a booth at the fair. Learn more about becoming a vendor at illinois.gov.
Chicago Blues Festival
When: June 9-12 2022
Chicago is a hub for culture. With a diverse lineup celebrating the blues' past, present and future, the Chicago Blues Festival shares the great Chicago-born music tradition while shining a spotlight on the genre's contributions to soul, R&B, gospel, rock, hip hop and more. Get more info at Chicago.gov.
Annual Jazz Festival
Bring your team to the event to improve morale and have some fun, but also get your customers excited about the fun through sweet deals and themed discounts at your business. Be sure to check out the other annual music festivals that are taking place at the Chicago Cultural Center to see if these events can provide even more opportunities for your business to gain awareness. Info here.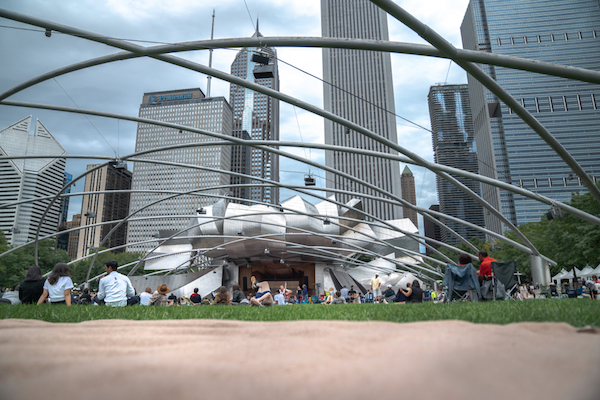 Winter WonderFest at Navy Pier
When: (may resume in December 2022)
Winter Wonderfest has become a huge annual festivity at Navy Pier during the holidays. Fifth Third Bank hosts this year-end event by setting up the city's largest indoor winter playground. With carnival rides, an ice-skating rink, holiday-themed activities, a giant slide, vendors, and much more, families gather from all over the state to join in on the fun.
Participate in the fun by taking your team to enjoy the festivities and offering themed discounts and offerings throughout the festival. Stay up to date on this year's activities by checking back on the event at navypier.org.
Solo

is the easiest way for small businesses to pay and get paid.

Solo mobile app is now available for everyone
Scan QR to download the Solo App
Solo mobile app is now available for everyone