Small business owners wear many hats, especially when they're just getting started. Marketing is your avenue to engage with customers and nurture them through the buyer's journey. There are lots of opportunities to find and market to potential clients—you just need to know where to start.
It's easy to get overwhelmed by the many tasks associated with small business marketing. Between posting on TikTok, responding to Google reviews, and creating a DIY website, keeping up with your outreach strategy can begin to feel like a juggling act. The good news is that you don't need to master every marketing channel to get the word out. 
As you get started, focus on keeping things simple and setting up a good foundation. Here, we'll go over the fundamentals of small business marketing so you can have everything covered.
Step 1: Identify your target audience
You need to understand your customers to ensure your marketing channels, messaging, and goals are helping you reach the right people. The more tailored your marketing efforts, the better. 
Get to know your target audience by defining customer personas. These are profiles of your customer that reveal demographics and other traits. You may have already started creating customer personas when you started your business. If you haven't already, you need to use data to get a clearer picture of your customers.
Your data should help you understand what motivates your customers to buy from you. Otherwise, you risk collecting irrelevant information.
Here are a few things you should plan to find out when gathering your customer data:
What issues they want solved
What motivates them to buy
What they research before making a purchase
What platforms they make purchases
What blogs and influencers they follow
What's important to them (friends, family, causes, etc.)
What they expect when interacting with brands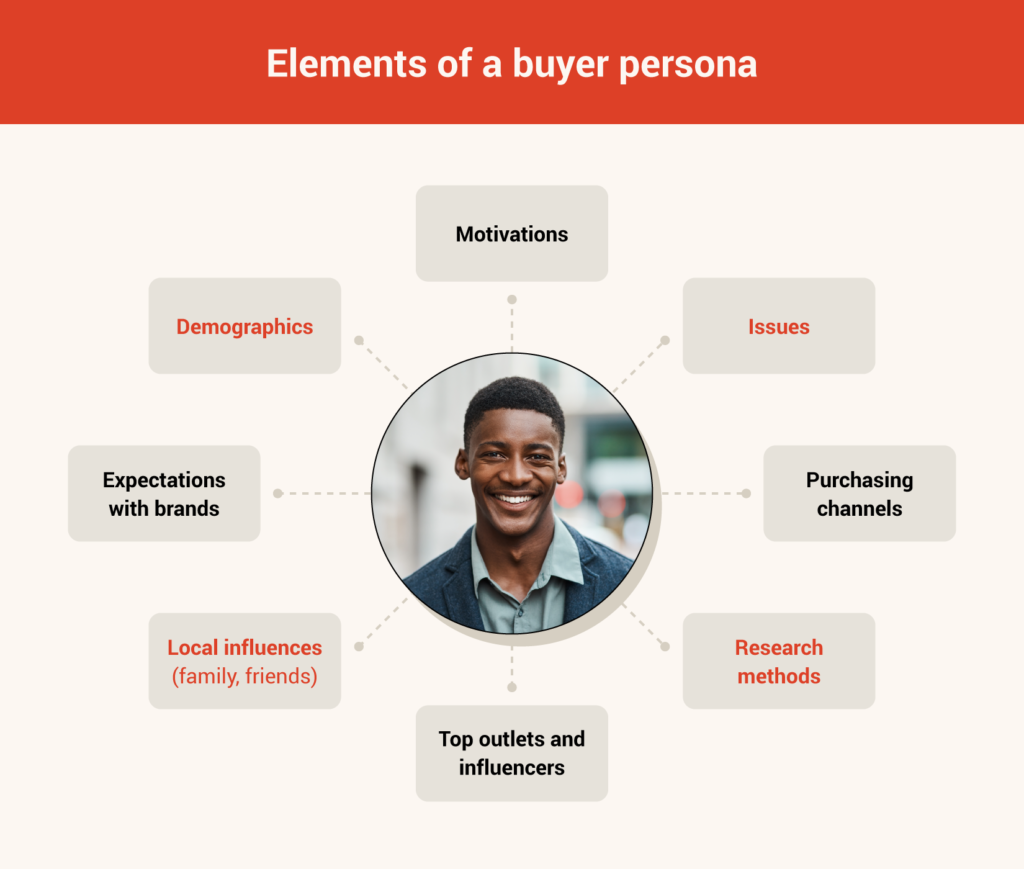 This information helps you determine what channels you should use to reach your audience. For example, if your target market watches videos to research products, video platforms are probably the best ways to reach your potential customers. 
Below are a few ways you can collect information on your customers and what type of information you can expect to get.
Social analytics: Basic demographics, content performance
Website analytics: What devices customers use, how they navigate your site
Surveys: Customer opinions, answers to specific questions
Customer interviews: In-depth customer insight, suggestions for future initiatives
Contact forms: Specific demographics like industry or job title
Sales team insights: Customer difficulties, common customer questions
You may not have a lot of data if you just started your business. If you don't have the resources to conduct surveys or formal interviews, start with what you know.
Start with the problem your product or service is meant to solve. Chat with your initial customers to learn what they do and don't like. Write this all down and flesh out your personas as you learn more. 
Lucas Travis, founder of Inboard Skate, says that learning what your customers need and want is the most overlooked thing small business owners do. He says that understanding their needs helps you develop a unique selling proposition, which we'll talk about in the next step.

Step 2: Define why you're different
After you understand your audience, you need to define your unique selling proposition (USP) and your value proposition (VP). 
Let's look at pet sitter and dog walker service Rover as an example. Rover's USP is that they're the "world's largest network of 5-star pet sitters and dog walkers." Rover is available in more than 24,000 neighborhoods around the world. Rover's competitor Wag! is only available in 4,600 cities in the United States.
Rover has two VPs: one for those who use their service to find pet care and another for those who provide pet care. For those looking for pet care, they can rest assured that Rover will help them find the perfect pet care provider. For those who provide pet care, they can trust that Rover will empower them to run their business with the tools and security backed by a global company.
Step 3: Take control of your online presence
We recommend taking control of your online presence before spending any time and money on marketing. You don't want to miss out on potential customers while you're working on your marketing plan. There are also some tasks you can do now that will make your future marketing efforts more effective. Below are some important to-dos to check off your list before moving further.
Create a simple company website: Include basic information about your business, like your contact info
Claim all your business pages on Google My Business, Facebook, and Yelp: Ensure your listings include accurate details like hours of operation and contact info
Actively read and respond to customer reviews on your listings: Respond to reviews sooner rather than later to make a good impression
Encourage your happiest customers to share their feedback online: Positive reviews and comments provide greats social proof and potential content for other marketing channels
Go to step five to learn more about setting up your website and step eight to learn more about setting up your listings.
Step 4: Build out your marketing plan
This is the stage where you'll take your customer research, USP, and VP to build out your plan. 
Identify your competitors
If you haven't already, you should identify a few direct competitors in your industry. Look at what marketing strategies are doing well for them and what you can do to improve on their tactics. Knowing how they operate can spark ideas you wouldn't have thought of on your own. Monitoring their social accounts and news mentions is another easy way to keep tabs on them.
Analyze your current situation
To create your marketing plan, you need to assess where your business stands. Start with a simple SWOT (strengths, weaknesses, opportunities, threats) analysis. Sit down with your team and determine each of the following:
Strengths: The things that your company does well and sets you apart from competitors (your best performing products, services, etc.)
Weaknesses: The areas that need improvement or more resources to improve performance (includes products or services that are not performing well) 
Opportunities: External factors that benefit your business (new technology to improve processes, an increase in market share, etc.)
Threats: External factors that could negatively impact your business (a shift in consumer demand, competitors who have a large market share, etc.)
This analysis reveals what areas you should prioritize. For example, if you have strong engagement on social media, but low website traffic, you can adjust your content strategy to push more of your followers to your website.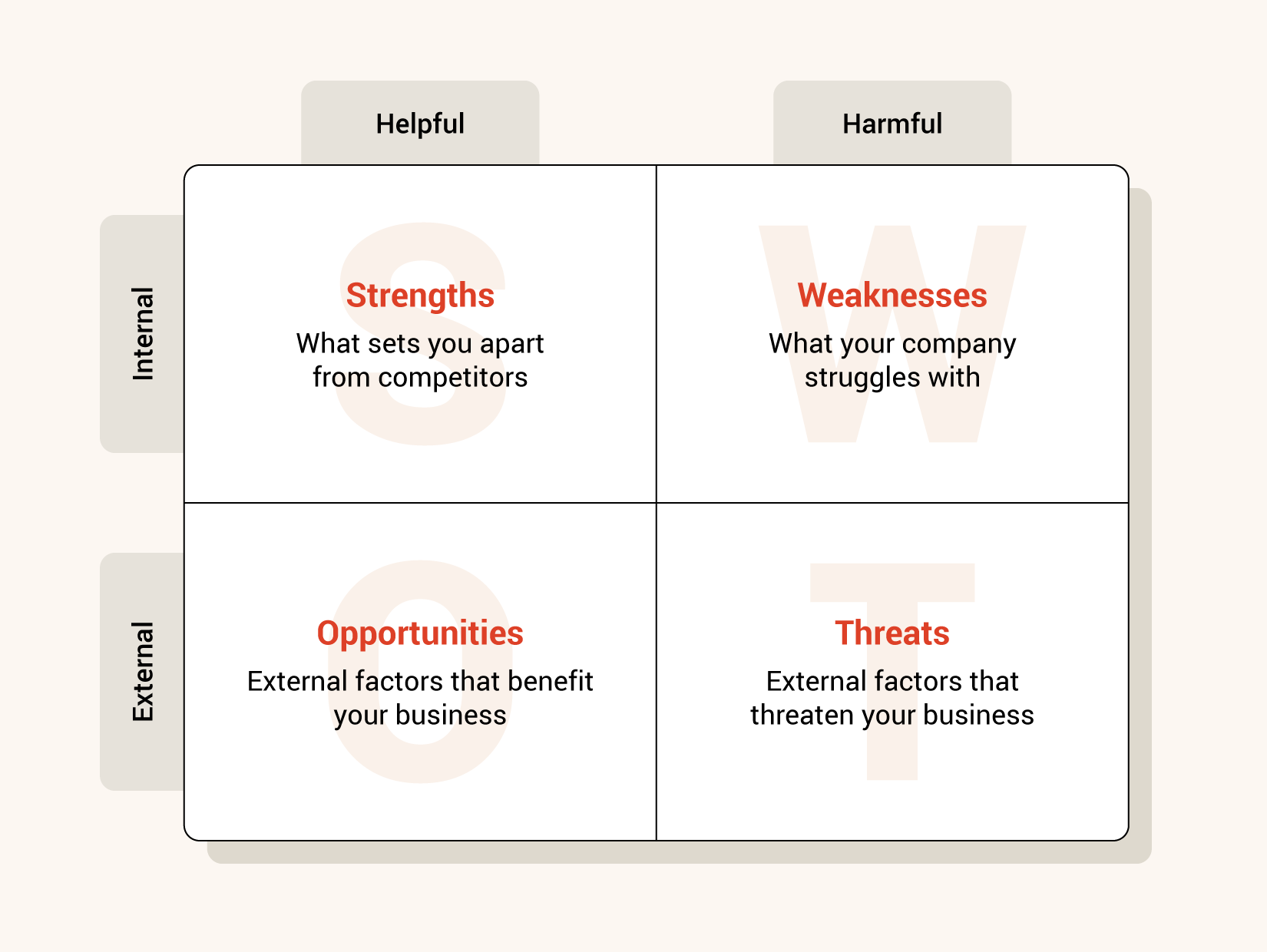 Set goals and KPIs
A KPI, or "key performance indicator," is a metric that measures progress towards a particular  goal.
For example, if your goal is to increase conversions on your website, you can use the following as KPIs for customers gained through your website.
Sales qualified leads (SQLs): Write down how many sales qualified leads you get from those who first contacted you through your website
Return on investment (ROI): Record how much you invested in the website. Then, compare that investment with the value of the number of conversions your site gets
Cost per conversion (CPC): Keep track of how much your ads cost compared with the number of conversions they get
Use the SMART method to create your goals. SMART stands for Specific, Measurable, Achievable, Relevant, and Time-bound.
Specific: Clearly state what you want to accomplish, why it's important, and who and what is involved
Measurable: Pick a metric to track progress
Attainable: Create a realistic goal based on your time and resources
Relevant: Ensure your goal relates to your business's big-picture vision
Time-bound: Set a deadline to achieve your goal
For example, a SMART goal could be: "Our site should see a 25% increase in organic traffic by the end of the year."
James Watson, owner of Omaha Homes For Cash, says that KPIs are critical to marketing success. According to him, they help you focus on what works and eliminate tactics that eat up your budget.
For example, Watson says his team started marketing campaigns on many marketing platforms. However, their marketing budget failed to make an impact when they were spread thin. They regrouped and saw that direct mail marketing and SEO gave them the best return. Once they mastered those marketing channels, their results skyrocketed.

Carve out your budget
Set your marketing budget while you're in the planning stages of your marketing strategy. Determining your budget earlier on makes it easier to decide how you can make the most of it. The U.S. Small Business Administration recommends allocating 7-8% of your gross revenue towards marketing. If competition levels are high in your area, you may need to increase that amount a bit.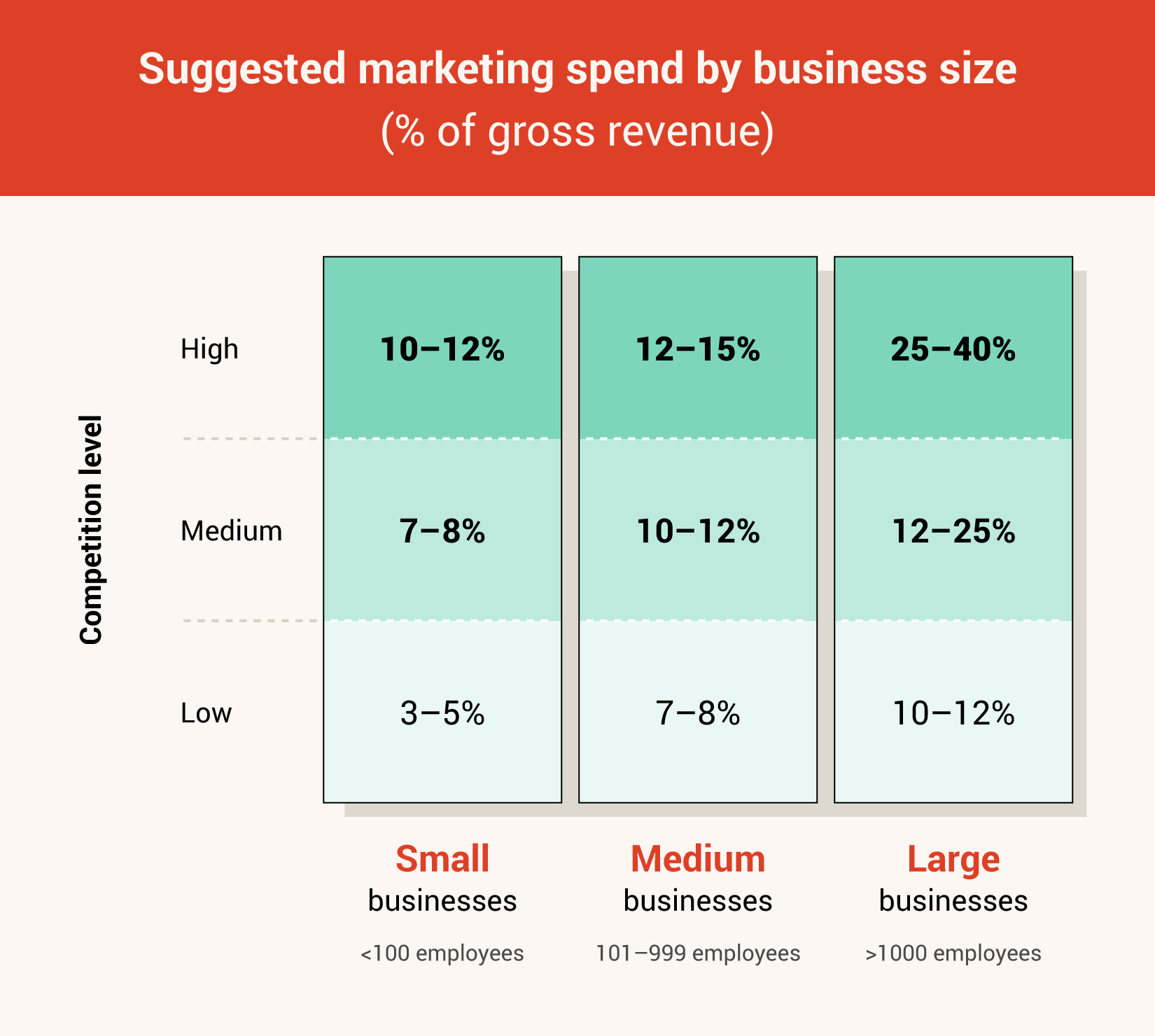 Pick your channels
There's no harm in starting out with only two or three channels if you don't have that many resources.
Teri Shern, co-founder of Conex Boxes, says you shouldn't invest in marketing channels that aren't useful for your business. Her company doesn't have social media pages since they don't fit their business model. Instead, their main channels are email, digital ads, and their blog.

Finalize your schedule and roles
The more specific you are with your schedule, the better. Aim to plan six months to a year out if you're just getting started. You only have to worry about smaller adjustments as you go if you plan a lot up front.
This is also the time to assign responsibility for each task. For example, you can be in charge of setting up social accounts while someone else is in charge of creating content and managing responses.
Analyze and adjust your plan
Your marketing plan is not set in stone. You're free to make tweaks if you find that something you originally planned isn't getting the results that you want. KPIs help you see where you need to adjust.
For example, you might notice that behind-the-scenes photos consistently get the lowest engagement. This is a sign that you should revisit these types of posts and adjust your strategy.
However, there's a balance with this. You shouldn't change your strategy every week, as this will make it difficult to test if something is working. Plan to revisit your marketing plan at least once per quarter. You should also revisit your plan at the end of campaigns or when something changes with your product, services, or internal marketing team. 
The next steps you'll take depend on the goals, priorities, and channels you've set in your marketing plan. 
Step 5: Create a website
A website is one of the important foundational aspects of your small business. It's a trusted source of information about your business and a natural part of the customer's research process. 31% of consumers visit a business's website after reading a positive review. 
Customization is much more flexible with your own website than on other channels. Instead of conforming to preset profile layouts, you can control the entire user experience on your website. You can even set up an ecommerce store to exclusively sell your products or supplement your brick-and-mortar operations. 
A website can also generate organic traffic through SEO and content-marketing efforts. We'll go over these opportunities in step five. For now, we'll go over the basics of what to include in your website.
Create your site
You don't need to set up a fancy website—it's more important to have a visually appealing website that's easy to navigate. One study found that you have 50 milliseconds to make a good impression with your website. Keep your website simple so users can get to the information they need as quickly as possible.
At a minimum, you should include the following information on your website.
About: Explain what your company is and why customers should trust you 
Contact and locations: Include your phone numbers, emails, social media accounts, online listings, and addresses
Product and service pages: Create a page for each product or service
Here are a few features to include when setting up your website.
Mobile friendly: Keep your site mobile-friendly by using legible fonts and small image sizes to prevent slow load times
Google Analytics or similar: Set up Google Analytics or a similar platform to keep track of metrics like traffic and conversions
Newsletter sign-up: Put this in a prominent spot so users can sign up for email updates
Accessibility: All websites should be accessible to everyone regardless of ability. One example of an accessibility feature is adding relevant alt text to describe images 
Social media: Add links to your social media accounts in the header or footer
You can hire a web developer or use a website builder to create your site. There are factors to consider like costs, functionality, and your ability to make updates. Consider what's most important to you before you make a decision.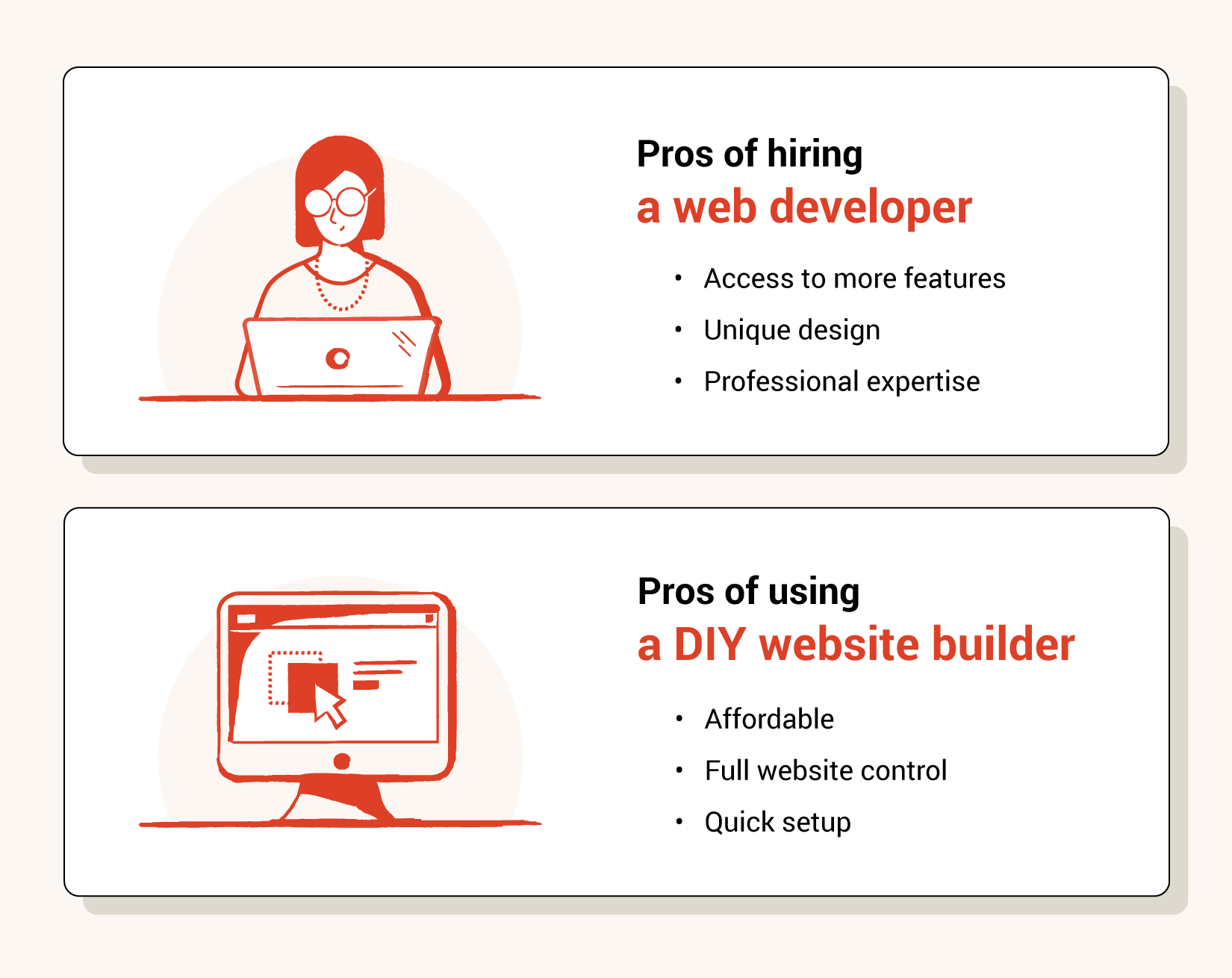 Step 6: Optimize your pages for SEO
SEO is the process of improving your site so it's more visible for search engines and their users. Search engines want to display the highest quality and most relevant pages for every search query. The better your SEO, the higher you show up on the search results page.
Google is the top search engine, so most of our advice aligns with Google's best practices. The good news is that Google's guidelines are similar to other search engines, like Bing.
For example, organizing your products or services in categories makes it easier for Google to understand what pages are most important. It also makes it easier for users to navigate your site.
Google may rank your site lower if you don't follow their guidelines. Some common SEO mistakes include having too many broken links on your site and missing title tags for some of your pages.
Here are a few general things to keep in mind when thinking about ways to improve your SEO.
Functioning website: Fix any broken links, pages, or features
Good user experience: Make sure your site loads fast and is logically organized
Logical page structure: Aim for a simple, skimmable page structure so users can easily find information they need. Use headers, bolding, and bullets to guide readers through each page
Optimize for keywords: Optimize each page for one keyword. For example, if you sell marketing services, "social media marketing" should have a separate page from "event marketing." People searching for those specific services can more easily find your site. If you only have one page that describes all of your services, they're less likely to show up in the search results
Succinct and descriptive titles and meta descriptions: Use short title tags and descriptions for each page on your site. Download plugins like Yoast to easily edit and optimize these
Backlinks: Look into ways to get links from other sites, also known as backlinks. These links are like a vote of confidence for your content that passes link equity from their site to yours. The more relevant and reputable the site linking to you, the better that equity is for your site. For example, if you get a link from the American Kennel Club to your pet store's website, this is one sign that you're a trustworthy source in the pet industry. A healthy profile of links can improve your site's overall rankings
Internal linking: Create pages that users can navigate to  by clicking on it somewhere on your website. You may end up creating an orphaned page that the user can't access without knowing the URL 
To start, use free SEO auditing tools to see where and how you should improve. For example, a tool can point out if you have pages that run slow or have missing titles.
As a small business owner, it's important to focus on local SEO to show up for users in your area. You can accomplish a lot of this by claiming your business listings. We'll go over listings in step seven.
Dive into content marketing
For the purpose of this guide, we use content marketing to refer to blog content. You can start a blog to educate your customers. This helps you reach people who are in different stages of the buyer's journey.
We'll go back to our pet store example to explain how this works. If you want to reach potential pet store customers, you can write a blog post on ways to help your dog sleep. The person searching for help is probably not ready to buy a dog bed or other pet supplies. They're more likely doing their research to see what remedies work best for their dog.
Although this person won't immediately purchase when they land on your blog post, they will familiarize themselves with your business. They're more likely to think of you when they're ready to make a purchase down the line.
Now that this potential customer is on your website, they can subscribe to your newsletter, check out your social accounts, read other blog posts, and learn more about your brand. 
In addition to organically getting customers through your blog post, you can also promote blog posts in your newsletters and social media to get those customers to your site. You can also directly reach out to bloggers and outlets to see if they'd like to share your post with their audience.
Promoting blog content is one way to build authority on the topic and relevant backlinks for your most important pages. If you have lots of backlinks from pet blogs and pet organizations, Google sees that your pet supply site has expertise in this topic. Google will reward this and bump your page up in the search results.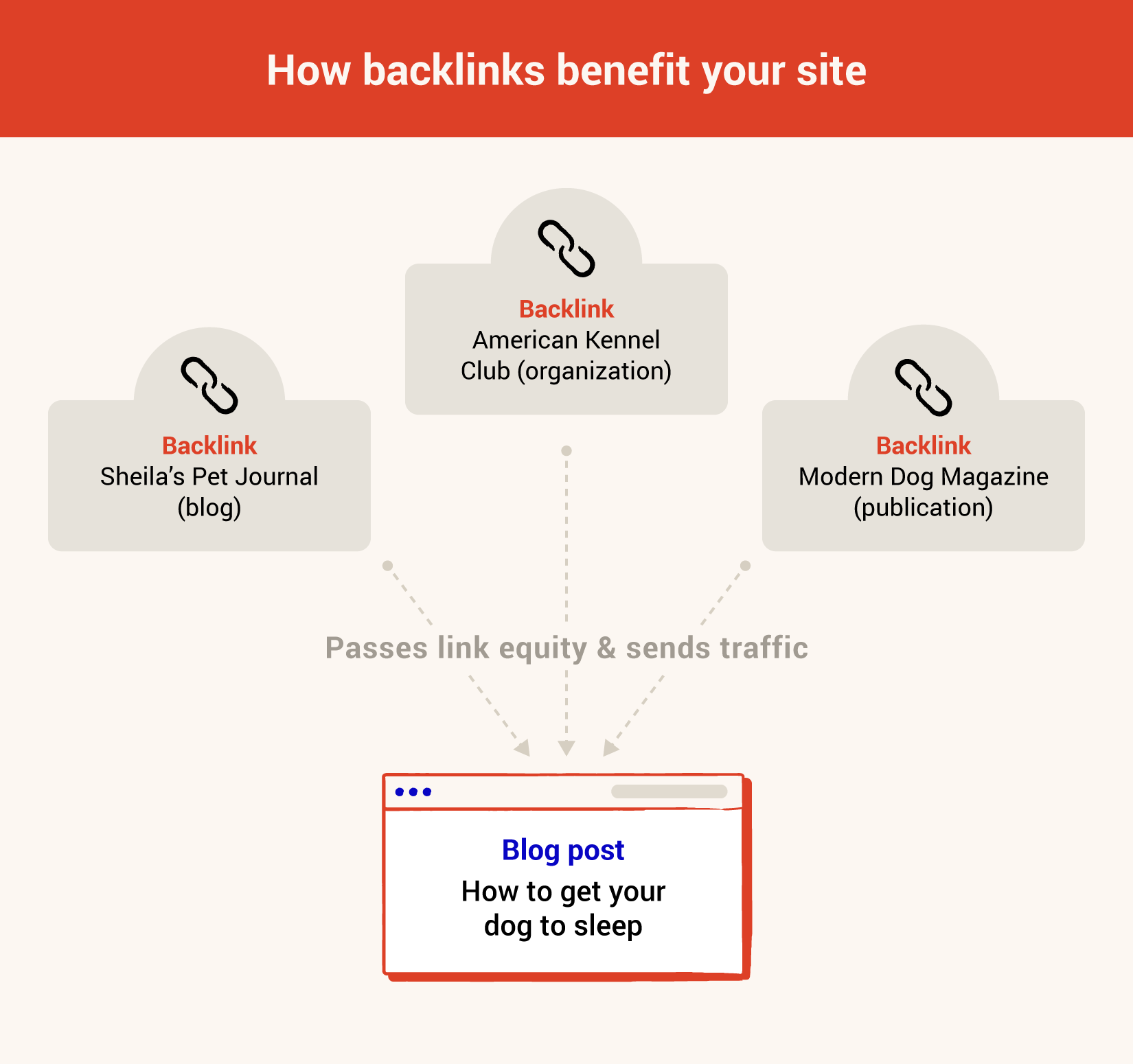 Now that you understand how content marketing can help, where should you start? Do some keyword research to answer that question. Look for relevant, low competition keywords that you can easily write about. Tools like Moz, Ahrefs, Semrush can help you find relevant keywords in your industry.
Your goal shouldn't be to write as many posts as possible. Take your time to create the best piece of content for each keyword you're writing about. Learning about on-page SEO best practices is a great place to start if you're not familiar with SEO-friendly copy.
Eric Carrell, Marketing Advisor at SurfShark, says that you can keep your blog interesting by having multiple people contribute to it. He says the variety of perspectives will give blog posts more depth.

Step 7: Create social media accounts
A social media survey from Power Digital Marketing found that more than 65% of social media users look at a brand's social media page before making a purchase. 70% of people in that same survey said they read comments, feedback, and customer reviews before purchasing.
Pick your social media platforms
The customer personas you built earlier will help you decide what platforms to pick. You also need to take your available time into account. If you're a freelancer, you especially need to consider how much social media should take up your time compared to other aspects of your business.
Alex Mastin, Founder and CEO at Homeground, says you should keep your online presence simple. She also says you shouldn't feel like you need to cover every platform at the beginning. It's much better to get one thing right than to spread your efforts too thin.

Set your social goals and KPIs
There are many different KPIs you can use to measure your social media goals. Below are some common social media KPIs you can use to track your progress. 
Impressions: Number of times someone has seen your post 
Follows: Number of people who follow your account
Shares: Number of times someone shared your post
Mentions: Number of times someone mentioned your business in a post or in the comments
Clicks: Number of times someone clicks on your post
Comments: Number of comments under each post
Engagements: Number of times someone likes, reacts, saves, or otherwise interacts with your post
Social media metrics and names vary with each platform. For example, clicks on Instagram can mean clicks to read more of your captions. On Facebook, clicks can mean the number of clicks to a link in your post.
Brainstorm your content and fill your content calendar
If you've already posted content, check out the most successful posts and create similar posts. If you're just getting started, look at your research and similar accounts for inspiration. There are many types of small business social content you can create. We listed out some ideas below.
Give a glimpse behind the scenes: Share photos of things like team meetings and package assembly
Promote blog posts: Post a tip or quote from your blog post to entice followers to read the full post
Notify customers of new products or services: Include information like availability and ways to purchase
Run social media contests: Collaborate with other brands to expand your reach and improve the quality of the prizes
Repost your customers' content: Thank customers for posting and ask if you can share on your business's page
Try influencer marketing: Reach out to relevant influencers who can promote your product or services
After you've nailed down some content types, start planning out your content calendar. Don't feel pressure to post every day. Most marketers agree that consistency is much more important than frequency.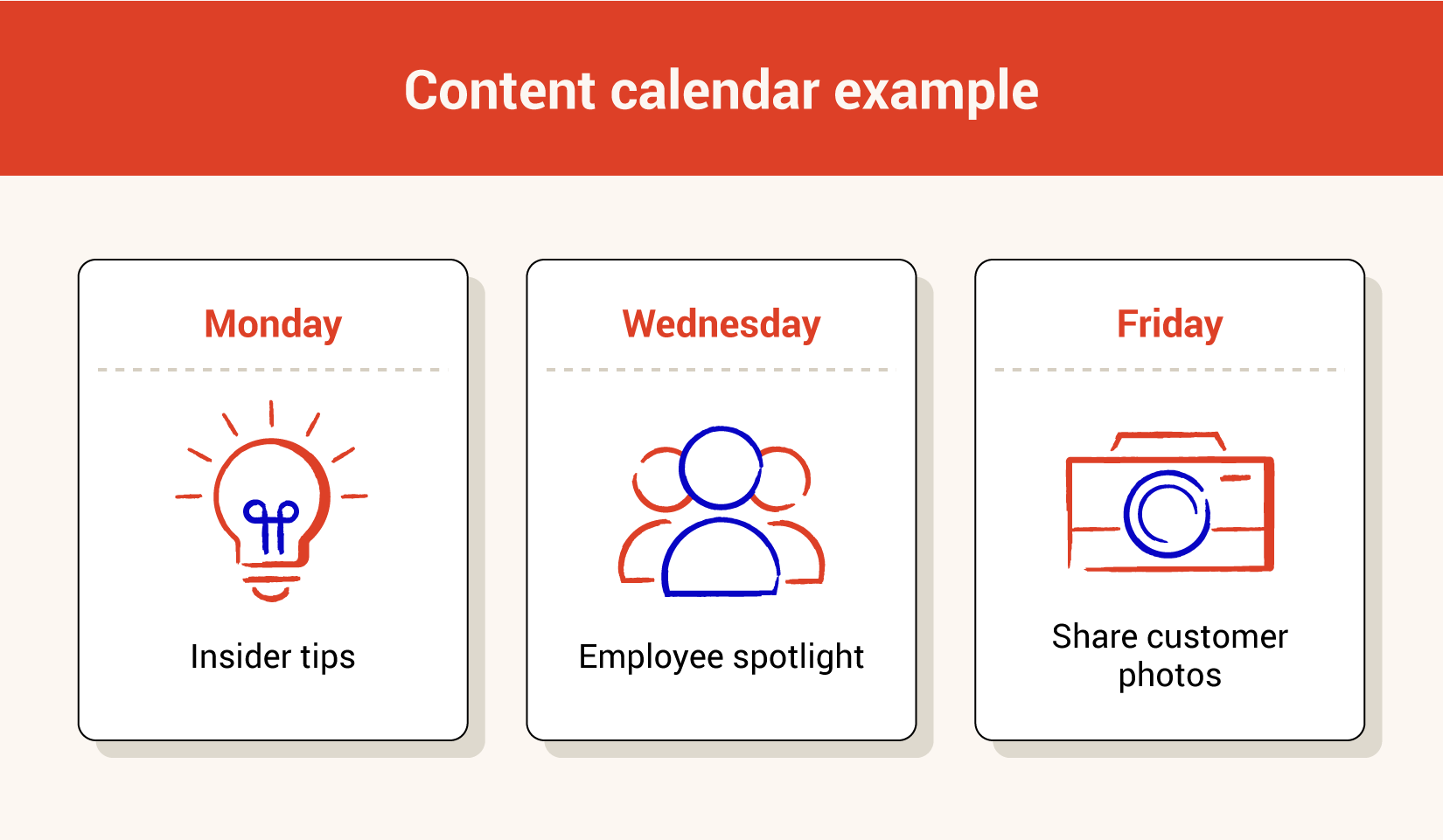 Engage and respond to followers
A survey from Khoros found that 65% of social media users across Twitter, Facebook, and Instagram expect brands to respond to them. They also found that about half of social media users on the same platforms expect brands to respond within three hours.
Quick responses are easy for a big company with a dedicated social team. A three-hour response time might not sound as doable for a small business owner. Instead of stressing over a fast response, pick a time of the day to monitor comments and post those hours on your accounts. That way, users can know when to expect a reply and whether they should use another method to reach you.
Ask your team to help monitor your accounts. If you have the means, you can also hire a social media manager to create content, respond to users, or both. Some social media tools like Hootsuite and Sprout Social automate tasks so you can free up your plate. We go over tips for getting outside help in step 13.
Check out trends and tools
Keep a pulse on social media trends, news, relevant hashtags, accounts, and topics to stay on top of what's new in your industry. You can also use social listening tools to pull in this information instead of checking it manually. Some social media tools help you glean insights without needing to dive deep into each platform's analytics. 
Step 8: Claim your online listings
Your business may have several online listings on platforms like Google and Yelp. Claiming or creating your business listings provides even more opportunities for customers to find you. It also gives them insight into your business.
Research shows that businesses who claim their free listings on at least three review sites earn more revenue than the average. Researchers also found that people spend more money at businesses that reply to reviews compared to those who don't. 
Your listings also help you show up in "near me" searches. Keeping your listings updated and earning more reviews are the main ways to improve your visibility on these search results. 
Kelly Maxwell, founder CEO of Seniors Mutual, says that you need a robust online presence to compete with other small businesses. She says that Google My Business is especially important if you have a lot of local customers.

Find your listings
Prioritize updating your listings' information before you start responding to reviews or tackling other features. All listings should have your most up-to-date phone number, address, social media accounts, photos, and service options. The information you can provide varies with each platform.
Start by claiming your Google My Business (GMB) listing. These listings show up on the search results page when someone Googles you. They also appear on Google Maps when users are looking at local businesses.
GMB allows you to post photos, offers, and products through your listing. Customers can leave reviews, message you, and make orders through the listing as well. GMB insights gives you more information about how customers find and interact with your listing.
Next, you should claim your Yelp listing. Yelp allows you to add much more information than GMB. In addition to adding photos and offers, you can list different attributes. For example, you can note if you accept credit cards or if you have free wi-fi. You can also list your products and services so customers can directly order through Yelp.
You can also create or claim a Facebook business page. Facebook is unique since it acts as both a listing and a social media page you can regularly update. Like GMB and Yelp, you can post photos and communicate with customers. Facebook also allows you to post job listings through their job marketplace. 
There are also vertical-specific business directories you can join. For example, you can sign up for a listing on Thumbtack if you run a service-based business. You can also find directories for specific niches. There are many free listing sites for restaurants as well as listing sites for retail businesses that you can check out. 
Collect and respond to reviews
Most of the work for online listings comes from reviewing and responding to reviews. Customers expect to hear from you on these listing platforms and especially expect you to respond to bad reviews.
Remind users in your store and on your site that you appreciate their feedback. Positive reviews and replies to negative reviews are all good signals to potential customers and can help drive business.
Ideas for using online listing for your small business
Listing sites don't have as much room for creativity compared to social media. However, there are a few ways you can leverage listings to your advantage.
Look beyond the big sites: Find niche listing sites for your industry
List exclusive offers: Post exclusive discounts or coupons on your most popular platforms
Use positive reviews on your site or social media: Ask your customer if you can share their review
Step 9: Consider email marketing
Email marketing is a great way to stay connected with your customers. You can keep customers in the loop with things like new products and upcoming promotions.
Although creating and scheduling emails may sound like a lot of work, it's a solid investment for small business owners. An email marketing survey from Litmus found that marketers receive $42 in return for every $1 they spend on email marketing. 
Just like any other channel, you first need to understand what purpose email marketing serves for your customers and your business. Do customers sign up to stay current on promotions? Do they use emails to learn more about your industry? The reasons they sign up informs the types of emails you create, when you send them, and who receives them.
Create a business email address
Even if you don't have plans for email marketing in the near future, you still need to set up a professional business email to communicate with customers and vendors.
Your email should include your website's domain.
For example, our email is info@solo.co. A branded email assures your customers, vendors, and partners that they're hearing from you and not someone who's impersonating your business. 
Some email service providers may block your emails or mark them as spam if you use a free email address from Google or other sites. Beyond security and deliverability issues, a business email looks more professional and keeps your branding consistent.
Build and segment your email list
You can capture emails in many ways. For example, you can collect them as a part of your incentive program. You can also give customers an option to opt in to emails on your website and through social media ads.
You ideally don't want to send your entire email list the same emails. Each customer is at a different stage of the buyer's journey, so each email should cater to their stage in that journey. You may also have customers who are interested in specific products or services.
This is where a customer management system or an email marketing platform comes in handy. You can easily segment your lists so they link up with your customers' information with a tool.
For example, at your pet store, you may sell some products that only apply to cat parents. You can collect information about each customer's pets so you don't send cat-focused emails to those who don't own cats.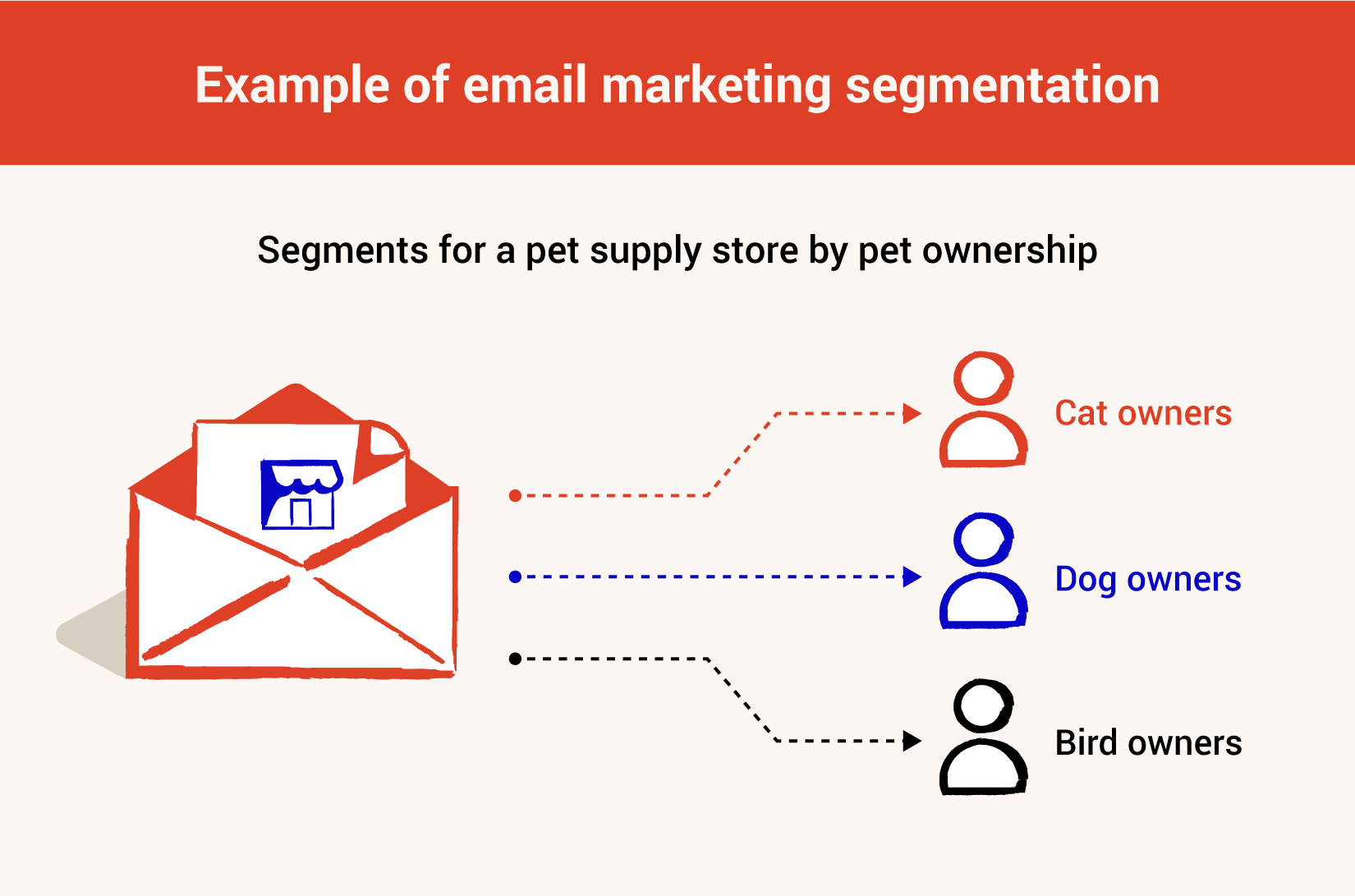 Prioritize your automated emails
Before building email marketing campaigns, you should first think of the content and design of your automated emails. These are emails that aren't tied to your email marketing schedule or to a specific campaign.
Automated emails are messages set to send on a specific date or when customers complete an action. Omnisend's Ecommerce Statistics Report found that conversion rates for automated emails in 2020 increased 359% compared to promotional campaigns. Below are a few types of automated emails you shouldn't skip out on and how you can use them to your advantage.
Welcome: Offer customers a promotion to thank them for signing up and to encourage them to make a purchase
Abandoned cart: Remind customers of products they left in their cart to push them to come back
Birthday: Greet customers on their special day with a discount or coupon
Put together an email marketing strategy
Emails related to campaigns, promotions, and products and services will change based on what your business is doing at the time. For example, your Mother's Day campaign email will look different from your emails promoting new products. 
Email types and schedule
Make a list of the different emails you plan to create. Then, start scheduling when these different emails should go out. For example, you can schedule product announcements on Fridays and promotion emails can be sent on Tuesdays. 
Email frequency
Do your customers expect emails once a month? Are they okay with multiple emails if they all provide different information? A sudden rush of emails may cause customers to unsubscribe to keep you out of their inbox. See whether your customers prefer to have less frequent emails that cover a lot of information or frequent emails on specific topics.
A/B testing
An A/B test is when you create two versions of something to see what performs better. For a test, you'll take a look at how metrics like opens and clicks differ between each test. These measurements help you compare performance for things like design, tone, and subject lines. Making these tweaks can improve your marketing email engagement and eventually lead to more sales.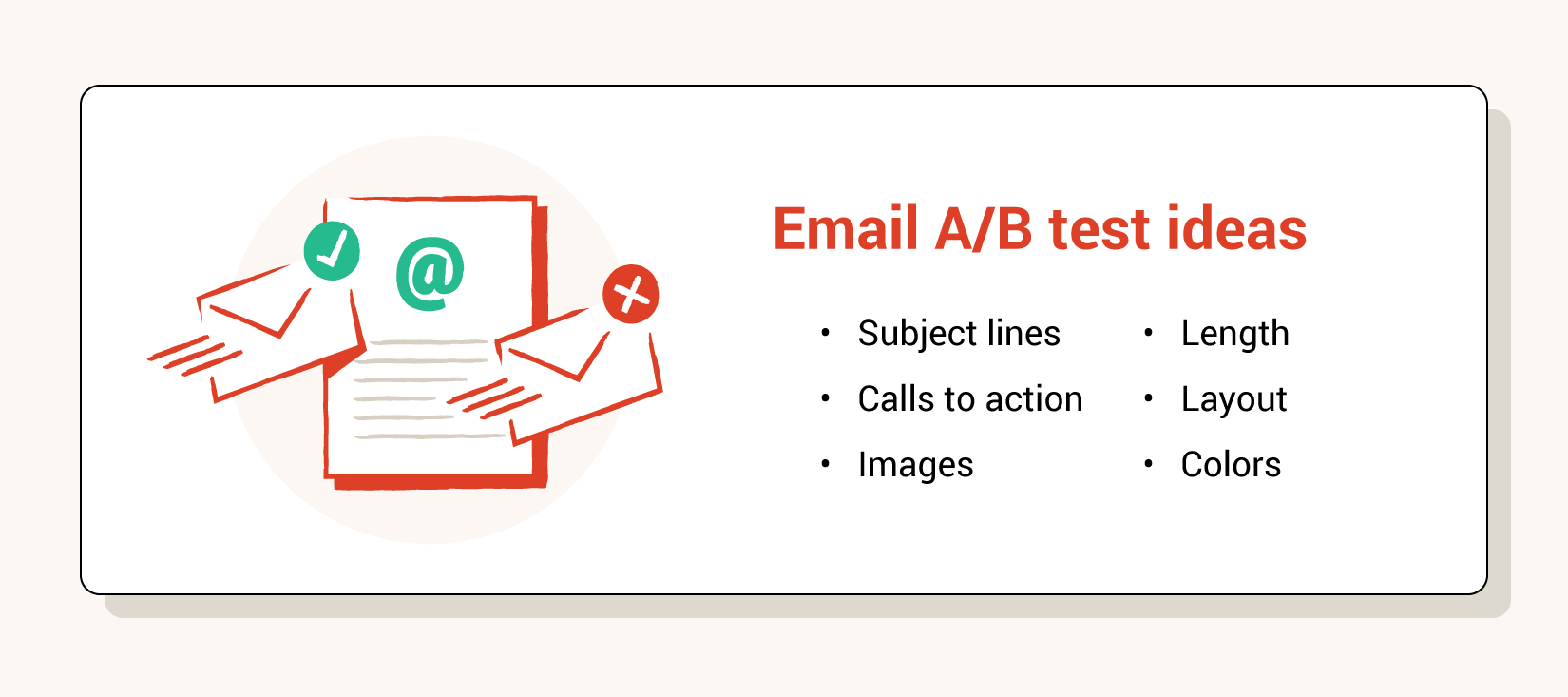 With all of your emails, you need to follow basic small business email marketing best practices to keep your customers engaged. For example, you should keep images small and ensure everything works properly. Nothing makes a poor impression like an email opener saying, "Hey <CUSTOMERNAME>" due to a faulty autofill. 
Ideas for using email marketing for your small business
Email marketing can be tricky. You don't want to make emails too long, but you also want to make each message valuable for customers. Ask your customers what they want to see so you can tailor your strategy. Below are a few ideas your customers might like.
Offer freebies to collect emails: Freebies can range from worksheets to discounts depending on your business
Provide coupons for their next purchase: Coupons incentivize customers to come back or try a product or service that's complementary to the one they bought
Highlight customer testimonials: Short testimonials gives subscribers quick insight into what you offer
Step 10: Look into advertising
Marketing and advertising are not the same thing. Marketing is the process of identifying customer needs to communicate and deliver a valuable product or service.
Advertising is one aspect of marketing. It's the process of promoting products or services through paid placements. Advertising is also a helpful method to boost your organic efforts.
The process varies by platform, but you can target ads for users from a specific demographic or those with relevant interests. Keep these advertising best practices in mind before diving into a specific platform. 
Understand spending terms: Advertising pricing models drastically change how quickly you run through your budget. For example, pay-per-click (PPC) advertising takes money from your budget for every person who clicks on an ad
Focus on quality instead of quantity: Pick the most relevant platforms and ads to get more value out of your budget
Optimize your landing page: Optimize landing pages to convert potential customers gained from ads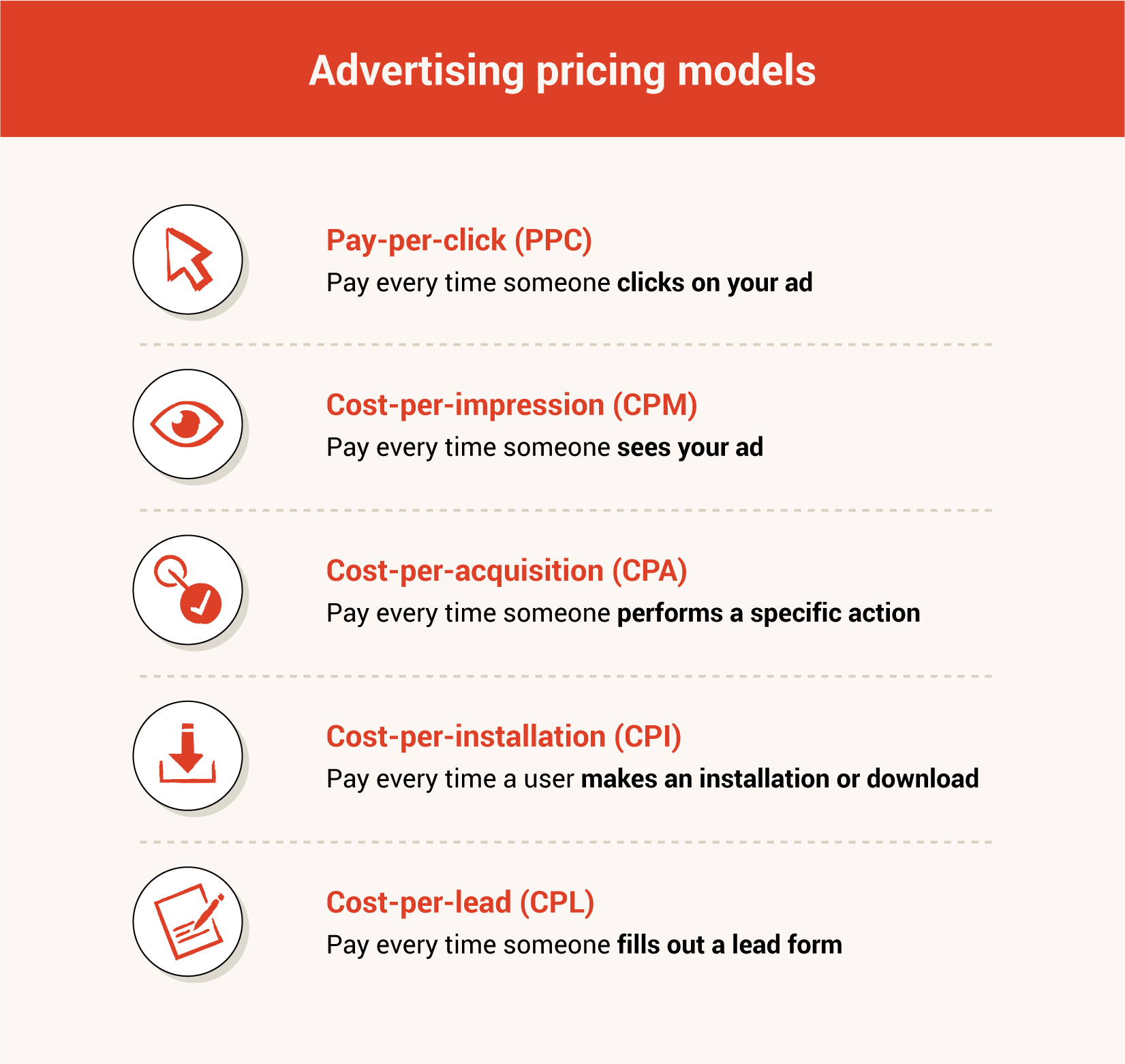 Now that you understand the basics, we'll quickly go over how advertising works for a couple popular channels.
Social media advertising
In a SurveyMonkey study on social media advertising, it was found that 48% of social media users have purchased something after seeing an ad. The survey also found that 74% of social media users think there are too many ads, so don't overdo it. 
On social media, you can create ads or boost organic posts with your advertising dollars. It's a good idea to boost social posts if many of your customers find and engage with you on social media. 
Paid search advertising
You can also pay for a page to display on relevant search engine results. Since SEO takes some time to show results, paid search is a quick way to gain visibility while your posts rise in rankings. Costs for keywords vary based on competitiveness. 
Step 11: Set up coupons, loyalty programs, and other incentives
Incentivizing customer loyalty helps your bottom line. A study published in the Journal of the Academy of Marketing Science found that loyalty programs increase sales and gross profits within the first year and sustain these positive effects for at least three years.
Loyalty programs also allow you to build relationships with customers and reward them for their business. A KPMG survey found that 86% of brand-loyal customers will recommend a company to friends and family. Effective loyalty programs are easy to join, exclusive, and reputable.
Digital loyalty programs through Fivestar and similar solutions allow you to capture contact information. This gives you a way to continue engaging with these customers after they leave the store.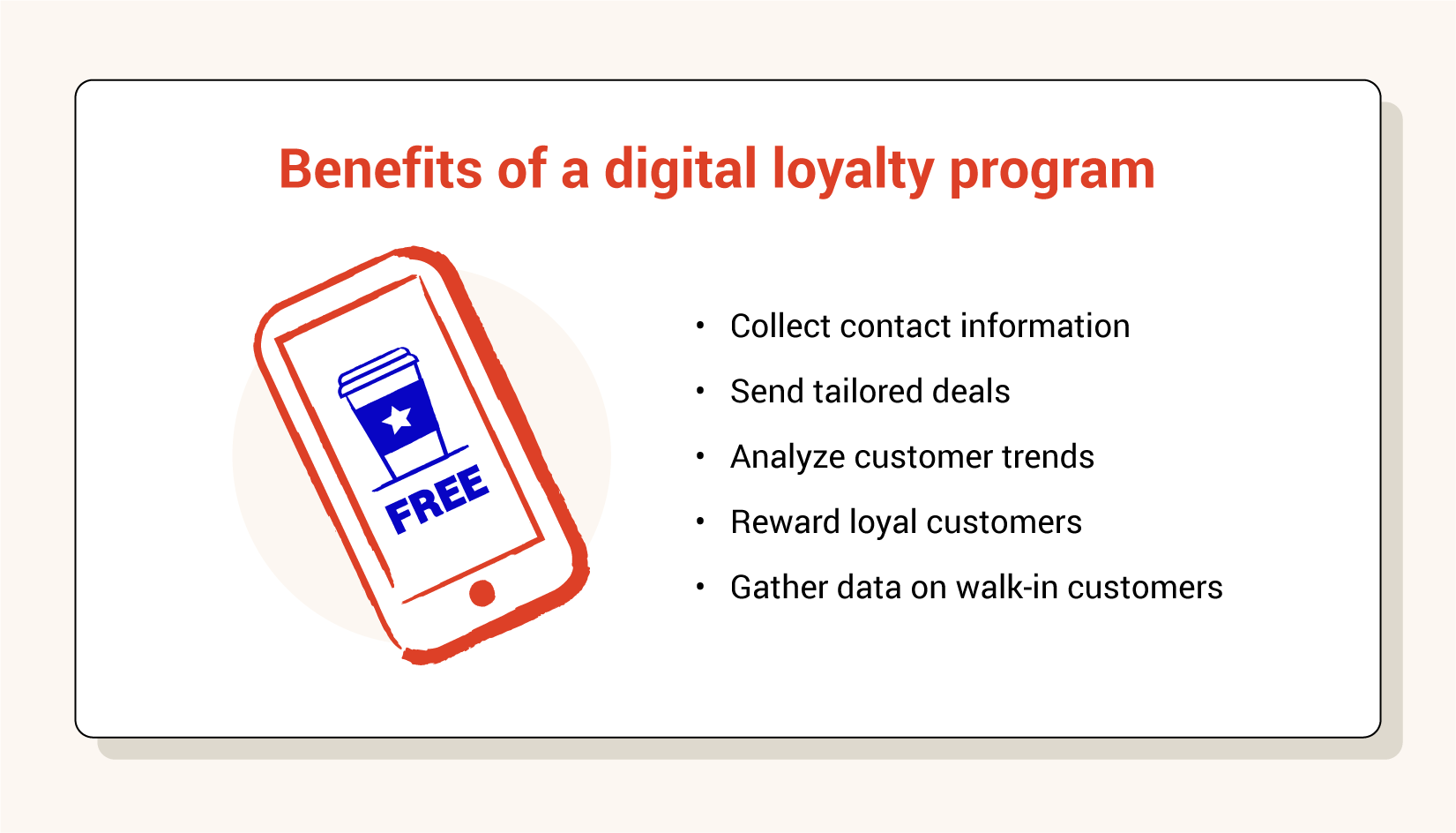 Loyalty programs shouldn't be the sole initiative that keeps your customers loyal. The KPMG survey also found that only 37% of consumers said points and rewards were the most effective ways to secure their loyalty.
Instead, product quality, value for money, and product consistency were the top three factors that secured customer loyalty. Loyalty programs should serve as one of the many ways you take care of your customer relationships.

Matthew Paxton, founder of Hypernia, says you should nurture and appreciate your brand advocates. He says that happy customers do a great job at spreading news to friends. He also says commenting on their reviews and offering incentives are great ways to show your appreciation and keep them coming back.

Ideas for using incentives for your small business
Incentives take many forms. Stamp cards or point systems are the most common, but there are other ways to encourage and reward customer loyalty. 
Reward referrals: Incentivize customer referrals with cash, discounts, or free products 
Start a brand ambassador program: Recognize fiercely brand loyal customers with exclusive offers, products, or an invitation to a private community
Create a tiered program: Reward customers with increasingly better incentives when they shop more with your business
Step 12: Get involved with the community
Getting to know your community gives you an opportunity to learn from others and discover mutually beneficial opportunities. Join local business associations, networking groups, and other organizations that are relevant to your business.
This can also include partnering with local or complementary businesses. Say there's a pet-friendly ice cream shop near your pet supply store. You can run a contest or offer promotions exclusively for each other's customers.
Community doesn't stop with your physical neighbors. You can also join national professional organizations and more informal groups online related to your industry.
Marie Rachelle, freelance business owner of Business BEactive says that you should connect with other local businesses since you never know what will come of it.

Ideas for getting involved with the community
The opportunities are endless when it comes to getting involved with the community. Local events, sponsorship opportunities, and referral agreements can greatly benefit you and your neighborhood.
Set up referral agreements between your partners: Partner with businesses with similar customers who can benefit from your products or services. For example, if you're a plumber, you can partner with a carpenter so you can refer customers to each other
Run a booth at a community event: Participate in a local event and get face time with your neighbors and customers
Sponsor a local team or event: Financially support a local team while also promoting your business
Host a business workshop: Support local business owners to teach others what you know and to demonstrate your expertise
Volunteer or attend a conference: Learn from others in your industry and meet people want to work with you
Donate your products or services for fundraisers: Allocate room in your budget for donations throughout the year
Step 13: Get help if you need it
Looking back at all of the channels and tactics you want to try, you may realize that you don't have the time to do it all. That's when it's time to consider getting outside help. Help can come from an agency, freelancers, and even marketing software. There are many pros and cons to consider for each.
Mike Kolb, founder of XWERKS, says that you should outsource more complicated marketing, at least in the beginning. He says that it allows you to stay in contact with clients and work on products or services. Although you should still make an effort to understand your business's marketing efforts, it may be more efficient to let a pro help you out in the early days.

Work with marketing agencies
With marketing agencies, you'll get the support of a team of professionals who have expertise in areas you may not. They can level up your marketing efforts in ways you probably wouldn't have been able to do on your own. Agencies are great resources if you plan on getting long-term help.
However, agencies often come with a big price tag. Spend lots of time researching them to ensure you're getting the most value out of their prices and service offerings.
Working with freelancers
With freelancers, you get expertise and labor to cover your marketing tasks. You can hire someone to simply execute content or someone who can improve your existing marketing plan.
Freelancers are normally much more affordable than agency services. You can also bring them on full time down the road if they're open to the idea. Platforms like Upwork and Fiverr make it much easier to hire freelancers than it is to find an agency.
Freelancers are great for short-term projects like designing your logo or proofreading important copy. You can also hire freelancers for long-term projects like managing your social media accounts.
You'll need to keep an eye on their quality of work, as different freelancers have their own work styles and priorities. Since they work independently from your team, they also don't have much reason to stay loyal to your company. This can result in them prioritizing more time and resources to other projects above your own.
Use marketing tools
Marketing tools are typically the more affordable option compared to hiring outside help. These tools can automate simple tasks and simplify more complex tasks.
For example, Hootsuite automates social media scheduling and posting. It also simplifies data analysis by aggregating all of your social media data in one platform.
The downside is that you or your team will still execute these tasks. You may also outgrow your marketing solution as your business grows. 
Ask for recommendations and support
Talk to trusted colleagues or ask for recommendations in online groups. First-hand advice helps you narrow down your options before you start spending time on product demos and sales calls. You can also lean on your loved ones if you simply need emotional support or an ear to listen to get you through the day.
Danny Veiga, a consultant who runs Danny Veiga Marketing, says that your friends and family members can provide advice and moral support while you work towards your goal. 

Small business marketing and creating value for customers
The right small business marketing strategy benefits your business in the long run. Taking the time to plan your long-term strategy is less stressful than building your plan as you go. It also makes it easier to divide your time between marketing and other areas of your business.
Seth Price, founding partner of Price Benowitz LLP, says that you have to put in the effort when doing any form of marketing. He says consumers can easily see when a company doesn't put in enough effort. On the other hand, customers will notice if you do the work and start making content that's valuable to them.

Take a look at our small business marketing infographic below for a recap of our most important points. 

Solo

is the easiest way for small businesses to pay and get paid.

Solo mobile app is now available for everyone
Scan QR to download the Solo App
Solo mobile app is now available for everyone