In this article:
What is Google's Local Services?

How can Local Services ads benefit your business?

How to set up Local Services ads

Managing your leads on Google Local Services
Have you seen those ads at the top of the search engines with the little green checkmark, reviews, and maybe even your competitors' names on them? Wondering how you can get there? This guide to Google Local Services ads will help. 
What are Google's Local Services ads?
Google Local Services ads is a lead generation tool. When you complete the setup for Local Services, Google will present you as "Google Guaranteed" and show your ad at the top of relevant search results. Customers can book appointments with your business directly through the ad or go to your website to learn more first.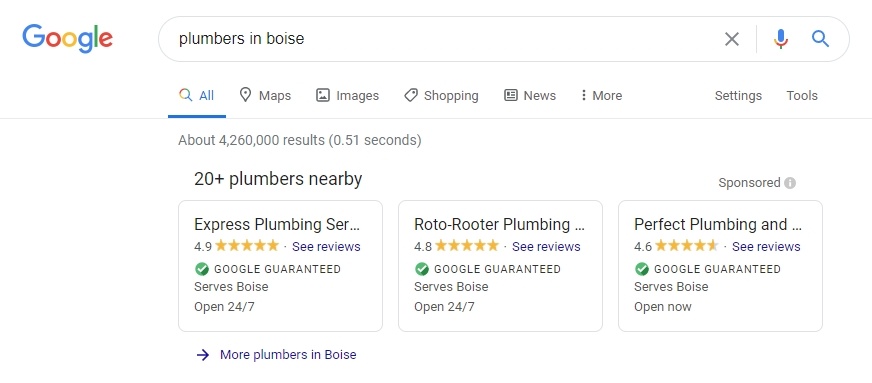 Local Services ads can only be set up for specific types of local services, like plumbing and pest control. There's a complete list of services that qualify for these ads. Start the setup process (see how below) to see if your company qualifies. 
And, the best part is, you only pay for the leads that come in. Unlike traditional Google Ads that cost you money for every click on your ads, Google Local Services only charges you when a lead comes in through your ad. 
You can even try Local Services' budget calculator to get a rough estimate for your campaign. Check that out here. 
How can Google Local Services ads benefit your business?
Beyond bringing in new leads for your business, you can expect great advantages from Google Local Services. 
Your business will be at the top of the search results, which in and of itself will bring more traffic to your website. You don't have to manage any keyword for this, either! Google will determine when a relevant search is conducted and display your ad. And even if you don't get leads or clicks from every user that comes across your ad, they are being exposed to your brand and might just become a sale later down the road. 
Having a Google Guarantee also comes with its own benefits. The Google Guarantee badge not only looks good to potential customers (it's a great trust signal), but it also comes with a legitimate guarantee that can help people who might be on the fence.
If you have customers from your Local Services ad who aren't satisfied with the work you did and you have a Google Guarantee, then Google may refund the service. In the United States, Google Guarantee currently allows a $2,000 limit for lifetime coverage on claims. 
According to Google, this guarantee covers:  
The Google Guarantee covers claims up to the amount on the job invoice up to the lifetime cap for coverage.
Services must be booked through Google Local Services. The Google Guarantee doesn't cover add-on or future projects, damages to property, dissatisfaction with price or provider responsiveness, or cancellations.
How to set up Local Services ads
If you think Google Local Services ads are right for your business, then let's get started. 

Step 1: Check your eligibility
Go to ads.google.com/local-services-ads and click "Get Started." 
Google will then check your eligibility by making sure you are in a relevant service for the ads. Enter your country, state, ZIP code, and job category. Click "Check Eligibility." If you are eligible for the ads, Google will move you forward in the process.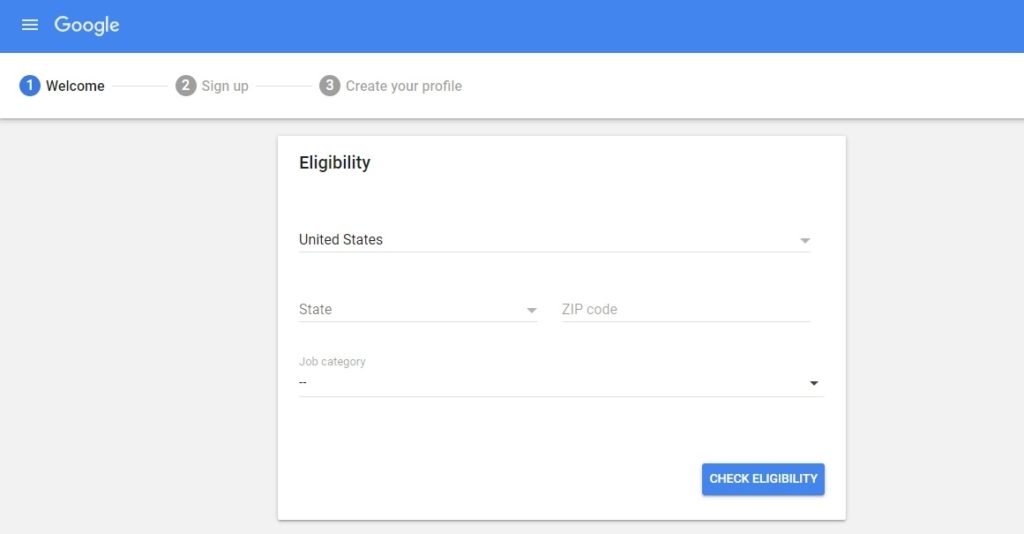 Step 2: Create your profile
Click "create profile" and fill in all of the information on the form on this page:
Business name

Business phone

Website

Owner's first and last name

Total number of field workers (excluding the owner)

Year founded

Check if you are using a home address or storefront address

Business address
Click "Next."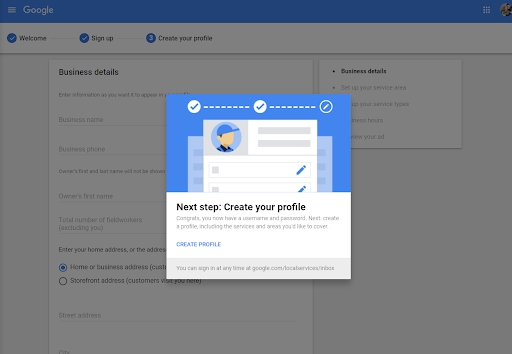 Next you will need to add your service area to the account. The city you entered for your address will already be selected. You can add more cities to this service area and/or select specific zip codes for each city by clicking the dropdown arrow by the city name.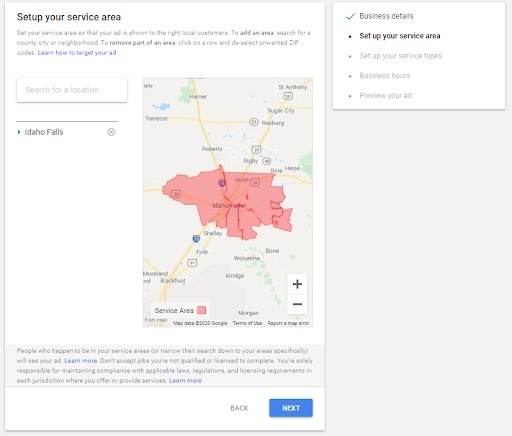 Next, you will set up the types of services you offer within your job category. Our example is for plumbers, but select whichever services you offer and would like to receive leads for. This will help Google show your ad for relevant searches. 
For most jobs, you will be required to carry a professional license and provide verification of that to Google before they will show these ads.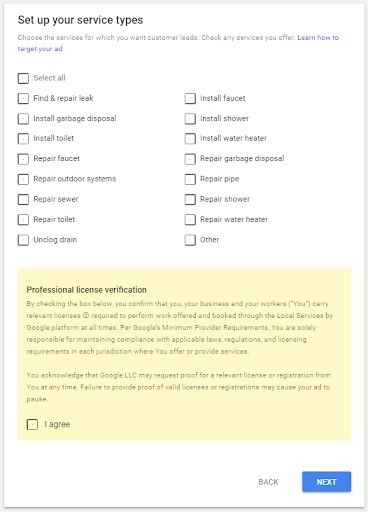 Next, set your business hours.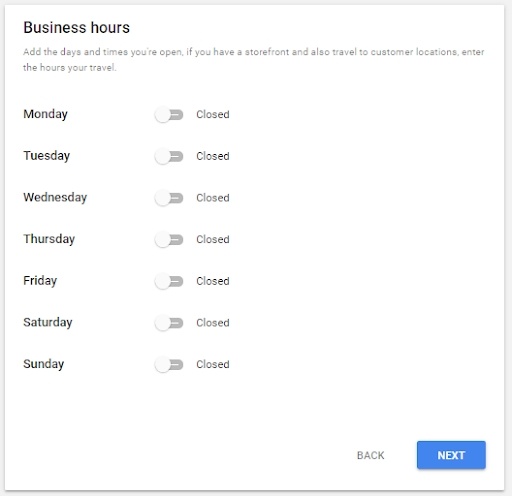 Next, preview your ad. If you're satisfied with that snippet, click next to continue through the process.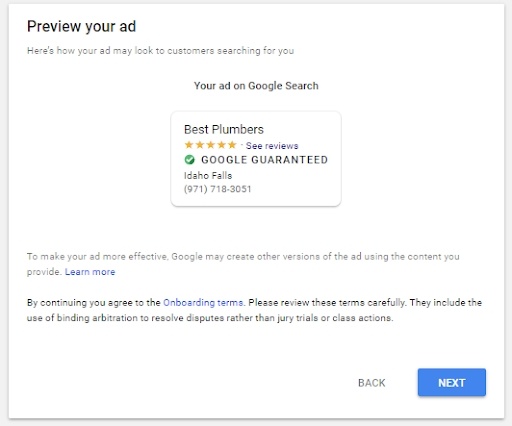 Step 3: Finish Google's checklist
Once you complete your profile set up, Google will provide a checklist for you to work through before your ads can be displayed. Follow these instructions and you will be set. (Google's team will check on each item as they are submitted and inform you if everything is done correctly). 
As you start submitting each of the items in the checklist, Google will assign an account representative to you, and they will send you emails and be your customer support to help make sure you get these last items completed.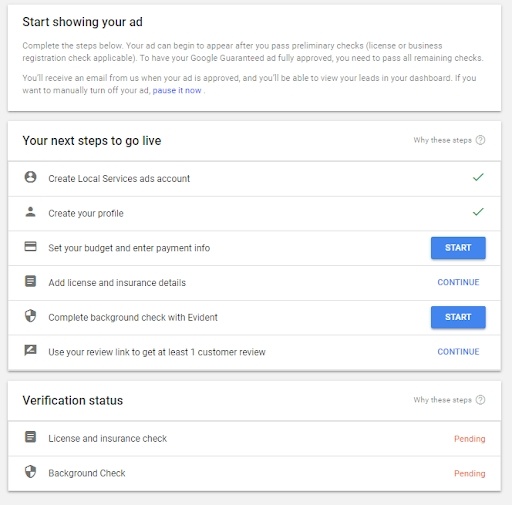 Those items are:
Set your budget and payment information (your budget will determine how many leads you can get in a month–go back to that 

budget calculator

if you're unsure what to put here)

Submit licenses (for each field worker you said you have) and insurance details (the business owner's name must be on the insurance details)

Complete a business entity and owner background check through Pinkerton or Evident (the checklist says Evident, but if that's not working, reach out to customer support and they'll send you a link to submit your background checks through Pinkerton)

Get customer reviews. You need at least one review before your ad can go live. These reviews are different from your Google My Business reviews. These are reviews that are specific to Google Local Services. Google will provide you with a personalized review link that you can send to customers to get a couple of reviews up on your ads. Reviews are important because they will help convert customers when they click on your add to learn more about you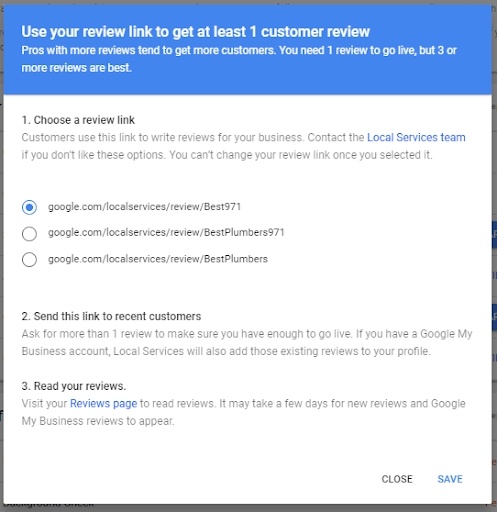 Here's an example of what your customer will see when they click on the review link.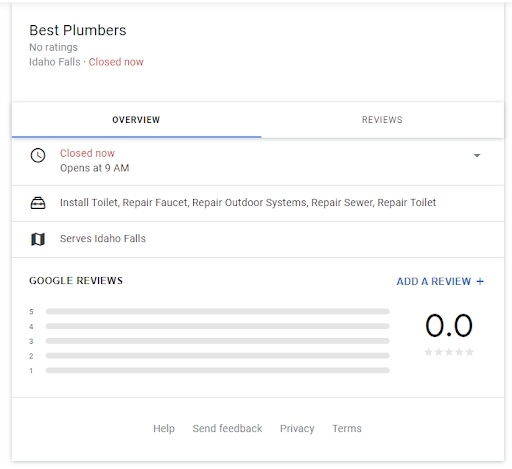 Step 4: Wait for verification and watch your ads
Once everything on the checklist is submitted, Google's team will work to verify that everything is correct and complete. If you are missing something or something wasn't done right, they will inform you so that you can get everything set up correctly. 
Once everything is approved, your ads will begin showing up on Google. 
From there you will be able to manage leads from your dashboard (as they come in). 
Managing your leads on Google Local Services
Now that your ads are approved and set up, you can watch as the leads start pouring in. 
Your Local Services dashboard will basically act as a booking system in which customers can request appointments (usually just a time frame for when they need the job done), what the job is that they need, where they are located, and when their lead came in. 
When a lead comes in, you can follow up and set up appointments for them. You can also mark when a job is completed, at which point, you can (and should) send that customer your review link to get a Local Services review. If Google can verify from your dashboard that this person came in through your ad, they will also add "Google Verified" next to the review, adding another level of trust for potential customers. 
You don't have to accept every lead. You can decline requests if the job really isn't something you do or is too far out of your service area. But it's always best to leave an explanation so they don't take it upon themselves to leave you a bad review anywhere else online. 
Check out these additional digital marketing resources
Google Local Services ads are a great way to increase leads for your business, but there are other things that you can and should be doing to increase the potential for organic (unpaid) leads. Check out these articles to get started:
Solo

is the easiest way for small businesses to pay and get paid.

Solo mobile app is now available for everyone
Scan QR to download the Solo App
Solo mobile app is now available for everyone