In this article:
10 best practices for small business email marketing

Why should every small business consider email marketing?

How much does email marketing cost?

What is the ROI of email marketing for small businesses?
As we've written before, email marketing is hands-down the most powerful, effective, and efficient marketing tool for small businesses. If you follow the email marketing best practices detailed below, you can increase customer loyalty and revenue, improve conversion of potential customers, and expand your marketing audience.
How much does small business email marketing cost?
Despite what you might think, small business email doesn't have to cost an arm and a leg. Websites like BEE free, Stripo, Chamaileon offer free HTML email templates, including simple drag and drop options. You can also elect to simply send a personalized email to your list from your business email account, using the default template.
Many small businesses prefer to use dedicated business email platforms like MailChimp or Constant Contact, both of which offer robust tools for creating professional-looking emails and managing your lists. 
According to the sources we found, Constant Contact costs between $20 and $70 per month, depending on your number of contacts and the features you want. MailChimp offers free plans to get you started, the next tier is $10/month, and the "Pro" level plans start at $199 and up (an unlikely choice for a truly small business). Whether these are worth the cost of entry is up to you. 
Is email marketing worth it for small businesses?
Despite a commonly held belief that email marketing is outdated or ineffective, it has been shown to have an unparalleled ROI of up to 42:1. 
Of course, this is not to say that you are guaranteed to make $42 for every $1 you spend on email marketing, but industry data supports that general figure. One report specifically for small business email marketing reported that users experienced a 183% return on their investments. So it's clear that it's worth your time.
Whichever email service provider you choose, be sure to follow the best practices below to maximize benefit and minimize potential problems when sending promotional emails.
Let's go over the top 10 email marketing best practices for small businesses:
1. Get permission, and build your email list the right way
While studies show 86% of customers actually want email from businesses they patronize, it is without question better to get permission before you email potential or current customers. 
Getting email addresses doesn't have to be an awkward or involved process. It can be as simple as adding an email address field on your point-of-sale platform at checkout, including a "send me an email receipt" option during the purchase process or on your online or order form, or you can go truly old-school and leave a bowl for business cards or a clipboard near the check-out counter where customers can elect to write down their email addresses to receive promotions.
You should also encourage your social media followers to send you their email addresses to be included in special offers and promotions for your business.
Popular business email platforms like MailChimp and Constant Contact allow "opt-in" or even a "double opt-in" process. A double opt-in requires a potential recipient to first agree to receive emails, but also requires that they then click a link in a welcome email confirming their subscription to begin receiving marketing emails.

You may get fewer email addresses on your "send" list this way, but remember the point of email marketing is to send timely messaging to your most profitable customer base, not to simply build an impressively large email list and blast out thousands of emails to people who really aren't interested (and who will likely mark your emails as spam, which could get you in hot water with your email service provider and even with the FTC—see below).

So, while it's likely not a huge problem to send occasional reminders or relevant offers to everyone associated with your business whom you have an email address for (as long as you follow the rules), you will almost certainly see better results if you are 100% up front about getting customers' specific permission before you send them promotional emails.  
Making sure you have a solid "opt in" process in place will set you up for greater success as regulations change.
2. Learn the regulations and follow them
Sending unsolicited emails is illegal in quite a few European countries, and consumer privacy laws are being tightened in the U.S. as well. 
You need to familiarize yourself with the FTC's Compliance Guide on the CAN-SPAM act, and which types of email are subject to these regulations, here.
Make sure to comply with regulatory directives regarding spam and unsubscribing. Include an unsubscribe link in every email and make sure to promptly and correctly remove any addresses that request to be unsubscribed, to avoid landing in hot water. 
Personal email service providers like Gmail are very wary of "spammers," but as long as you are emailing people who have opted in to receiving promotional emails, or you are emailing your actual customers rather than a purchased list of random contacts, you should be perfectly fine (as long as you comply with the CAN-SPAM act and follow correct unsubscribe practices).
3. Avoid common "spam" techniques 
Small business owners are often tempted to emulate the promotional emails they themselves receive… but this can be a big mistake. 
When crafting your subject lines, headers, and content, you should avoid generic subjects, caps lock, lots of special characters or EXCLAMATION!!! MARKS!!!! or anything even close to resembling "OMG!! TRY THIS ONE WEIRD TRICK TO SAVE $$MONEY$$!!!!"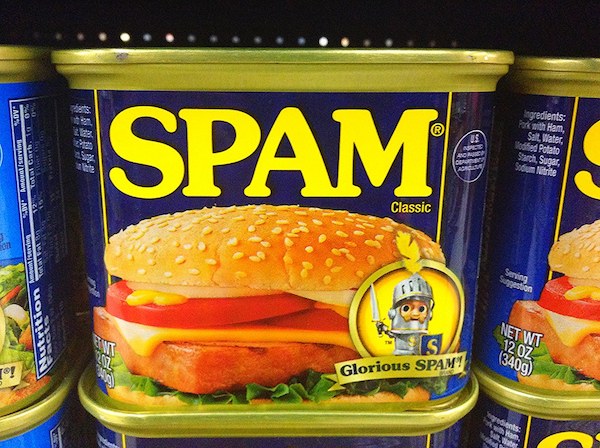 Many popular email service providers will automatically scan such emails and send them to the spam folder, and you may be flagged as a disreputable sender, which will defeat the purpose of sending emails to build loyalty.
4. Be brief, interesting, and accurate
Use the appropriate format and messaging expected by your industry and audience. This might include newsletters, offers, sales, birthday wishes, "thank yous" for purchases, reminders, holiday hours notifications, discounts, product announcements, or whatever else you think your customers might want to hear about.
Make sure your company name or brand appears in the "from" line correctly, and keep your subject lines to 8 words or less, and <40 characters, including spaces. Include a compelling reason for people to read your email in the subject line.
5. Make it worth customers' while
Think of ways to incentivize signing up for your email list. Can you give 10% off today's purchase when they sign up? Can you promise 5% off all future purchases for everyone on your list? You should ask yourself, "What's in this for my customers?" 
6. Make sure your links and any embedded content actually work properly
Before you send an email, double check that everything displays and works the way it should: videos play, links actually function and redirect to the proper websites, click-to-order takes you to the correct product or offer on your website, email contact links open the appropriate email software and populate the address correctly, HTML emails display content correctly on desktop and mobile, etc. Send yourself and/or your employees test emails and ideally check function on multiple platforms and browsers.
7. Keep images small
Any images you include should be optimized for web and should be kept below 100K in size—50K or below is preferable. This helps the email load quickly and fully. You only have one or two seconds before today's impatient users will give up on your email and delete it. (Pro tip: this also applies to your website pages.)
8. Proofread your copy
If you aren't the best writer or editor in the world, hire or beg the services of someone you trust to proofread the "copy" (words) for typos, grammatical errors, clarity, and brevity. Professional-looking emails will be free of common mistakes, text formatting issues, etc. 
9. Consider including a text-only version for people who prefer not to open HTML emails
Sources disagree on which format produces the best results (HTML or plain text) but it's a good idea to cover your bets when possible. So, you might include a plain-text version of every HTML email you send. 
Why? Some people won't even look at plain text emails, and some won't look at HTML emails. When you build an HTML email in most of the common email platforms, there will be an option to also create a plain-text version that will be displayed for recipients who have their preferences set to display plain-text email only, and vice versa. 
10. Try drip campaigns
While a more general email blast to all customers on your list can be effective, more sophisticated users might consider creating "drip" campaigns. 
Drip campaigns are series of emails intended to accomplish a particular goal for a particular group of customers. For example, you can select only those customers who have made recent purchases. A simple after-purchase drip campaign might look like this:
Thank you email —-> offer special pricing on a similar purchase —-> reminder —->
If you have a website where customers can purchase from you, you can send a drip campaign specifically to customers who have put items in their virtual shopping cart but then left the website. A drip campaign in this case might look like this: 
(cart abandonment) —-> nudge ("item left in your cart") —-> purchase confirmation —-> thank you —-> (start a post-purchase drip campaign)
Naturally, you can create drip campaigns for any group of customers, such as those who have purchased several times in the past but haven't visited within the last year. 
Sources:
https://www.constantcontact.com/blog/email-marketing-best-practices/
https://mailchimp.com/help/best-practices-mailchimp-email/
https://www.fundera.com/blog/email-marketing-strategy
https://www.betterbuys.com/marketing-automation/reviews/constant-contact/
https://ecommerce-platforms.com/compare/mailchimp-vs-constant-contact
Solo

is the easiest way for small businesses to pay and get paid.

Solo mobile app is now available for everyone
Scan QR to download the Solo App
Solo mobile app is now available for everyone