A charge card is a type of electronic payment card that works similarly to a credit card but requires you to pay the entire statement balance in full every month. Like a credit card, a charge card does require a credit application for approval and allows you to make purchases that can be paid at a later date. 
Typically, charge cards are used by high-earning individuals or businesses. Unlike credit cards, charge cards don't have a capped spending limit or interest and offer reward benefits to the cardholder—however, these cards generally do come with a high annual fee. 
Read more about charge cards, how they differ from credit cards, and how they can benefit your business ventures.
Credit cards vs. charge cards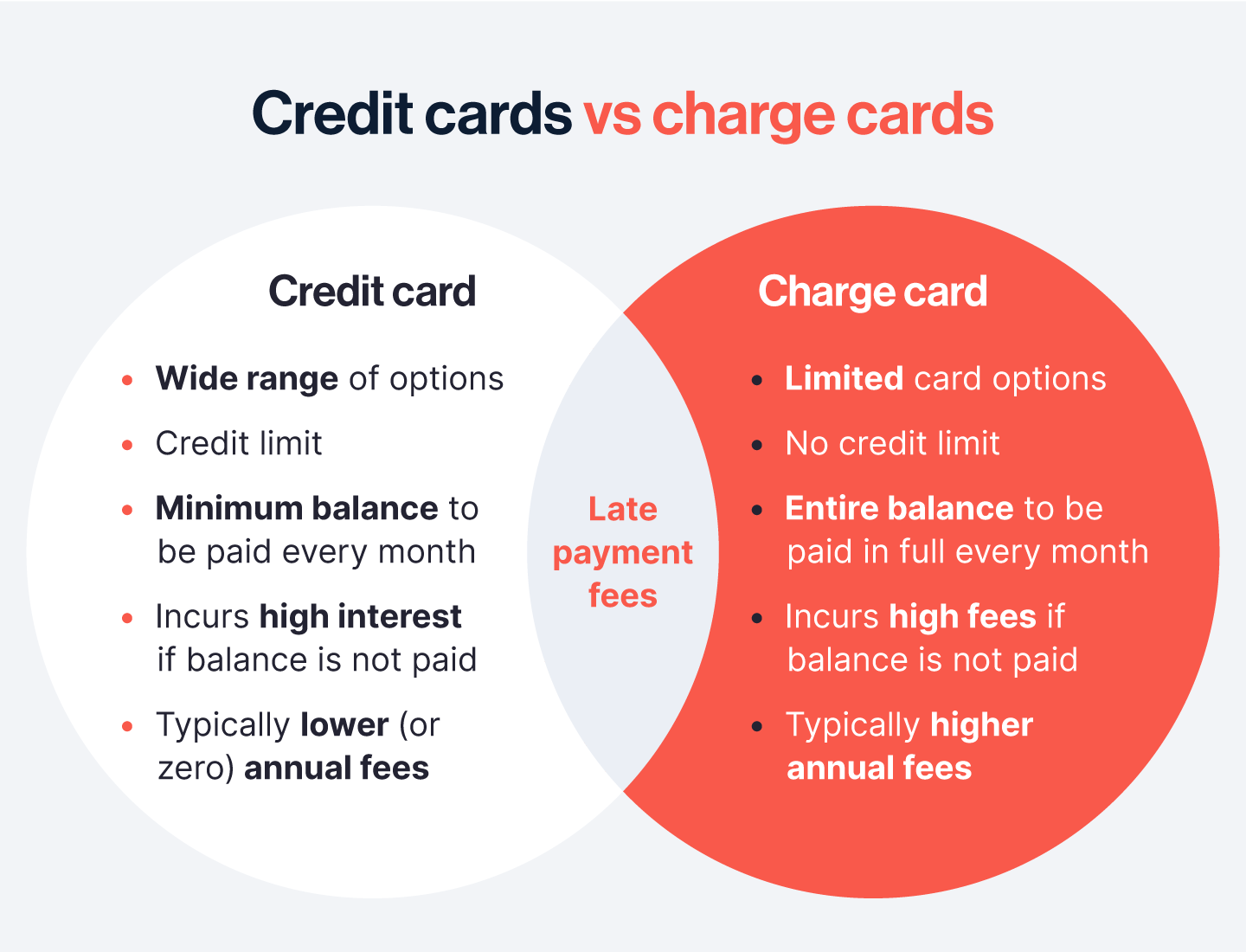 Charge cards and credit cards are very similar, sharing common characteristics such as rewards and perks. However, there are some key differences between the two. Explore all the differences between them below.  
Charge cards don't have a set spending limit  
With credit cards, you're assigned a credit limit upon signing up. If you exceed this limit, the credit card may be declined. With charge cards, this does not apply—but the issuer might still restrict how much you can spend using the card. 
During your credit check, factors such as credit history, income, any debt, etc. determine how much you can spend with a charge card. 
Bills for charge cards must be paid in full 
With charge cards, your balance needs to be paid in full, usually monthly. The balance does not carry over to multiple months like credit cards. 
Instead of having to pay your balance in full each month, credit cards allow you to pay a partial, minimum balance each month to avoid the late fee.
Charge card advantages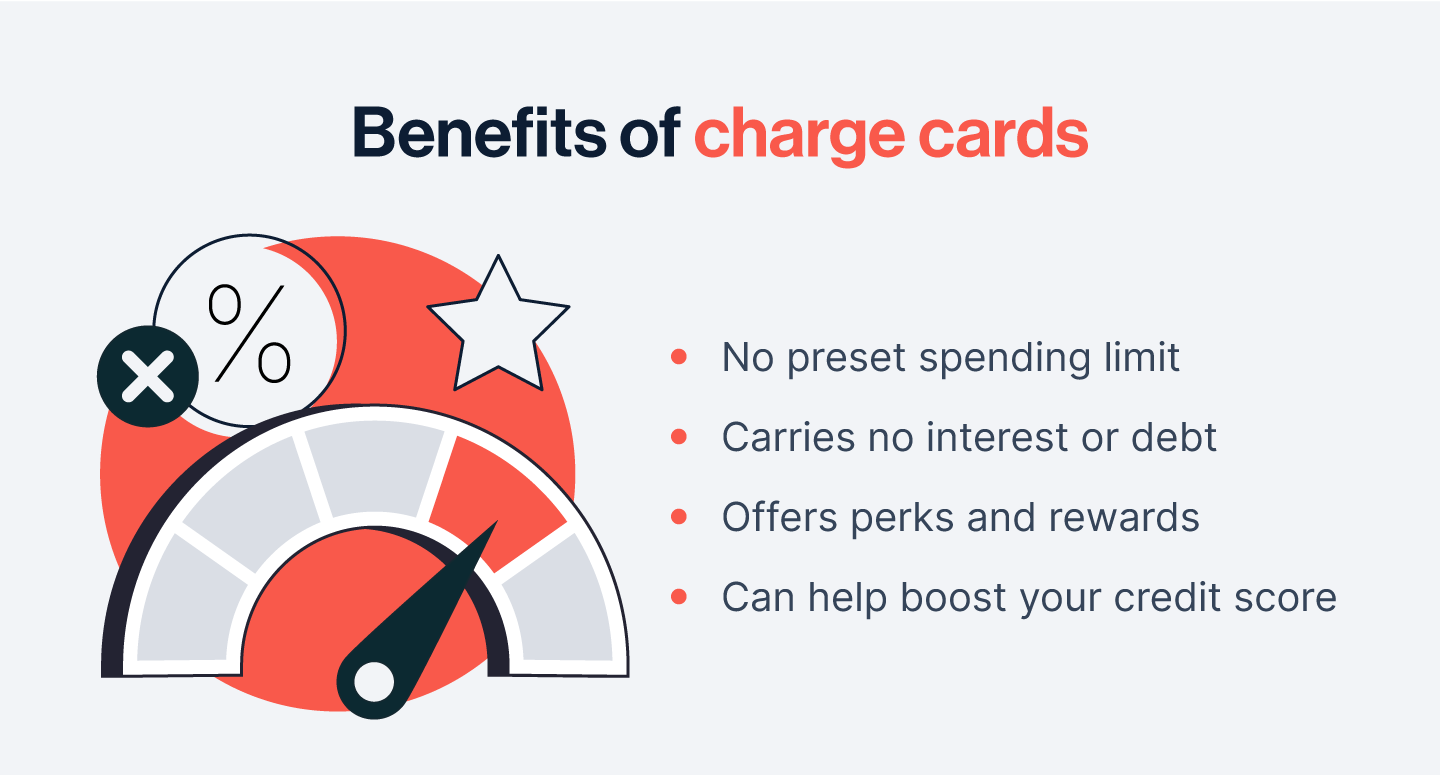 Charge cards can be a very beneficial payment method for business owners who need to make large purchases. Plus, since charge cards don't have a preset spending limit, they can also provide a form of emergency funding for your business. Read more to learn about the advantages of charge cards. 
No preset spending limit  
Charge cards do not have a preset spending limit like credit cards do. This is advantageous if you or your business is planning on making a large purchase. 
Although there is no spending "limit," there are still certain limitations based on your payment history, card use, credit record, and other factors, which are dependent on the card provider you're using.  
Carries no interest or debt 
Since you're required to pay off the entire balance of a charge card, debt is not accrued. If you don't pay the entire balance, most issuers won't allow you to keep using the card, which also prevents debt from increasing. Debt is easier to accrue with credit cards since you're able to roll over balances into future months.  
Additionally, charge cards don't charge interest fees like credit cards do. Credit cards often charge high interest rates that average about 18% if you don't pay the balance in full. 
Offers perks and rewards
Similar to credit cards, charge cards are well known for their generous perks and rewards. For example, many charge card providers offer up to triple points on travel and dining experiences, credits for making purchases, and purchase points. 
The only type of reward that charge cards don't offer that credit cards do is 0% interest promotions (since there's no interest with charge cards) and no option for balance transfers since the card needs to be paid off in full. 
Can help boost your credit score
If you use your charge card responsibly and make payments on time, then your FICO credit score can be boosted. Additionally, the balance carried on a charge card won't negatively affect your credit like it would with a credit card. 
Helps you become financially disciplined
Since charge cards require you to pay your entire balance in full each month, they help you not to spend more money than you're able to immediately pay back. With charge cards, there's no "pay it back later" mentality.  
Not paying the statement in full results in late fees, so that's even more motivation to stay disciplined and on top of your payments. This can result in better financial health in the long run.   
Drawbacks of charge cards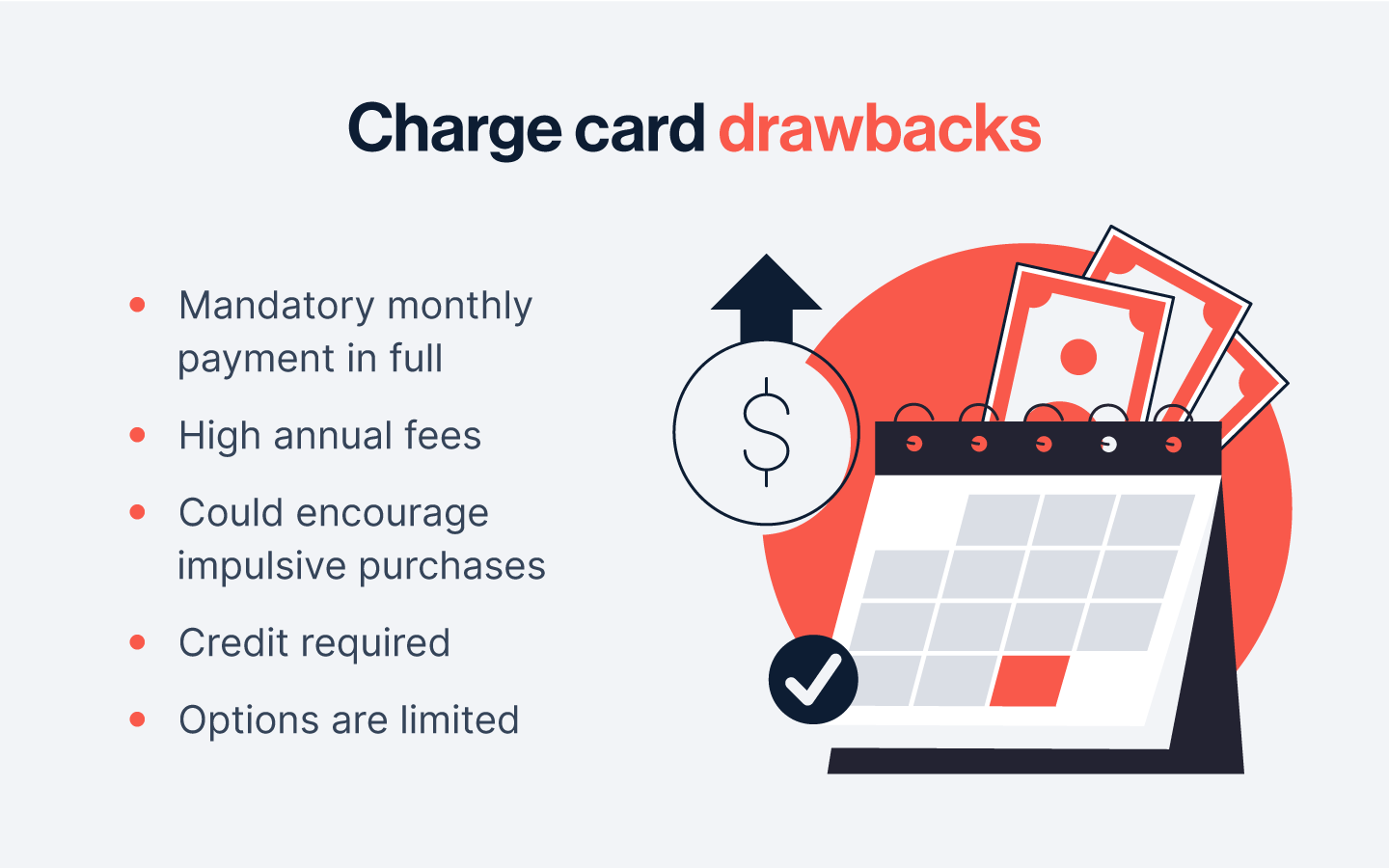 Charge cards aren't for everyone, and it's important to be aware of their disadvantages. Here are some factors to consider before getting a charge card:
Mandatory monthly payment in full
Charge cards require you to pay in full each month, so if you're carrying a steep balance and you're either not prepared or don't have the funds to cover it, it can cause issues. 
If you're unable to pay the statement balance in full, the issuer is likely to charge a late fee, which is often around $40. Depending on the issuer, you also may not be allowed to put additional charges on the card until that balance is paid in full. 
High annual fees 
Charge cards carry very high annual fees compared to credit cards, which often offer very little to no annual fees. If a credit card issuer does charge an annual fee, it's usually an average of $100. Typically, charge cards cost anywhere from $95 to $500 a year. 
Could encourage impulsive purchases
Since there's no spending limit on charge cards, it could encourage impulsive spending for those who aren't financially cautious. Charge cards require more discipline than credit cards since you're required to pay off all funds each month rather than let the balance carry over. 
Credit required 
A charge card usually requires a good to excellent credit score for approval. If you have bad credit, however, there are still options—credit cards have better acceptance rates for those with a lower credit score. 
Options are limited
Unlike credit cards, where there are countless issuers and options to choose from, charge cards are more limited and potential customers have fewer options. The main issuers include American Express and Brex. Charge cards are also not as widely accepted as credit cards at retail stores. 
Charge cards and credit scores 
Charge cards have a minimal effect on credit scores since they don't have a preset limit and are not included in credit utilization, however a material percentage of your credit score is payment history, so paying on time is beneficial to you. Late charge card payments are reported to credit bureaus, just like credit cards. Late payments can stay on your report for up to seven years and can affect your score.  
Charge cards and credit cards may have many characteristics in common, but there are some differences between them when it comes to how they affect your credit score. 
Credit profile inquiries
Similar to a credit card, applying for a charge card is likely to result in the issuer reviewing your credit report. This results in a hard inquiry, which may drop your credit score slightly and will last on your report for around two years. 
FICO credit score 
Payment history is the most important factor in determining your FICO credit score. Paying your charge card bill on time will boost your credit score. Charge cards are also reported to credit bureaus, so demonstrating a strong payment history will put you in good standing. 
Is a charge card the right fit for your goals?
Charge cards are great for businesses that are just starting out and need to make large purchases and pay business bills. With this guide, you can determine if charge cards are the right fit for you, whether you're an entrepreneur or a new business owner. 
Solo makes it easy to pay, get paid, and track spending
Solo is not a bank, but is a financial super-app for small businesses, freelancers, sole proprietors, contractors, and more. Solo is the easy way to pay, get paid, and keep track of your spending. Your customers don't have to sign up to pay you, and can use several payment methods, including Apple Pay, Google Pay, and cards. QR codes make it easy to get paid, and you can easily cash out your Solo account balance for free, or spend it using your Solo Cash Card anywhere Visa is accepted. Learn more at Solo.co.
Solo

is the easiest way for small businesses to pay and get paid.

Solo mobile app is now available for everyone
Scan QR to download the Solo App
Solo mobile app is now available for everyone