A sinking fund is a fund containing money that you set aside to pay off a bond, debt, or other large upcoming expense or purchase. These types of funds can help your or your business take manageable steps toward your end goal and are a beneficial component of your financial strategy. Or, if you work for yourself, a sinking fund can also be a great way to save for your goals. 
In this guide, learn more about what a sinking fund is, the benefits, different types of sinking funds, how to set one up, and other factors to consider before adding it to your business strategy. 
What is a sinking fund?   
As stated above, a sinking fund is money you save or the accumulation of capital to prepare for an out-of-the-ordinary, predetermined expense. The term "sinking" refers to the decreasing amount of debt you have remaining as you pay it off.  
Having a sinking fund is important for your business because it helps ease the burden of paying any debts owed. 
Sinking fund examples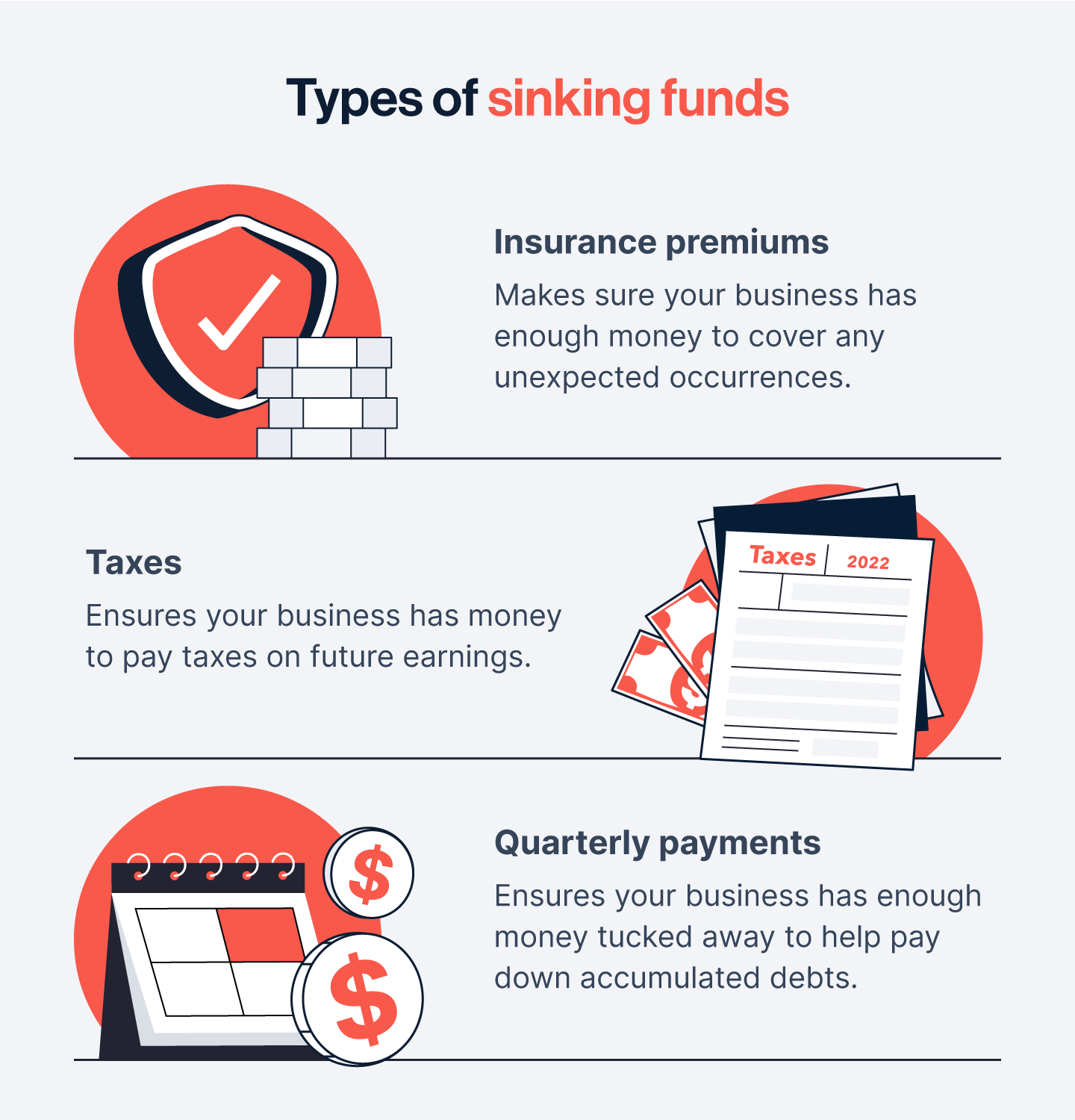 There are several common examples and forms of business-related sinking funds. They include: 
Insurance premiums: These premiums make sure your business has enough money to cover any unexpected occurrences. 

Taxes: Taxes ensure your business has money in the future to pay taxes on future earnings.   

Quarterly loan payments: Loan payments ensure your business has enough money tucked away to help pay down accumulated debts. 
Other common examples of sinking funds for individuals include medical expenses, vacations, holiday gifts, and costly home repairs.  
Sinking funds vs. emergency funds vs. savings accounts  
While they are similar concepts, sinking funds and emergency funds are not the same thing. While an emergency fund should be set in place for an event that occurs unexpectedly, a sinking fund is reserved for a planned and specific expense. 
Emergency funds are also similar to savings accounts, which are set up for long-term savings, but aren't created for one expense in particular. 
Sinking fund benefits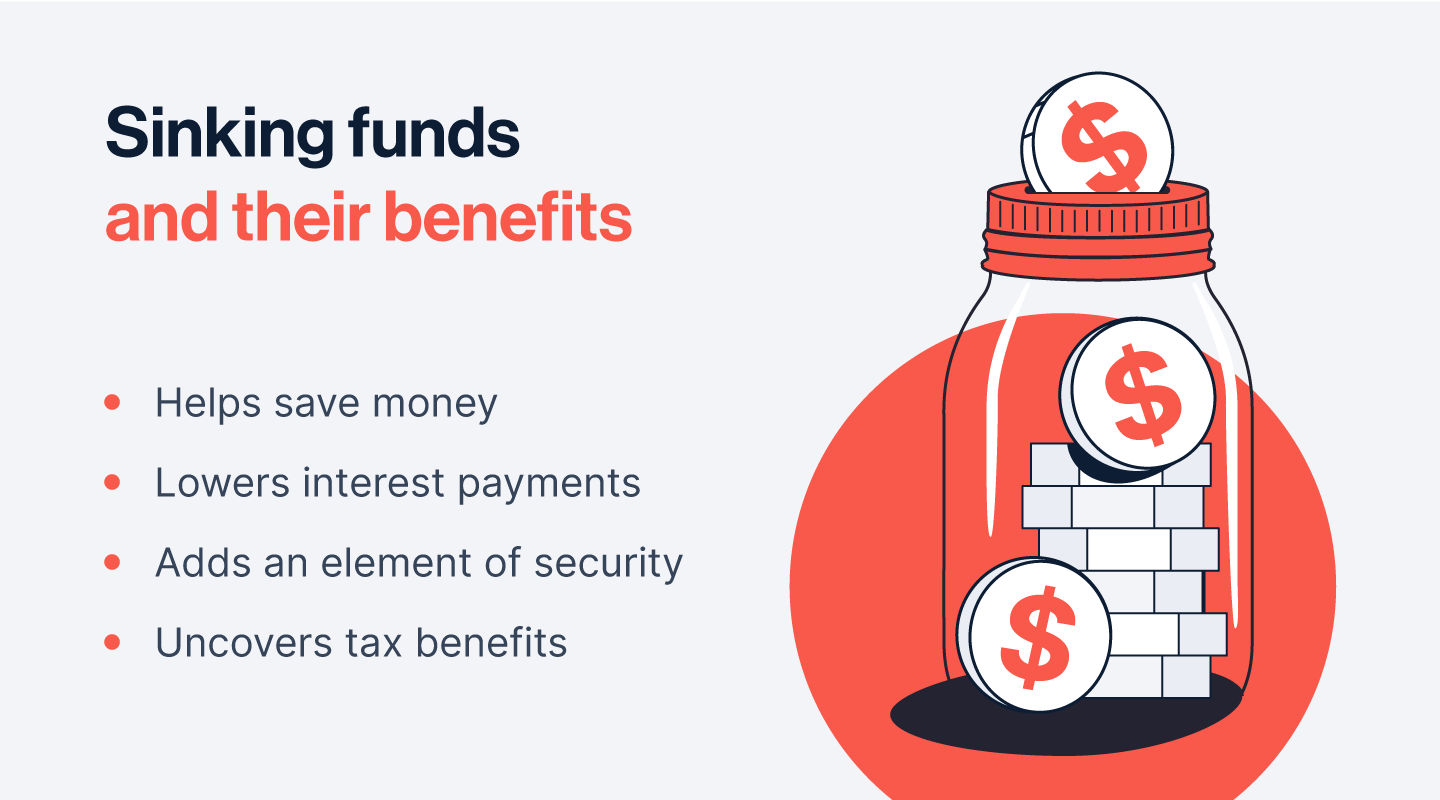 There are many advantages of sinking funds, both for individuals and businesses. Explore them below. 
Helps you save money 
Sinking funds help you save money and get ahead of debt, as well as achieve more financial freedom and flexibility. Saving money through a sinking fund allows you to be better prepared for specific, large expenses and will reduce the need for you to take on additional debt. 
Taking on additional debt from costly purchases can slow your debt repayment progress, so a sinking fund can be beneficial in that case. 
Lowers interest payments 
If a business has poor credit ratings, it can be a lot more difficult to attract potential investors unless they offer higher interest rates. A sinking fund can offer alternative protection for investors so that companies can offer lower interest rates. 
Additionally, the ability of a business to buy back bonds and repay debts will not be compromised, resulting in a solid credit rating and confident investors. 
Adds an element of security  
Once a company creates a sinking fund, it sets money aside in a separate account with the goal of repaying its bonds. Sometimes, a business can face financial situations in which the ability to pay back debts to investors is compromised. 
With a sinking fund, a small business is able to protect itself against unprecedented economic downturns because money is placed in a special account, boosting financial security. Investors will also be more inclined to purchase your business's bonds if they know there's a high likelihood that you'll be able to repay your creditors with a backup sinking fund. 
Uncovers tax benefits  
There are tax benefits that come with sinking funds, such as financial leverage. For example, sinking funds can help earn compounded interest, which helps to reduce the cost of borrowing. Also, the interest expenses will decrease proportionately to the number of outstanding bonds.
These tax benefits can save your business a lot of money in the long run that can be dispersed into other areas, such as cash flow.  
Types of sinking funds 
There are four different types of business sinking funds, including regular payment, callable bond, purchase back, and specific purpose. Let's explore them in depth below.
Regular payment sinking fund: These funds are used to pay creditors and trustees on a regular basis. Payments are periodically scheduled on a regular basis. 

Callable bond sinking fund: Callable bonds are sinking funds in which a company has a call price that's fixed. In other words, funds are accumulated to pay the bondholders at a set call price.  

Purchase back sinking fund: This type of sinking fund is used when a company wants to buy back a bond. These bonds are purchased from bondholders and are either sold at market price or sinking fund price. 

Specific purpose sinking fund: Specific purpose sinking funds are used for a single purpose and nothing else.    
How to set up a sinking fund: 5 steps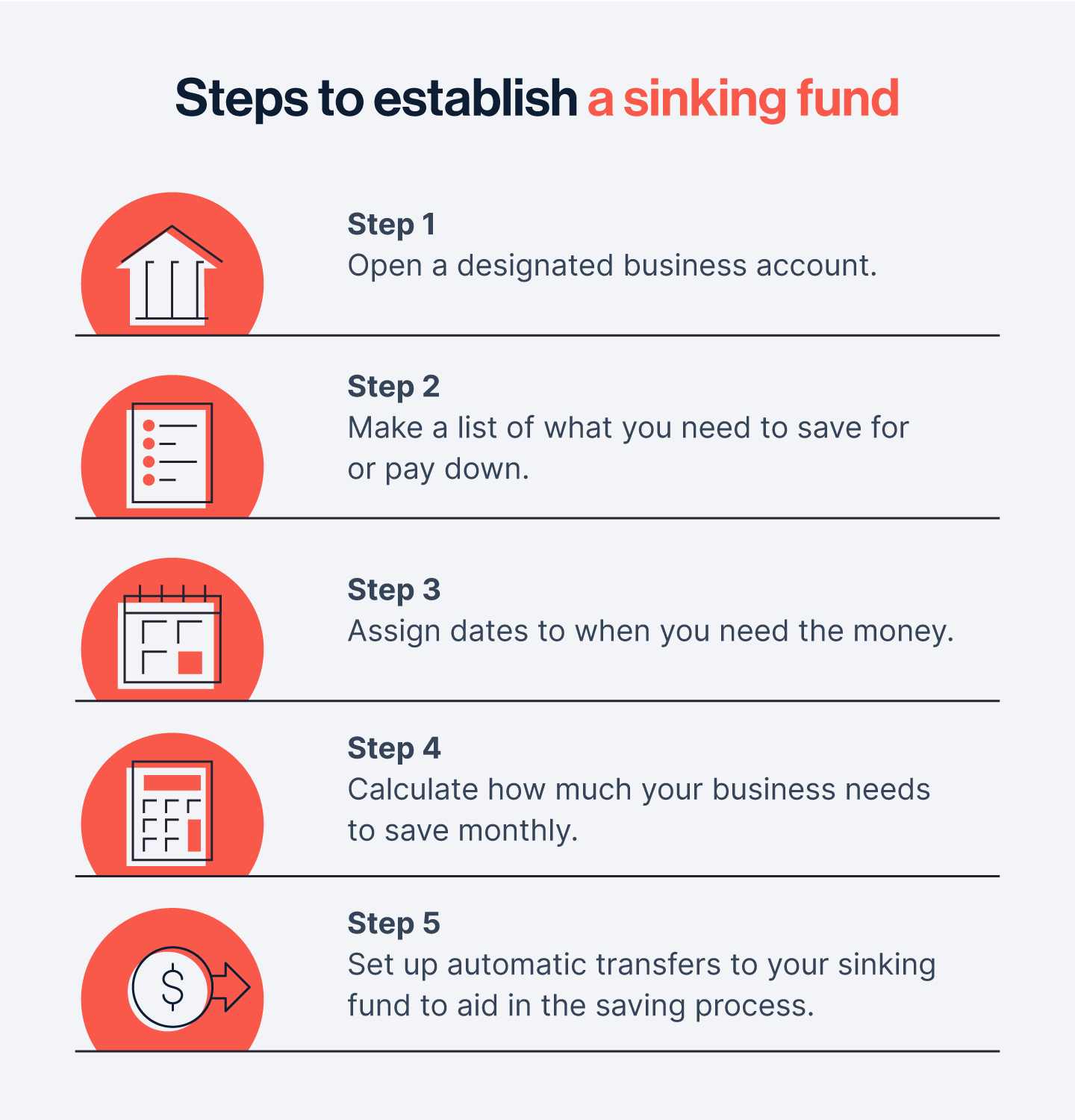 Now that you're aware of what a sinking fund is and its benefits, you can set up your account. Here are five simple steps to create a sinking fund: 
Open account:

Create a new business account that's designated for your sinking fund. Be sure to keep this account separate from personal and other

business expenses

and accounts so you know exactly how much you have. 

Make a list: Come up with a list of items you need to save for or the debts that you need to pay down, such as taxes and insurance payments. 

Assign dates: Assign dates to each item(s) to signify when you need the money. 

Calculate: Determine how much money you or your business needs to save monthly as well as the total saved by the due date. 

Set up automatic transfers: Making monthly automatic transfers helps you stay on top of adding money to your fund. 
Other sinking fund considerations 
Here are some additional considerations when it comes to sinking funds: 
Can you have too many sinking funds?
If you have too many sinking funds going at once, you may not see much progress. Instead, avoid overwhelming yourself with too many sinking funds and only dedicate these accounts to things you really need, like debt repayments or a large business expense.  
Striking the right balance is key — try starting with two to three accounts to cover the most important expenses first. If you are able to juggle that, consider creating more fund accounts. Setting automatic payments should help streamline the process. 
How much money should I have in my sinking fund?
The amount depends on your business's financial situation and goals. A good place to start is to take a look at what expenses need the most attention, such as debts, and then calculate how much money you need to save each month to pay them down within your desired timeline.
Reach your financial goals with a sinking fund
Sinking funds are a great low-risk saving strategy for expected future costs and paying down your business's debt. These accounts are easy to set up and can help your business reach its goals. 
If you're starting your own small business, be sure to invest in a card processing system or charge cards to make accepting payments from new customers easier. 
Solo makes it easy to pay, get paid, and track spending
Solo is not a bank, but is a financial super-app for small businesses, freelancers, sole proprietors, contractors, and more. Solo is the easy way to pay, get paid, and keep track of your spending. Your customers don't have to sign up to pay you, and can use several payment methods, including Apple Pay, Google Pay, and cards. QR codes make it easy to get paid, and you can easily cash out your Solo account balance for free, or spend it using your Solo Cash Card anywhere Visa is accepted. Learn more at Solo.co.
Solo

is the easiest way for small businesses to pay and get paid.

Solo mobile app is now available for everyone
Scan QR to download the Solo App
Solo mobile app is now available for everyone