Moonlighting is the act of working a second job outside of a full-time job. The full-time role is usually referred to as a 9-5 and is someone's main source of income, while a moonlighting job serves as a side hustle job.
The benefits of moonlighting include financial security and personal development while the cons include the time and energy it takes to manage a second job. Certain employers may have strict or lenient policies to prevent poor work performance or a conflict of interest.
Continue reading to learn about moonlighting, curated tips, and job ideas to start your moonlighting opportunity.      
What is moonlighting?
As a second source of income, "moonlighting" refers to an employee who works a second job outside of their normal 9-5. A moonlighting job does not have to relate to your full-time position and is a part-time venture that you can accomplish with efficient time management.
There is no set way to moonlight and the process provides more choices to spend or save depending on your needs and interests. Here are some examples of what moonlighting can look like.  
Examples of moonlighting
Carolina works at a car dealership from 9-5. On Saturdays from 9:00AM-2:00PM, she teaches ballet lessons to 5-7-year-olds to save up for her dance studio.

Andrew is a full-time grocer. From Tuesdays-Thursdays, he waits tables at a local restaurant to afford rent and provide for his growing family.

Stephanie works 9-5 as an accountant for a business consulting firm. After work, she substitutes for the after-school program in her local school district in the hopes of switching careers.  
Pros and cons of moonlighting
Choosing to take on a side job has its costs and benefits depending on your current employer and personal factors. Consider this pros and cons list when deciding if moonlighting is right for you.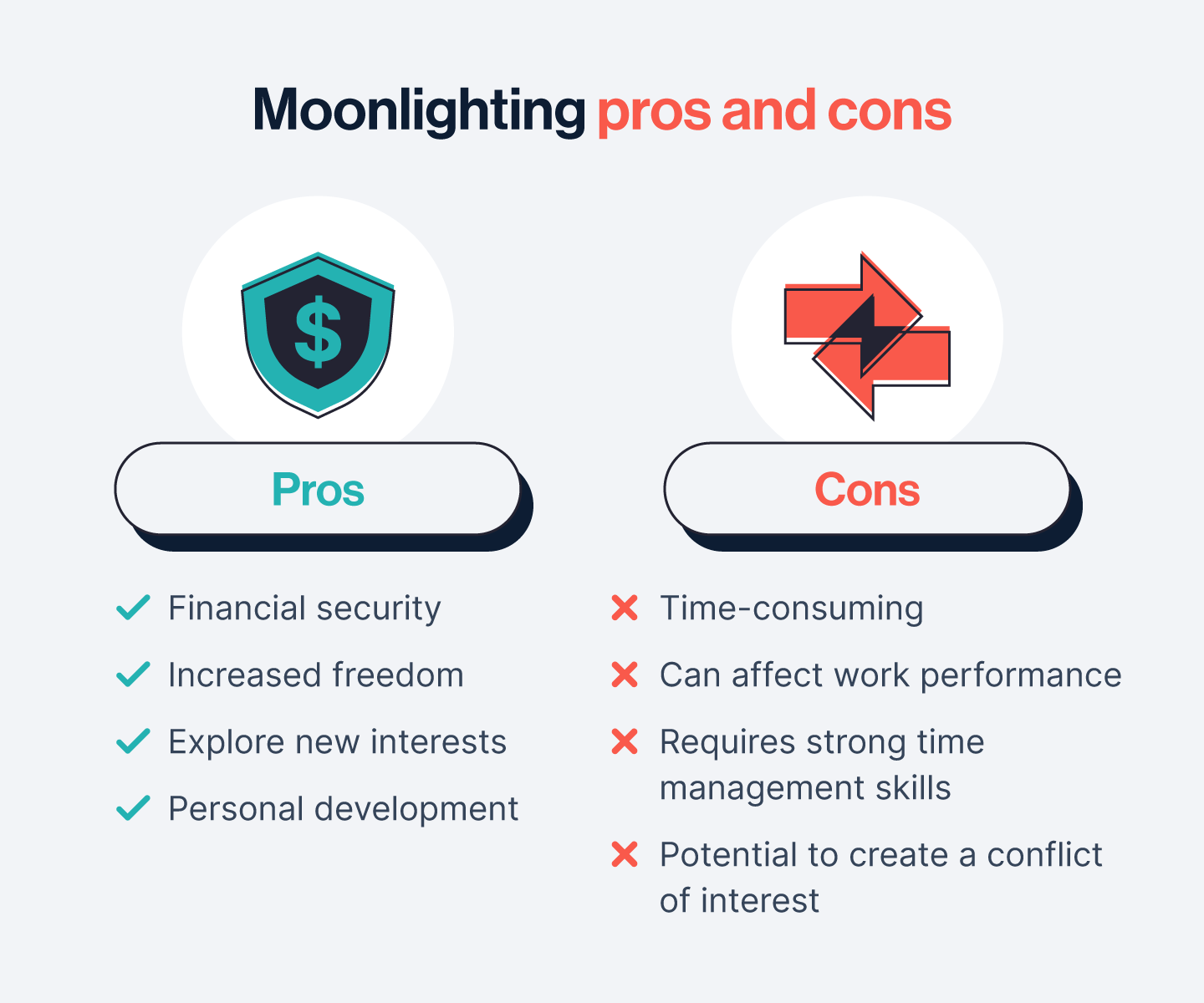 Pros
Financial security: Not being dependent on one paycheck allows you to feel secure with your finances and lessens the stress of affording basic necessities.

Increased freedom: A second job can help you afford a vacation, a new home, or the opportunity to start a family. 

Explore new interests: You can explore new hobbies or pursue bucket list items such as traveling.

Personal development: Form new skills and expand your network if you seek a career change or want to diversify your resume.
Cons
Requires strong time management skills: Managing a schedule to fit a 9-5 day and a part-time role can create stress, especially if more commuting is involved.

Time-consuming: Less time for family and relaxation can create a work-life balance issue with your personal life. 

Can effect work performance: Since your energy is spent working two jobs, you might experience feelings of exhaustion and become too burned out at your 9-5.

Potential to create a conflict of interest: Providing services for a competitor or partial competitor can be a problem for your full-time employer—whether they have moonlighting policies or not.
How to start moonlighting 
When done right, moonlighting opens doors for new experiences and financial possibilities that can improve your quality of life. Get started on your moonlighting journey with these simple tips and job ideas.    
Step 1: Plan your schedule
Keep a physical and digital calendar to log work and personal time. Use the unused time blocks to see how many moonlighting hours you can fit into your schedule and communicate it to your future employer.   
Step 2: Consider your lifestyle
Ask yourself if you have any underlying health concerns or personal constraints that will impact you if you take on a second job. Decide if working remotely or in person would be a better fit for your lifestyle.
Step 3: Consider your skills and interests
To make moonlighting fun, choose a job that is an extension of your skills or interests. Finding inspiration from childhood interests or a desired career switch can make your side job seem more like play than work.   
Step 4: Start your job search 
Apply through employment websites, create an account on freelance websites, or keep an eye out for help wanted posters to find your next moonlighting opportunity. A referral or word-of-mouth recommendation can help with the application process and increase your likelihood of getting hired.   
Moonlighting job ideas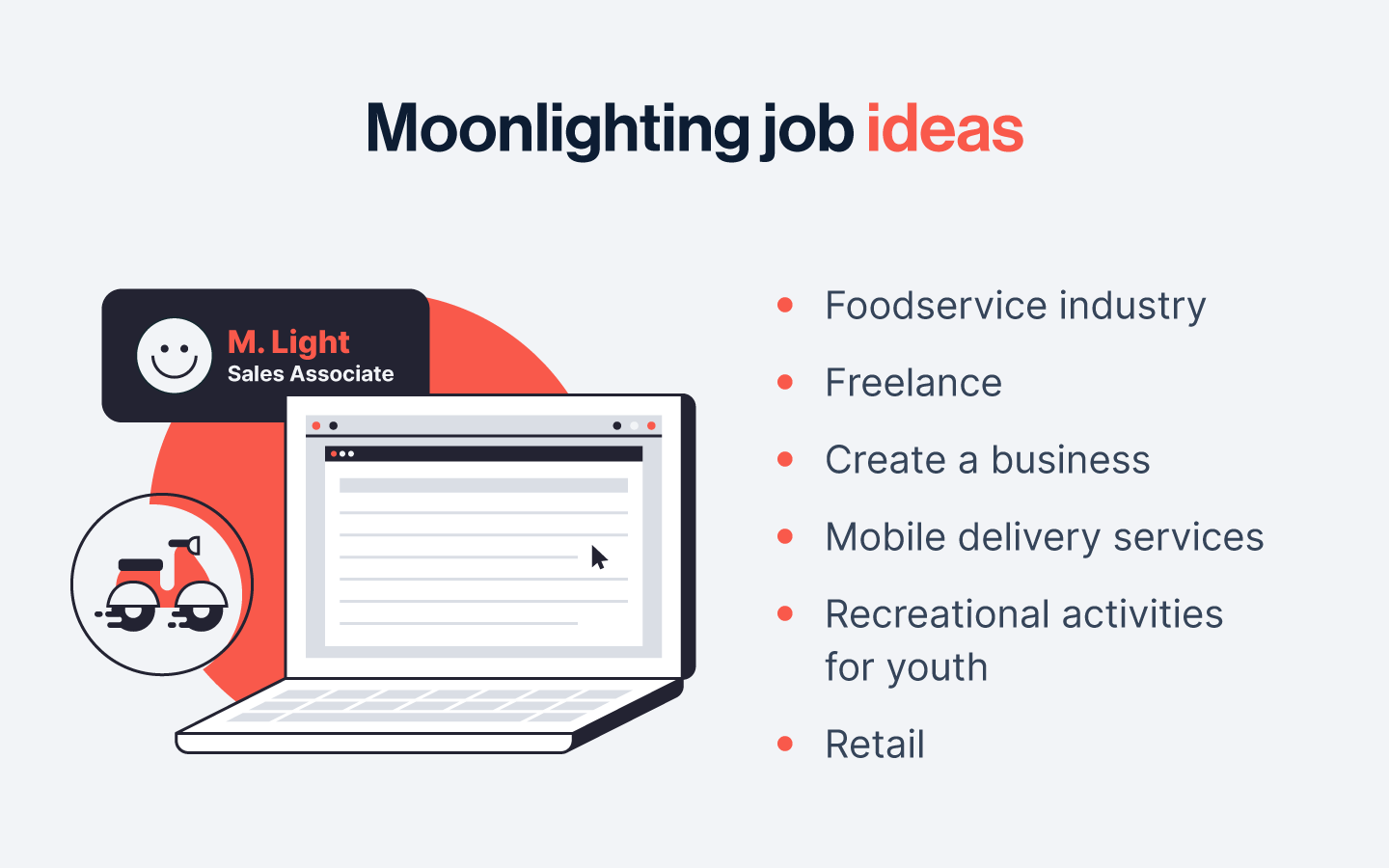 Food service 
The food service industry is always hiring and includes a range of positions such as hosting, cleaning, working drive-throughs, waiting tables, and bartending. You can coordinate hours with the hiring manager depending on your availability. 
Skills learned: Communication, working under pressure, hand-eye coordination, knowledge of the food service industry
Best for: Food lovers that like to work in a fast-paced environment
Freelancing 
Sites like Fivver and Upwork help those interested in freelance work by connecting them to customers interested in their specific services. You can work from the comfort of your home, set your own hours, and profit from your extra skills. 
Skills learned: Communication, consultation, negotiation, marketing, project management
Best for: Remote workers and creative individuals  
Create a business
A childhood interest or personal skill can transform into a side business from home. Using social media and additional free resources, you can build a small business marketing plan and take moonlighting into your own hands.
Skills learned: Leadership, financial accounting, project management, marketing, business management 
Best for: Entrepreneurs  
Mobile delivery services
Services like Doordash and Uber Eats can be great moonlighting apps for individuals seeking self-employment and who don't mind working from their car. These food delivery services do not require face-to-face contact with customers and you can communicate with customers through their apps.
Skills learned: Food handling, digital communication, time management, problem-solving, adaptability
Best for: No-contact workers and commuters
Recreational activities for youth 
Teaching youth sports, dance, theater, or music at a local recreation center or school is a moonlighting job that gets you active. If you have the patience and passion for working with kids, teaching recreational activities can be a fun stream of income.
Skills learned: Working with children, critical thinking, communication, personal fitness, and how to react during emergency situations
Best for: Athletic or creative individuals and those interested in educating youth 
Retail 
Working retail as a cashier, on the sales floor, or inventory are roles that require you to be on your feet and are a common way to earn extra money. This moonlighting job is for those that want to be of service to various ages, cultures, and communication styles.
Skills learned: Sales, communication, problem solving, working under pressure, emotional intelligence, and basic math
Best for: Social butterflies and natural salespeople   
Tips for balancing multiple jobs 
The key to moonlighting is learning how to balance it with a full-time position. You can successfully avoid getting burnt out in the long run and potentially losing your 9–5. 
Follow these tips to create a smooth and long-term moonlighting experience.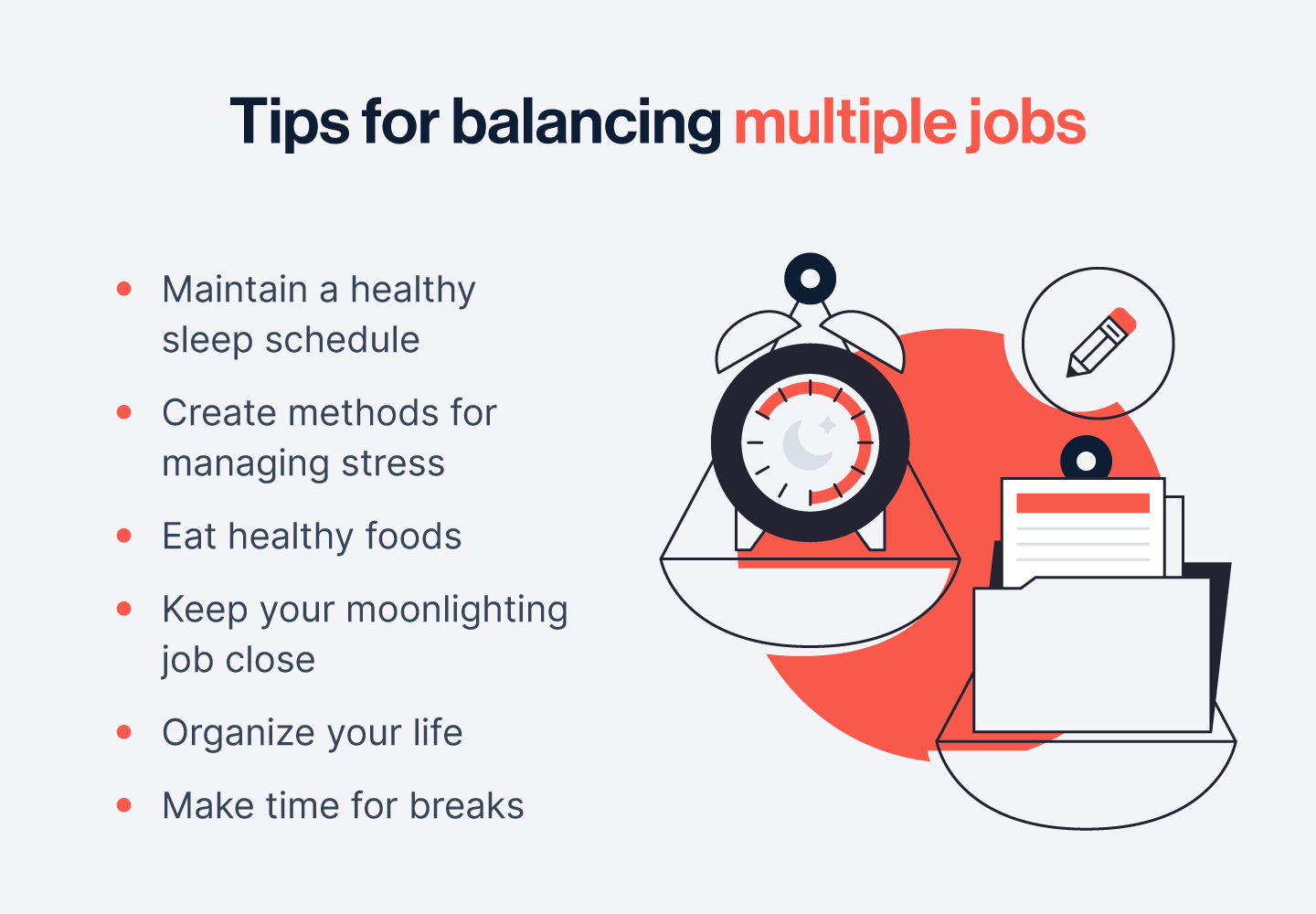 Maintain a healthy sleep schedule: Sleep is the way our batteries recharge and getting between 8–9 hours can improve your mood and physical capacity to take on a busier schedule. 

Create methods for managing stress: Meditation, going on walks, or focusing on relationships can help lower your stress levels when your workload gets heavy.

Eat healthy foods and stay hydrated: Nourishing your body with a majority of healthy options and balancing your protein, starch, and vegetable intake can give you the mental and physical ability to work. Don't forget to drink plenty of water every day.

Keep your moonlighting job close: Consider applying for a moonlighting job with a small commute from your home or choose a work-from-home option to reduce commuting stress.

Organize your life: Consider prepping meals in advance, packing your work bag early, planning your outfits the night before, and organizing your surroundings so you spend less time worrying and more time moonlighting.

Make time for breaks: Breaks help you become more productive by allowing your body and mind to refresh, which is essential while balancing two jobs.
Frequently asked questions about moonlighting
Moonlighting can still feel like a gray area, and the most common questions relate to the legality and response from employers. Read below to have popular moonlighting questions answered. 
Can an employer prevent an employee from moonlighting? 
When an employee signs on to work for a company, the human resources department may include moonlighting policies in the employee handbook. By working for the company, the employee agrees to follow those policies. 
Another important factor that prevents employees from moonlighting is if the second job impacts the performance of the first job. Policy or no policy, if an employee exhibits signs of not doing their job to the company's standards, they can be at risk of losing their full-time job. 
How ethical is moonlighting?
Moonlighting is a common practice among individuals seeking economic stability or opportunities, and it becomes an ethical issue when there is a conflict of interest or the employee's work performance is hindering their full-time job.
Ethics are determined on a case-by-case basis. A conflict of interest is where an employee's personal interests impact their decisions in the workplace—an issue for employers. 
Is moonlighting legal?
Moonlighting is heavily influenced by the non-compete policies instituted by employers. Non-compete policies are agreements signed by employers and employees that forbid employees from working with or supplying details to competitors. 
If individuals decide to moonlight while still being employed under this contract, then moonlighting is considered illegal since you can potentially leak internal knowledge.  
Get the most with moonlighting
Having financial stability and forming new skills are great benefits to moonlighting. It is important to rely on your employer's non-compete and moonlighting policies to decide if a second job is right for you.
If starting a side hustle piques your interests, you can make moonlighting easy with a financial super-app that allows you to pay, get paid, and keep a log of your expenses. Solo is the go-to app for moonlighters because customers can pay you instantly without needing to sign up for an account. You can accept multiple methods of payment (including Apple Pay, Google Pay, and cards) and effortlessly cash out your Solo balance for free, or spend it anywhere Visa is accepted with your Solo Cash Card.  
Solo

is the easiest way for small businesses to pay and get paid.

Solo mobile app is now available for everyone
Scan QR to download the Solo App
Solo mobile app is now available for everyone