In this article:
Why can't you see your Yelp reviews?

How to help reviews show as recommended

Ways to remind customers that you appreciate their feedback
Yelp is an important resource in the world of online marketing. Around 85% of shoppers use Yelp to find local businesses, and that is largely due to the reviews on Yelp. 
Customers trust Yelp reviews and use them to guide their purchasing decisions. One reason for this is that Yelp has strict review policies and makes it difficult for people to leave fake reviews. But, that can lead to a huge frustration that many business owners face with the review giant: customer reviews are being hidden. 
Why can't you see your reviews on Yelp?
Maybe a specific customer told you that they left you a review. You trust them, and you go online to look at your review, but you can't find it. Did your customer lie?
Probably not. 
Yelp has a kind of "review filter" that they use to help decrease the amount of fake or solicited reviews that get posted. Unfortunately, this filter frequently hides legitimate reviews as well. 
But, even with this filter, you can still view all of your reviews. You just need to know where to look. 
Go to your Yelp profile and scroll to the bottom of your reviews. Underneath all of your reviews you should see some text that says "X other reviews that are not currently recommended" if Yelp has filtered any of your reviews.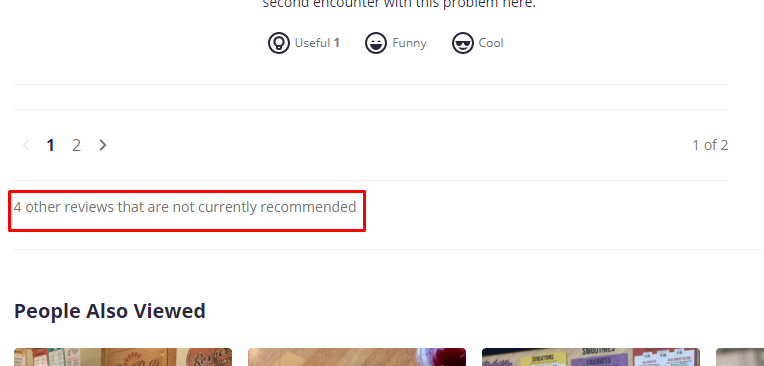 This is a link that will take you to another page to view your filtered reviews. These are reviews that Yelp has deemed as fake or solicited, and so Yelp does not recommend them to its users. 
What causes Yelp reviews to get filtered or hidden?
Yelp uses specific criteria to decide if a review should be "not recommended." So if the review has one or more of the following characteristics, it may be flagged and "hidden":
The reviewer has only written one review

The reviewer doesn't have any friends on Yelp

The reviewer isn't using a profile picture

The review is strongly slanted positive or negative

The review doesn't have very much detail or information

The review's location doesn't match where your business is located
The problem with these criteria is that if a customer has specifically created a Yelp account just to leave your business a review, they are probably going to get filtered. 
Don't have a Yelp account yet? Check out our guide: How to claim your Yelp business listing 
How can you help your customers post reviews that don't get filtered?
Understanding the criteria that Yelp uses to filter out reviews allows you to find opportunities to help your customers' reviews look more legit to Yelp. The more interactions and activity that a user has on Yelp, the more realistic their account will appear. 
Try some of these tactics:
Add your customer as a friend on Yelp

Send a message to your customer thanking them for the review

Check your profile for "not recommended" reviews often and respond to them 

Vote a review as "Useful," "Funny," or "Cool" from your personal account on Yelp
You may even ask your friends and family to take some of these actions, especially with customers that they know. 
Have a fake review that did show up as recommended? Check out this guide: How to remove Yelp reviews 
How to improve the chances of your customers leaving you Yelp reviews
At the end of the day, the best strategy is just to continue trying to earn more positive reviews. Beyond your excellent customer service, here are a few ways that you can make it more likely that your customers will leave a review for your business on Yelp:
Place official Yelp signage throughout your shop, restaurant, or office. This will act as little reminders when someone has a great experience with your staff

Add a link to your Yelp profile on your website and other marketing materials

Ask your customers to share their experience on Yelp. Don't specifically ask for positive reviews (and NEVER offer an incentive for reviews)
Solo

is the easiest way for small businesses to pay and get paid.

Solo mobile app is now available for everyone
Scan QR to download the Solo App
Solo mobile app is now available for everyone