In this article:
5 advantages for your hair and nail salon of paying vendors and suppliers with a credit card
Believe it or not, business-to-business credit card payments are still in the stone age, for the most part. In fact most businesses still pay at least half of their bills using paper checks. Smaller businesses like local hair and nail salons including one-person shops and freelancers typically pay even more of their bills with paper, or the cumbersome "online bill pay" method where you have to have a different login for each vendor or business you have to pay. 
Credit card processors and third-party payments facilitators usually charge between 2% and 5% to businesses that accept these payments, and for some vendors, these fees can eat up a significant portion of their profit—or all of it. 
So small suppliers or local vendors may not be set up to accept your credit card payments for their services.
Why should you care? Because there are quite a few advantages for you to paying all of your vendors, suppliers, rent, utilities, etc. with a credit card.
Let's go over a few perks you can benefit from when you pay your salon's bills with a credit card, and then we'll talk about ways you can pay everyone using a credit card—even if they don't accept credit card payments (nope, we're not kidding!).
You may also like: What's the cheapest way to accept credit cards? 
Advantages to your salon of paying vendors and suppliers via credit card rather than by check or online bill pay
Now let's talk about some of the benefits to salons who pay vendors, utilities, suppliers, and everyone else, using a credit card, rather than sending paper checks.
1. Credit card payments save time and improve cash flow for businesses
Sending a check can take quite a few days or even weeks to complete the process and clear a bank. When you pay vendors using a credit card, you speed up the process and free up cash for other business expenses.
2. Increased purchasing power and business credit
Since you don't have to pay off your card balance for at least 21 days (and often longer, if your account is in good standing), you can effectively borrow business funding at 0% (plus you get perks and rewards) to pay vendors and suppliers. 
If you need to spend a little more than you currently have in your bank account to order salon supplies or make improvements, a business credit card with an appropriate limit can make that easy. (Just be sure to pay it off quickly once you have what you need.)
In addition, as you regularly pay your credit card statement on time and use much of your available credit, you can increase the credit limit available to your business and improve your business credit rating, which can lower your interest rate for business loans and other expenses.
3. Perks, miles, rewards, cashback, discounts
Nearly all credit cards offer perks and advantages to members, and for local, small like hair and nail salons this can be a huge asset. You might get a price break or increased cashback for using your business card to pay vendors and suppliers.
Salon owners who rack up lots of airline miles using one of these cards can pay for a significant portion or even all of their business travel expenses, get discounts for small business expos, enjoy free concierge service, get free car rental insurance and discounts, and much, much more.
Some salons use their cashback bonuses to improve their facilities, buy equipment or supplies, pay for employee team-building events, pay for salon maintenance, or even pay rent and utilities. The uses for rewards points/cashback bonuses are almost limitless. This is assuming the card you choose allows you to spend your cashback bonus how you choose.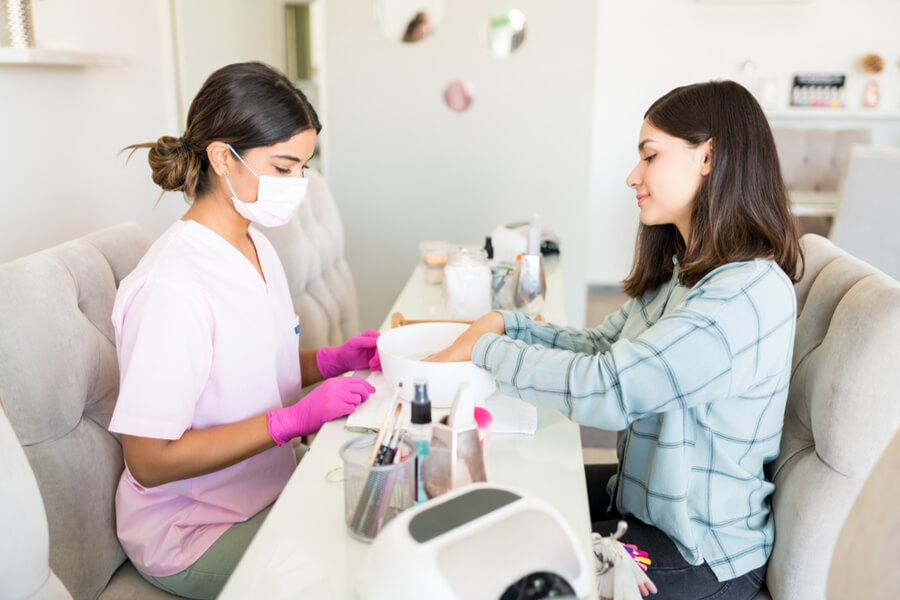 4. Paying all your salon's vendors, suppliers, and bills with one card vastly streamlines your accounting process
When you have to keep track of expenses and bills for your hair or nail salon, the simpler the better. If you can move all of your monthly business expenses and vendor payments to a single card, it's much easier to keep track of, plus you get the benefit of your credit card statement to help you keep things accurate.
5. It's more secure than writing a check
When you pay with a credit card, your issuer and processor help absorb the risk of fraud. (This is one reason they charge fees for the service.) When you mail someone a check, you are giving them your bank account (via the routing number and account number) and your signature. 
Solo

is the easiest way for small businesses to pay and get paid.

Solo mobile app is now available for everyone
Scan QR to download the Solo App
Solo mobile app is now available for everyone