In this article:
Why small businesses should consider Yelp advertising

How does local business advertising on Yelp work?

How much does it cost to advertise on Yelp?
Love it or hate it, Yelp is a big deal for small businesses. Yelp says that 82% of their users visit intending to buy, and 89% of those who do buy make those purchases within a week of visiting. So it might make good business sense for you to take advantage of advertising on Yelp. 
Why Yelp advertising may be right for your small business
It may be worth it to your small business to budget for Yelp advertising, because not only do you get premium placement on the #1 local/regional website on desktop and mobile (according to a comScore report), but when you pay for advertising on Yelp, you get visibility on other platforms as well. 
Mobile "near me" searches are increasing in popularity every day, with over 200% growth in recent years. And when you pay for premium advertising placement on Yelp, your ad can appear not only on relevant targeted local search pages on Yelp, but on your competitors' Yelp business pages, as well as "other properties." (Click here to find Yelp's master advertising terms and conditions.)
Appearing on competitors' Yelp business pages can be particularly valuable, since potential customers may not even be aware that there are other local options to consider in the category they're browsing. If your Yelp ad shows up on a competitor's page and you have a great star rating and reviews, customers might decide to visit you instead.
Naturally, when you set up Yelp ads for your business, you get promoted across all Yelp platforms, including desktop, mobile website, and the mobile Yelp app.
How do I set up Yelp advertising for my business?
The first thing you need to do is claim your business listing on Yelp. (Click for our easy how-to article.) This may sound obvious, but one study showed that less than half of online business listings have been claimed. Plus, research shows that businesses that claim their listings on multiple online business reviews sites make more money!
After you've claimed your listing, you should optimize your profile by adding high-quality photos and other "next-level" info, as we discuss in our article, 25 free local advertising ideas for small businesses.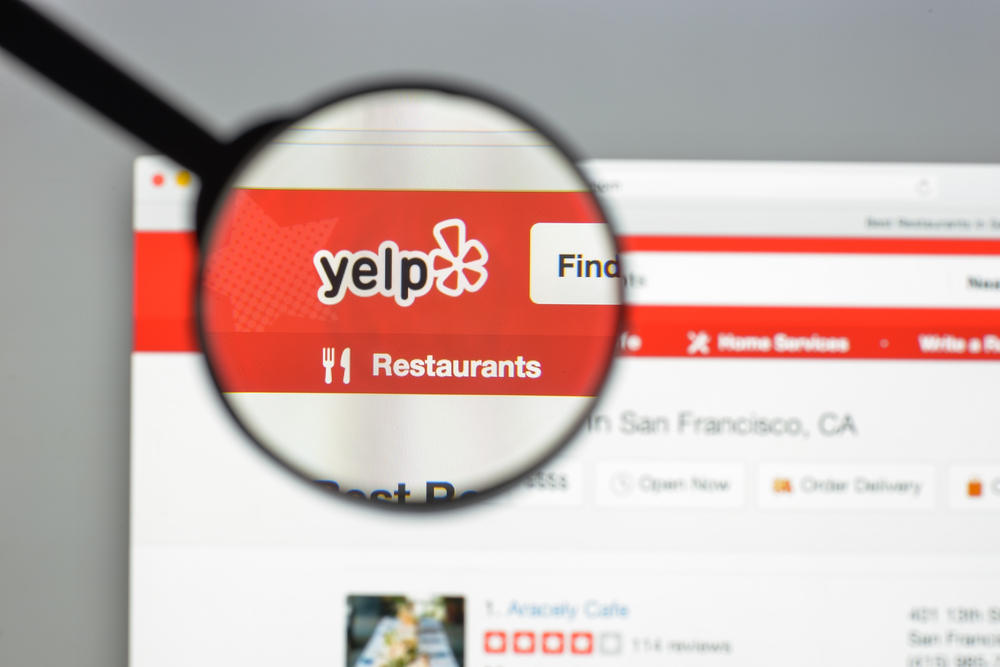 When your Yelp profile is as good as it can be, and you've confirmed the accuracy and completeness of your listing, then you can sign up for Yelp's self service ads here, or call Yelp's business owner help line at (877) 767-9357 and ask them to walk you through the Yelp advertising signup process and send you a purchase order with information on on-Yelp and off-Yelp ad pricing.
Then you can select your level of monthly spending and choose whether you want to participate in the Yelp Cost-Per-Click ("CPC") Auto-bidding Program described briefly below.
There are lots of free tools you can use to boost your Yelp success, but Yelp advertising is not one of them. It's going to cost you. Let's talk about expense.
How much does it cost to advertise on Yelp?
The cost for Yelp advertising is based on your budget, your preferences, and your local market, so we can only speculate about what it will cost for you. However, you can get an idea of how it works by reading Yelp's master advertising terms.
For ads appearing on Yelp-owned pages, you'll probably be using the Yelp Ads Cost-Per-Click ("CPC") Auto-bidding Program. It's complicated and variable based on many factors, but basically, when you sign up for Yelp advertising you can decide whether to participate in the auto-bidding program for ad impressions. 
If another Yelp advertiser is competing for the same ad space based on multiple factors, then Yelp automatically bids up to your maximum monthly CPC budget, which you set and can modify at any time. If you win the "auction," Yelp places your ad and you pay the final price per click based on the amount necessary to beat other advertisers.
If there are no competing advertisers in an auction, your ad is displayed and you pay the "minimum bid price per click," up to your monthly maximum. 
For advertising impressions outside of the Yelp-branded arena of ownership, Yelp "will deliver the Ad Impressions to enhance the quality and number of Clicks that Client receives from such properties. Yelp will not exceed the Client's Maximum Monthly CPC Budget in any given month."
This is important because depending on local competition and other factors, your CPC could easily be several dollars, and that can add up quickly. At a theoretical CPC of $5, if you get 500 clicks you'll be spending $2500 a month.
But you can set a $500/month limit (or whatever works best for your budget) so if you get a ton of impressions and clicks rapidly, Yelp automatically will stop displaying your ad (and charging you for it), until the next month or whenever your max spending period rolls over.  
It's important to remember that these are just "impressions" and clicks, not sales. But if you want to stand out in a crowded Yelp marketspace and increase your visibility to local customers, Yelp advertising could be well worth it for you.
Sources:
https://biz.yelp.com/advertise

Solo

is the easiest way for small businesses to pay and get paid.

Solo mobile app is now available for everyone
Scan QR to download the Solo App
Solo mobile app is now available for everyone